10-Minute Paleo Gnocchi
This 10-minute Paleo Gnocchi is the epitome of real food, real fast. In my opinion, people tend to over complicate the concept of real, nourishing meals. I try to teach the people I work with that cooking real food doesn't have to be an elitist activity. For some people, just thinking about making an entire meal from scratch requires an IV drip of Cabernet, a pep talk and a couple slaps to the face as if channeling a scene from Rocky IV.
If healthy cooking required a significant amount of energy and effort, most of my weekday meals would be a well-round combination of stale tortilla chips and mystery items found in the dark depths of the back of the fridge. I know this, and because of this I am incredibly thankful that I have a reasonable repertoire of nutritious 20-minute meals that are tasty and 100% less likely to yield food poisoning or scurvy.
This 10-Minute Paleo Gnocchi recipe is the ideal item to spice up your weeknight meal rotation. In this recipe I use dehydrated potatoes to simplify the process. This hack may be frowned upon by your Italian grandma, but what Nonna doesn't know won't hurt her. And, when she tastes these chewy and satisfying gnocchi she will be entirely convinced you are boiling potatoes and grinding pesto with a pestle.
This recipe uses almond flour instead of regular flour, yielding fewer carbs, more fiber and more protein than the traditional dish. Swapping "flours" contributes to the nutrient density, makes it more filling and allows for a better blood glucose response, without sacrificing old world flavor.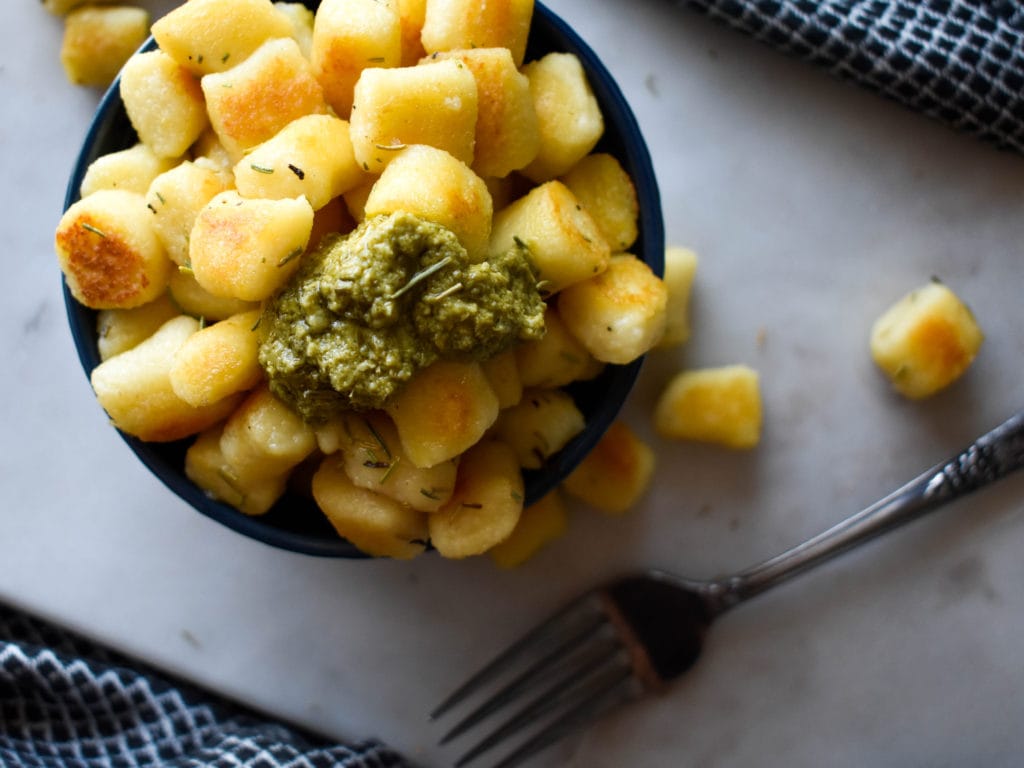 Let's talk a little bit about fear foods.
Pasta is one of the foods that I have never been able to eat without supremely heightened anxiety and weighty guilt. Never have I even considered ordering a pasta dish at a restaurant. It was the calories and carbs, and what was implied about me as a "healthy eater", as a dietitian, and as a person, by eating this type of food. I certainly wouldn't consider preparing pasta at home. Home is where I had complete food control, something that would be maliciously destroyed by a plate of spaghetti.
Even as I begin to put time and mental distance between my eating disorder behaviors, I still find myself clinging to "good" and "bad" foods like a crutch, something familiar and comforting. While I could eat zucchini pasta like a champ, anything flour-based was off the table, quite literally. When I started counseling diabetic patients, I felt a stronger pull to eliminate carbs, especially those made from processed flours, or any flours really.
In eating disorder treatment terminology, this would be considered a fear food. Rightfully named, pasta has triggered fear for me on many levels. I have recognized more recently that mentally compartmentalizing foods like bread, pasta and anything made from flour as a "bad" food and intentionally avoiding these foods almost unconditionally is still an eating disorder behavior. In order to improve my relationship with food and my body, and actively work on my recovery I have to practice recognizing and exposing these crutches. Exposure therapy is the only way to work past some of these irrational fears tied to foods, so that's what I did. If this hits home for you, I challenge you to take a look at your own food avoiding behaviors and identify where the motives are coming from.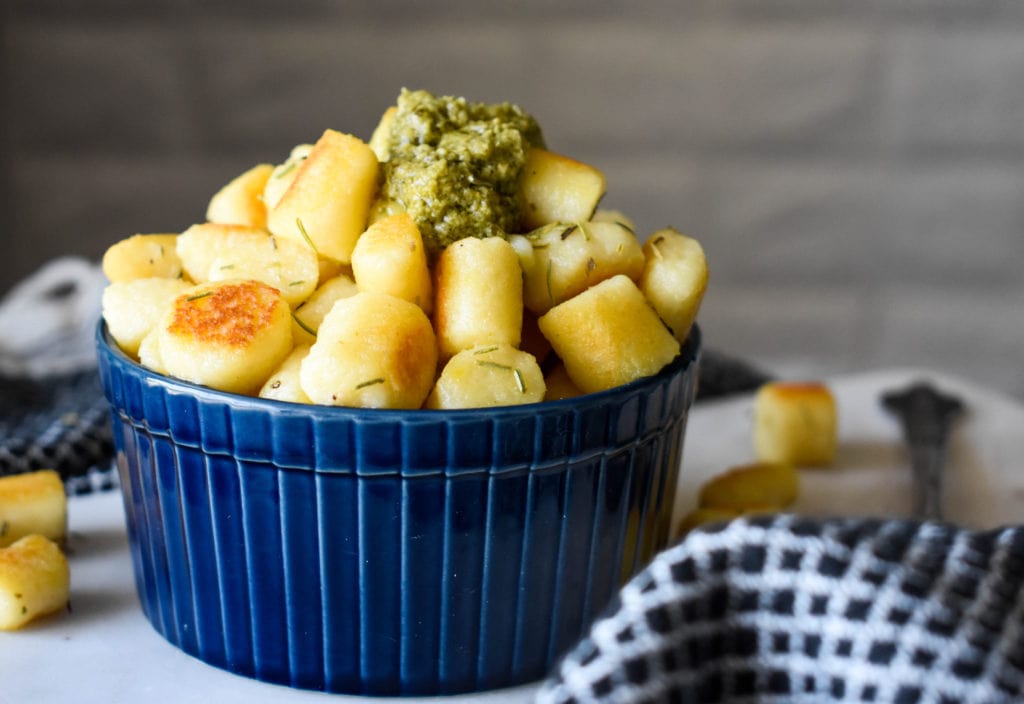 When the monster under the bed is a loaf of white bread.
I started introducing bread. Gluten-free and sprouted varieties were a way to ease into acceptance. Once I got more comfortable I began eating English muffins, Dave's Killer Bread, and even REGULAR pizza (not the cauliflower variety), something I thought I would live my entire adult life avoiding like the plague.
With this methodological reintroduction of carb-y foods came the realization that you could put avocado on top of toasted cheese bagel. Hello. I've lived 29 years without this. I ate that for breakfast for month straight, and worked through some of the bullshit a simple act of eating a bagel could bring up. Was I a bad dietitian because my breakfast was lacking protein, and contained a processed food? Was I going to give myself blood sugar control issues by eating such a carb-heavy breakfast? Should I feel guilty making a paleo dinner, when my breakfast was so obviously the paleo anti-Christ (A cheese bagel!)?
These thought may seem irrational to you. That is because they are irrational. Or, maybe you can relate, which I think many of you might be able to.
I know now that bread is an option available to me and it is totally okay to eat. Although I don't feel the need to eat bread in my everyday life as I know there are much more nutrient dense options, I am working to feel comfortable around ALL foods. Restrictive eating is, after all, disordered eating, and I don't think it is uncommon for women, and men, to hide behaviors that would be considered disordered under the guise of "healthy" eating. And, I think this is something a lot of us should be evaluating.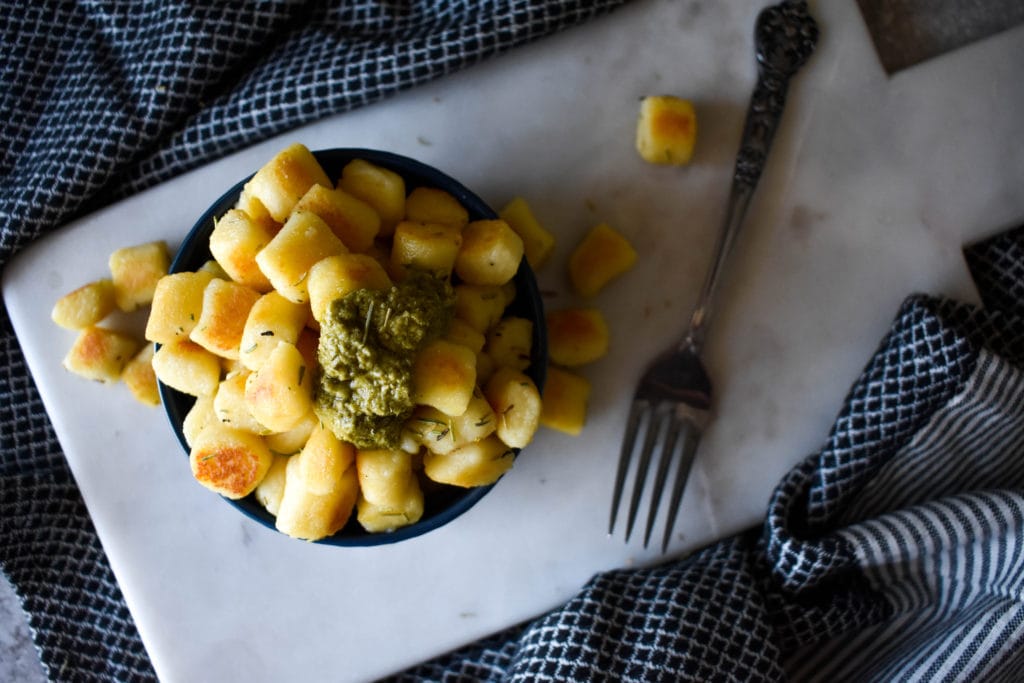 Gnocchi lovers, rejoice!
I had never had gnocchi until very recently. Something made from both flour and potatoes was a hard no for me. I first tried Trader Joe's Cauliflower Gnocchi this year. We don't have a TJ's in my town so I was late to hop on the bandwagon. Once I had, I, like everyone else, was bargaining my unborn children for the last bag of Cauliflower Gnocchi left in the freezer aisle. As a tradition, I load up on as many bags as I feel confident I can transport home each time I go to a city with a TJ's.
After having cauliflower gnocchi, I knew the real thing had to be the ticket. I looked up a couple recipes and decided to give this whole pasta thing a go. I loved the entire process of making gnocchi. Part of what made it so enjoyable was the second guessing, wondering if it was going to actually turn out. It was not entirely different from gambling. It was very different than the cooking I am used to, where you taste and add a little bit of this and that, until the dish tastes balanced and flavorful. Making pasta was more of a science project. The texture and consistency is just as important as flavor. It needs to hold up while cooking.
The birth of this 10-minute Paleo Gnocchi recipe.
After making real gnocchi, I felt pretty confident I could make a more nutrient dense and healthier version using paleo ingredients. That's when this 10-Minute Paleo Gnocchi recipe was born. Adding the dehydrated potato hack makes this recipe practical and practically instant. Give it a try and tell me what your think!
For another epic weekday meal that requires less than 30 minutes, try this Paleo Tomato Basil Soup. The soup can be eaten alone, or you can throw in gnocchi and some italian sausage to really out do yourself.
10-Minute Paleo Gnocchi
Yield: 2 servings
Prep Time: 5 minutes
Cook Time: 5 minutes
The goods:
1 cup dehydrated potato flakes
1/2 cup blanched almond flour
1/2 cup tapioca starch
2 large eggs
2 tbsp water
1/4 tsp salt
1 tbsp grass-fed butter (optional)
The game plan:
Begin to boil a medium pot of water.

In a large bowl, combine potato flakes, almond flour, tapioca starch and salt. Whisk together.

Make a hole in the center of the flour mixture. Crack two eggs in the hole and scramble with a fork. Start to combine the flour into the egg.

Add 2 tbsp of water and massage the mixture together until a moist dough is formed. Split dough into four pieces and roll into balls.

Sprinkle a clean counter top with tapioca starch. Begin rolling each dough ball into a thin cylinder with about a 1/2 inch diameter. If the dough is breaking, you may need to massage it back into a ball making sure the moisture from the water is distributed.

Cut the cylinders into about 1/2 inch long pieces and toss into the boiling water. In 5-8 minutes, the gnocchi should start to float which means it is cooked. Pour into a colander to strain. Allow to drain completely.

Serve immediately with your favorite pesto or pasta sauce.
Optional: You can also heat 1 tbsp butter in a frying pan. Toss the gnocchi in and cook until lightly browned.