These free printable meal plans are the ideal way to save both time and money in the kitchen. Everyone wants to eat healthier and waste less food, but with today's demands on the modern family, often times we find that we just don't have the time. I am here to help you!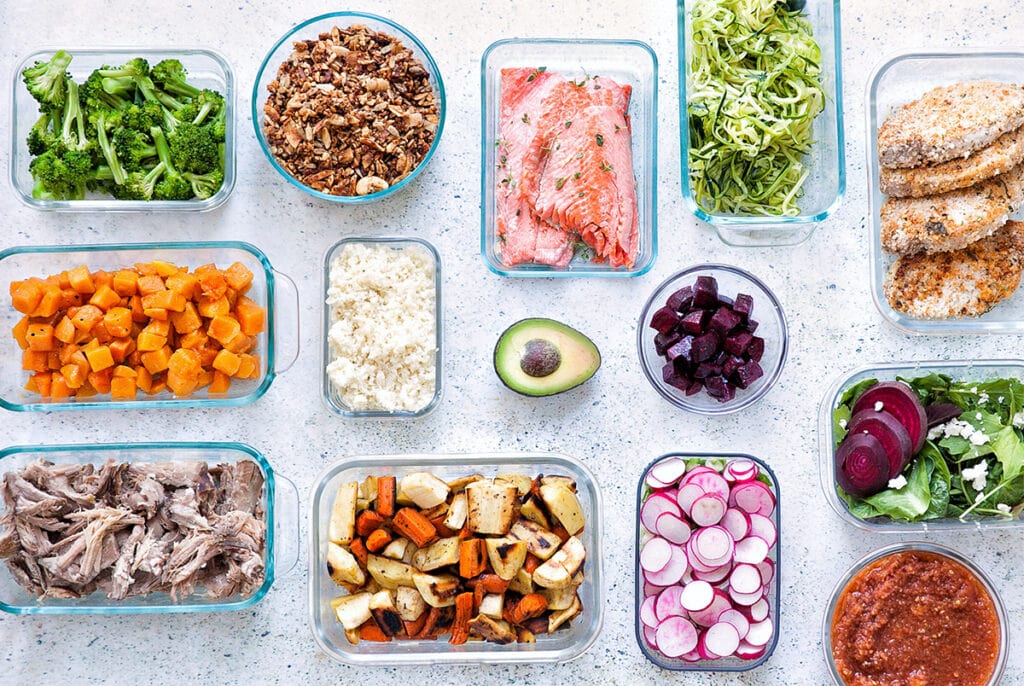 Jump to:
Free Meal Plans
Meal planning is something I do for my own family weekly. I take recipes from across the web, with both health and ease in mind, and create meal plans using 30-45 minute recipes.
Being a foodie and a registered dietitian, you can trust that I will compile the most delicious and nutritious recipes for you. Here you will find free printable meal plans and grocery lists available to anyone.
I recommend saving to your computer because these contain links to the website containing the recipes, but you can also print and post on your fridge.
I will provide recipes appropriate for a varieties of diets including paleo, keto and gluten-free. If you don't find a menu suitable for your diet, feel free to shoot me an email and I will try to include something for you.
Other Meal Planning Options
If you are bored with the current rotation of meal plans I have available on my site, some other options I like to recommend is Real Plans and Sun Basket. These services are something I have recommended to clients for years.
I have used Sun Basket on and off during particularly busy times in my life. We also used Real Plans when my husband was following a strict autoimmune protocol diet, which made that process so much easier.
What is Real Plans?
Real Plans is a meal planning app that allows you to select your diet and it creates a customized meal plan for you. These meal plans are complete with grocery lists and can connect to InstaCart which can take the work out of meal planning and shopping entirely.
Real Plans offers meal plans for the following diets:
AIP
GAPS
Paleo
Whole30
Keto
Gluten Free
Classic Healthy
Vegetarian
Dairy Free
Mediterranean
How Much Does Real Plans Cost?
Real Plans is very affordable for most people. It only costs $14 each month. The price goes down further when you purchase a quarterly ($11/month) or yearly ($6) subscription.
Additionally, Real Plans can save you as much as $50 each week in groceries.
What Is Sun Basket?
Sun Basket is a meal delivery service. There are many of these on the market right now but this is by far my favorite option. The quality of both the recipes and ingredients are superior to most conventional meal services.
Sun Basket will measure all ingredients and ship them to your door. You just have to cook the recipes provided. This option is better for people who have less time and more money. You will save time by planning your meals and shopping for ingredients.
There are meal plans for paleo, vegetarian, low carb, general healthy eating, pescatarian, Mediterranean diet and 30 minute meals.