Girl's Guide to a Kickass Kitchen
10 Healthy Kitchen Essentials for the Non-Cook
If you are new to cooking, or at least trying to clean up the ingredient list used in your home, this is an excellent place to start. Cooking can be overwhelming, but, in my opinion, it is the single most important part of improving your health and oh so worth the trouble. Here you will find all my favorite healthy kitchen essentials, how to use them and what ingredients they are replacing in a standard American kitchen.
I think a lot of my friends have this impression that I grew up cooking, but that is certainly not the case. I am still figuring my way around the kitchen at the ripe old age of 28. When I was in my early 20's I lived with two of my female friends, and I honestly don't think we cooked a single meal from scratch while we lived together. Our kitchen was under utilized to say the least. We rarely bought groceries, let alone prepared meals. Our shopping list consisted of pistachios, Pop-Tarts and peanut butter. I think this goes unsaid but I wasn't exactly in my health prime during this period of my life. When I became a vegetarian at 22, I started to cook a little more but my kitchen skills were still extremely limited. I could boil water, and scramble eggs, but anything beyond that was asking a little much. When I met Kevin, I was just starting to enjoy cooking from whole food ingredients. I shared this passion with him, and we have since built our lives in a way that is conducive to joyful and easy meal preparation. During our first year of dating we would meet on Thursday's for a date night which always involved a new recipe that we had never tried and an obligatory bottle of wine. It was a fun gateway into trying new foods, and new cooking techniques for me. At 25 I started eating meat again, which opened up another realm of cooking possibilities and obstacles. I was so paranoid of getting foodborne illness from under cooked meats that I would intentionally burn the hell out of cuts of meat for at least a year. Flash forward three years and hear I am offering my quasi-wisdom of healthy cooking essentials for a supremely kickass (and simple) kitchen.
10 Healthy Kitchen Essentials for the New Cook
1. Coconut Oil & Avocado Oil
Okay, if you didn't see this one coming you probably haven'y visited this site before. Removing unhealthy oils from your diet is really easy and very important for improving the health promoting qualities of the food you make in your home. By ditching the unhealthy "vegetable" oils for more nutrient dense, less inflammatory oils you are making your food healthier without changing the way they taste. I don't care if you're making french fries with this oil, fries fried in coconut oil are going to be significantly better for you then fries made in cottonseed oil (or any "vegetable" oil). There is a lot of misinformation floating around out there about what kind of oils you should be using, and I see a lot of confusion about this topic.
What you are replacing:
Standard American Kitchen: Corn oil, soybean oil, "vegetable" oil, canola oil, butter, olive oil.
While butter and olive oil have a place in a kickass kitchen, I advise cutting out all "vegetable" oils including soybean oil, cotton seed oil, canola oil, sunflower oil, safflower oil, and corn oil. Despite what you may have been taught at a young age these oils are not heart healthy and do not have a place in the human diet.
Let's get a little science-y here.
There are two types of fats: saturated and unsaturated. For a fat to be saturated, each carbon on the carbon chain needs to have its own hydrogen molecule. So, therefore, a saturated fat is one that is saturated in hydrogen. An unsaturated fat can either be a monounsaturated fat, which has a single double bond, or a polyunsaturated fat, which has multiple double bonds. Keep in mind that no fat is 100% saturated or unsaturated. For example, 1 tbsp of olive oil has roughly 10 grams of monounsaturated fat, 1.8 grams of saturated fat, and 1.2 grams of polyunsaturated fat, therefore it is considered a monounsaturated fat.
Why is everyone so confused about fats?
In the 1950's, experts advised against eating natural saturated fats, like those found in animal products, butter and coconut oil, and suggested a transition to "vegetables" oils. During this transitional period, food production largely favored the use of polyunsaturated fats over monounsaturated because polyunsaturated fats are made from cheap grain products and are stable at a higher temperature compared to monounsaturated fats which are found in more expensive crops (olives, avocados, macadamia nuts, walnuts) and cannot be heated to very high temperatures. These polyunsaturated fatty acids (PUFA's) are mainly omega-6 fatty acids which are omega-3's inflammatory cousin.
Unfortunately, the research that supported the consumption of PUFA's instead of saturated fats was incredibly flawed, and there is quite a bit of controversy in the nutrition-sphere about why this information was perpetuated for so long. PUFA's are going to be innately more prone to cause oxidation and inflammation within the body because of it's chemical structure when compared to saturated and monounsaturated fatty acids. Those pesky double bonds on the PUFA can strip a hydrogen from another molecule creating free radicals in the body. This can cause cellular oxidation and damage.
As a society, as we transitioned to using more grain-based and seed-based oils (PUFA's) in place of naturally occurring saturated fatty acids we became increasing unhealthy, and the presence of chronic disease became a serious problem. In 2010, a meta-analysis came out and rocked the boat revealing that there was "no significant evidence for concluding that dietary saturated fat is associated with an increased risk of CHD or CVD". For many people, this information is hard to swallow because they grew up on these "vegetable" oils.
How To Make Your Kitchen Healthier
A kickass kitchen uses avocado oil or coconut oil for higher temperature cooking like frying and sauteing. Grass-fed ghee or butter are good options for medium temperatures. Olive oil is appropriate for low temp sauces and dressing. If you are just getting started with a shift toward healthier cooking I suggest you could purchase a bottle of avocado oil and some extra virgin unrefined coconut oil. These two oils are kitchen superheroes because they can be used for nearly every type of cooking due to the neutral flavor and high smoke point.
2. Coconut Aminos
Coconut aminos is a simple sauce made from aged coconut sap and sea salt. It has a savory, slightly sweet and salty flavor. The sap that is used to make this sauce is low glycemic meaning it has a minimal effect of blood sugar. This sauce was created as an alternative to soy sauce. Coconut aminos has more amino acids, a high vitamin and mineral content and a lower sodium content than found in your traditional soy sauce (even the low sodium stuff). I use coconut aminos because I love the flavor, versatility and (soy-free) simple ingredient list.
What you are replacing:
Standard American Kitchen: Soy sauce, Worcestershire sauce.
How To Make Your Kitchen Healthier
Use this sauce as a staple in your recipes. Add it to stir fry, or sauces, or any recipe that calls for soy sauce. I use coconut aminos to create a simple and flavorful marinade for steak, chicken or vegetables. Combine ¼ coconut aminos with a tbsp of garlic powder, tbsp of black pepper, tsp of salt, tsp of paprika, and a pinch of cayenne pepper in a Ziploc bag with a sliced onion, a couple sliced bell peppers and two steaks and you have yourself the perfect grill-out meal. I also like to make a paleo and sugar free Worcestershire sauce using coconut aminos, mustard powder, apple cider vinegar, and spices.
3. Avocado Mayo
You don't have to like mayo on your sandwich to be on board with this idea. Mayo is an important ingredient for many recipes and sauces. Traditional mayo is made with the worst oils, and swapping it out for a healthier alternative can be extremely easy and beneficial. You can make your own mayo pretty easily or you can cut some corners and purchase a good quality mayo to keep on hand. Be sure to read ingredients because although some brands brag that they are made with olive or avocado oil they actually contain a handful of unwanted ingredients. Mayo is a simple food, it should not contain more than 10 ingredients. Chosen Foods and Primal Kitchen are two brands I use and trust.
What you are replacing:
Standard American Kitchen: Soybean oil or Canola oil based mayo.
How To Make Your Kitchen Healthier
Make your own dressings and aeoli. Seriously this is a huge part of creating changes that you are able to sustain. You can whip up honey mustard (just avocado mayo, honey and mustard) in seconds or a tasty, spicy aeoli for fish tacos (avocado mayo, minced garlic, minced jalapenos, garlic powder, salt and pepper) without even thinking about it. Making your food enjoyable is a worthwhile cause. You don't need to be a health food martyr by eating steamed broccoli and broiled chicken for every meal for the rest of your life in the name of healthy living.
4. Coconut Sugar
Coconut sugar is awesome, and my personal favorite sweetener. You don't have to use coconut sugar, but you should find a healthier sweetener to use as an alternative to table sugar for the occasional sweet treats or recipes.
Healthier Sweeteners
Coconut sugar has a low glycemic reaction meaning they have minimal effect on blood sugar.  Coconut sugar has a sweet, caramel-y taste similar to brown sugar.
Raw honey is a great because it has anti-fungal and antiviral properties along with phytonutrients and antioxidants which make it more nutritious than table sugar.
Maple syrup also has a small amount of vitamins and minerals which make it a better option than the nutrient-void what sugar.
Blackstrap molasses is rich in minerals like iron, calcium and magnesium, and has a rich gingerbread-like flavor.
Stevia is calorie-free sweetener made from a plant extract. It doesn't have the same "sugary" taste as concentrated sweeteners like honey, maple syrup and coconut sugar.
It is important to note that the less sweeteners you use in your daily life the more you will be able to taste the natural sweetness in foods, but there is nothing wrong with having a dessert that tastes like a dessert every once in a while.
What you are replacing:
Standard American Kitchen: White sugar, brown sugar, corn syrup, fake "maple" syrup.
How To Make Your Kitchen Healthier
Between maple syrup, raw honey, stevia, coconut sugar, and black strap molasses you can seamless replace every sweetener you use and not notice a difference. Experiment with different sweeteners and find your favorite to use. I believe it is good practice to remove all white sugar from your household and learn to adjust recipes using more beneficial sweeteners. By cooking at home, you can gradually reduce the hidden sugars in your diet and use more nutritious options. I suggest purchasing one option to begin and working with that. Maple syrup and coconut sugar have the most mild flavors so they could yield an easier transition. Remember, sugar is sugar. If you use more than 1-2 tbsp of any sweetener in your normal everyday meals you might consider trying to cook without it so that you can reduce your overall sugar intake.
5. Spices
Spices are extremely nutrient dense and have an abundant list of benefits. Your spice cupboard is basically a medicine cupboard except the contents taste good and are actually health promoting. Cacao has disease fighting properties due to its high level of antioxidant. Turmeric is well known for its anti-inflammatory properties associated with the curcumin component of this spice. Cinnamon is thought to stimulate insulin receptors on body cells allowing sugar to move from the blood into the cells, which can be helpful in the management of blood sugar. Everyone knows ginger can be used to sooth the stomach, but some studies suggest that this root may improve arthritis symptoms, improve cholesterol and prevent cancers. Garlic is an incredibly powerful antiviral and antibacterial agent. Spicy pepper can increase your basal metabolism. You get the idea.
Not only are these ingredients important for improving health, they are also important for improving the quality of you meal. I am notorious for not measuring spices when I am cooking (unless I am developing a recipe which, unfortunately, is somewhat important). I always err on the side of more spice because I think there is nothing better than a super flavorful dish. You don't need to buy every spice under the sun to get started cooking. Start small. There are a handful of spices that I use every week regardless of what I am preparing. I buy these spices as soon as run out because I know I will need them for marinades, or just to season as I cook. Other spices I just buy as needed. If I am trying a new recipe that calls for celery seed, I will just pick that at the grocery store that week.
A Kickass Spice Cupboard for Beginners 
Must-Haves: Basil, Cayenne Pepper (spicy), Chili Powder, Cinnamon, Coarse Ground Black Pepper, Cumin, Garlic Powder, Oregano, Paprika, Salt
Nice-To-Haves: Coriander, Curry Powder, Onion Powder, Pumpkin Pie Spice, Rosemary
Of course, you will want to cater your spices to your own individual taste buds but these are my most used spices and I think you will find these most commonly used in recipes as well.
Kickass Kitchen Bonuses
A Proper Cooking Surface
Conventional cookware with non-stick or aluminum surfaces can leach chemicals and toxins into your food. We live at a wonderful time where people are becoming more aware and mindful of things like this. Better options are cast iron, enameled cookware, stoneware, stainless steal or ceramics. They each have advantages and disadvantages. The only pan that seems to work on the stove we are currently using is a cast iron pan, so we have been learning to use and love cast iron. We have a set of ceramic plated pans that we like when we are able to use a glass top stove vs. coil top. Find a pan you like to use that has a healthy cooking surface. There are a variety of options out there, and I encourage you to do a little research and find something that works for your needs.
A Spiralizer
A spiralizer is so nice to have so that you can make veggies noodles on a whim. I eat spiralized squash almost daily, and always use veggie varieties when any recipe calls for noodles. You can get the cheap mechanical crank spiralizers. I have a fairly simple spiralizer that is more like a peeler and strips vegetables into fine noodles. My future mother-in-law got a kickass spiralizer for Christmas that gives me noodle-envy. It attaches to a KitchenAid mixer and makes the whole process effortless. Unfortunately, I rarely bake so a KitchenAid mixer isn't in the cards for me at this stage in life.
A Decent Food Processor or Blender
Because I make many of my sauces and condiments at home, this is one of my most used kitchen tools. It certainly makes cooking easier, and can be used for much more than smoothie making. I use my blender to make hummus, mashed sweet potatoes or parsnips, to rice cauliflower or make romesco. It is a worthwhile investment. In our home, I use the NINJA blender for just about everything. It is a mid-range blender and has been well worth the money. One day, I might upgrade to a VITAMIX but as for right now the ole'  NINJA does the trick.
Prepared Ingredients
Minced garlic is one of my favorite time savers. Yes, the garlic in a jar that is already peeled and chopped. This is my most commonly used pre-prepared ingredient, but you don't have to stop here. Sometimes the biggest challenge in cooking is making it fit into your life. I would hardly use garlic if I had to peel and chop it every time. I buy the giant jar and just scoop a spoonful out every time I am preparing a meal. It is so easy. Maybe chopping garlic doesn't bother you. If you hate making riced cauliflower, then buy it already prepared. If you hate dicing an onion, then buy onions already diced or outsource the job to your children. I don't really care how you do it. Plan a little so that you can make your job easier when you need to.
Where can I find all these kickass ingredients?
Luckily, you no longer have to go to health food stores to find healthier options. I provided Amazon affiliate links with each photo, but all these items can be found at most groceries stores. Costco usually has the best price for avocado and coconut oil, and generally has the best price for spices per ounce. You can also find a good deal on Chosen Foods avocado mayo at Costco. Trader Joe's has the most reasonably priced coconut aminos. Walmart now carries most of these items as well. Look around, read ingredient lists, and ask for help from the store employees if you can't find something (it's part of their job!).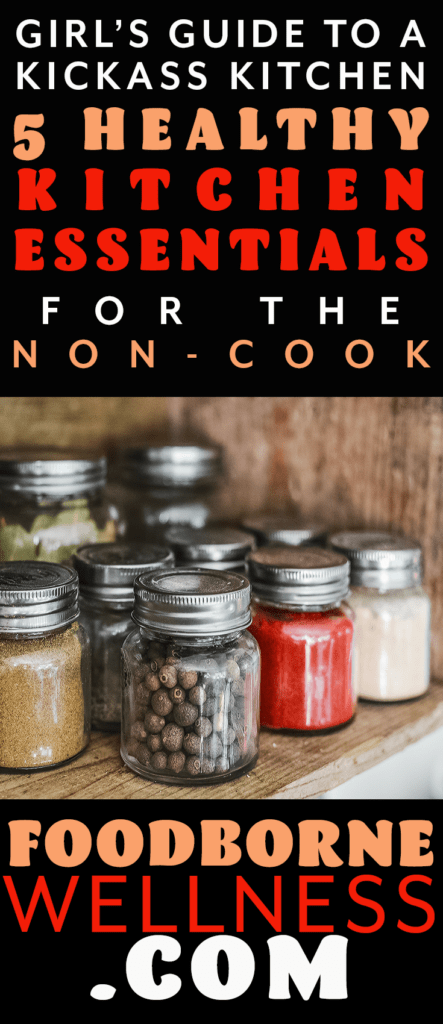 One image used in this post is a stock image and does not belong to me. All other photos are property of Foodborne Wellness, LLC. This post contains affiliate links.