Instant Pot Buffalo Chicken Soup
This Instant Pot Buffalo Chicken Soup is appropriate for those doing a Whole30, living a low carb lifestyle or living in a van outside of a Buffalo Wild Wings because #proximity.
Here I am. At the tail-end of my first Whole30, and I feel good. My cravings have been pretty manageable, I have been anything but restrictive with my portion sizes, and I am interested in the reintroduction phase to assess if I have any sensitivities to foods I commonly eat.
If you are unfamiliar with the Whole30, you can visit the website for more information.
For me, the transition has been pretty easy as this is how I each much of the time with the exception of more frequent treats, less rules and a lot more peanuts. I was expecting to feel exceptionally different towards the end of this 30-day journey, but as I am reflecting on it, I realize that was an unfair expectation as my everyday diet is very low in grains, dairy and processed foods. My stomach has been getting less bloated after even large meals, but other than that I haven't noticed many changes. I have attempted a few Whole30's in the past, but I wan't in an appropriate head-space during those times, and was doing it more for the purpose of being restrictive (disguised in the name of health) rather than approaching it as a true elimination diet. Ironically, during those times I might have benefited more from the results as I was eating more inflammatory foods.
During the last 30 days, I have relied heavily on the good ole grill, and roasting loads of veggies in the oven. As much as I love a good steak and asparagus marinated in coconut aminos and garlic (so SO good), and broccoli (in the oven with a little avocado oil and salt, until it is nice, brown and crispy - try it!), you really can only eat the same 15 foods so many times without getting a little bored and desiring some creative inspiration.
Well, my friends, that is why I created this Whole30 friendly recipe for Keto Buffalo Chicken Soup.
Whether you eat Whole30, low carb, paleo, gluten free, dairy free or just whatever the hell you want, THIS RECIPE IS FOR YOU.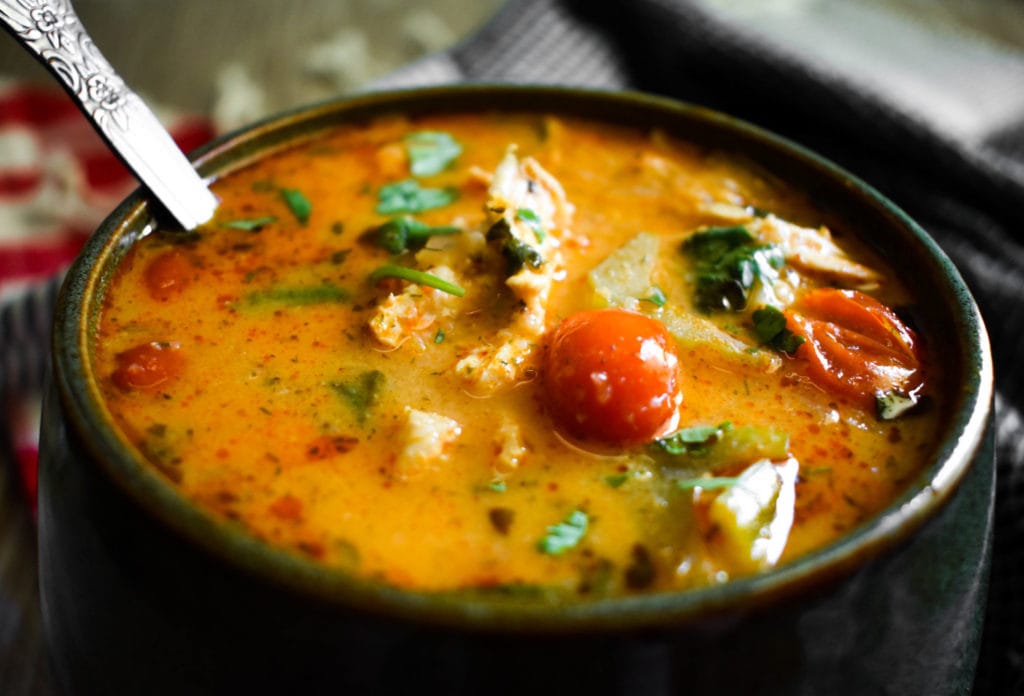 Nutritional Benefits of this Instant Pot Buffalo Chicken Soup
Even though we used full fat coconut milk in this fantastic recipe, it still offers a lighter meal option than cream-based soups. The coconut milk is diluted with the bone broth, both which pack incredible health benefits. Coconut fat is such a wonderful thing because it is one of the only dietary sources of medium chain triglycerides (MCT's).
What are MCT's, you ask?
Oh, just the coolest fats out there. This type of fat is unique because it is metabolized differently in the body than all other fat sources. Because fat is hydrophobic (basically, it doesn't mix well with water) and are body is essentially a big sack of water, we depend on bile to emulsify fat so that it can be moved through our body and used to do all the fantastic and essential things that dietary fats do (aid in cellular regeneration, skin health, brain function, production of hormones, absorption of fat soluble vitamins, and so much more). MCT's are unique because they don't require the same emulsification and transport process needed for other fats. MCT's are directly absorbed into the portal circulation in the liver where they are almost immediately oxidized. The benefits of MCT's are numerous and range from supporting cognitive function to increasing athletic performance. They can also be used therapeutically for people who suffer from fat absorptive issues related to pancreatitis, pancreatic cancer or cholecystectomy (gallbladder removal). Cool.
And, with bone broth (hello, gut health!), nutrient rich veggies and a hearty amount of protein this soup is basically a health potion. You are oh so welcome.
Emotional Benefits of this Instant Pot Buffalo Chicken Soup
If you can eat something that taste like chicken wings, and call it a health potion, I think you're doing okay in life. If this soup has you reminiscing of keg stands, and warm Busch Light in the parking lot of of a Buffalo Wild Wings during a play off game, I just want to commend you on the tremendous progress you have made. No judgement there. All I have to say is cheers, and eat up.
A FBW Classic
As written, this recipe was originally a stovetop recipe, but since this recipe first came out I have transitioned to cooking damn near everything with my Instapot out of sheer laziness. If you are a lazy cook like myself, you might want to give this a try.
If you don't have an Instapot you can still try this stovetop version which is just as good and still very simple.
I also like substituting the chicken breast for boneless skinless chicken thighs. They are often more affordable and seem to fall apart the best making super easy shredded chicken.
Another option would be to use pre-cooked frozen chicken breast chunks. These you can throw into the instapot with the other ingredients and cook on "Soup" for 25 minutes and then add the hot sauce and cilantro.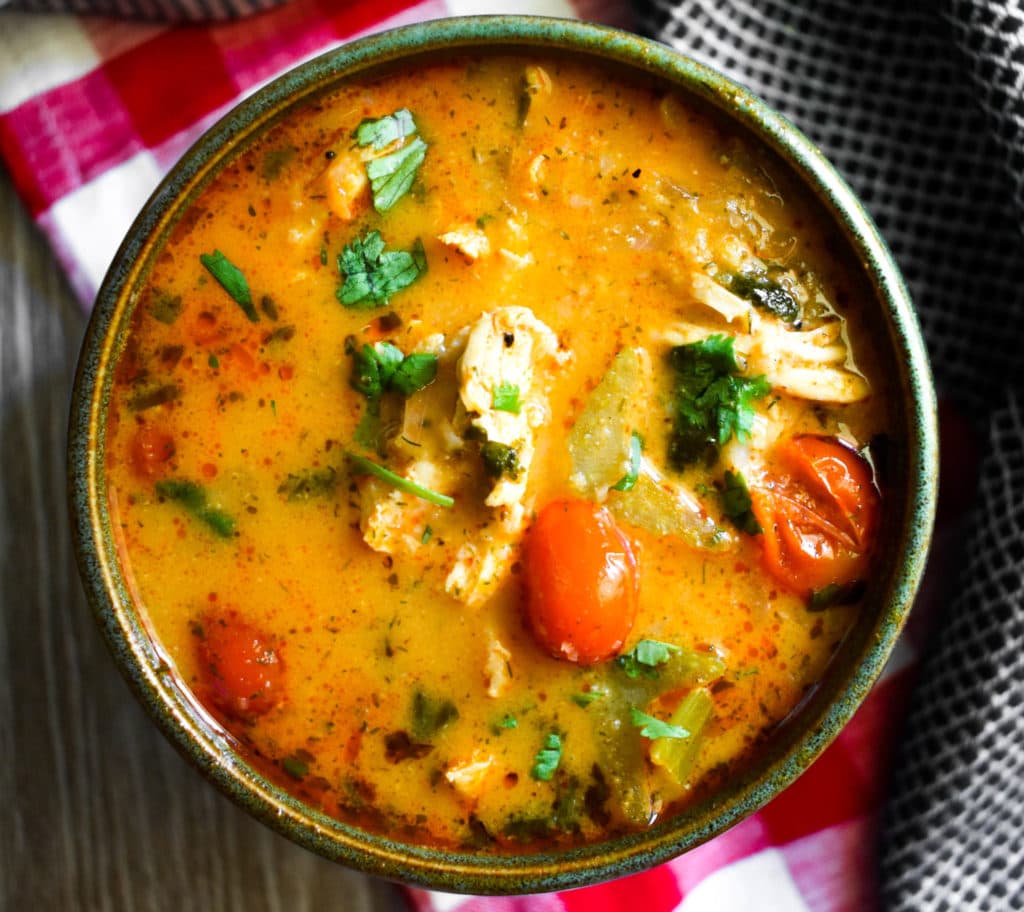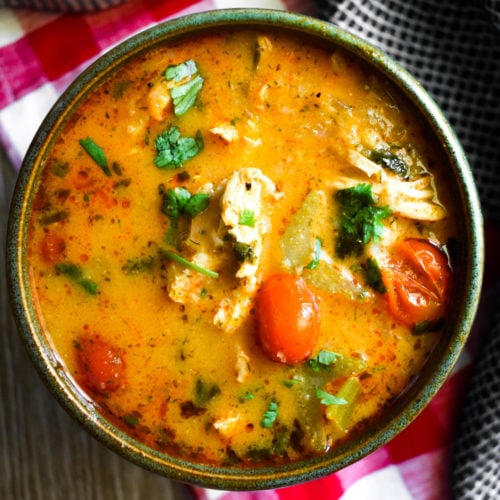 Instant Pot Buffalo Chicken Soup
This kickin' take on buffalo chicken is nutritious, fiery and oh so simple. This paleo, keto, Whole30 buffalo chicken soup is sure to give your coworkers lunch envy.
Ingredients
1

tbsp

Avocado oil

1

lb

chicken breast or boneless skinless chicken thighs

4

cups

Chicken bone broth

1

14 oz.

Can of full fat coconut milk

2

cups

Riced cauliflower

about 1/2 head

1/2

Yellow onion

1

cup

Celery

chopped

10

oz.

Cherry tomatoes

2

tbsp.

Garlic

minced

1

tsp

Dill weed

2

tsp

Paprika

1

tsp

Garlic powder

1/2

tbsp

Black pepper

1/2

tsp

salt

1

5 oz.

Bottle of Frank's Buffalo Sauce

1/4

cup

Fresh cilantro

stemmed and chopped
Instructions
Pour the oil in the Instant Pot. Add the chicken, evenly spaced and top with the broth.

On the "Meat" setting cook for 25 minutes.

While chicken is cooking, chop the celery, rice the cauliflower by chopping, removing the green leaves and throwing the florets into a food processor or a blender, chop the cilantro and the onion.

Once chicken is cooked, release the steam and remove the lid. It should be easy to shred the chicken with a pair of forks. Do this until all the chicken has been shredded.

Add the remaining ingredients except the hot sauce and the cilantro. Stir.

Using the "Soup" setting cook for another 15 minutes.

Once it is done, release the steam and remove the top. Add the hot sauce and stir.

Top with the cilantro and serve.
Notes
If you're using frozen precooked chicken you can just add all the ingredients at the same time and cook for 25 minutes on the "Soup" setting.