Healthy potato salad? Is there such a thing? Yes! And, it's light years better than the weeping, mayo-laden version your mother brought to barbecues in the 80's. This Whole30 Potato Salad is egg and mayo free, loaded with herbs and monounsaturated fats and taste heavenly.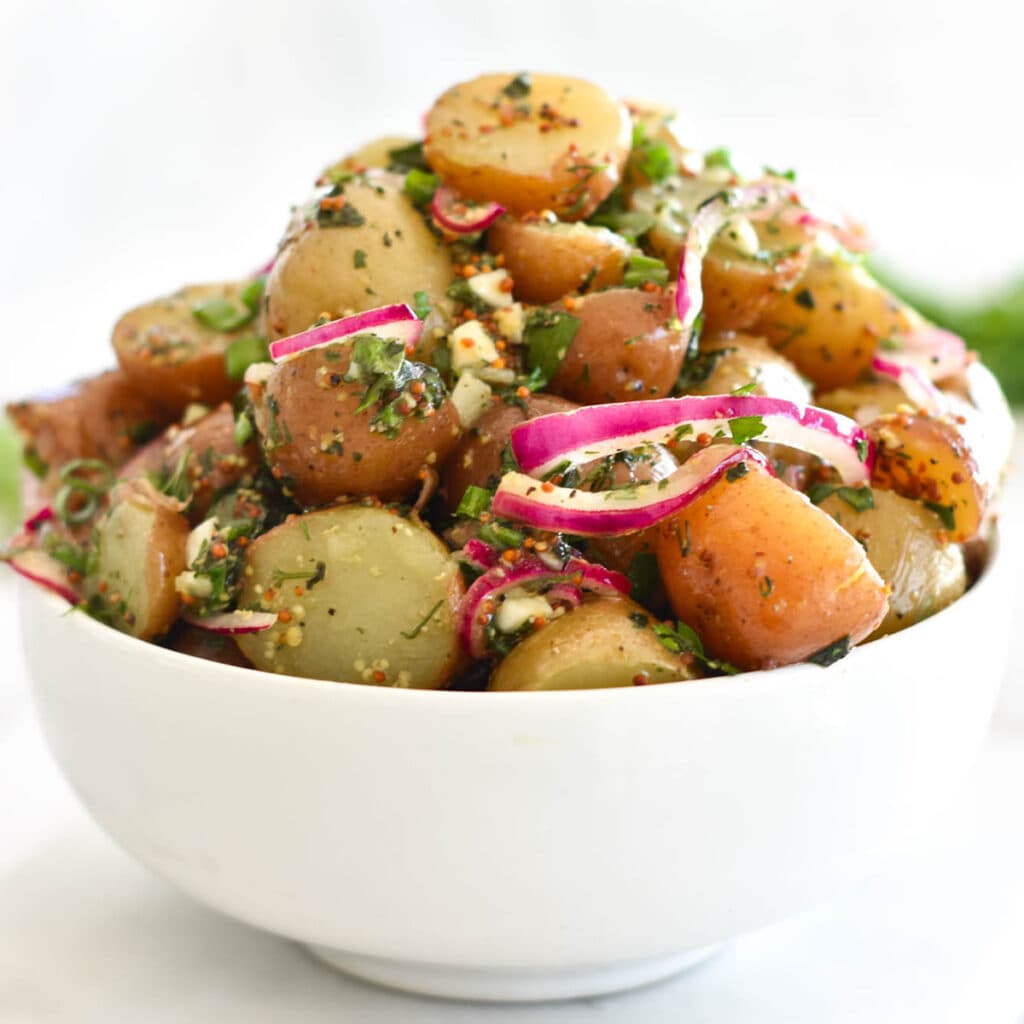 Jump to:
I have had an aversion to mayo for as long as I can remember. If my food even so much as touched mayo it was trashed. Now, as an adult, my pallet has developed a little bit and I can tolerate mayo in certain recipes. But, you put macaroni or egg salad anywhere near me and I will run.
Mayo-based salads are not for everyone. This flavorful potato salad is a remix on the classic summer side dish. It is nutrient dense (hello, look at all those herbs!) and drizzled with healthy fats. Truly, the perfect cure for boring barbecue blues.
Is Potato Salad Healthy?
Traditional potato salad is not usually healthy. It is made with conventional mayo which is usually a mix vegetable oils, but predominately soybean oil. Omega-6 fatty acids, yikes!
If you are making a mayo-based potato salad, I would highly recommend opting for an avocado oil based mayo. I usually purchase Primal Kitchen or Chosen Foods mayo. These brands do not contain any funky ingredients or vegetable oils!
Now, this herbed potato salad is completely healthy! It has rich micronutrients from the herbs and made entirely from whole foods. Herbs are an undervalued superfood! We use olive oil in the recipe which makes it a good source of monounsaturated fats!
Potatoes get a bad rap, but they can actually be part of a healthy diet. Potatoes are a rich source of potassium and vitamin C. And, they are actually slightly lower in carbohydrate than they're orange counterpart, the sweet potato. To boot, when cooked and cooled potatoes become a good source of resistant starch!
What Is Resistant Starch?
Resistant starch is a type of starch that is resistant to digestion, as the name implies. Because it is a type of carbohydrate that is not broken down through digestion it functions a lot like fermentable fiber.
Resistant starch can be found in fibrous cell walls of certain plants, in raw potatoes or unripe bananas, or in foods like rice or potatoes when they have been cooked and cooled.
This starch provides a substrate for our beneficial bacteria and is thought to have many other health benefits including improving insulin sensitivity, microbiome diversity and appetite control.
Can You Make Potato Salad In Advance?
Absolutely! I love this potato salad after it spends a day in the fridge. It will absorb more of the dressing and become more flavorful over the next couple days. This cooling also supports the development of beneficial resistant starch, even if you choose to reheat it the next day!
Because there are not eggs in this recipe, the lifespan is longer than traditional potato salad! I would still recommend eating with 3-4 days of making it.
Specific Diet Questions
Are Potatoes Paleo?
You will get all sorts of answers to this question. In short, yes, they can be part of a paleo diet. You a more thorough answer on this topic here.
Generally speaking, the only time I would recommend avoiding potatoes is if you have poor carbohydrate tolerance (in which I would recommend limiting sweet potatoes as well) or have an intolerance to nightshades.
Is Potato Salad Whole30 Compliant?
Not all potato salads are created equal. While this potato salad can easily be made Whole30 compliant, most recipes are not.

This salad is free of vegetable oils (the common offender in traditional potato salad) and mostly made from herbs, vegetables and olive oil. The only change you will need to make to the recipe to make it Whole30 approved is omitting the tbsp. of raw honey. Whole30 limits added sugars of any type. There is such a small amount of honey that you won't notice a huge difference in taste.

If you are completing a Whole30 right now, you will want to check out my other Whole30 recipes!
Is Potato Salad Gluten Free?
Most potato salads are going to be gluten free if you are making it at home. I would be cautious when using store bought dressings because sometimes you will find hidden gluten containing ingredients.

And, never trust a store bought potato salad! Always check the label before eating if you have Celiac or a gluten intolerance. What you can count on is this simple recipe being 100% gluten free!
Is Potato Salad Vegan?
Conventional potato salad is not vegan because it contains eggs in both the mayo and any hard boiled eggs that may be added. This herbed potato salad is free of animal products making it would be appropriate for a vegan diet. You will need to omit the honey or swap out for 1 tbsp of maple syrup!
What Does This Recipe Pair With?
Potato salad is a pretty versatile food, especially when prepared like this. It is light and will compliment most entrees. Grilled chicken, ribs or burgers come to mind. But, a nice steak or piece of fish would also go well served alongside this dish.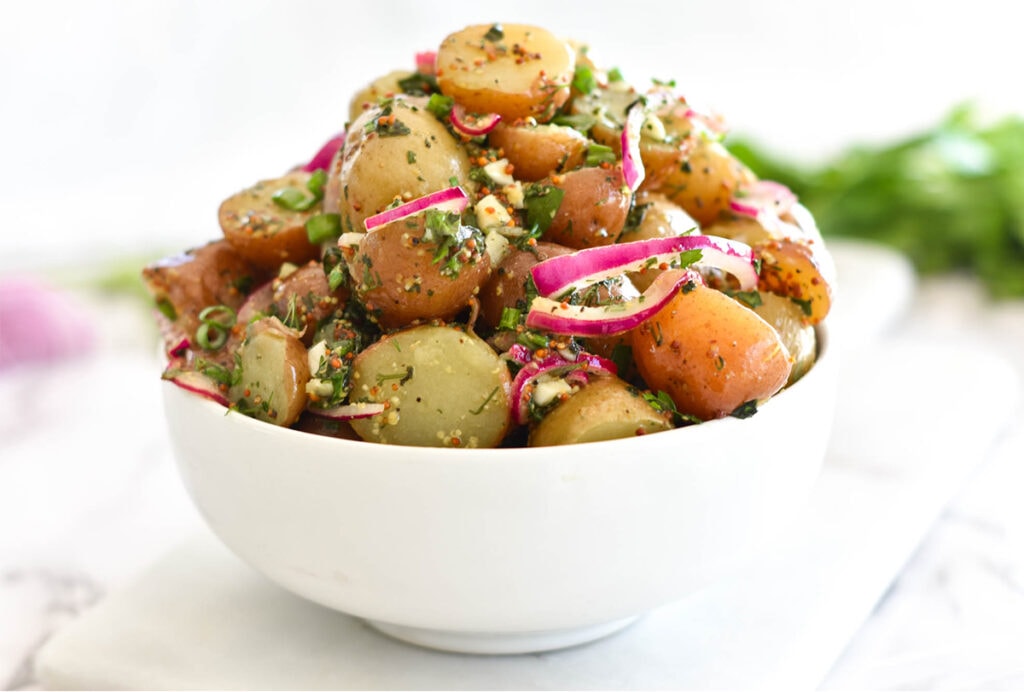 Tips For Making No Mayo Potato Salad
Do not cut or peel the potatoes before boiling. Because we are using baby yellow and red potatoes, the skin is tender and no peeling is necessary. Cutting the potatoes before boiling will result in mealy potatoes. We don't want that!
Add salt to the boiling water! This will help flavor your potatoes. It would be best to add salt after the water begins to boil. This allows the salt to dissolve faster which helps prevent you pot from pitting. Pitting is a form of rust and usually only occurs when using stainless steel pots and pans.
When potatoes are cooking, check to make sure they are done using a knife poke. Just poke a potato with the tip of a knife. If it pierces easily you can remove the potatoes from the heat.
Take the time to finely chop your herbs and garlic. This increases the surface area and will improve flavor! It will also help them blend evenly throughout the dish.
Traditionally, potato salad is a dish served cold. This recipe can actually be served either warm or cold because it does not contain mayo. Totally based on your preference!
Other Paleo Salad Recipes
📖 Recipe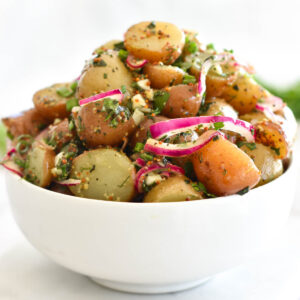 Whole30 Potato Salad
This healthy and delicious potato salad is the perfect side to spice up your BBQ or potluck. This recipe is paleo friendly, gluten free and has no mayo or egg so it is appropriate for most people with common allergies.
Equipment
Stock Pot

Mixing bowl

Knife

Cutting board
Ingredients
1.5

lbs

Baby red potatoes

1.5

lbs

Baby yellow potatoes

¼

cup

Basil

Finely chopped

2

tbsp

Dill

Finely chopped

2

tbsp

Italian flat leaf parsley

Finely chopped

½

small

Red onion

3

Green onions

Greens only

5

cloves

Garlic
Instructions
Pour potatoes into a colander and wash with warm water.

Add clean potatoes to stock pot and cover potatoes with water. Bring to boil. Add 1 tbsp of salt.

Allow potatoes to cook until they easily pierce with a knife, about 15-20 minutes.

While potatoes are cooking, thinly slice the onion and finely chop the herbs and garlic.

In a small bow, whisk together the ingredients for the dressing.

Once the potatoes are cooked, remove from heat and strain in colander. Place in fridge to allow to cool for about 5 minutes.

Once potatoes are cool enough to handle, cut in half and put into a large mixing bowl.

Pour dressing over potatoes and add herbs and garlic. Mix well and serve.
Notes
Store in the fridge for 3-4 days. Enjoy reheated or cold.
Nutrition
Serving:
1
serving
Calories:
156
kcal
Carbohydrates:
33
g
Protein:
4
g
Fat:
2
g
Saturated Fat:
1
g
Sodium:
487
mg
Potassium:
780
mg
Fiber:
4
g
Sugar:
5
g
Vitamin A:
125
IU
Vitamin C:
28
mg
Calcium:
35
mg
Iron:
2
mg