This Maple Mustard Paleo Salad Dressing is my absolute favorite. It is simple and barely takes a few minutes to whip up. I almost always have the ingredients in my cupboard. It is an easy solution to bland meals and makes a great dipping sauce for veggies as well.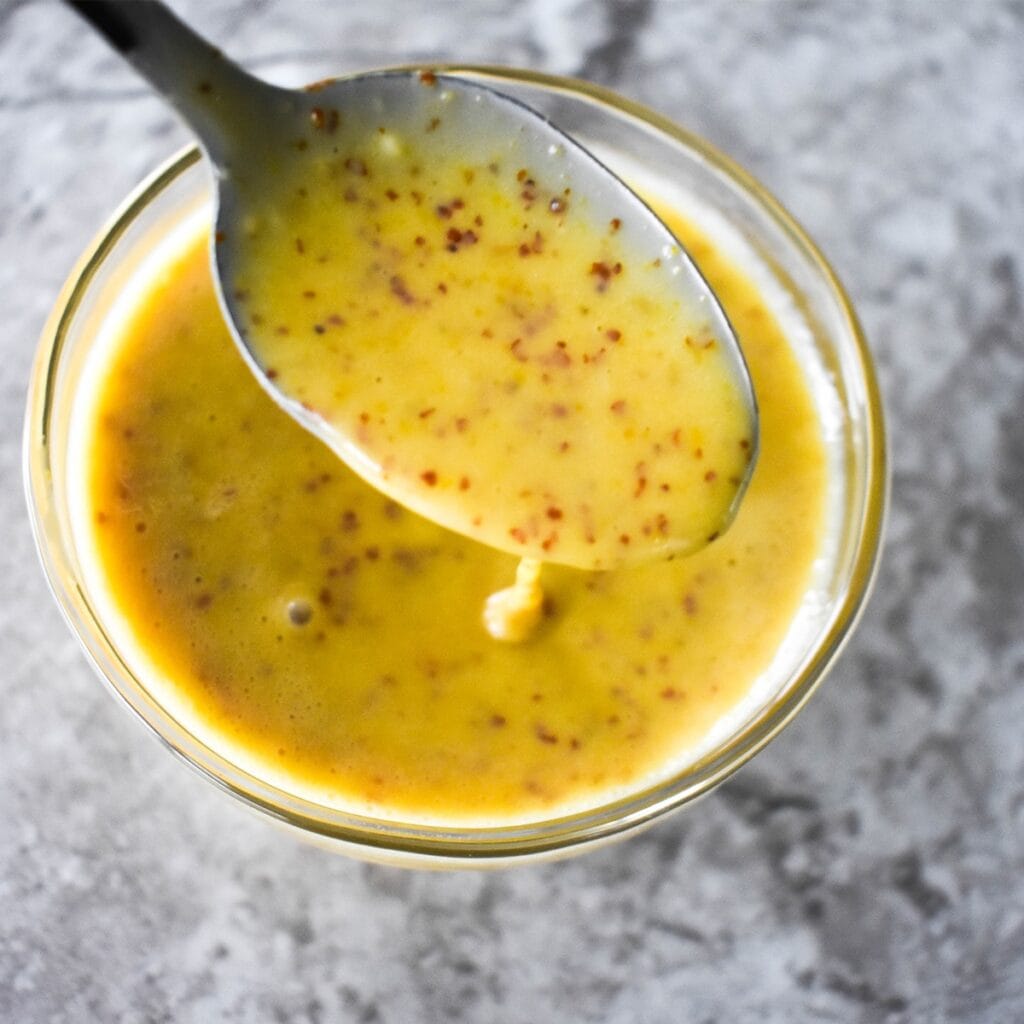 Jump to:
How To Choose A Helathy Salad Dressing
This paleo salad dressing is a simple swap for any vegetable oil-laden store bought dressing. It is damn near impossible to find a conventional dressing that doesn't have unwanted ingredients these days.
Currently, most companies market their dressings as "healthy". Whether they are healthy or not can be debated. A solid argument could be made that most store bought options are, in fact, less than optimal.
How To Choose A Healthier Store Bought Salad Dressing
Look for simple ingredients.

A dressing should be composed of some combination of fat, acid, herbs and possibly a sweetener. If you see a list of things you aren't familiar with choose something different.

Pick a high quality fat source.

The use of soybean, canola or other vegetable and seed oils is very common. These oils are highly processed and most are higher in omega-6 fatty acids which can promote inflammation. Opt for a dressing that is made with 100% olive oil or avocado oil.

Avoid high fructose corn syrup and other highly processed sweeteners.

Choose a dressing that is naturally sweetened with honey, maple syrup, stevia, monk fruit, coconut sugar or other high quality sweeteners. Depending on your carbohydrate needs you may consider getting one that is unsweetened.
Store Bought Paleo Salad Dressings
These Primal Kitchen paleo salad dressings are a good option if you are looking for something pre-prepared. This label never includes vegetable oils. Thrive Market also has some paleo-friendly options!
Always check labels, because some brands have olive oil or avocado oil advertised on the front label but use a combination of oils when you actually look at the ingredients.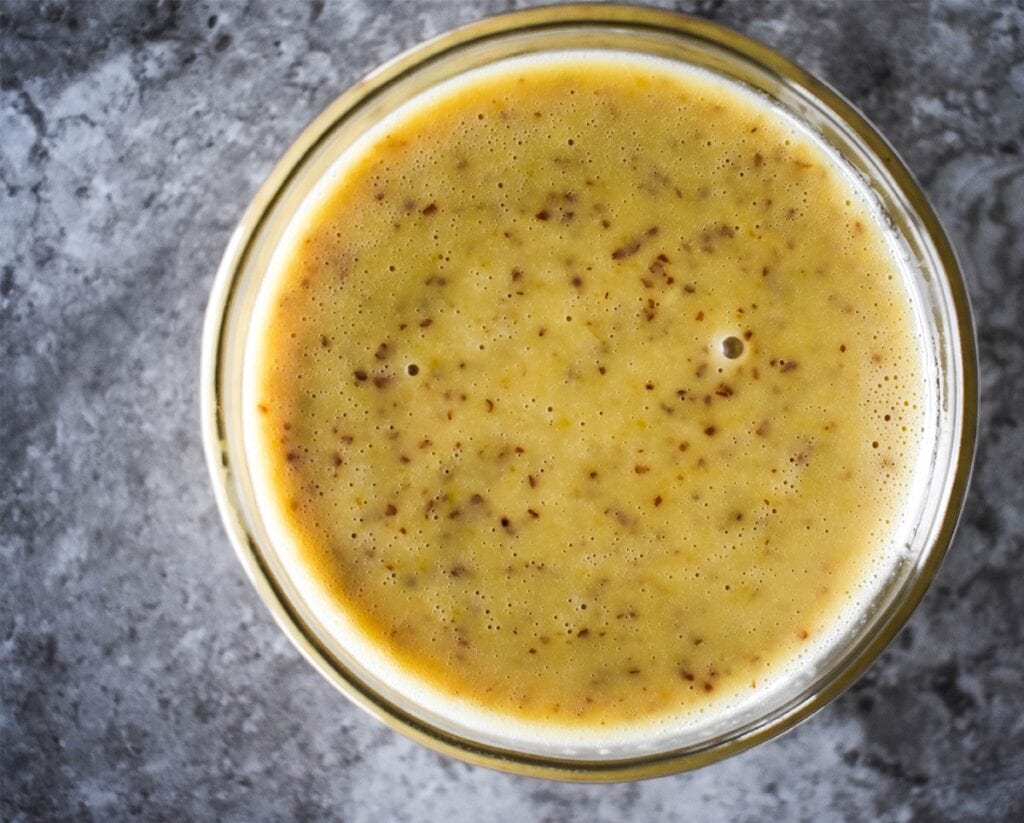 What Makes An Oil "Healthy"?
A good rule of thumb is to focus on oils that come from inherently fatty foods. An avocado, olive or coconut would be considered inherently fatty because you can eat a reasonable serving of these foods and get a reasonable amount of fat.
When comparing that to something like canola seeds (WTF is a canola? Anyone?), corn or soybeans you would have to eat an incredible amount of these foods in order to get even a small amount of fat. This is a good indicator that these fats are not healthy to eat in high quantities, because in normal physiology our bodies would not get these fats in large quantities before the agricultural revolution and processing.
Making and Storing This Dressing
This dressing only takes a few minutes to prepare. Make it in a jar or a dish with a lid to prevent unwanted dishes.
Store it in the fridge for 7-10 days. Just keep it in an airtight container and give it a quick stir before serving.
The Maple Mustard Paleo Salad Dressing is perfect on a salad, like this Salmon Cobb Salad.
📖 Recipe
Paleo Maple Mustard Dressing
This paleo salad dressing is a fun and healthy twist of the classic favorite, honey mustard.
Instructions
Combine all ingredients in a small bowl and mix together.

Store in the fridge for up to 7 days in an airtight container.
Notes
If you don't have maple syrup you could use raw honey for a traditional honey mustard. Place the jar of honey in a bowl of warm water to soften and make it easier to stir in.
Nutrition
Serving:
2
tbsp
Calories:
64
kcal
Carbohydrates:
4
g
Protein:
1
g
Fat:
5
g
Saturated Fat:
1
g
Cholesterol:
3
mg
Sodium:
87
mg
Potassium:
16
mg
Fiber:
1
g
Sugar:
3
g
Calcium:
8
mg
Iron:
1
mg