This Paleo Carrot Cake Chia Pudding is the ideal solution for busy mornings. I find it easy to make this the night before and toss it in my bag as I head out the door to start my day.  It makes getting in a nutrient dense breakfast more realistic for us common folk and it is a great way to sneak some vegetables into your morning meal.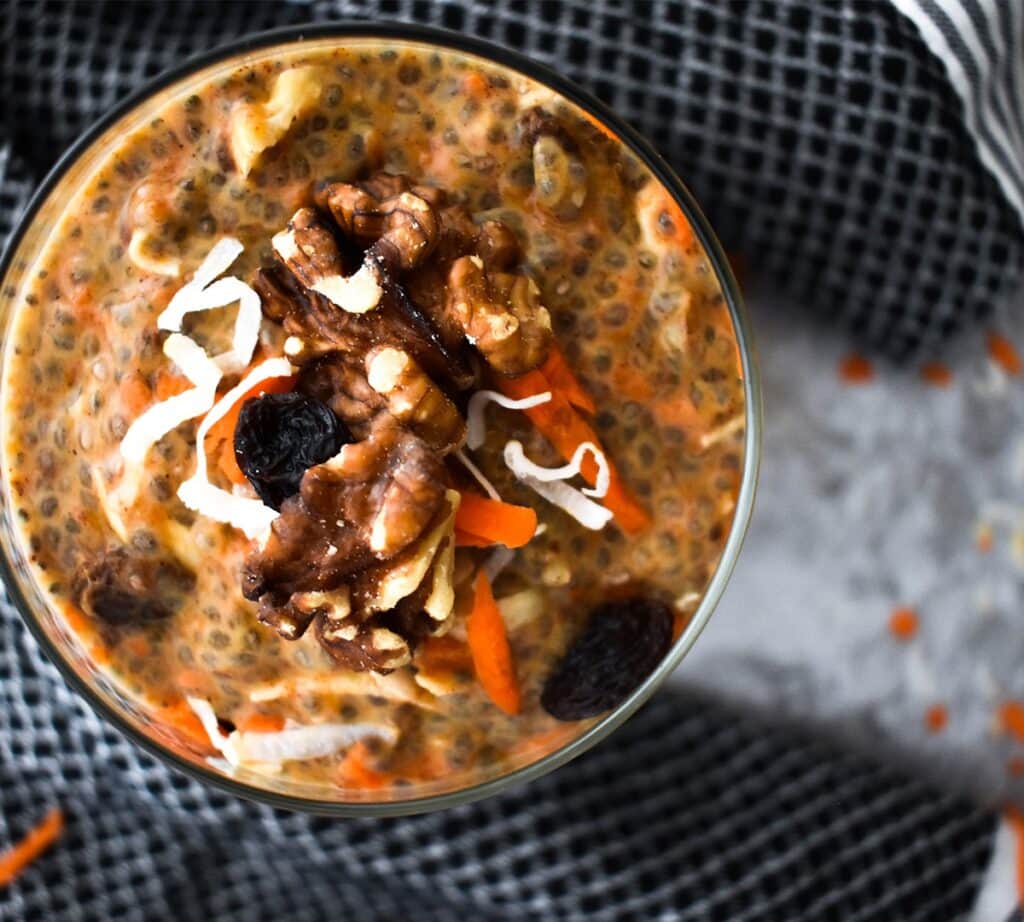 Jump to:
Many factors can impact the way an individual responds to different macro- and micro-nutrients ranging from genetics, environment, lifestyle, gut flora, sleep quality, sun exposure, etc.
A big part of perusing health is refining your own nutrition approach by figuring out what works for your unique body, physiology and emotional state. The key is to find the overlap, the foods and nutrients that allow you to be both nourished and joyful.
Nutrition shouldn't suck the life out of you, in fact it should do quite the opposite. Your food should fuel you and on different days this might mean different things.
Fluidity is huge. We are living beings, after all.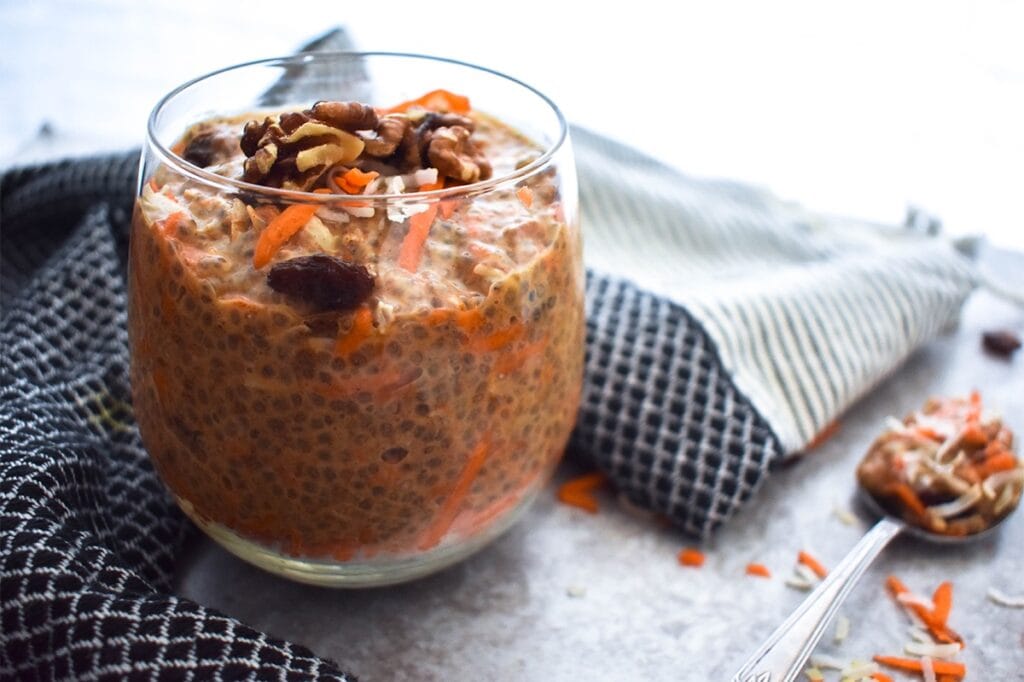 How To Choose A Better Breakfast
Pick foods that are nutrient dense. The carrots and chia seeds in this recipe along with all the spices add micronutrients so that your breakfast isn't a wasted meal in terms of getting adequate nutrients. Try choosing at least one dense source of micronutrients for breakfast. This could be spinach or kimchi with your eggs or berries with your yogurt.
Choose foods that are lower in carbohydrate. The worst thing to have in the morning is something that is going to set you up for wild blood sugar swings and cravings. Lower carbohydrate foods will help you feel fuller for longer so you are not getting "hangry" before noon. This will depend on your carbohydrate tolerance and how you are currently breaking up your macros, but I would recommend to stay below 30 grams of carbs most mornings.
Select something satiating. Opt for a decent amount of both protein and healthy fat in the morning. This will help fill you up and give you slow burning fuel throughout your morning,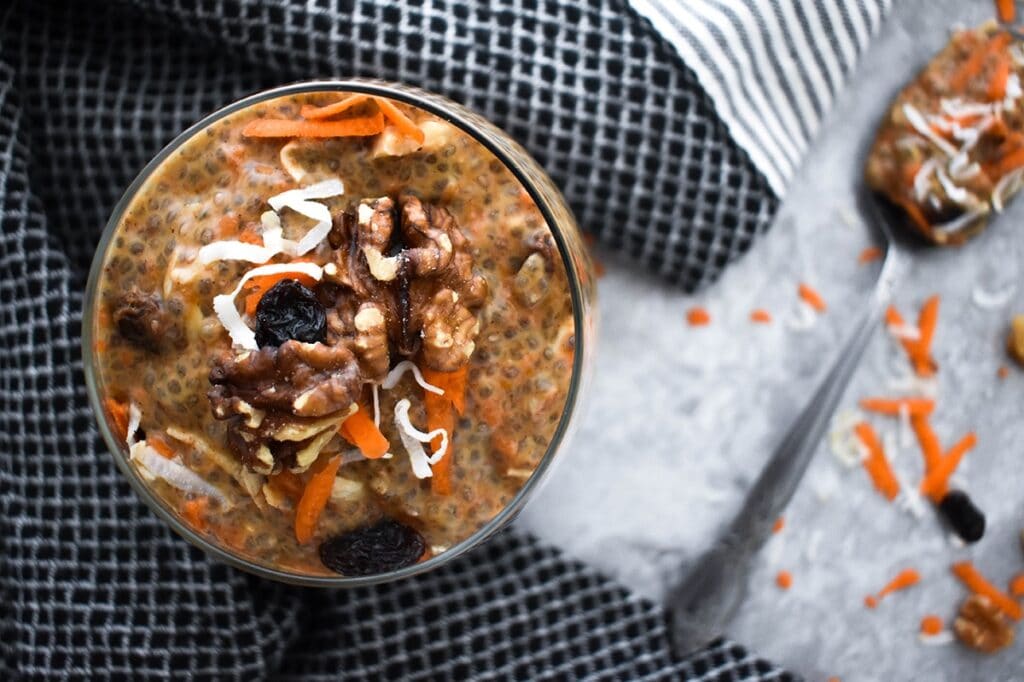 How to Make Chia Seed Pudding
Time needed: 1 hour and 10 minutes.
How to Make Chia Pudding
Combine chia seeds with your choice of liquid.

You will want about ½ cup of liquid for every 1-1.5 tbsp of chia seeds. Using 1 tbsp of chia seeds will produce a slightly thinner pudding and will best to let set overnight. Using 1.5 tbsp will be thicker and require less of a setting period.

Agitate the chia seeds to help them stay suspended and absorb the liquid.

This is great to do in a mason jar with lid, but can be done in a bowl. Shake or stir the chia seeds for about 5 minutes.

Put the chia pudding in the fridge and let it set for at least 1 hour.

During this time you want to shake or stir the seeds occasionally to prevent them from settling on the bottom.

Add your favorite sweetener and enjoy!
Tips for Making This Recipe
This Paleo Carrot Cake Chia Pudding is a quick and dirty recipe that can be whipped up on even the busiest morning.
To make it even easier, try making it in a mason jar. Using a mason jar with a lid makes the process incredibly simple, and perfectly portable to take on the go.
You can double the recipe and enjoy it for breakfast all week long. Easy, healthy meal prep.
If you don't have a jar you can whisk the ingredients in a bowl, but be sure to whisk until the chia seeds are fully suspended.
Mix or shake up the chia seeds at least several times during their resting period. This will help prevent them from turning to a brick at the bottom of the jar.
If you want your nuts to be crunchy, add them prior to eating.
If you have made this recipe, please leave a comment and a rating below! I would love to hear from you.
📖 Recipe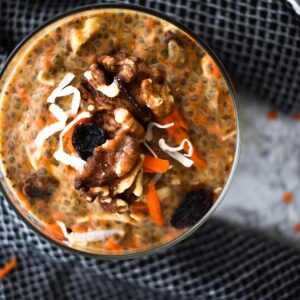 Carrot Cake Chia Pudding
This carrot cake chia pudding is the perfect recipe for a healthy breakfast or nutrient packed paleo dessert.
Instructions
Add all ingredients to a large mason jar and seal with lid. Shake vigorously for several minutes until all chia seeds are suspended.

Store in the fridge for one hour, shaking occasionally to prevent the chia seeds from settling on bottom.

Serve immediately or store in the fridge for several days.
Notes
For those following Whole 30, you could sweeten with pitted and chopped dates. You would add these to the mixture at the same time the chia seeds are added. You could also soak a few dates with the pits removed for 15 minutes in ¼ cup of warm water and then blend them with the water and use this date syrup to sweeten.
Nutrition
Serving:
1
serving
Calories:
178
kcal
Carbohydrates:
16
g
Protein:
6
g
Fat:
11
g
Saturated Fat:
3
g
Trans Fat:
1
g
Sodium:
189
mg
Potassium:
235
mg
Fiber:
7
g
Sugar:
2
g
Vitamin A:
5066
IU
Vitamin C:
2
mg
Calcium:
236
mg
Iron:
2
mg
Check out these other easy chia seed pudding recipes: