I have always loved this Maple Walnut Banana Ice Cream recipe. It is a great way to satisfy your sweet tooth while experimenting with a popular medicinal root, maca. I like to make this recipe when I am craving salted caramel or toffee flavors.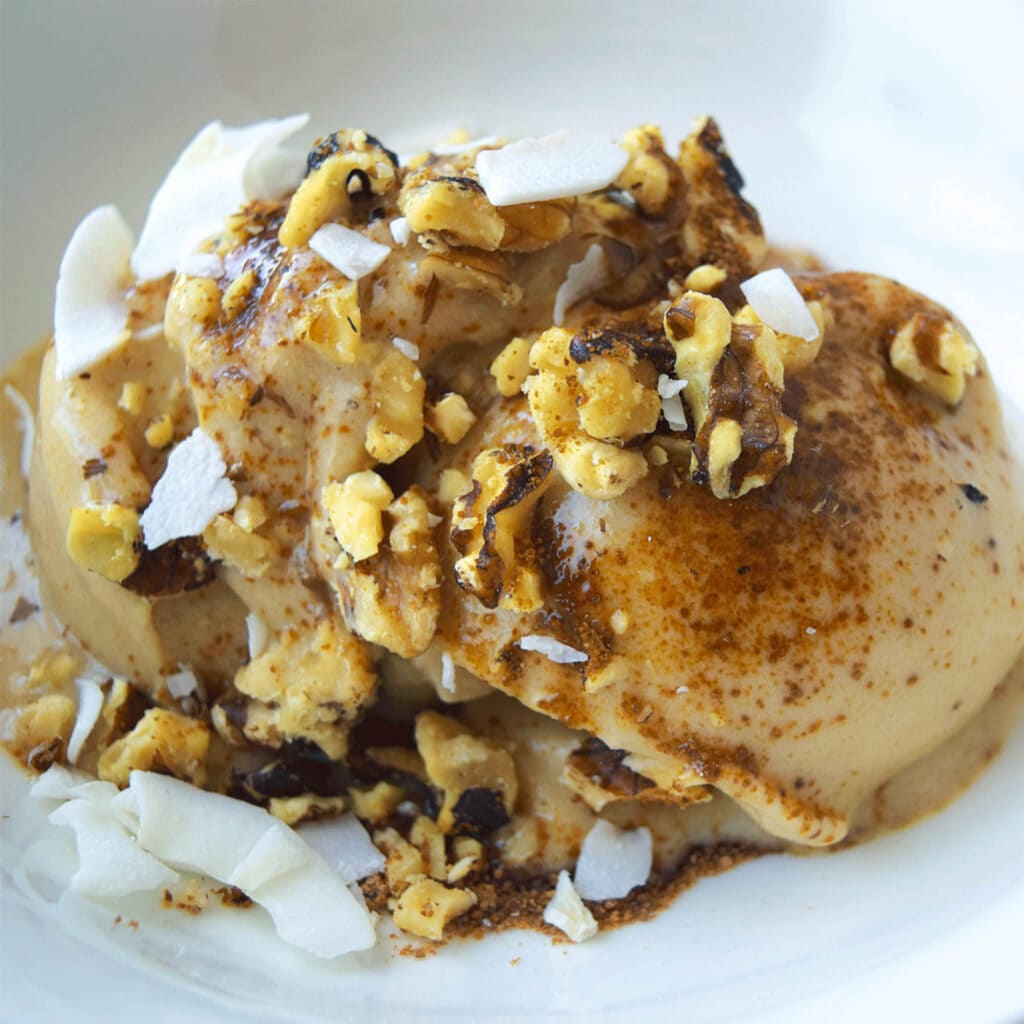 Jump to:
What is Maca?
Maca powder is made from the root of a cruciferous vegetable. It is usually found and grown at high altitudes and most commonly found in the Andes of Central Peru.
Maca has a long history of being used for both food and herbal medicinal purposes. This root has a nutty, toffee-like flavor. And, it has is becoming increasingly popular in the western world.
The main reason it maca has been gaining so much popularity is because it considered an adaptogen. An adaptogen is a substance that helps the body adapt to stress.
Maca Powder Benefits
The there are many proposed benefits of maca powder but the research out there is still very new. Many studies that have been completed were done on animals. Others were not independently done, meaning that companies invested in maca powder funded the studies. Because of this, I will encourage you to take the research with a grain of salt.
Hormones. Maca is thought to be balancing for hormones. It may play a role in controlling estrogen production. This could potentially help women suffering from PCOS, PMS, or hormonal acne. In addition to that, a 2008 study has demonstrated maca to decrease feelings of anxiety and depression. In the same study, increases in mood and libido were noted. I am here for it. Women are not the only ones would could benefit from maca supplementation. Maca was also shown to improve male testosterone and fertility.
Antioxidant. Our bodies are constantly fighting against free radicals. Free radicals are a contributor to the aging process, oxidative stress and many types of cancer. Maca is a very power antioxidant. It has been shown to increase glutathione and superoxide dismutase which have a role in preventing chronic diseases associated with impaired glucose tolerance and oxidative stress.
Energy. Maca is thought to increase energy through it's regulatory affect on the hypothalamus and pituitary gland. It has also been shown to have a regulatory effect on blood glucose.
Nutrient density. This root is actually quite nutritious. It is an excellent source of vitamin C, copper and iron. Additionally, it is a good source of vitamin B6, potassium and manganese.
Side Effects of Maca
Maca is generally considered safe. But, like all herbal supplements should be used wisely.
Some anecdotal evidence indicates that maca may worsen hormonal acne in some people. This is because balancing hormones requires a delicate balance. And, using herbs to correct imbalances is an art form. I encourage those suffering from severe hormonal acne to discuss with their functional medicine practitioner before experimenting with any herbal supplements.
Maca contains goitrogens, which can interfere with the normal function of the thyroid gland. Use cautiously if you have any thyroid related issues.
You should consult your functional medicine practitioner before taking maca powder if you are pregnant or breast feeding.
Where To Buy Maca Powder?
You can find maca powder is carried in most health food stores. And, like everything else, you could always order it from Amazon.
Related Recipes
Have you tried this Maple Walnut Banana Ice Cream Recipe? If so, please leave a comment and a rating below. I would love to hear from you!
📖 Recipe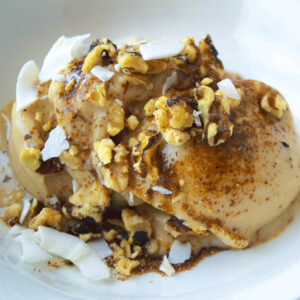 Maple Walnut Banana Ice Cream
This paleo maple walnut ice cream is super nutritious and indulgent. The base is made from bananas so refined sugar is needed here.
Ingredients
2

Frozen bananas

ripe

⅔

cup

Almond milk

1

tsp

Maple flavoring

1

tbsp

Maca powder

Sea salt
Instructions
Add the bananas, maca and maple flavoring to the blender. Start by adding ½ cup of almond milk and blend.

Stop the blender to scrape the sides. Assess the consistency and add more almond milk as needed to get a smooth and thick consistency.

Top with a sprinkle of coconut sugar and walnuts. Serve and enjoy.
Notes
Peel and break up the ripe bananas into chunks. Store bananas in a Ziploc bag and place in the freezer the night before.
Nutrition