This quick and fresh Lemon Apple Canned Salmon Salad will certainly help you out of the tuna salad blues. It only takes about 5 minutes to prepare and combines some of the best flavors.
This is the perfect quick meal to pack for a weekday lunch. You can whip this up in a pinch if you forgot to plan something for dinner or if it's too hot to turn on the stove.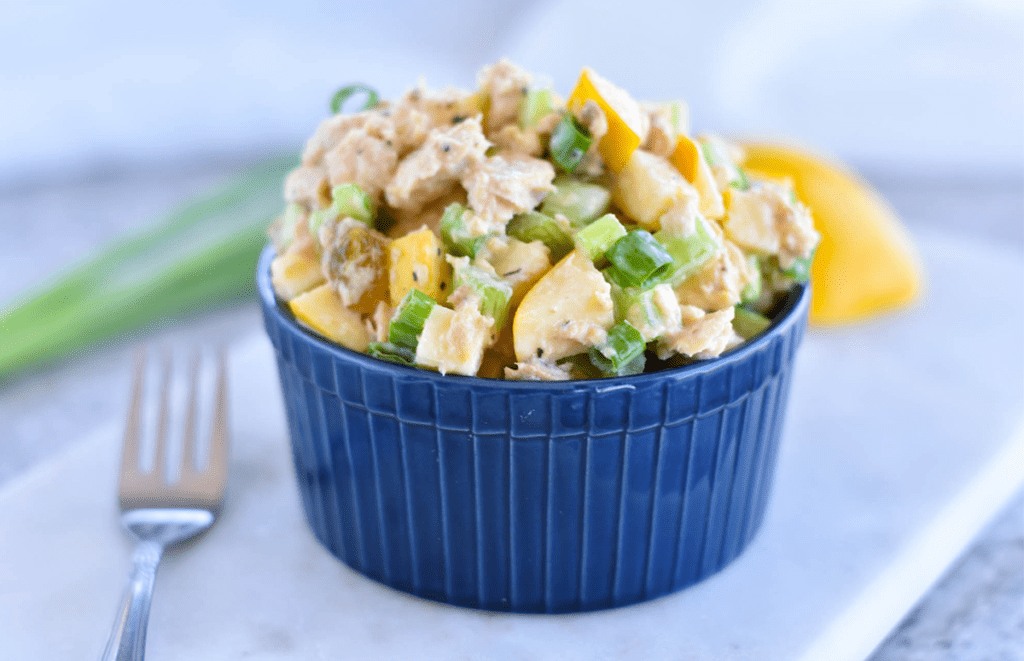 [fest_advanced_jump_to]
What Are Golden Raisins?
This recipe uses golden raisins and I do not recommend substituting regular raisins. If you have never had golden raisins before, I encourage you to step out of the raisin box.
These yellow raisins are tangy and sweet. They pair well with the apple and lemon in this salad.
Golden raisins are not dried in the sun like traditional raisins. Instead they are dried in large dehydrators at controlled temperatures and humidity levels. Golden raisins are also treated with antioxidant sulfur dioxide. Sulfur dioxide is commonly use in the preparation of dried fruit and white wine.
If you are sensitive to sulfites, I would recommend substitute these with dried bits of mango or apricots for a similar flavor.
How To Serve This Salad
This lemon apple salmon salad can be eaten by itself, obviously. But, you could also serve it on crackers, on a sandwich or on a bed of greens. It is basically a fancy tuna salad.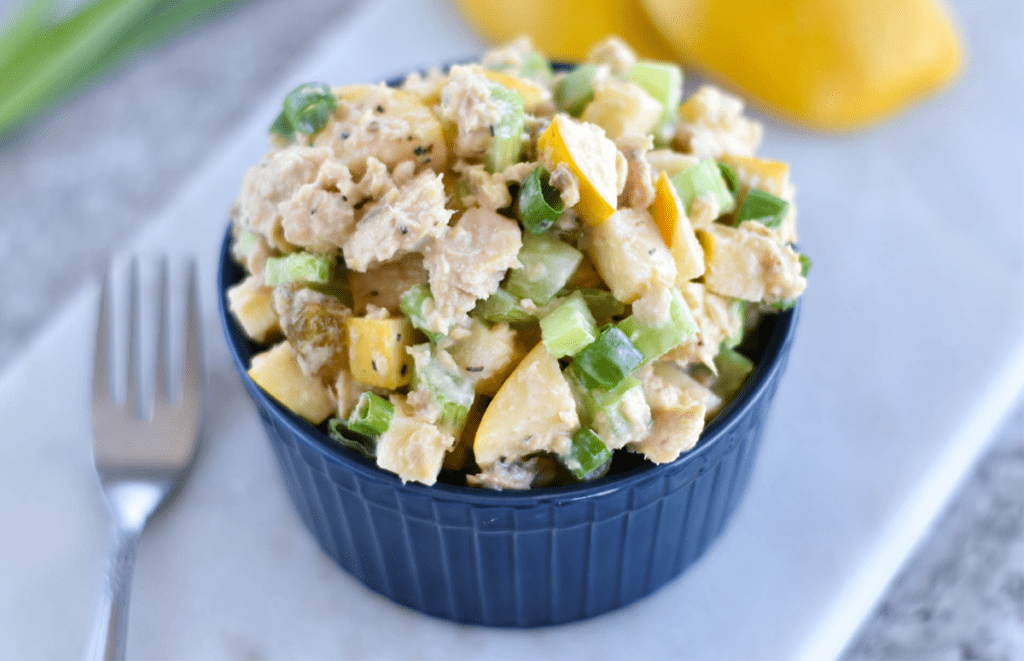 Why Use Canned Salmon?
Inexpensive
No matter where you live salmon is expensive. Using wild-caught canned salmon can be very economical compared to fresh or frozen fish.
Farmed salmon would seem like a reasonable solution. It is in fact cheaper. The problem with farmed salmon is that the nutrient content and fatty acid profile are different. You are getting more omega-6 fatty acids, more fat and less important nutrients like vitamin D.
Buying farmed salmon is not the end of the world. But, if you can afford it pay an extra $1-2 per pound for the wild caught and sustainably sourced salmon. Canned salmon makes this more accessible to most people.
Time
By using canned salmon, this recipe will only take 5-10 minutes from start to finish. if you can't be bothered to meal prep, this can be a great solution and something I would recommend keeping on hand.
Can I Use Fresh Salmon In This Recipe?
Yes! I would cook it the day before or use salmon leftovers. It is best to use cooled salmon as this a cold salad. Remove the skin and break it into small pieces and add it to the recipe in place of the canned salmon.
The end product will be a little different but the overall texture and flavor will be similar. One thing to note is canned salmon is a little drier, so you may need less may in this recipe if using fresh salmon.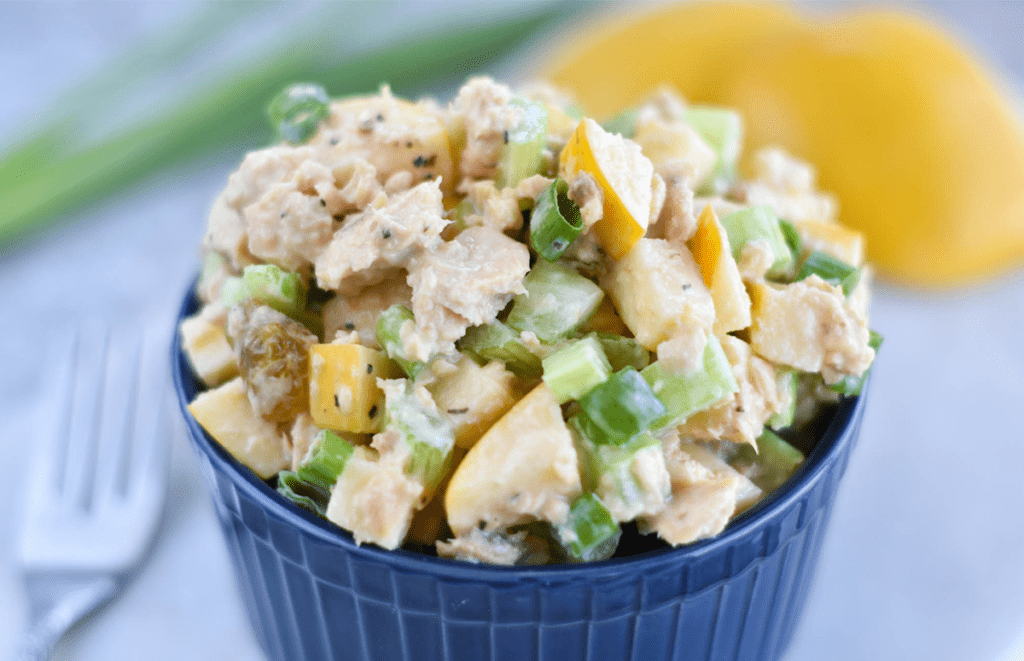 Choosing A Mayo
A good avocado oil mayo should be made from only avocado oil, egg yolk, salt, vinegar and maybe a little mustard. Lucky for us, most grocery stores are carrying avocado oil mayo.
Be cautious when you purchase a mayo. Often times, conventional brands will market their mayo as "avocado oil mayo" but use a combination of avocado oil and soybean or other vegetable oils. Be savvy and don't fall for their tricks!
My go-to brands are Primal Kitchen and Chosen Foods, if you can spot either of these than you're in the clear.
Substitutions
Golden Raisins - To substitute, I would pick something that is both sweet and tangy. Bits of dried mango or apricot might be good alternatives.
Salmon - Canned tuna would work in this recipe as well. The fat content is lower so it might be a little drier and you may need to adjust the mayo.
Opal Apple - I am a Washington gal. Apples are my thing. I like the opal apple in this recipe because it is very sweet and flavorful. A pink lady would also work nicely.
Related Recipes
📖 Recipe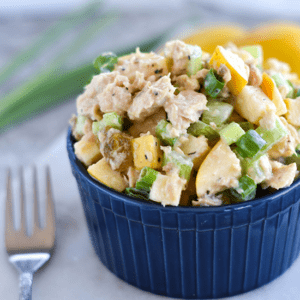 Lemon Apple Canned Salmon Salad
This is an insanely easy recipe that will surely trump your usual tuna salad. It is paleo-friendly, nutrient dense, with a fresh and summery flavor.
Ingredients
10

ounces

canned wild caught salmon

¼

cup

chopped green onions

about 3 onions

3

stalks

celery

¼

cup

avocado oil mayo

¼

cup

golden raisins

1

opal apple

large

1

tbsp

lemon juice

1

tbsp

maple syrup

optional

salt and pepper

to taste
Instructions
Prepare the produce. You will want to split the ribs of celery in half and then thinly slice. Core and dice the apple. Finely chop the green onions, green part only.

Combine all ingredients in a large bowl. Mix well, and enjoy.
Notes
Avoid storing this recipe for more than a day in the fridge. From a food safety standpoint it will probably be fine but the quality will deteriorate. 
Adding pecans would be a nice addition!
Nutrition