Overeating Help: 5 Tips to Feel Less Obsessed Around Food
Eating Disorders Vs. Disordered Eating
Eating disorders are complex mental illnesses that generally require several levels of care in order to gain lasting relief from compulsions, and if this is something that you think you might be struggling with I strongly advise you to talk to someone and figure out what type of treatment might be available in your area. While eating disorders are considered a mental illness, disordered eating patterns are becoming increasingly prevalent among both women and men at all stages in life.
What are disordered eating tendencies?
Disordered eating patterns are any shift from normal eating habits that may impact the quality or quantity of your food intake. These deviations don't have to be tied to obsessive behaviors or even changes in weight, but can be. An eating disorder is a medical diagnosis while disordered eating patterns could be something like following a diet that removes a major macronutrient (carb, protein or fat), eating the same food for breakfast every day, cutting for for a physique competition, or filling emotional voids by eating chocolate (and watching Grey's Anatomy) even if you are not hungry. Disordered eating tendencies can be fueled by the desire to lose weight or conform to societies body standards, or they can also be motivated by something as harmless as a food aversion.
Why are we so "FOOD OBSESSED"?
Compared to our ancestors, our society highlights different physical attributes as being ideal that are not necessarily associated with a strong, healthy body. Traditionally, a healthy woman is one who is functionally fit (able to walk, sprint, lift things), has adequate store of body fat in appropriate places (thighs, hips, breast) and has typical signs of health (bright skin, shiny hair, no visible signs of disease). These qualities are relevant because they show that this theoretical woman has the ability to carry a child, survive periods of famine, and provide for her young. Animalistic? Yes, but this is how are bodies are hardwired and this is why it is so hard for women to sustain a six-pack or skip meals without feeling CRAZY.
Women today are expected to have small waists, thin legs, curves in the appropriate places, thick healthy hair, and plump skin. Some of those features are practically mutually exclusive. While some women have body types like this and can be perfectly healthy, it is a less than common scenario. Most women have to work to keep their waist slim or build their booty, or maybe they are able to stay thin but have dry, brittle hair and flaky skin because their diet is perpetually low in essential fatty acids due to a low fat intake. It is a give-and-take to maintain these unrealistic body standards, and although some women are able to do this, most women are in a constant state of restricting food intake, over exercising or eliminating foods they love in order to look a certain way.
Changing our bodies natural shape is hard because you are fighting your genetics. Most women know where they carry fat and what body type they have. For me, I am a mesomorph. I build muscle easily and can squat my future husband. I carry weight in my legs and booty, I have no boobs and most of the time you can see my abs under a healthy layer of fat. Even when I was "underweight" I still had thicker thighs yet my upper body became so thin it looked as if I would snap an ulna if I attempted a handstand. My point is that you can try to fight your biology but your body wants to carry a certain weight and in carry fat in certain places. Trying to alter your body shape and size is going to cause you to become more obsessed with food. I am not saying that you can't try it, but I am saying that it might be more valuable to accept your body shape and focus on building muscle, making healthy foods choices that make you feel like a badass and working towards athletic goals that make you feel powerful and accomplished, rather than physical goals that make you feel defeated.
Feeling obsessed with food isn't fun.
Lying in bed at 9:00 PM thinking about what you are going to eat for breakfast the next day is no way to live. If you find that you struggle with control around food, or find yourself thinking about food at inappropriate times (daydreaming about a cheeseburger during sex?) these tips might help you to normalize your eating patterns and feel freer around food!
Overeating Help: 5 Tips to Feel Less Obsessed Around Food
Quit Counting. Do you obsessively log every 1/4 bite on myfitnesspal? Does macro counting take up a good portion of your brain function? These tools have an appropriate time and place, but often times tracking your calories or macros can make you feel totally food obsessed. While tracking your calories can be a good tool to help you visualize how much you are actually eating and get better grasp on portion sizes, it is not a long term solution. Tracking your calories everyday can cause you to lose touch with your innate hunger cues, and can actually deter your weight loss or weight maintenance goals. How? Well, the calorie count on nutrition labels can actually be highly inaccurate. These studies show that foods can contain anywhere from 4%-50% more calories than stated on the label: Study 1, Study 2, Study 3. Additionally, most people underestimate their calorie intake greatly. So how do you know how much to eat for dinner without knowing that you have exactly 659 calories left for the day? Listen to your body! This won't happen overnight. You will under eat and over eat some days, but eventually your body will tell you how much and what kind of food you need and you will learn how to pick up on these innate cues. For information on intuitive eating click here.
Eat Enough! You need to intake at least your BMR in energy (more if you are exercising) in order to NOT FEEL CRAZY around food. Even if you are trying to lose weight you should never eat less than your BMR. Your body needs this amount of energy to function, to rebuild, to just live. If you are eating less than your BMR consistently, I guarantee you that you will binge. It may take a day, or a week, but eventually your body will give in and you will overeat or end up elbow deep in an "off-list" food. Do your body and brain a favor and make sure you are getting enough to eat. If you need help figuring out your calorie needs, check out my Girl's Guide To Energy Expenditure blog post.
Enjoy a Good Breakfast. They say breakfast is the most important meal of the day. I say that is crap. I don't care if you extend your fast until noon, or eat first thing in the morning, eating a bowl of cereal is not going to do anything to improve your health. Your first meal of the day is important but it should focus on slow-carbs, fats and protein. I don't think there is anything wrong with eating later in the day as long as your first meal is solid. For me, breakfast is usually 3 whole eggs, a plate full of veggies (spinach, squash, roasted broccoli or bell peppers), bacon or avocado, or I opt for steal-cut oats with berries, collagen and coconut oil. Whenever you have your first meal, make sure that it is more than carbs, focus on slow releasing carbs like beans or veggies, and add healthy fat (eggs, avocados, coconut oil), and about 20-40 grams of protein. Blood sugar control plays a huge role in moderating cravings. By eating a solid, slow-burning breakfast you can minimize your blood sugar swings and kick ass until lunch time.
Indulge Your Cravings. If you have been thinking about pizza for 3 days without relief, EAT THE DAMN PIZZA, and do it without guilt. If you deny yourself that slice of pizza you will continue to think about it for the next week until you wake up from a deprivation-induced coma with grease covered hands, a crumpled Domino's receipt and the remnants of what was a large pepperoni pizza. Or worse, you will have eaten 3 boxes of gluten-free crackers with a tub of cashew cheese and still be craving that freaking pizza. I understand wanting to make healthy food choices, and I fully support that desire. Eat healthy, but make exceptions. This is important so that you can lead a normal and full life, because a normal life includes food that might not fit perfectly into your diet plan. I follow a loosely paleo diet because it makes me feel fantastic but I eat cake on birthdays, chocolate and peanut butter whenever the heck I want, and a margarita because it's Monday. I make grain-free alternatives to my favorite indulgent foods to enjoy on a regular basis, and because of this I never feel like I am "not allowed" to have a certain food. Check out this Grain-Free Sweet Potato Pizza Bake to kick some cravings.
Don't Restrict After You Overeat. So you ate too much for lunch, obviously you are going to have to eat lettuce and vinegar for dinner or else you are going to blow up like a balloon. Not exactly. Our bodies are smarter than we give them credit for. Binges generally serve some kind of purpose, whether your body feels like it's in a period of starvation, or you are consistently missing a major nutrient, or you trained really hard in the gym and didn't fuel properly afterwards, or maybe you are going through something really emotionally draining and food is comforting. Although binging is not healthy, these are all totally normal and acceptable reasons for your body to be triggered into over-consumption. If you find that you have eaten too much at one meal, accept it and try to identify the reason why. Are you chronically tired? Is something traumatic happening? Did you skip a meal? Address the underlying cause, and correct it (take a nap, talk to a friend, meal prep so you don't miss a meal). After that, MOVE ON! Eat a normal meal. If you restrict your food intake after a binge you are likely to get caught in a binge-restrict cycle which gets harder to break the longer you perpetuate it. Do yourself a favor and skip the restriction. You are not likely to gain even 1/2 a pound after a binge because your body is incredibly smart and capable of self-regulating. Trust it!
Bonus Tip: Put Time and Space Between Your Meals. If you find that you overeat out of habit, maybe you always overeat at the end of the day while you are unwinding and watching Netflix or immediately after you get home from work, it might be wise to change things up a bit. You can't just quit a habit, you have to replace the habit with something new. If you feel like you are eating enough but you just can't seem to stop binging at specific times during the day then actively break up the time between your meals. After you eat your meal go for a walk, clean the house, call a friend or check your email. Just do something to get your mind off of food. Sometimes it takes only 10 minutes of a different activity to reduce your desire to continue to eat past fullness.
This tips are my personal advice as a dietitian and nutritionist, and as someone who struggled with binge eating, bulimia and restrictive dieting for 10 years. This information is in no way supposed to replace medical advice, but I hope it is helpful in your own personal journey towards sustainable, long-term wellness, enjoying your food, and stressing less.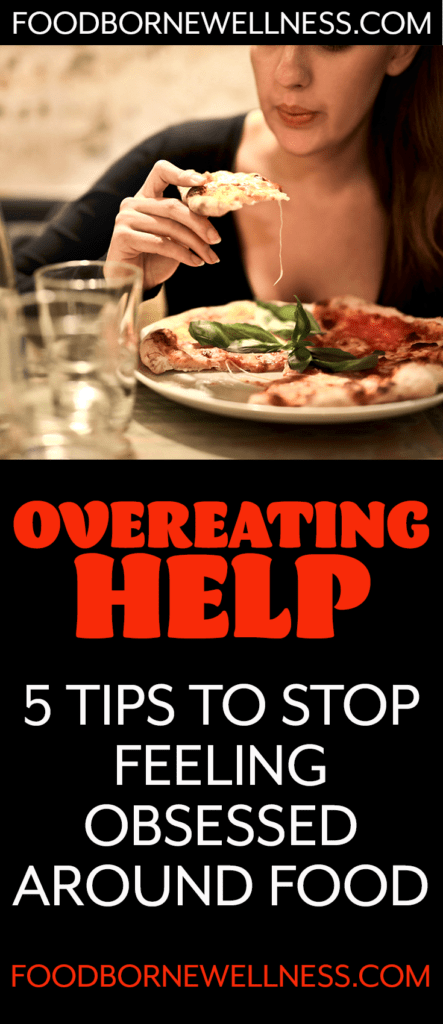 The images used in this post are stock images and do not belong to me. All other photos are property of Foodborne Wellness.