These Crispy Paleo Waffles are pure perfection! Crispy, slightly sweet, and so fluffy! These waffles can hold their own against any conventional waffle recipe, making this the perfect recipe for paleo-skeptics and waffles lovers alike.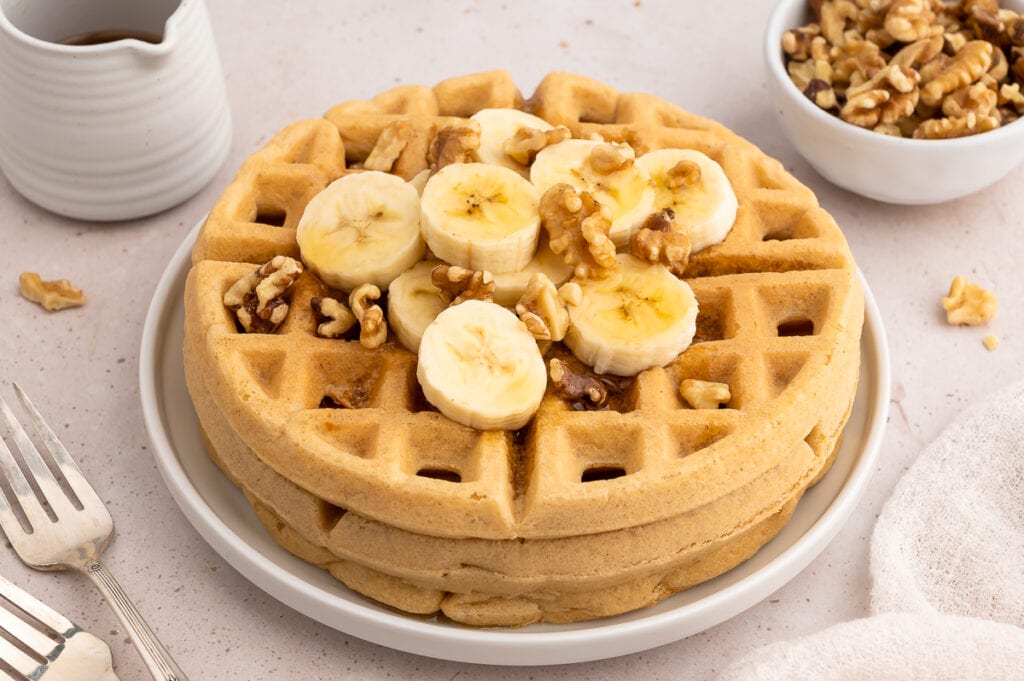 Jump to:
I love waffles. Not in a casual way, but similar to they way Leslie Knope loves waffles. I spent much of my pregnancy obsessing over making the perfect paleo waffles, and these, my friends, are it.
These waffles have everything a true waffle lover is looking for. They are crispy and golden on the outside. Airy and fluffy on the inside and have just a hint of sweetness.
My favorite way to enjoy these waffles is to microwave some frozen berries until thawed, add a bit of stevia and mash. I top the waffles with the sweet, tart berry mixture and some raw almond butter. Heaven.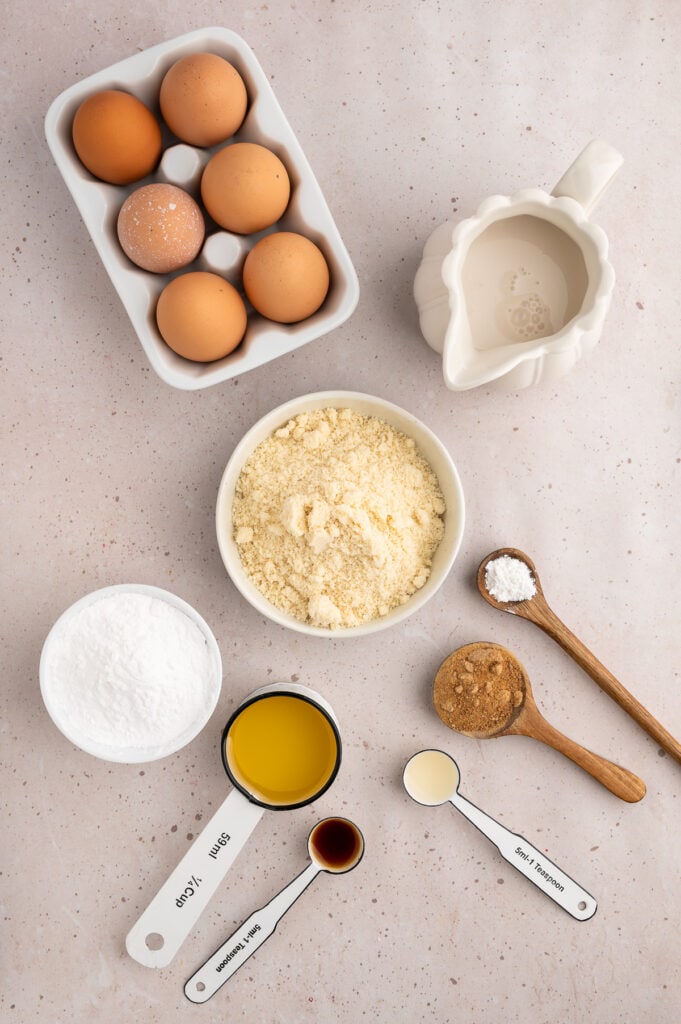 Ingredient Notes & Possible Substitutions
Almond Milk - Any type of dairy-free milk alternative in this recipe. I would recommend using coconut milk found in a carton instead of in a can because the canned variety may have too much fat and might throw off the recipe. For paleo options, avoid oat milk, soy milk and cow's milk; however, if not following a paleo diet, these types of milk will work fine.
Apple Cider Vinegar - If you don't have ACV on hand, white vinegar will work!
Almond Flour - Blanched ultra-fine almond flour works best in most recipes because it has a fine texture, and the skin is removed from the almonds before grinding. I don't recommend using almond meal or substituting this ingredient for another type of flour.
Tapioca Starch - Also called tapioca flour, this flour made from a root is super fine and very light. It adds an airiness to these waffles. The only appropriate substitute for this ingredient would be cassava flour (which is made from the same plant but has a slightly different texture). Potato starch may work but I have not tested it.
Coconut Sugar - Maple sugar can be used in place of coconut sugar. I don't recommend substituting the coconut sugar for maple syrup, honey or any other liquid sweetener because I am not sure if the additional liquid will alter the chemistry of the recipe.
Egg - I have not tested egg alternatives in this recipe. If you try one, please tell me how it went in the comments below!
Avocado Oil - Any neutral flavored cooking oil can be used, including melted coconut oil.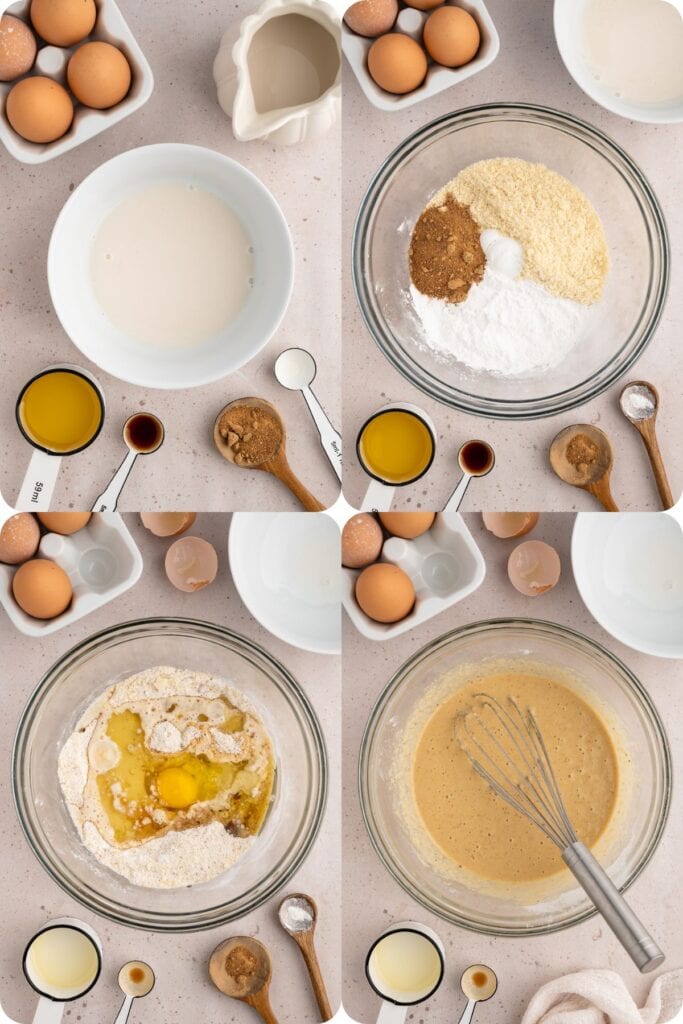 Equipment Needed For This Recipe
Only a few simple pieces of kitchen equipment are needed for this recipe. Here's what you will need:
Waffle Iron - Almost any waffle iron will do. Make sure it has a good non-stick cooking surface or be sure to use coconut oil or cooking spray.
How To Make THE BEST Paleo Waffles
Start by combining the apple cider vinegar with almond milk. Mix it together and set aside.
Combine the almond flour, tapioca starch, coconut sugar and baking powder, and stir until there are not lumps.
Preheat waffle iron according to manufacturer's instructions.
Add remaining ingredients to dry mix, including the almond milk mixture. Whisk together until smooth but avoid overmixing.
Grease waffle iron with cooking spray or coconut oil, if needed. Using a ladle or measuring cup, pour a scoop of batter into the waffle iron (about ⅓ to ½ cup). Cook according to waffle iron manufacturer's instructions. Repeat until all the batter is gone.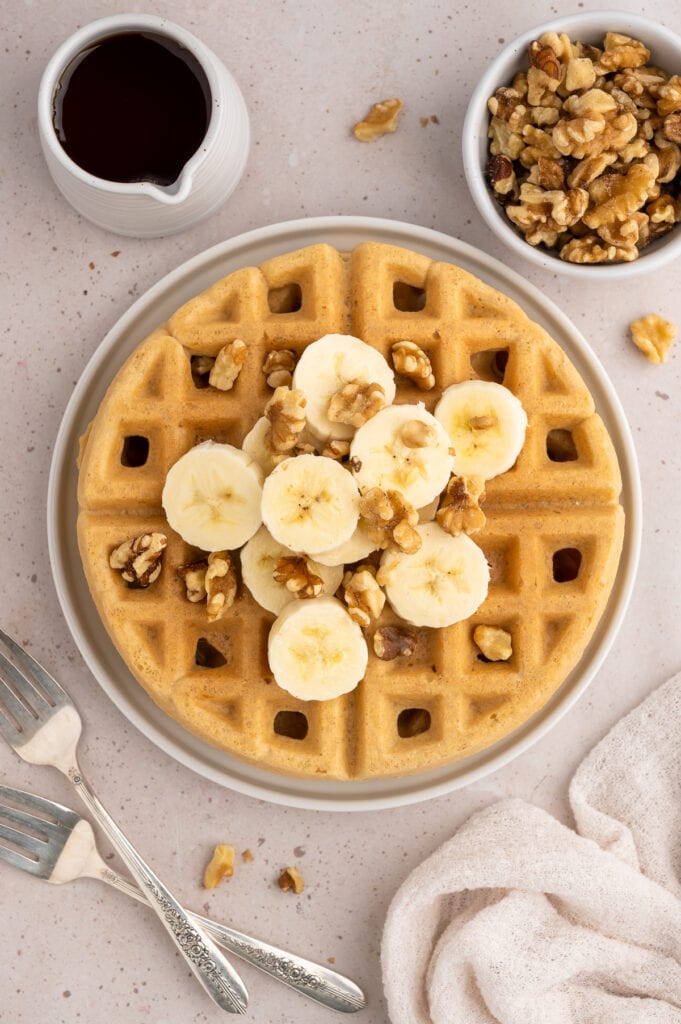 Freezing Paleo Waffles
I am a big fan of doubling this recipe and freezing the waffles to have a quick and nostalgic toaster waffle available whenever I am wondering what to make for breakfast. This is a great thing to do if you have kids!
To freeze, I make the recipe as described in the recipe card. I cut the waffles into 4 pieces using kitchen scissors. If you have a small square waffle iron you may be able to get away without cutting them. The goal is for them to easily fit in a toaster.
I then will put the waffles in a freezer bag. I separate each layer with parchment paper to keep them from sticking. This works great!
These crispy paleo waffles can be kept in the freezer for up to 1 month. Just pull from the freezer and pop into the toaster for a perfect toaster waffle in minutes! The waffles can also be reheated in the oven. In both the toaster and the oven, they will need less time than you think so watch closely to avoid burning.
How To Use Frozen Waffles
Don't limit yourself to standard waffle toppings! While maple syrup and a little salted coconut oil is hard to beat, the possibilities are endless. Here are some fun ideas to try using these toasted paleo waffles after they have been frozen:
Avocado toast! Simply just toast the frozen waffle and top with smashed avocado and some salt. Perfection.
Paleo breakfast sandwich, anyone? Toast two quarters of a waffle. Top with bacon, a gooey egg and avocado for the perfect egg sandwich.
PB&J. Like I mentioned before, I love doing mashed berries and raw almond butter on top of the toasted waffles. It is sweet, tart and super satisfying with a little crunch from the toasted waffle.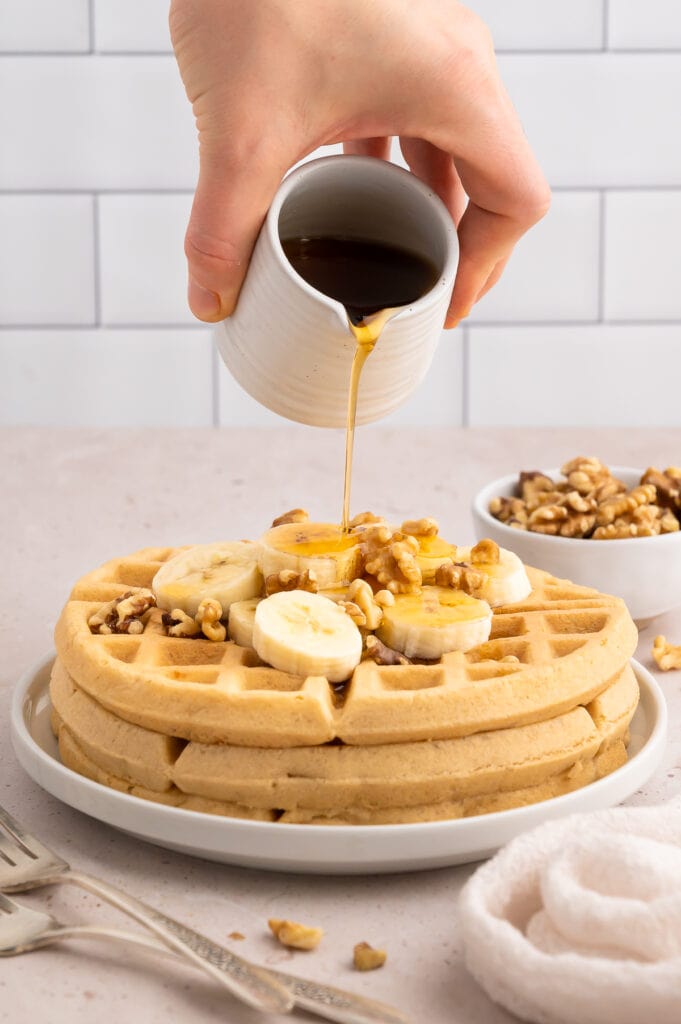 Recipe Tips
Adding the apple cider vinegar to the almond milk mimics the reaction you would get from using buttermilk. When it is added to the baking powder it reacts and makes tiny air bubbles which help give the waffles a light and airy texture.
The number of waffles per recipe usually varies based on size and type of waffle maker. Mine makes about 4 waffles using a little less than ½ cup of batter per waffle.
If you can't tolerate eggs, you could try using a flax egg in place of the regular egg. Just mix 1 tbsp. of flax meal with 2.5 tbsp. of hot water, stir and let sit for 5-10 minutes before adding to the recipe. With that said, I have not got a chance to test this in this particular recipe yet so if you try a egg substitute let me know how it works out!
Freeze extra waffles for a simple and quick weekday breakfast!
Related Recipes
Did you try these Crispy Paleo Waffles? I would love to see your creations! Take a photo and tag me on Instagram or leave a photo comment on Pinterest.
Feel free to leave a comment and a rating below. Feedback is always appreciated! 😊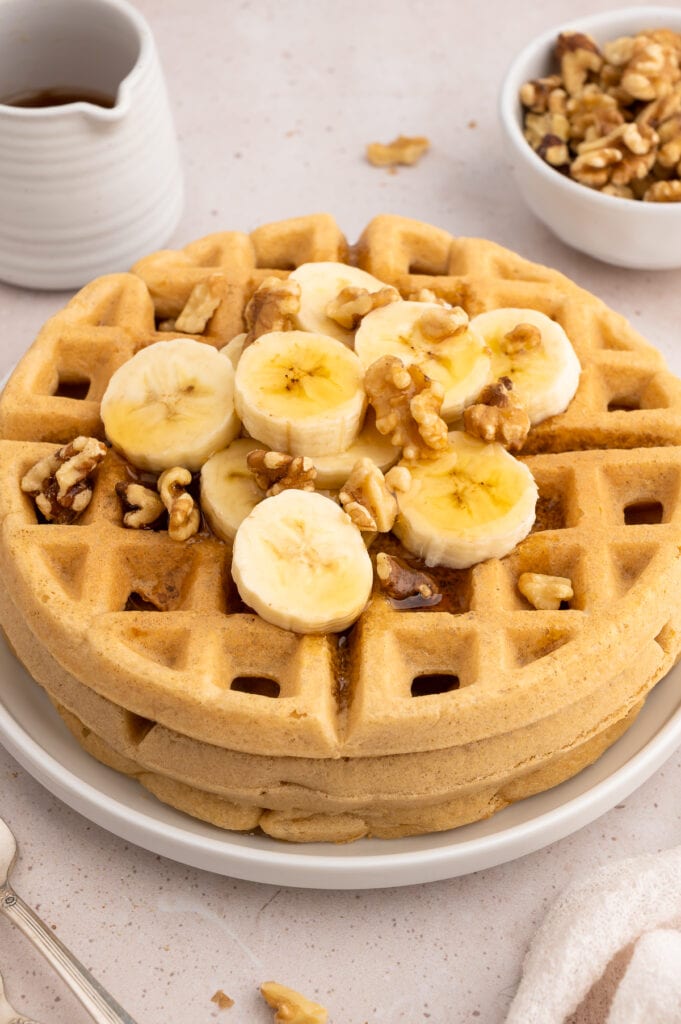 📖 Recipe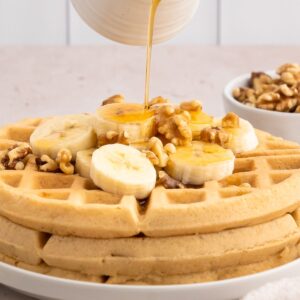 Crispy Paleo Waffles
These grain-free and gluten-free waffles are the pinnacle of paleo breakfasts. Crispy, golden and delicious.
Equipment
Waffle iron

Mixing bowl

Whisk
Instructions
Combine the apple cider vinegar with almond milk, mix it together and set it aside.

Combine all dry ingredients (almond flour, tapioca starch, coconut sugar, and baking powder). Stir until there are no lumps and everything is well-combined.

Preheat waffle iron according to manufacturer's instructions.

Add the remaining ingredients to the dry mix. Pour in almond milk mixture and whisk together until smooth. Avoid over-mixing.

Grease the waffle iron with cooking spray or coconut oil, if needed. Using a ladle or measuring cup, pour batter into the waffle iron (you will need just under ½ cup of batter for most waffle irons). Cook according to the waffle iron manufacturer's instructions. Repeat until all the batter is gone.

Serve immediately, or freeze and reheat in the toaster or oven.
Nutrition
Serving:
0.25
recipe
Calories:
374
kcal
Carbohydrates:
25
g
Protein:
7
g
Fat:
29
g
Saturated Fat:
3
g
Cholesterol:
41
mg
Sodium:
312
mg
Potassium:
15
mg
Fiber:
3
g
Sugar:
5
g
Vitamin A:
59
IU
Calcium:
238
mg
Iron:
2
mg