This sweet and savory simple AIP breakfast sausage recipe is the perfect addition to your morning meal. The Autoimmune Paleo Protocol is hard enough, and navigating all the additives and unfriendly spices that are put in most breakfast foods can be disheartening. This recipe will hopefully lift your spirits and get you through to the reintroduction phase!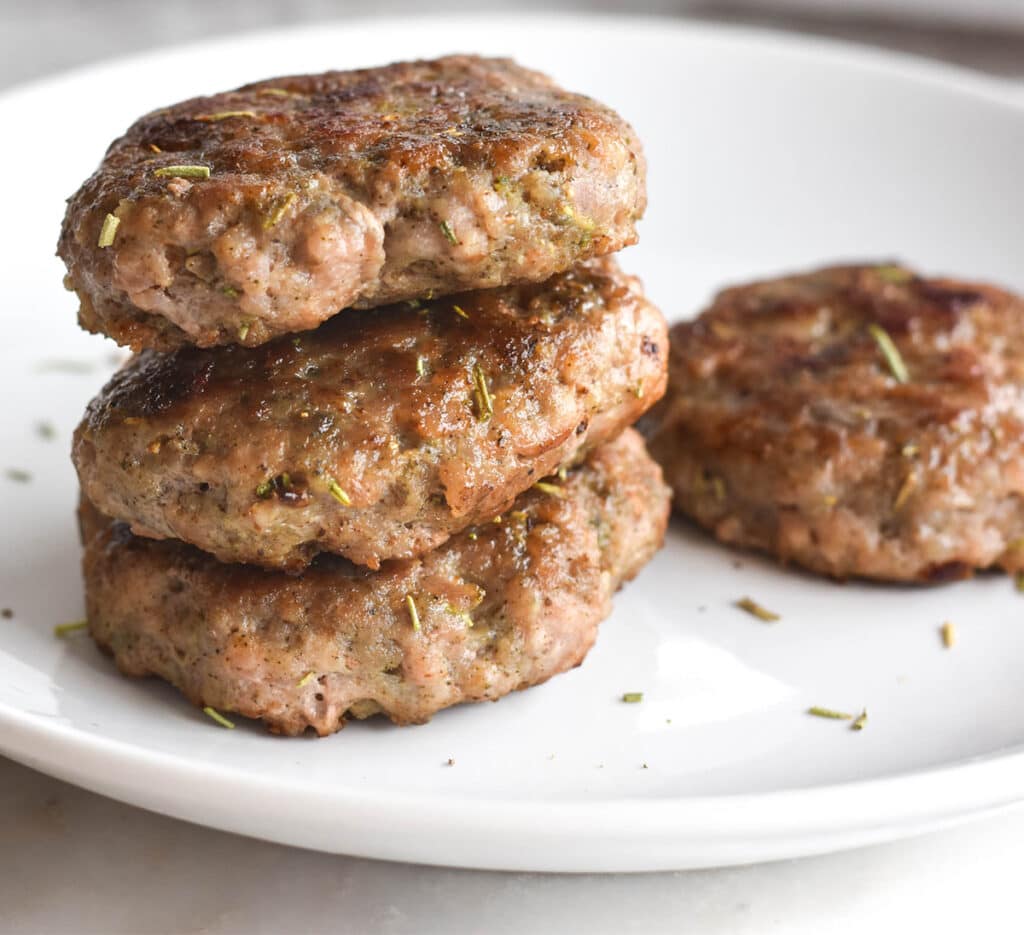 Jump to:
This sausage recipe uses specific herbs and spices that are appropriate for an autoimmune elimination diet. With that said, it can certainly be enjoyed by anyone. It is less spicy than traditional sausage because it does not contain any nightshades (like red peppers) or seed/berry based spices (peppercorn), but still has a really pleasant flavor that most people will enjoy.
My husband is following the autoimmune protocol for IBD. While following AIP, these sausages have been a staple in our home!
I usually prepare several pounds of ground pork at a time. This way I can freeze some and pull it out when needed. It is no extra dishes to double or triple the recipe. And, I like having sausage on hand that I can thaw and cook because breakfasts on this protocol are generally the most challenging meals for us!
What is AIP?
AIP (Autoimmune Paleo) is an elimination diet use to help those with autoimmune conditions figure out what potentially immunogenic foods may be triggering an immune response.
Autoimmune illnesses are tricky because symptoms can manifest in many ways. Food triggers are extremely common for people with autoimmune illnesses, but stress, environmental allergens and other lifestyle triggers may also play a role.
Common allergenic foods are removed on the AIP diet, like eggs, soy, nuts, dairy and gluten. In addition, other potentially immunogenic foods are also removed. These include things like seeds, fruits in which you eat the seed, all grains, nightshades (peppers, tomatoes, potatoes, etc.) and seed based oils.
Usually people will see an improvement in symptoms after initiating an AIP protocol. After the improvements plateau, a gut rebuilding phase is ideal. This is because their is a lot of evidence suggesting that autoimmune illnesses are linked to gut permeability.
After supporting gut health, the individual following the AIP protocol should consider reintroducing foods. This needs to be strategic. Only one food type should be introduced at a time. Starting with least likely to cause a reaction.
Here are some resources for following an AIP elimination diet.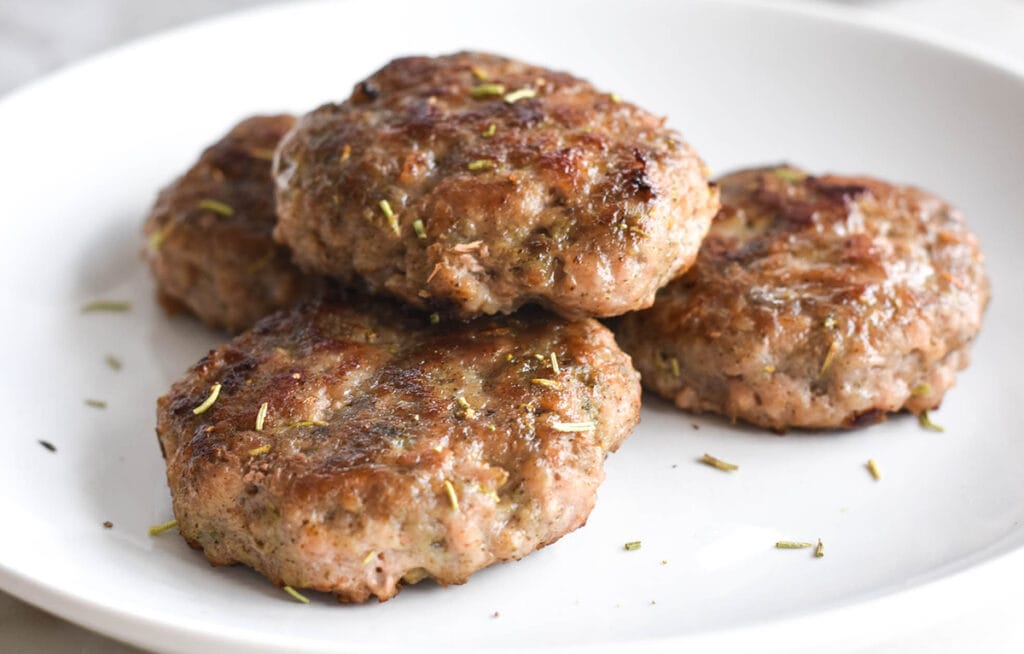 Is Sausage AIP?
Traditional sausage is not AIP-friendly. Conventional sausage can have all sorts of strange additives and preservatives. In addition, there are usually a lot of non-AIP spices in sausage.
This recipe uses herbs like sage, rosemary and thyme, ginger root and cinnamon to create the sausage flavor. A pinch of maple syrup is added for sweetness. The end result is a tasty AIP complaint breakfast.
Can I Store This Recipe?
Yes! This sausage can be stored raw in an airtight container for 2 days in the fridge or 1 month in the freezer.
The cooked sausage should keep for 3-4 days in an airtight container in the fridge. I like to cook sausage patties and freeze them. That way we can pull out individual sausage patties as needed.
Recipe Tips
If you're really missing spice, you can add a little more ginger or some fresh garlic cloves for an AIP-friendly kick.
A good trick I like to use for an easy, on-hand breakfast option is to make and cook the sausage patties. I freeze the extras in an airtight container and just heat them up in the microwave! Use a piece of parchment paper to separate them so they don't stick together and you have a breakfast protein ready to go!
Related Recipes
AIP Apple Pie "Oatmeal"
Whole30 Breakfast Sausage
Did you make this AIP Breakfast Sausage recipe? If so, comment below and leave a rating! I would love to hear how it went for you.
📖 Recipe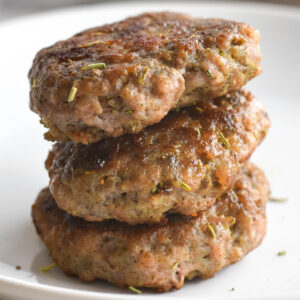 AIP Breakfast Sausage
This AIP Breakfast Sausage recipe offers a tasty breakfast alternative to those following an autoimmune protocol.
Equipment
Frying pan

Mixing bowl

Spatula
Instructions
Combine all ingredients in a bowl and mix with clean hands.

Form 2 ounce patties with hands.

Heat a frying pan over medium heat.

Add patties to the pan. Allow them to brown on each side, about 3-4 minutes per side.

Remove from heat and serve.

Store raw sausage in the fridge for up to 2 days or in the freezer for 1 month.
Nutrition
Serving:
2
ounces
Calories:
173
kcal
Carbohydrates:
2
g
Protein:
10
g
Fat:
14
g
Saturated Fat:
5
g
Cholesterol:
42
mg
Sodium:
180
mg
Potassium:
168
mg
Fiber:
1
g
Sugar:
2
g
Vitamin C:
1
mg
Calcium:
12
mg
Iron:
1
mg