Paleo Cinnamon Coffee Cake Muffins, what more could you want? The moist cake, warm flavors and rich crumb topping can win over the most avid grain eaters. Gluten free, dairy free and free of processed sugar, this recipe is a winner.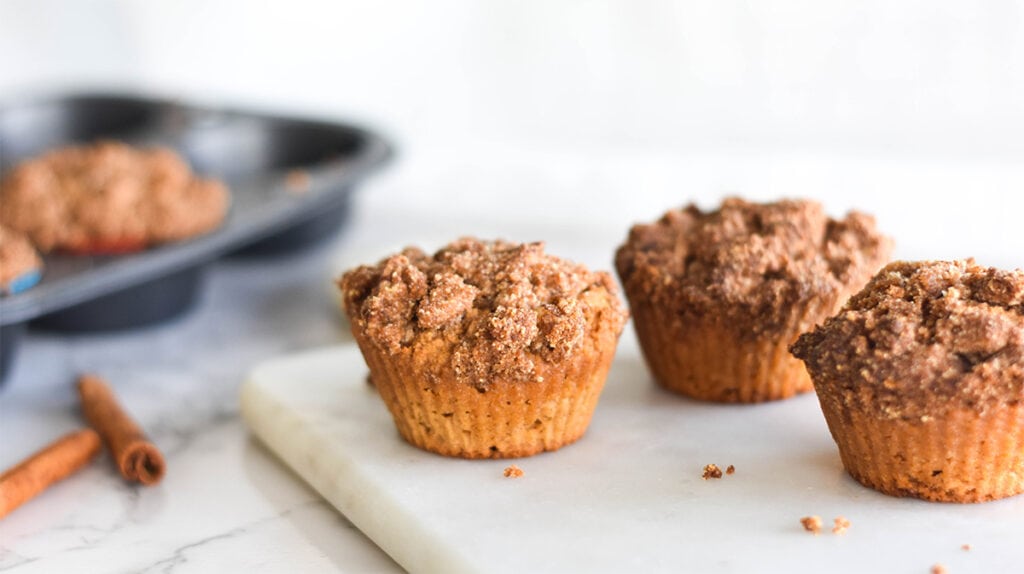 Jump to:
I have loved coffee cake as long as I can remember. Spice cake and coffee cake are among my favorite desserts. there is something so satisfying about a sweet and spicy dessert.
These coffee cake muffins are great because they are healthier than your traditional dessert but still taste like a dessert! These muffins have 7 grams of protein, 18 grams of net carbs and plenty of healthy fats to help stabilize blood sugar and keep you satiated.
You would not get a dirty look from me if you chose to include one of these tasty muffins in your breakfast.
Why Use Pancake Mix In This Recipe?
I made this cinnamon coffee cake recipe as a treat that could be enjoyed for breakfast or dessert. When cooking baked goods at home I often will use Birch Benders Paleo Pancake Mix as a shortcut.
Sometimes the hardest part of paleo baking is mixing the perfect combination of different paleo flours to get the right texture. Why reinvent the wheel?
I find that paleo pancake mix makes a great base for baked goods like paleo donuts and muffins. It also saves you from having to open 3 bags of flour alternatives from your baking drawer. Every one who does any paleo baking has a baking drawer, right?
I guess in this recipe we still have to fish out our almond flour and coconut flour for the crumb topping. But, the cake batter is so simple to make and with a crumb topping so tasty I promise you won't mind at all!
Where Can I Find Birch Benders Paleo Pancake Mix?
Like everything this pancake mix can be found online! Many stores now carry it too. I usually purchase from Amazon, Thrive Market or Walmart. In my experience, Walmart and Thrive Market are usually the most affordable, but Thrive does require a subscription.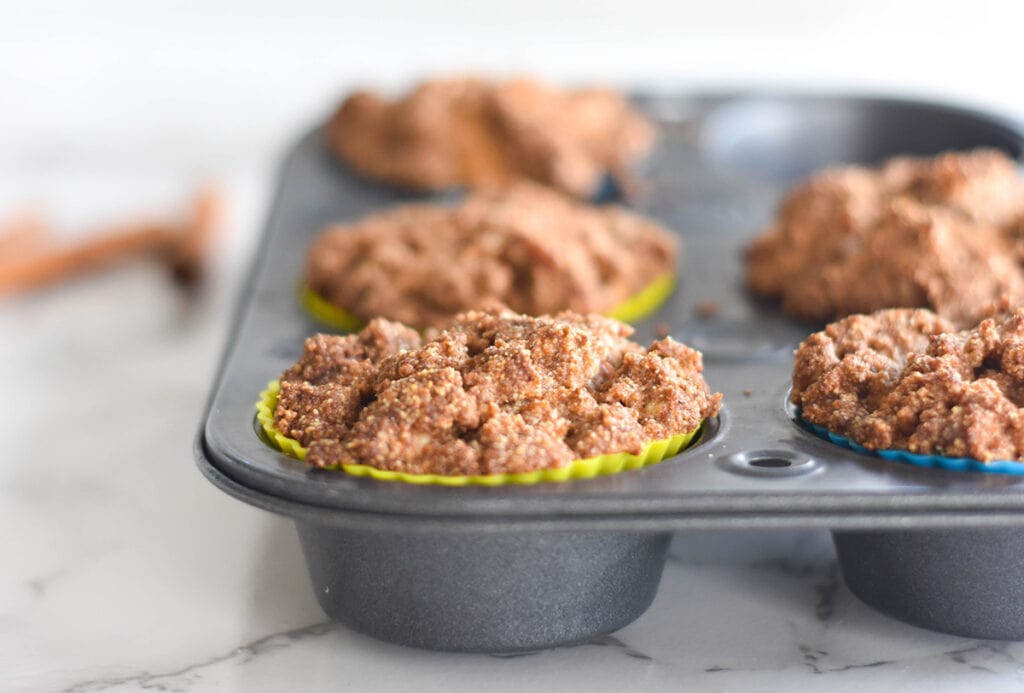 Can I Substitute Anything For The Pancake Mix?
I have not tested anything else so for best results I would recommend using the Birch Benders Paleo Pancake Mix.
You could try using a different pancake mix or an actual paleo pancake recipe in place but it would take some experimenting to get the texture right. I cannot promise that it will turn out the same.
Possible Ingredient Substitutions
Almond Flour - I do not recommend substituting this ingredient.
Coconut Flour - Coconut flour is necessary for the crumbly texture, I would not substitute this ingredient.
Birch Benders Paleo Pancake Mix - I do not recommend substituting this ingredient unless you have a pancake mix that has the same water to mix ratio used in Birch Benders.
Coconut Sugar - Maple sugar would be a good replacement (not maple syrup, which would add more liquid than needed). You could also substitute brown sugar if not paleo.
Pecans - You can omit if needed. I just love some toasty pecans in my crumb topping but not a necessity.
Coconut Oil - You could use butter if you tolerate dairy.
Almond Milk - Any milk or milk alternative should work fine.
Recipe Tips
Do not over mix the muffin batter. This will make them denser and less fluffy.
Only fill the muffin tins ¾ of the way full because the muffins will rise.
Sprinkle the crumb topping on top of the filled muffin tins. Press down lightly to get the topping to adhere better.
Cooking time may vary based on oven and altitude. I would check the muffins after about 12 minutes using a toothpick to poke one. If it comes out clean they should be done. The tops should be lightly browned.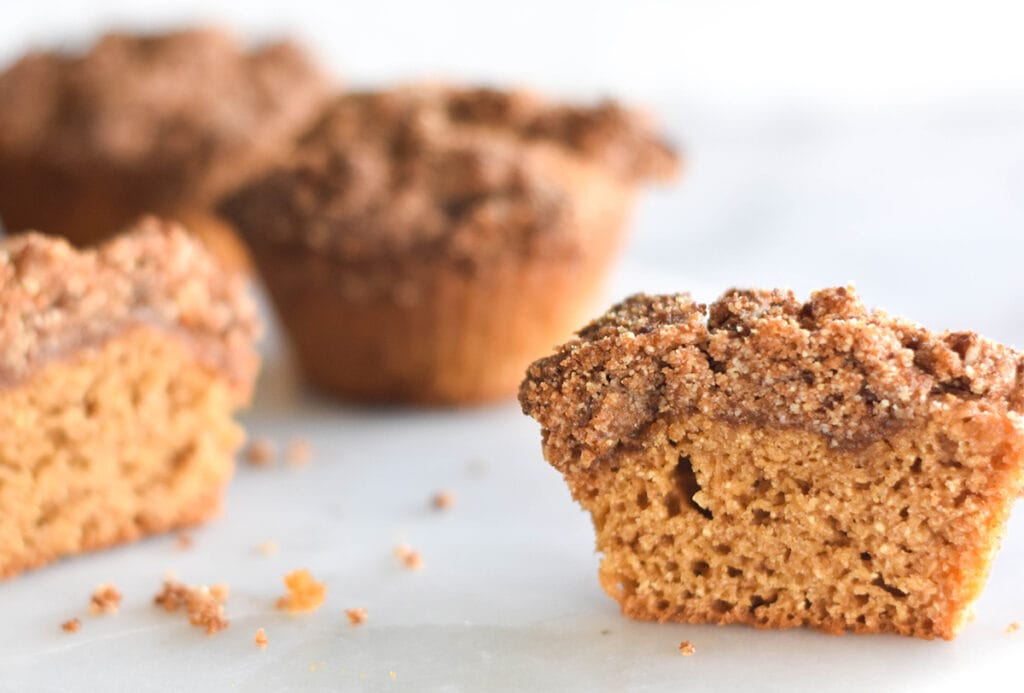 Related Recipes
Paleo Apple Pie Hot Cereal
Paleo Powdered Sugar Donuts
Did you try these Paleo Cinnamon Coffee Cake Muffins? I would love to
see your creations! Take a photo and tag me on Instagram or leave a
photo comment on Pinterest.

Feel free to leave a comment and a rating below. Feedback is always
appreciated! 😊
📖 Recipe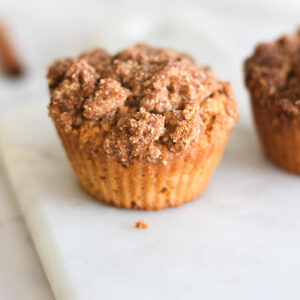 Paleo Cinnamon Coffee Cake Muffins
These sweet and fluffy cinnamon coffee cake muffins are rich in warm flavors, grain free and free of processed sugars.
Equipment
Mixing bowl

Whisk

Muffin tin

Silicon muffin liners
Instructions
Preheat the oven to 350 degrees F.

Combine all ingredients for the muffin batter in the bowl and whisk together.

Line a muffin tin with silicon muffin liners. Fill 12 muffin cups ¾ full with batter.

Melt coconut oil and combine ingredients for crumb topping in a mixing bowl, whisk together.

Using hands, sprinkle crumb topping on each muffin and press down lightly to help the crumb adhere to the muffin.

Place muffin tin in the oven for 15 minutes or until the crumb browns and muffin cooks through.

Allow to cool completely before removing the muffins from the tin. This will help the crumb stay in place.
Nutrition
Serving:
1
muffin
Calories:
266
kcal
Carbohydrates:
23
g
Protein:
7
g
Fat:
19
g
Saturated Fat:
9
g
Sodium:
415
mg
Potassium:
65
mg
Fiber:
5
g
Sugar:
8
g
Calcium:
67
mg
Iron:
1
mg