These healthy low carb apple muffins are grain-free, gluten free,  and loaded with goodness.
Jump to Recipe
The Science of Baking
I love baked goods, but I am undeniably not a baker.
I always try to make follow a recipe, but the dietitian half of my brain takes over. I can never add the full 2 cups of sugar. I can never just use the damn white flour. I make substitution after substitution until the finished recipe is something entirely different.
I am also terrible at actually measuring ingredients. I try to eyeball things while baking as I would with regular cooking. It serves me well when I cook and I have a rain man-like gift for eyeballing, but baking is a science, they say. Exact measurements are needed, they say. Who has the time and patience for that? I guess most people.
That is why I mostly stick to paleo baking. If you start with wholesome ingredients it is much easier to just follow a recipe as written, even if it requires measuring.
What is better than a warm muffin?
Answer: Not much.
When I was little, my mom used to make this one simple and perfect muffin recipe. They were lightly sweet, and she would dip the tops in melted butter and cinnamon sugar.
I would always be so excited when she decided to make these muffins for breakfast. I would eat them until I was uncomfortably full and the probably eat another 2 so that my siblings wouldn't get to them.
These low carb apple muffins are the best of both worlds. They are healthy, made from whole foods, and are grain-free and dairy-free. They are also soft, and incredibly delicious.
I will always have a place in my heart (and belly) for real sweet treats that have no substitutions. The type of treats you use the full 2 cups of sugar. That place just isn't at breakfast for me.
Why These Low Carb Apple Muffins Make A Better Breakfast
1. Appropriate carb to fat ratio.
These puppies are lower in carbohydrates than conventional muffins. They also have a healthy amount of fat from the eggs, coconut oil and coconut flour.
This allows for more stable blood glucose control. Now, carbs are not the enemy. Carbohydrates certainly have a place in our diets. The problem comes down to both carbohydrate volume and timing.
High carb meals, specifically those made with processed grains and sugars, first thing in the morning can cause spikes in blood sugar. This triggers undesirable spikes in insulin right off the bat which sets you up for blood sugar swings, hormonal dysregulation and unstable energy levels throughout the day. Boo.
2. No processed sugar.
Enough said.
3. Gut friendly ingredients.
All the ingredients used in this recipe are gut-friendly, and are unlikely to cause reaction or intolerance for most people (with the exception of the eggs and almonds). By removing any inflammatory ingredients and most common allergens, you can minimize risk GI symptoms, bloating or gut inflammation. The coconut and almond flour are also great prebiotics to help feed your beneficial gut flora.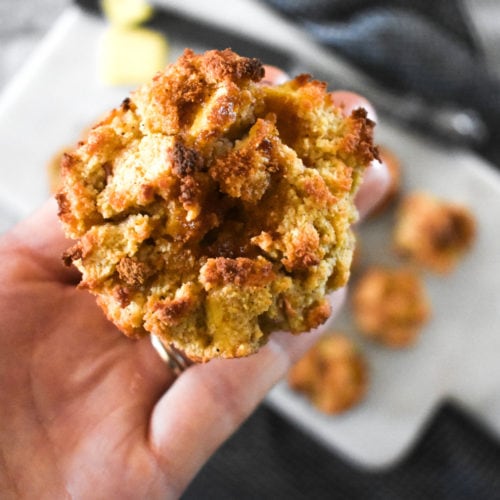 Low Carb Apple Muffins
These soft and tasty muffins are the perfect breakfast item for those craving something sweet without loads of sugar or processed carbs. 
Ingredients
1 1/4

cup

blanched almond flour

3

tbsp

coconut flour

1/2

tsp

baking powder

`

1/4

tsp

salt

1

tbsp

cinnamon

1/2

tsp

pumpkin pie spice

1/2

tsp

ground ginger

1/4

tsp

pure stevia powder

2

large

eggs

1/4

cup

coconut oil

melted

3

tbsp

almond milk

1

tsp

pure vanilla extract

1

pink lady apple

1

tbsp

coconut sugar

optional
Instructions
Preheat the oven to 375 degree Fahrenheit.

Grease a muffin tin with coconut oil.

Core the apple and dice into very small pieces.

Combine all dry ingredients together in a large mixing bowl. Mix together. Add melted coconut oil, and mix. Then add eggs and other wet ingredients. Whisk together. 

Fold in apples. Mix so that they are evenly distributed.

The finished mixture will be thicker than muffin batter made with flour. Spoon into muffin pan filling the cups completely full. These muffins do not rise as much as regular muffins so you will not need to fill the cups half full as you normally would.

If using coconut sugar, sprinkle on top of muffins before placing them in the oven.

Place in the middle rack of the oven and cook for 15 minutes. Remove from the oven and poke with a fork. If the fork is clean once removed than the muffins are done. If the fork has batter on it, continue to cook for 5 more minutes.

Serve now or store in an airtight container on the counter for later. Top with butter, apple butter or almond butter.
Notes
Feel free to substitute erythritol or monk fruit in place of stevia. Just sweeten to your own taste.
These work better without muffin papers. Just grease the tin well with coconut oil and they come out smoothly or use silicone muffin liners.
You can substitute butter instead of coconut oil in this recipe if you're not sensitive to dairy.
Melting butter and dipping the tops of the muffins in butter and coconut sugar or erythritol and cinnamon is also a great option!
Nutrition
If you have tried this recipe, please leave a comment and rating below!
For another low carb treat, check out this Keto Pumpkin Bread!