Fall is here and we all finally have an excuse to eat pumpkin flavored things again! Let us rejoice. These Keto Pumpkin Cream Cheese Muffins are sweet, moist and healthy enough to enjoy for breakfast. Basically everything you could hope for in a muffin.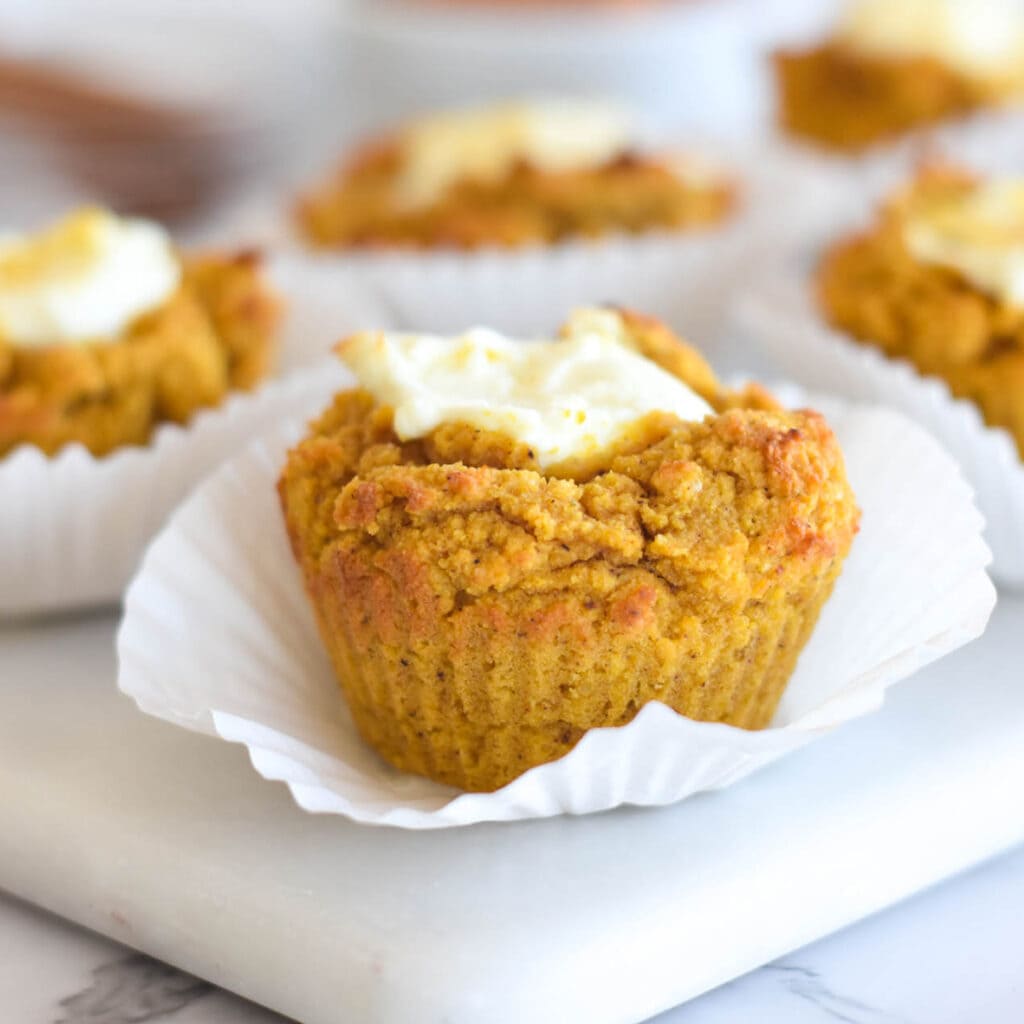 Jump to:
If you have made any of my other pumpkin recipes, you know that I am a diehard pumpkin fanatic. I don't settle for light, wispy pumpkin flavors. We kick things up a notch around here. My pumpkin baked goods need to be seriously pumpkin-y or I am not satisfied.
How To Make Pumpkin Pie Spice
Have you been doing a lot fall baking and don't have time to run to the store to replenish your supply of pumpkin pie spice? There is a simple solution. If you have the spices on hand, you may be able to whip some up at home!
In a small bowl, combine 3 tbsp. ground cinnamon, 2 tsp. ground ginger, 2 tsp. ground nutmeg, 1 ½ tsp. ground allspice and 1 ½ tsp. ground cloves. Mix together. Store in an airtight container for later use.
How To Store Pumpkin Muffins
These pumpkin muffins store nicely in the fridge for 5 days. Just place in an airtight container until ready to enjoy. You can reheat in the microwave for 30 seconds or eat cold. Both ways are amazing!
To store for longer periods, you can keep these muffins in the freezer. These muffins will last at least 3 months when stored properly. Place the muffins in a freezer bag after they have fully cooled. I usually use muffin liners or parchment paper to keep them separate.
To thaw, pull and allow muffins to thaw a day in the fridge. Once thawed you may want to transfer to a dry container so that they don't absorb any excess moisture that condensates during thawing. Reheat in the microwave.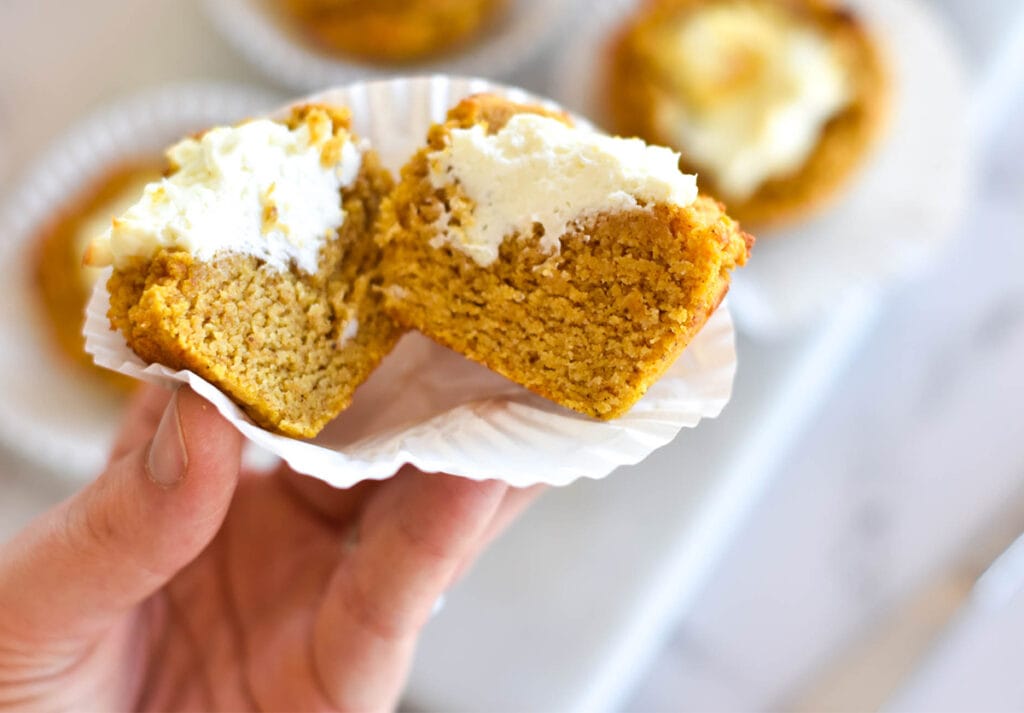 Is Pumpkin Keto?
Pumpkin can absolutely be part of a keto diet. Although, it is important to note that pumpkin is considered a carbohydrate food. Because pumpkin has a decent amount of fiber, the net or effective carb count is lower than you would think.
For ½ cup of pumpkin puree there are 10 grams of carbohydrate and 4 grams of fiber. This will give you about 6 grams of net carbs. This means that only 6 grams of carbohydrate are available to be used as energy.
When used as part of a recipe like this one, pumpkin can fit nicely in to a lower carbohydrate diet.
How To Make These Keto Pumpkin Muffins
Muffin Batter
Using an electric hand mixer, whip the softened butter and erythritol and 1 tsp of stevia together.
Add the eggs. Start by adding one egg at time and mix with the mixer until all 4 eggs have been added.
Add the pumpkin and the remaining liquid ingredients. Continue to mix until everything is well incorporated.
In a separate bowl combine all dry ingredients and mix with a fork. Make sure there are no lumps.
Add the dry ingredients to the wet ingredients and mix with mixer.
Scoop muffin batter into muffin tin lined with silicone baking cups.
Cream Cheese Filling
Using clean beaters on the electric hand mixer, whip together the 1 tsp. stevia and 8 ounces of cream cheese.
Poke small divots in the tops of the muffin and fill with a hearty scoop of cream cheese filling and swirl with a butter knife.
Baking The Muffins
Place the muffins in the oven at 350 degree F. Cook for 20 minutes. Check to see if the muffins are done by poking the muffin batter portion with a toothpick. If it comes out clean, they are done.
Recipe Tips
Although I generally offer dairy free options, the butter and cream cheese really make this recipe and I don't recommend substituting in this case.
Silicone muffin liners make everything easier and they are reusable. Totally worth it!
The butter should be completely softened before starting this recipe. I would recommend setting it out the night or morning before.
Using Lakanto Powdered Monk Fruit sweetener is another great option to add to the cream cheese filling. In the cream cheese filling I used stevia for simplicity sake. I thought using two different sweeteners in a recipe was enough, but if you have powdered monk fruit on hand give it a go. Using about ¼ cup should be sweet enough but adjust to your preference.
If you don't have an electric hand mixer you could certainly whisk the ingredients with a whisk, it will just be a little more work to get everything smooth.
I use a combination of erythritol and stevia in this recipe because erythritol alone has a significant cooling sensation and when used in higher quantities it is hard to ignore. The stevia and erythritol combo makes these muffins sweet without a detectable after taste or cooling effect.
Related Recipes
Did you make this Keto Pumpkin Cream Cheese Muffin recipe? If so, I would love to here how it went! Leave me a comment and a rating below!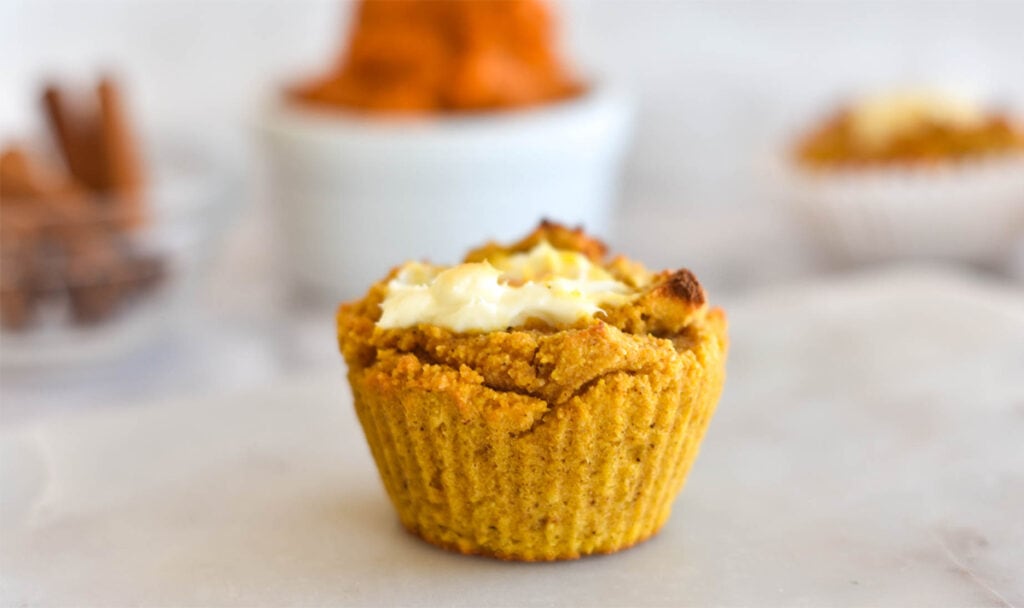 📖 Recipe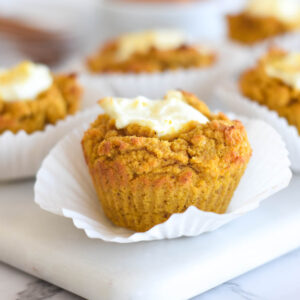 Keto Pumpkin Cream Cheese Muffins
These soft and sweet low carb pumpkin cream cheese muffins are so good you won't even remember they are keto!
Equipment
Muffin tins

Silicone muffin liners

Electric hand mixer

Spatula
Instructions
Add softened butter and erythritol + 1 tsp of stevia to a mixing bowl. Using an electric hand mixer, beat until smooth.

Start adding the eggs to the bowl with the butter. Add one egg at a time. Continue to beat with mixer.

Add pumpkin, maple extract and vanilla extract. Beat until everything is incorporated.

In a separate bowl, combine all dry ingredients. Break up any clumps.

Combine both bowls. Mix together to form batter.

Line muffin tin with silicone liners. Scoop batter into muffin liners. It is okay to fill full. The muffins won't rise too much.

With clean beaters, use the electric mixer to whip the softened cream cheese and 1 tsp stevia until smooth.

Create little holes in each muffin with a spoon. Fill the hole with a hearty scoop of cream cheese filling and swirl with the spoon.

Bake for 20 minutes or until muffins are golden on the top. You can test by poking a muffin in the batter portion with a toothpick. If it comes out clean they should be done.
Notes
If you can't find golden erythritol you could use the regular version. The golden version just adds a little caramel-y flavor.
Nutrition
Serving:
1
muffin
Calories:
225
kcal
Carbohydrates:
7
g
Protein:
6
g
Fat:
20
g
Saturated Fat:
6
g
Cholesterol:
65
mg
Sodium:
330
mg
Potassium:
70
mg
Fiber:
3
g
Sugar:
2
g
Vitamin A:
2618
IU
Vitamin C:
1
mg
Calcium:
106
mg
Iron:
1
mg