These Paleo Keto Salmon Cakes are a healthy and simple weeknight meal. The provide a good break from your standard menu and offer a fun, forkless way to eat your omega-3's.
This recipe produces the perfect mini salmon patties that are the bite size. This offers a fork free option if you are entertaining or just avoiding unloading your dishwasher. No judgement there. Entertaining people can be stressful, so can unloading the dishwasher depending on the day.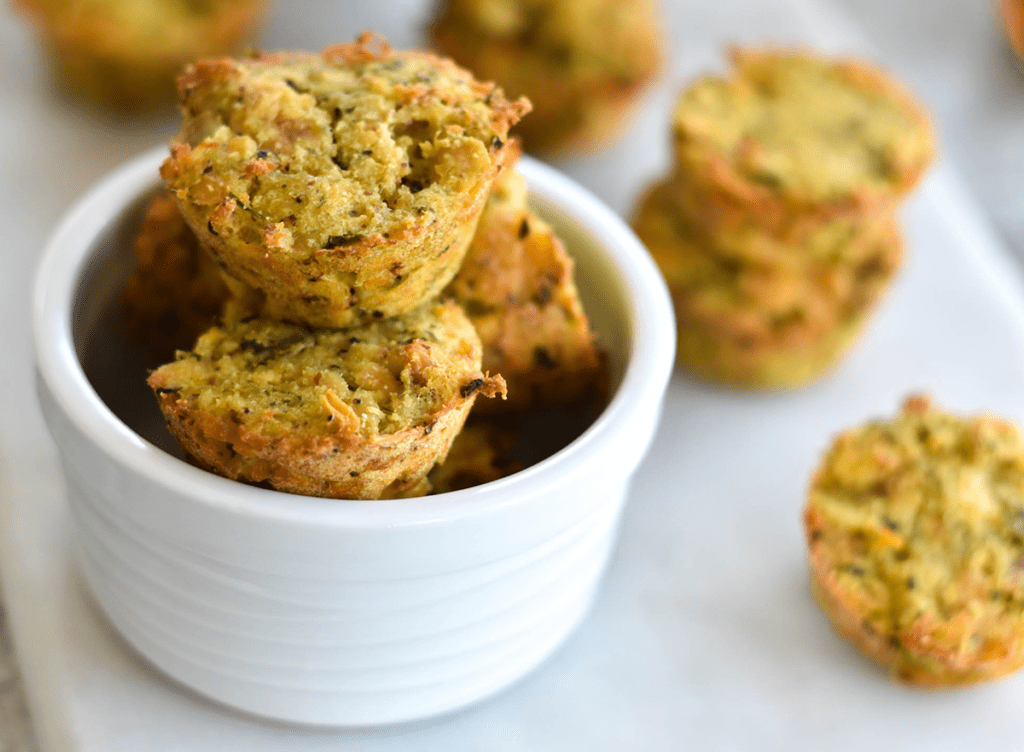 Jump to:
What Makes These Salmon Cakes So Healthy?
Omega-3's, my friends. If you didn't see this one coming, we have some work to do. I am a die-hard advocate for getting people to improve their omega-6 to omega-3 ratio.
Conventional American diets are so laden with omega-6 fatty acids that balancing your ratio is often harder than you would think. Sometimes it requires more than taking a fish oil supplement and hoping for the best. In most cases, an omega-3 supplement can be helpful. But, your interventions shouldn't end there. The more you can actively reduce your consumption of omega-6's and increase your intake of omega-3 rich foods, the better your ratio will look.
Opting for an animal sourced omega-3 is generally a more bioavailable option. This is the Fermented Cod Liver Oil Supplement that I use.
Ideally, your omega-6 to omega-3 ratio should be close to a 2:1 or even 1:1 ratio, respectively. This is ideal but not easily achievable without keen attention to the foods you are eating. It is not uncommon for someone who consumes a Standard American Diet to have a ratio closer to 25:1.
Omega-6's are found in foods like vegetable oils (soy, corn, safflower, sunflower, cottonseed, linseed, basically all the "seeds"), most grains and grain products, and certain nuts/seeds. Conversely, omega-3's are found in things like grass finished meat, cage-free eggs, chia seeds, ground flax seeds, and wild caught fatty fish.
The list of omega-3 rich foods is fairly small and does not contain many foods most people eat daily. Working towards balancing your ratio in important to help reduce systemic inflammation which contributes to the development of many chronic diseases, and is a tactic both healthy individuals and those suffering from inflammatory conditions should use to help achieve and maintain health.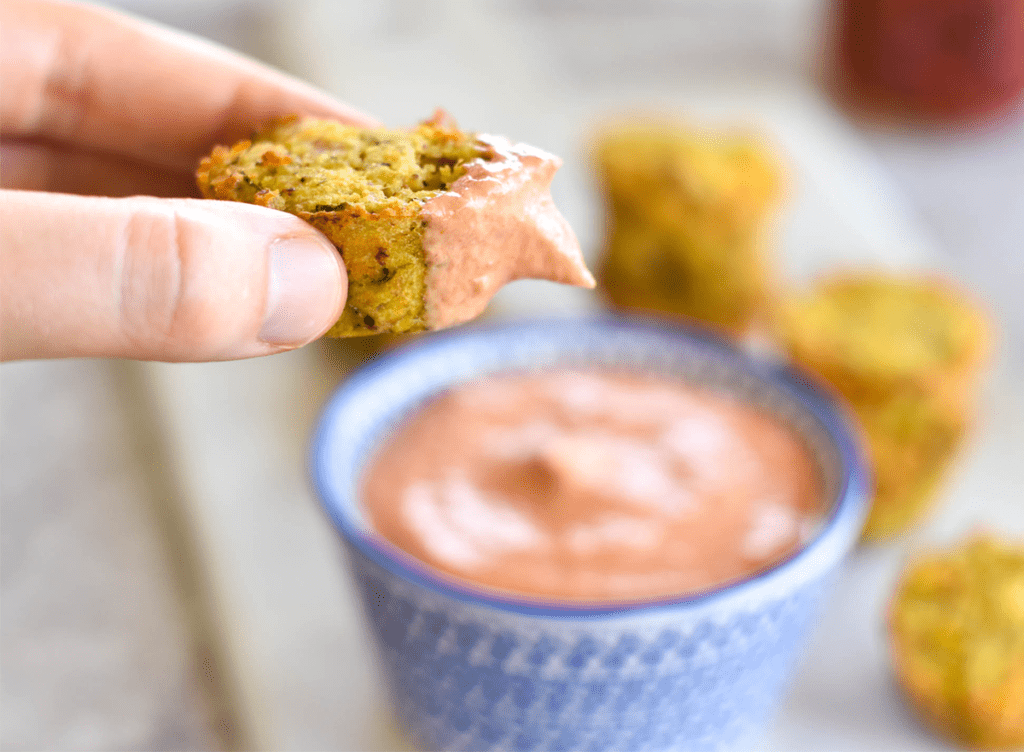 Why Use Canned Salmon?
Lower Cost
Using wild-caught canned salmon can be very economical compared to fresh or frozen fish. No matter where you live salmon is expensive.
Farmed salmon would seem like the logical solution. If you can afford it, I would urge you to pay $1-2 extra per pound for the wild caught and sustainably sourced salmon. The nutrient content and fatty acid profile of this fish is far superior than the farmed variety.
Wild caught salmon is one of the only dietary sources of vitamin D, making it an important food, especially for those living further north. When a fish is farmed, it is usually grain fed which increases the omega-6 content. Feeding an animal something other than their natural diet is going to change the nutrient profile. This feed reduces the omega-3 content of farmed fish dramatically, making the fat it contains less healthy.
Time
Using canned salmon, you can make this dish in less than 30 minutes. If you're like me, food quality suffers when life gets hectic. Having meals on hand that I know I can prepare at the end of the day and still have time to numb my brain with a couple episodes of The Office.
There's no shame in making meals for your loved ones without spending hours in the kitchen. I call that working smarter, not harder.
Can I Use Fresh Salmon?
Yes! I would cook it the day before or use salmon leftovers. It is best to use cooled salmon. Remove the skin and break it into small pieces and add it to the recipe in place of the canned salmon. The texture might be a little different because the canned salmon tends to be drier, balanced with the mayo and an egg to bind.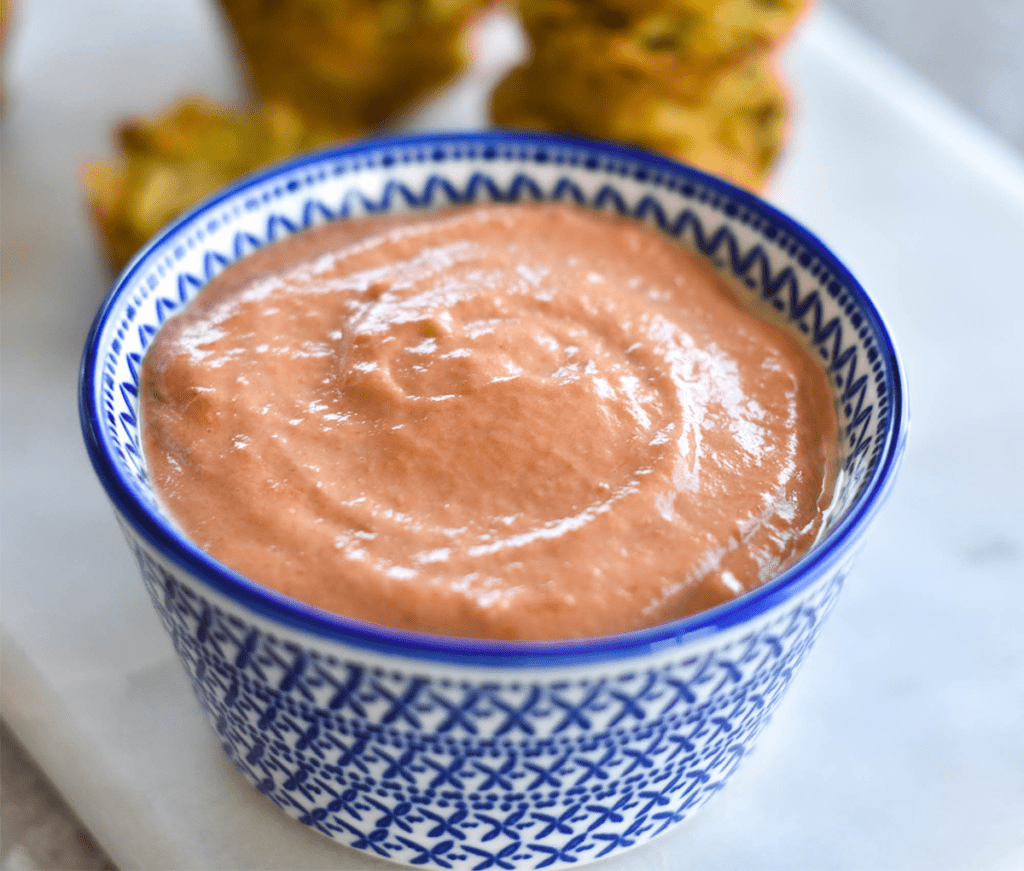 Making The Aioli
The only drawback of using canned salmon is it tends to dry out a little easier. The mayo and egg help to combat this but pairing these keto salmon cakes with this aioli is the perfect fail safe.
The creamy tomato aioli adds an unsurpassable kick of flavor. If you're preparing this dish for a crowd it will instantly make you feel like you have your life together. Just saying the word aioli tends to impress people. Just don't tell them that it is just fancy mayo.
The best way to make this aioli is using sundried tomato paste. I realize this is not something most conventional grocery stores carry. The recipe is still very good using tomato paste or blending your own sundried tomatoes in to a smooth puree.
How ever you make it, don't skip the aioli!
Choosing A Mayo
The key for this recipe is finding a good avocado oil mayo. Lucky for us, most grocery stores are carrying avocado oil mayo.
Be aware that some condiment brands that label the mayo as "avocado oil mayo" but also include soybean or canola oil in the recipe. A good avocado oil mayo should be made from only avocado oil, egg yolk, salt, vinegar and maybe a little mustard.
My go-to brands are Primal Kitchen and Chosen Foods, if you can spot either of these than you're in the clear.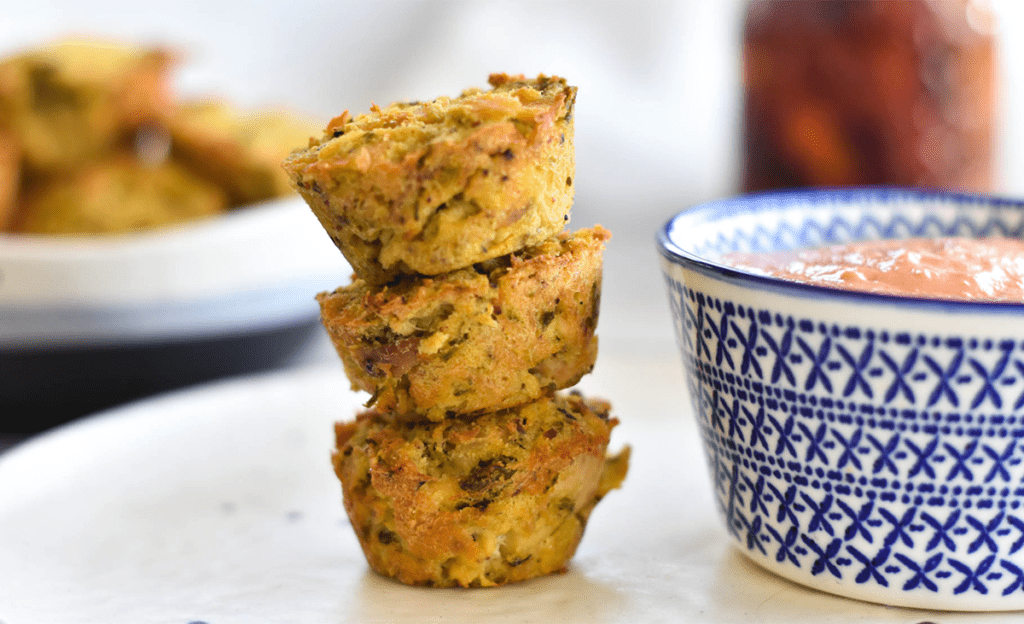 Tips For Making This Recipe
Chopping the basil and green onions and then pulsing them in a bullet blender can help prevent getting large chunks of herbs in your salmon cake.
Grease your muffin tin well! If you do this, the salmon cakes should slid right out of the pan.
Tomato paste is an easy alternative for sundried tomato paste in the aioli. It also has fewer carbs, so that is a plus. It will have a stronger flavor and taste just a bit less sweet.
Can I Pan Fry The Salmon Cakes?
Yes! It is fairly simple. Heat the pan to medium heat with a couple tbsp. of oil. Use a ¼ cup or tbsp measuring spoon to form the patties. This will allow you to pack them. You could also form them with your hand. Place the patties in the oil. Allow to brown for about 5 minutes per side. Remove from the pan and serve.
I prefer to bake them using a mini muffin tin because they bind together very nicely. But, pan frying creates a tasty crust and can be a good option as well.
Nutrition Information
Keto Salmon Cakes (⅓ of recipe) 490 kcals, 4 grams of carbohydrate.
Tomato Aioli (2 tbsp.) 152 kcals, 2 grams carbohydrate.
Related Recipes
Strawberry Basil Balsamic Glazed Salmon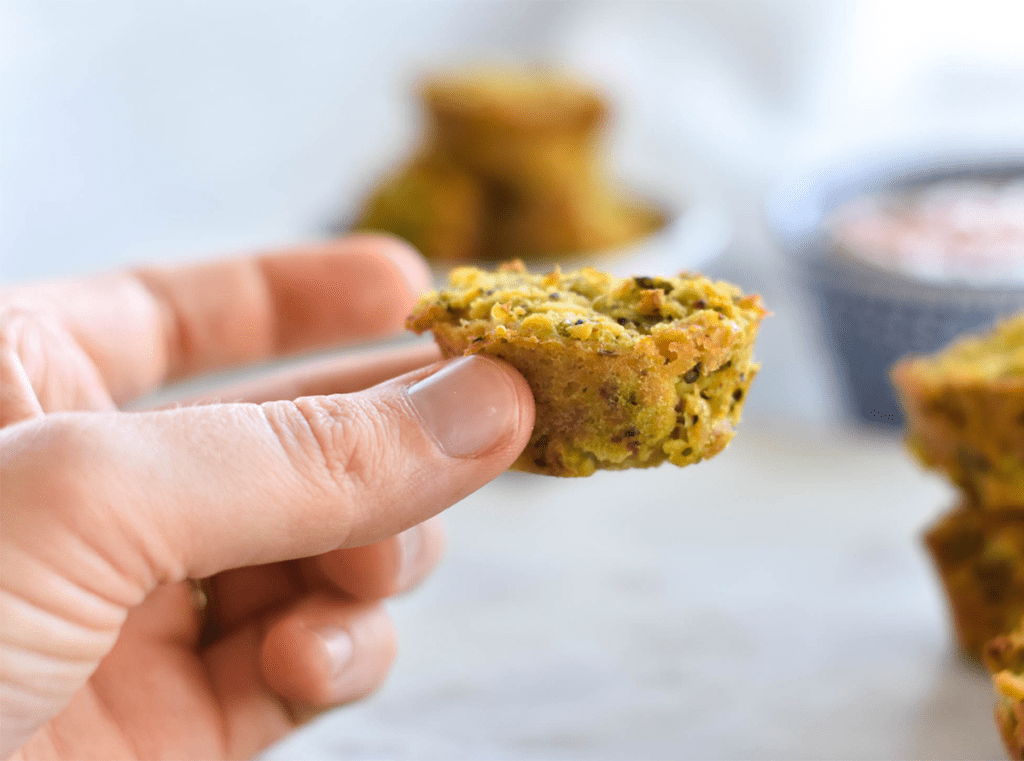 📖 Recipe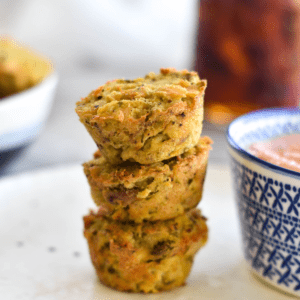 Keto Salmon Cakes with Tomato Aioli
These little salmon cakes make the perfect forkless appetizer for parties, or as a quick and healthy dinner option.
Ingredients
Aioli
½

cup

avocado oil mayo

3

tbsp

sundried tomato paste

or regular tomato paste

½

tsp

garlic

minced
Instructions
Salmon Cakes
Preheat the oven to 400 degrees.

Chop green onions, and basil. You could pulse them in a bullet blender to get finer pieces.

Add all ingredients to a large bowl (except the oil and the ingredients for the aioli). Mix with clean hands or spatula.

Grease a 2 mini muffin tins (12 cups) with coconut oil. Take the salmon mixture and spoon into the muffin tin. Pack the mixture firmly in each cup. You can use a regular sized muffin pan as well but only fill cups halfway.

Cook for about 20 minutes or until salmon cakes have browned.

Remove from oven and flip tin upside down on a clean towel. As long as muffin tins were well greased, salmon cakes should slide right out.
Aioli
Combine all aioli ingredients in a small bowl and stir with a spoon.

Serve with the patties as a dip or spread.
Notes
If you can't find a sundried tomato paste you can use regular tomato paste or puree sundried tomatoes.
Adjust the patty size based on your needs. You can make full-on salmon patties or tiny salmon cakes to serve as an appetizer.
To cook patties in a pan:
Heat a large pan over medium heat. Add 1-2 tbsp avocado oil.
Let brown, keeping an eye on the patties so they don't burn. You want them to be golden brown and crispy. This should take 5 minutes per side. Flip once the bottoms have browned and repeat on the other side.
Remove from the pan and serve.
Nutrition