This hearty and soul soothing Creamy Paleo Tomato Basil Soup is the perfect answer to the age old question, "What's for dinner?". It is a 30-minute meal, is gluten-free and vegan, and can be made entirely from cupboard if you don't have fresh herbs on hand.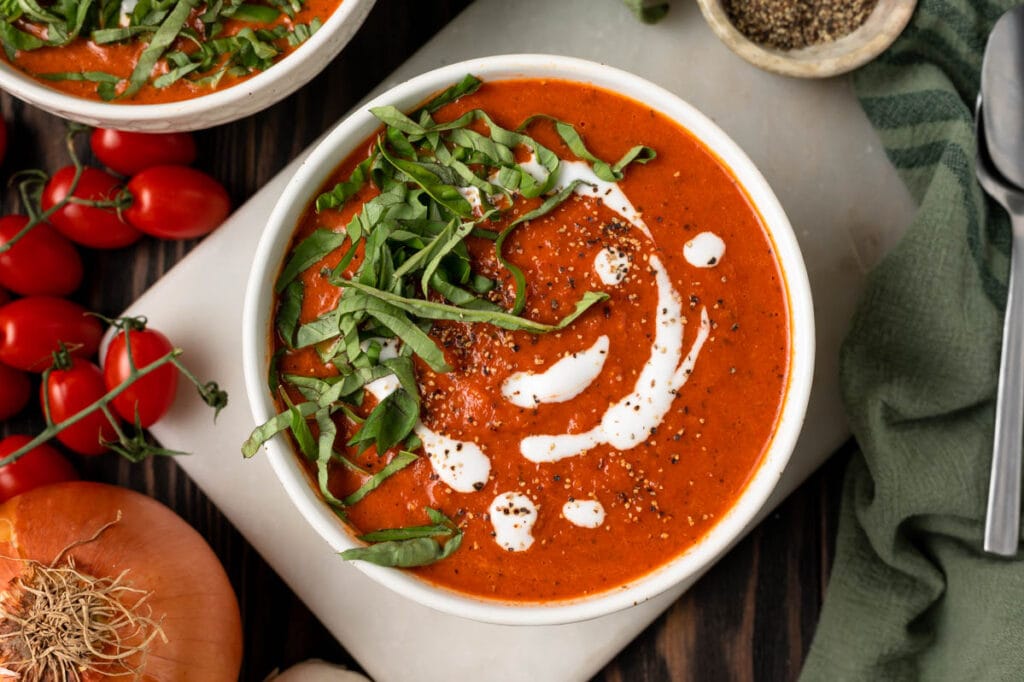 Jump to:
Another soup recipe? No big deal, right? Think again. By sharing this soup with you, I am sharing something personal and intimate. Something very dear to me.
Sharing this recipe with you is akin to lending you a swim suit, or letting you eat from my spoon. This is not something you share with just anybody. I am metaphorically letting you borrow my car, or try on my wedding ring. Like I said, this is an intimate moment we are having, whether you know it or not.
If you found your way here, we are friends now, or more accurately, an odd little family, because this recipe is special. This recipe is the first of my very own "family recipes".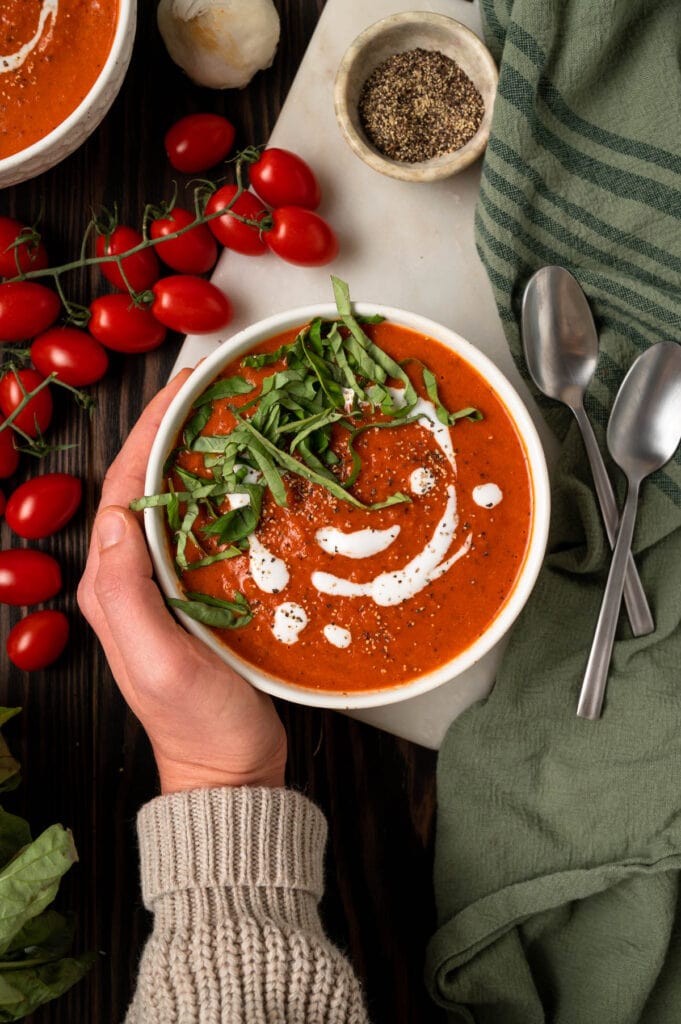 Family Recipes
When I first started to teach myself how to cook I decided I wanted to be the kind of person who had "family recipes". Now, with that said, my own family doesn't cook much (read: at all), and I didn't receive any traditional recipes passed down me.
My mom had a "Wacky Cake" recipe, and peanut butter chocolate balls that she made at Christmas, but nothing that rings true to what a "family recipe" means to me. The type of recipe that feels comforting just thinking about it. And, smelling it makes you think of home and warmth. The type of recipe that makes the world just a little bit smaller somehow.
Well into adulthood, the only tomato soup I had ever had was Campbell's Tomato Soup. I was deeply convinced that I hated tomato soup, and any soup for that matter.
Truthfully, I just had never really experienced a rich, hearty and robust tomato soup, like this one. In fact, I didn't really know that soup existed outside of a can-shaped glob that you add water to reconstitute.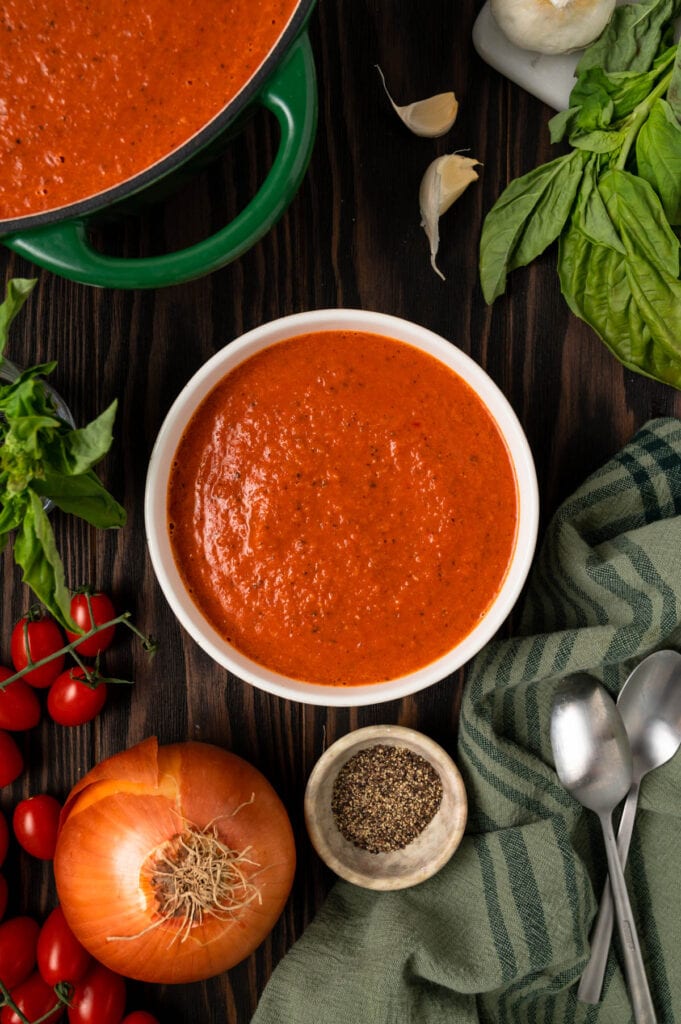 The Origin of This Soup
I didn't learn how to cook until I was well into my 20's. Hell, in all honesty, I am still learning how to cook.
These days I am getting better at eyeballing. Adjusting recipes to meet my needs and preference. Tasting the spoon and adding more salt or a clove of garlic or a pinch of rosemary. When I started to play around in the kitchen, this tomato basil soup was one of the very first recipes that I developed myself.
Birthed from love, I took a somewhat complicated recipe from one of my favorite vegan cookbooks at the time, and started making alterations. Eventually, I had an entirely different recipe, one that I could make from memory, from taste.
This tomato basil soup was MY first family recipe, and a recipe that I want my children to be able to make from memory and share lovingly. Building a family that cooks together is so important to me. I want my kids to understand what food looks like in it's whole form, and understand the process it takes to get to the table.
I know that I, personally, struggled to grasp nutrition concepts until I started cooking myself. Food, up to that point, was a means of getting skinnier or fatter. I didn't understand or value nutrient density and food quality, not to mention the therapeutic capacity of making healthy meals for the people you want to see thrive. It was a huge step in my journey towards wellness, and I feel incredibly passionate about cooking being a family affair.
Sharing These Recipes
Cooking from scratch doesn't have to be time consuming or difficult, but I think it is the single most important skill you can teach your children to instill lifelong values related to health, nutrition and body acceptance.
Let's teach our children less about the weight of their bodies and less about counting calories, and teach them more about the weight of their nutritional decisions. More about the power that real nutrition gives them.
How much would they benefit if we taught them how to grow and prepare food to properly nourish and fuel themselves? Let's teach them how to love themselves, and how to share that love with others, through preparing healthy, hearty and soul warming meals. That is power.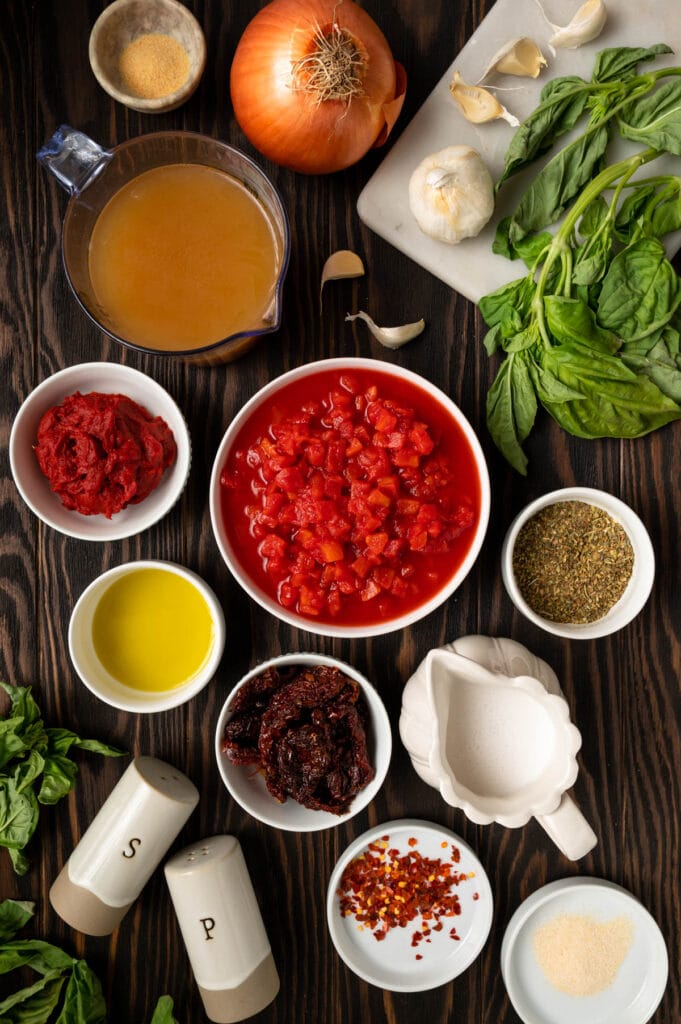 What Makes This Soup So Great?
It takes 25 minutes or less to make from scratch.
It is an excellent recipe to make large batches of for meal prepping or lunches.
All the ingredients are things I generally have in my cupboard (and you probably do too!).
It is a very kid-friendly recipe. The only thing that needs chopping is the onion, and there are very few steps involved.
It is made of whole food, nutritious ingredients. No B.S. involved.
How To Turn This Soup In To A Meal
To round out this creamy paleo tomato basil soup in to a more complete meal you will need to add some protein. Ground beef or sausage can be thrown in for a quick and filling meal. This Whole30 Italian Sausage goes great! Throwing in some meatballs is also an easy and tasty idea. I like to keep Aidell's chicken meatballs in the freezer, and throw those in the pot every once in a while.
Can I Freeze This?
Absolutely! Just pour the cooled soup into an airtight container and store in the freezer for up to 4 months. When you're ready to eat it, just pull it, thaw it in the refrigerator and reheat. This is one of the recipes I plan to make and store before our baby girl makes an appearance in October!
Can I Make This Creamy Paleo Basil Tomato Soup In The Instant Pot?
Yes! I do this all the time.
To make this soup in the instant pot, I usually add all the ingredients except the coconut milk to the Instant Pot. I cook it for 15 minutes on the "soup" setting. Once it is cooked, I blend the contents in the blender and then stir in the coconut milk. Super easy!
Recipe Variations
I often throw in veggies that I am trying to get ride of. Things like cauliflower rice, bell peppers, carrots, and cherry tomatoes have all made an appearance in this soup. It is a great way to prevent food waste and always tastes great.
If you don't have fresh basil you can skip it. This recipe uses plenty of dried herbs and never lacks flavor.
You could use cream or half and half in this recipe in place of coconut milk if you are not looking for a paleo recipe. I would add it as the last step before serving if cooking in the Instant Pot.
Is This Recipe Whole 30 Compliant?
Yes! As written, all these ingredients are Whole30 friendly.
Related Recipes
If you're looking for another healthy 30-minute meal, try these Paleo Salmon Patties with Tomato Aioli.
Other Tasty Soups
📖 Recipe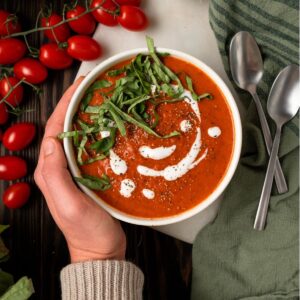 Creamy Paleo Tomato Basil Soup
This fantastic tomato basil soup is a warm and robust meal that can be made on a whim. This recipe is paleo, vegan and Whole30 friendly.
Equipment
Stock Pot

Blender or immersion blender

Knife

Cutting board
Instructions
In a large pot, add the oil and diced onion. Saute the onion on medium heat until it has cooked down, and become translucent. Add the garlic and cook for 30 seconds, then reduce the heat.

Add the herbs, spice and salt. Sauté on low heat for several minutes to develop flavor.

Add the broth, coconut milk, tomato paste and diced tomatoes to the pot and stir. Return to medium heat and simmer for 10-15 minutes.

Carefully transfer soup to a blender and blend until smooth. You can also use an immersion blender for this step to save dishes.

Garnish with fresh basil and serve. Other great additions: cooked italian sausage, meatballs, gnocchi, mozzarella balls or parmesan cheese.
Nutrition
Serving:
2
cups
Calories:
396
kcal
Carbohydrates:
32
g
Protein:
13
g
Fat:
28
g
Saturated Fat:
19
g
Polyunsaturated Fat:
1
g
Monounsaturated Fat:
6
g
Sodium:
948
mg
Potassium:
1628
mg
Fiber:
6
g
Sugar:
17
g
Vitamin A:
906
IU
Vitamin C:
37
mg
Calcium:
132
mg
Iron:
8
mg