These spicy roasted Chickpea and Cauliflower Tacos are chocked full of awesome nutrition and flavor. So many healthy veggies and flavorful ingredients loaded into a single shell. They are sure to impress even the pickiest meat eaters.
Jump to: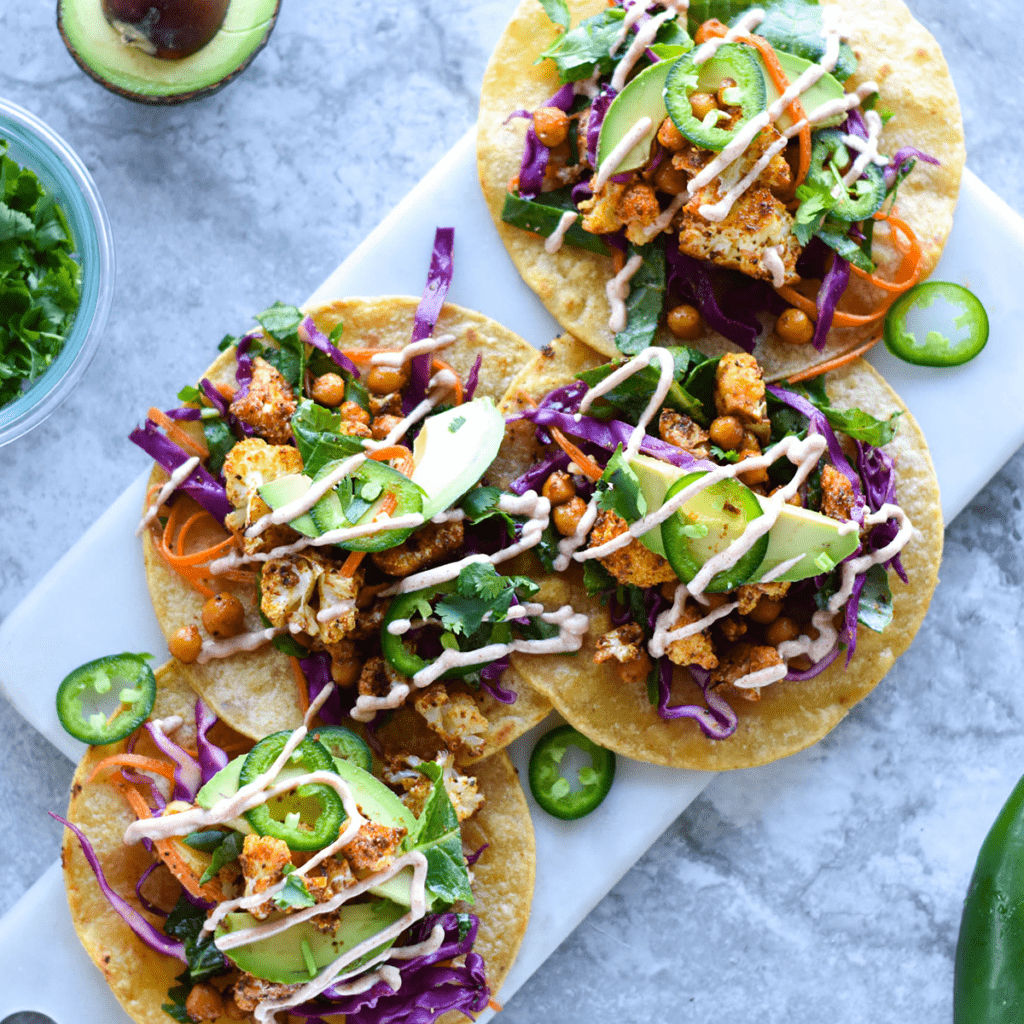 Tacos area beautiful thing. The taco shells are the book-ends that literally hold a meal together. They take an abundance of unbound foods and wrap them together so that they can be eaten in a single bite. It's really quite perfect.
The amount of vegetables in these cauliflower tacos is impressive and a heck of a way to get a variety of nutrients. With kale, cabbage, carrots, avocado, peppers and cauliflower all in one meal you are sure to meet your micronutrient needs. And, what better way to do that than with a taco.
Why Have A Meatless Meal?
I am a big proponent of sustainable meat and stand by the fact that high quality, sustainably raised meat is what is best for both our bodies and environment. With that said, I do not have a problem with an occasional meatless meal. It actually could have a few benefits, just not the ones you're probably thinking.
Variety - Meat can be very nutritious, but enjoying a wide and varied diet that includes healthy vegetarian options can increase your intake of vitamins and minerals you might otherwise be missing. I would caution against using vegetarian meat substitutes because this are less nutritious and are usually produced using monoculture crops like soy, wheat and corn.
Cost - Cooking whole food vegetarian meals can be cheaper than purchasing high quality cuts of meat. Of course, buying processed or prepared vegetarian food is often more expensive. Make your weekly vegetarian meal from scratch and emphasize vegetables. By purchasing less meat, you can focus on buying more high quality grass-fed cuts!
Cooking Skills - Cooking vegetarian may improve your cooking skills. I didn't learn to cook until I became a vegetarian. By learning to cooking vegetarian dishes you can expand your repertoire and become a better cook. Learning to properly cook vegetables is what most people struggle with and is a barrier for people adopting a healthier lifestyle
Get your family to eat their veggies. If vegetables are the overcooked and unappealing side dish to a plate of BBQ'd ribs, your kids will associate veggies with the less tasty option. Encourage your children (and spouses, and friends, and parents) to enjoy vegetarian cuisine by making the vegetables the star of the meal.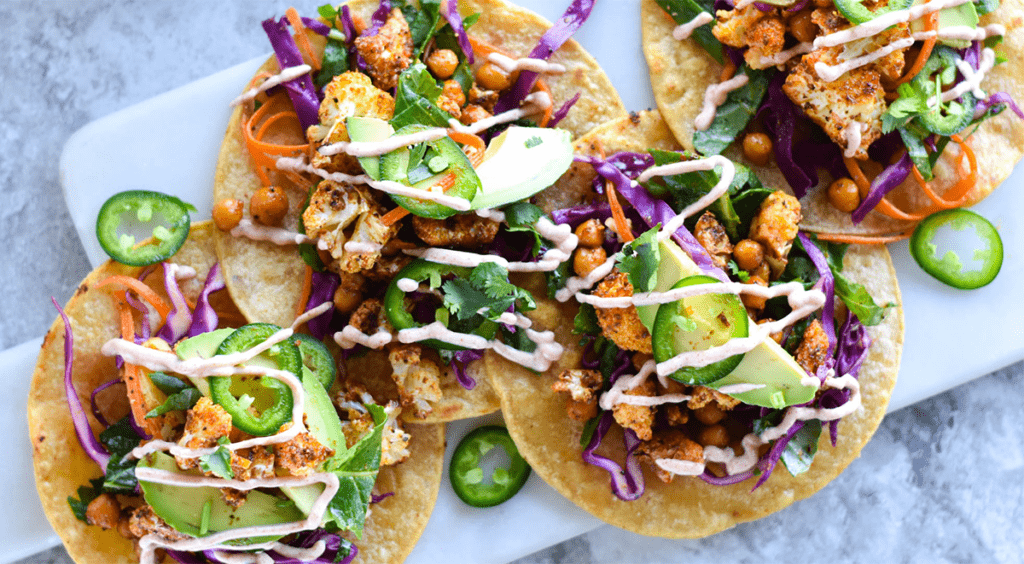 Can These Tacos Be Made Vegan?
Easily! Substitute the yogurt for a dairy-free plain yogurt that you like. Everything else in this recipe is vegan friendly.
Can These Tacos Be Made Paleo?
Yes! There are three ingredients that you will need to replace: the corn tortillas, the yogurt and the chickpeas.
Swap out the corn tortillas for a paleo- friendly tortilla. I like Siete Foods cassava flour tortillas. You can find them here.
The yogurt will also need to be subsituted for a dairy free alternative. If you have a nut or coconut milk yogurt that you make at home or a store-bought version that you love this will work great. Just make sure to select a plain variety.
The chickpeas can easily be removed. I would add some pulled chicken to the tacos to add more substance and protein.
How To Make This Recipe Less Spicy
If you are sensitive to spice, you can remove the spicy ingredients from this recipe and still have a flavorful meal. I would advise removing the jalapeno and Tapatio. The chipotle powder in the chipotle crema is more sweet than spicy, but if you really need to taper it down you could blend the yogurt with some lime juice, avocado and a little salt for a tasty, spice-free sauce.
Tips
Use the same bowl for the cauliflower/chickpeas for the coleslaw. This you some dishes.
Prep all the veggies while the cauliflower is cooking. You will have a lot of extra veggies so I suggest picking another recipe this week to use up the cabbage and carrots. This Thai Chicken Lettuce Wrap recipe uses some of these ingredients.
Other Great Taco Recipes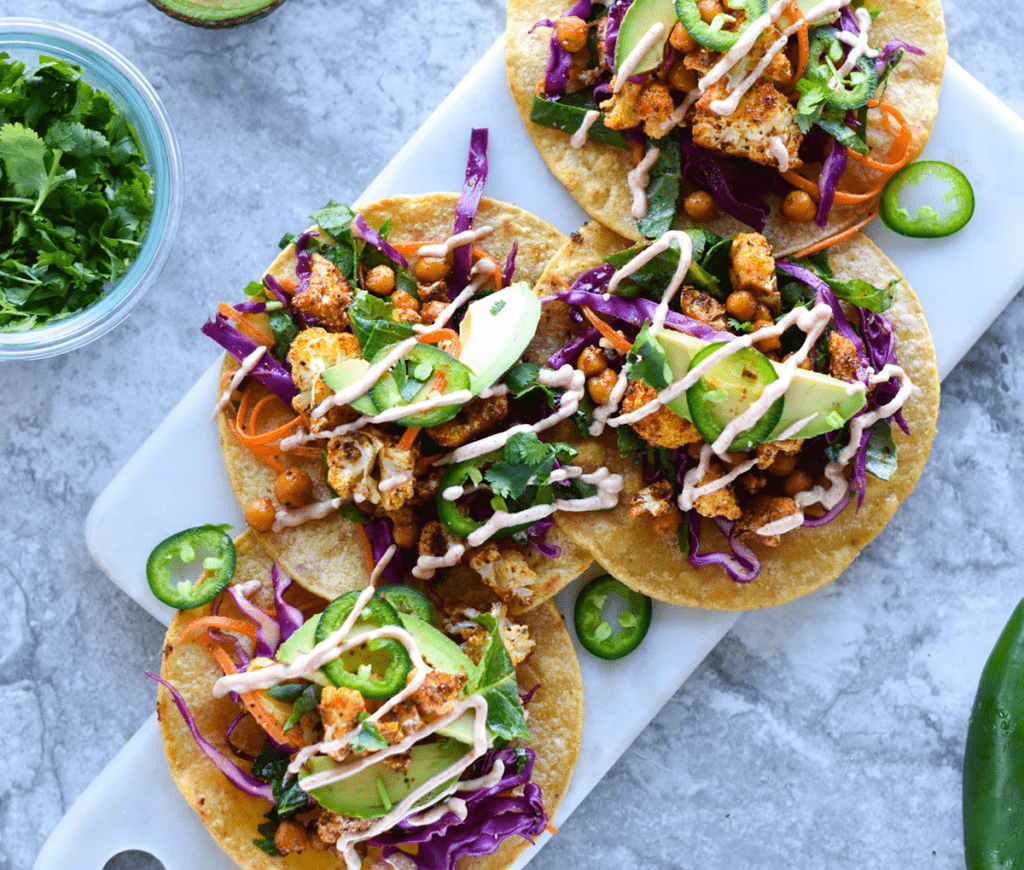 📖 Recipe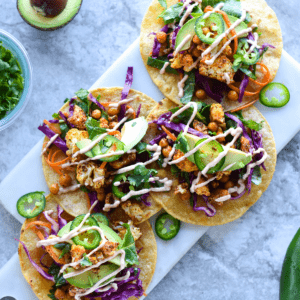 Chickpea and Cauliflower Tacos
These spicy roasted chickpea and cauliflower tacos are loaded with flavor and nutrition.
Ingredients
Roasted Cauliflower and Chickpeas
Cabbage Slaw
2

purple cabbage

about ¼ head

2

cup

baby kale

2

carrots

1

tbsp

avocado oil

½

lime

juiced

½

tbsp

honey

1

tsp

cumin

salt and pepper to taste
Toppings
10

corn tortillas

1

avocado

ripe

½

cup

cilantro

chopped

1

sliced jalapeno
Instructions
Roasted Cauliflower and Chickpeas
Preheat the oven to 400 degrees Fahrenheit.

Begin by removing the base and leaves from the head of cauliflower. Coarsely chop into florets and throw in a large bowl.

Rinse and drain the chickpeas. Add to bowl with cauliflower.

Add oil and spices and stir well until everything is covered evenly with spice mixture.

Dump contents of bowl on to a baking sheet and spread evenly. Cook for 30 minutes. Stir several times during cooking.
Cabbage Slaw
While cauliflower is cooking, thinly slice cabbage and kale. Remove any large stems. Shred or julienne the carrots.

Place vegetables a bowl. you can use the same one used for the cauliflower. Coat with oil, spices, honey and lime juice. Stir until everything is fully covered.
Chiptole Crema
Mix together the yogurt with the honey and chipotle. Set aside.
Tacos
Prepare the toppings. Cut the avocado in half and remove the pit. Scoop out the flesh and slice. Finely chop the cilantro. Thinly slice the jalapeno, removing any seeds and spine.

Warm shells in the oven or a pan for several minutes.

Assemble tacos with the cabbage slaw on the bottom, topped with the cauliflower and chickpeas, then dress with the chipotle crema. Top cilantro, avocado, jalapeno and any additional toppings.
Notes
Feel free to omit the hot sauce, and use less chipotle in the sauce if you are sensitive to spice.
Nutrition
Serving:
2
tacos
Calories:
323
kcal
Carbohydrates:
47
g
Protein:
12
g
Fat:
13
g
Saturated Fat:
2
g
Cholesterol:
1
mg
Sodium:
176
mg
Potassium:
1017
mg
Fiber:
12
g
Sugar:
14
g
Vitamin A:
5773
IU
Vitamin C:
146
mg
Calcium:
186
mg
Iron:
4
mg