Healthy Thai Tacos with Spicy Peanut Sauce
This creamy peanut sauce makes the ideal addition to these Thai Tacos with just the right amount of crunch and the perfect balance of sweet and spicy. This fun and unique taco recipe is incredibly nutrient dense, soy-free, dairy-free and seriously awesome. The peanut sauce itself is so versatile, and can be held in the refrigerator for up to 7 days. For a grain-free alternative, ditch the tortillas and pile all the delicious topping in a bowl, wrapped in lettuce, or on top of a bed of cauliflower rice.
I know peanut sauce is not for everyone, but to me it's the cat's pajamas. You could spiralize cardboard, cover it peanut sauce and I would commend you for your cooking skills and creativity on a budget. If you have yet to try peanut sauce, this recipe is a great place to start because it is quick and super simple. I offer a full-fat version and a version that will help you cut calories without sacrificing flavor, both which work perfectly for this unique Thai Taco recipe. As long as you don't have peanut allergies in your family, peanut sauce is a great way to get little ones to eat their veggies because kids love the creamy taste of peanut butter.

Because Who Doesn't Love Peanut Butter?
If you know me on a deep and intimate level, you know I love 3 things with a fiery passion: My dog, my future hubs and peanut butter. Several years ago, my sisters and I took a trip to Portland. I had a race in Oregon, and we were going to spend the 4th of July in Portland, then make our way down to the Redwoods. After my race, we were exploring the city. It was a particularly hot summer which required us to frequently pop in and out of shops to seek some air-conditioned refuge. It was also incredibly necessary to enjoy several cold beverages [read: beers] to maintain an appropriate body temperature. By the time evening rolled around I was possibly a little drunk. Now, Spokane, Washington (where I grew up and was living at the time) is not a small city, but it didn't have a Trader Joe's until around 2012 and it still lacks a Wholefoods. To all of you who have the luxury of living near a Wholefoods and get to complain about their high prices, while enjoying Carrot Ginger Soup, Siete Foods Paleo Tortillas and every flavor of Rx Bar... That is fine. On this 4th of July, I stumbled into my first Wholefoods and it was a come-to-jesus moment. For a foodie/nutrition junkie like me, I was in heaven. After wondering the aisles aimlessly for several minutes, there was a heavenly glow pulling me towards the nut butter aisle. I just remember turning to my sisters and saying in a very serious voice, "I just don't know if I will ever love a man as much as I love peanut butter, and I think I am okay with that." The guy stocking the nut butters looked up at me like I was a little insane. I proceeded to walk away quickly, mildly regretting that last beer. We watched some fireworks, had a good ole' time, and a year later... in walks Kevin. Now, I'd like to say that I love Kevin more than peanut butter and on most days I do, but when he leaves wet towels on the bed or rotten dishes in his truck for a week I have to admit it is still a pretty close call.

What is a Thai Taco?
Really, just a good reason to eat peanut butter for dinner.
This recipe might sound a little adventurous to the faint of heart, but I encourage you to give it a go if you like peanuts and fresh ingredients. These Thai Tacos are flavorful, but also highly nutritious. They are loaded with fiber, vitamins C and A, iron, magnesium and potassium. The coconut milk is a healthy source of medium-chain triglycerides, which can provide immediate energy and keep you fuller for longer. Both the peanuts and the chicken add a nice amount of protein to the meal so you will certainly be satisfied. To make this recipe vegan, you simply substitute tofu for ground chicken. You can cook it as you would the ground chicken (using the same spices) by breaking it into crumbles in a pan and adding 1 tbsp of coconut sugar and an additional tbsp of coconut aminos to give it more flavor.
20-Minute Meal: Thai Tacos
This recipe is super simple. It requires some prep because it is loaded with fresh veggies but the ground chicken can be whipped up in 6 minutes, and the sauce can simmer while the chicken cooks. You can prepare this recipe from start to finish in about 20 minutes and if you chop extra cabbage, carrots, romaine, green onions, basil, cilantro and peppers you can save these ingredients for a kickass salad for the following day. Combine all the extra veggies, some of the peanut sauce and some peanuts in a large bowl and toss. Top with some grilled chicken and you have a healthy and filling bonus meal!
A Lighter Thai Taco
To cut your carbs, calories or just remove the grains from this recipe I highly recommend that you try making a deconstructed taco by piling all the goods into a bowl, or wrapping it in lettuce. You could bulk up the meal by adding some cauliflower rice which also happens to taste excellent with this peanut sauce (big surprise). To reduce the calories in the peanut sauce you can use lite coconut milk and only 1/2 cup of peanut butter along with 3 tbsp of PB2 or any other powdered peanut butter, or go full-fat for a rich and filling sauce that goes a long way.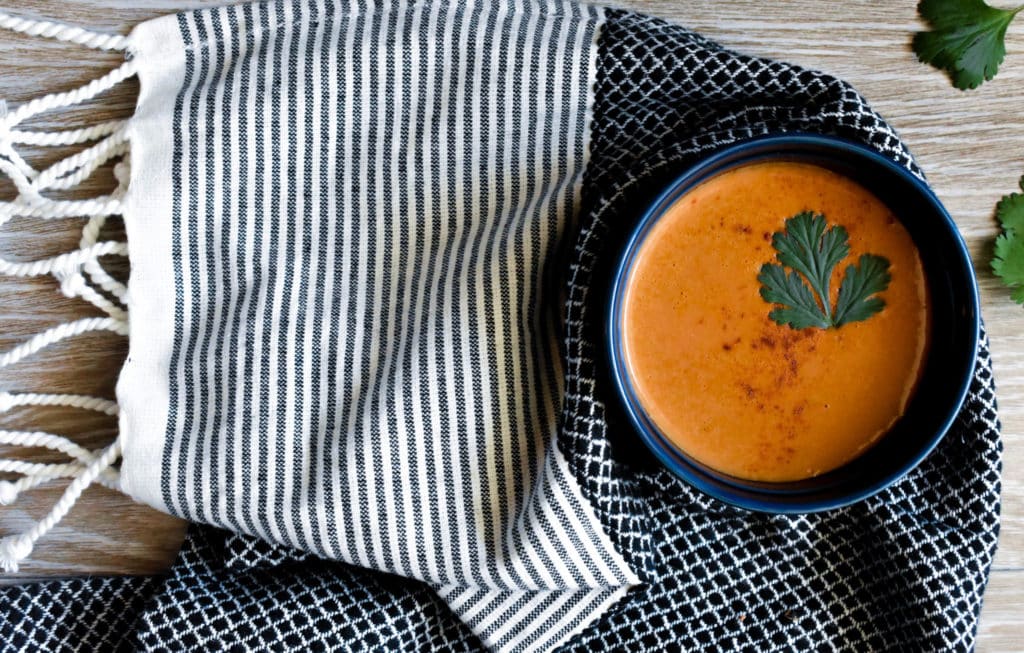 Other Ways to Use Peanut Sauce
This recipe is fantastic because it is super versatile. I like to use this sauce for a chicken and veggie stir fry paired with some cauliflower rice. I save half of the sauce and use it later in the week. Commonly, I will use the sauce over some veggie noodles (butternut squash!!) and firm tofu and top it with some basil, peanuts and raw bell pepper slices, or I use it as a salad dressing! This peanut sauce would be great to dip raw carrots and peppers in for a snack as well.
For a peanut free version: A easy swap would be to use cashews and cashew butter. Sunflower seed butter would also work in this recipe if you have allergies.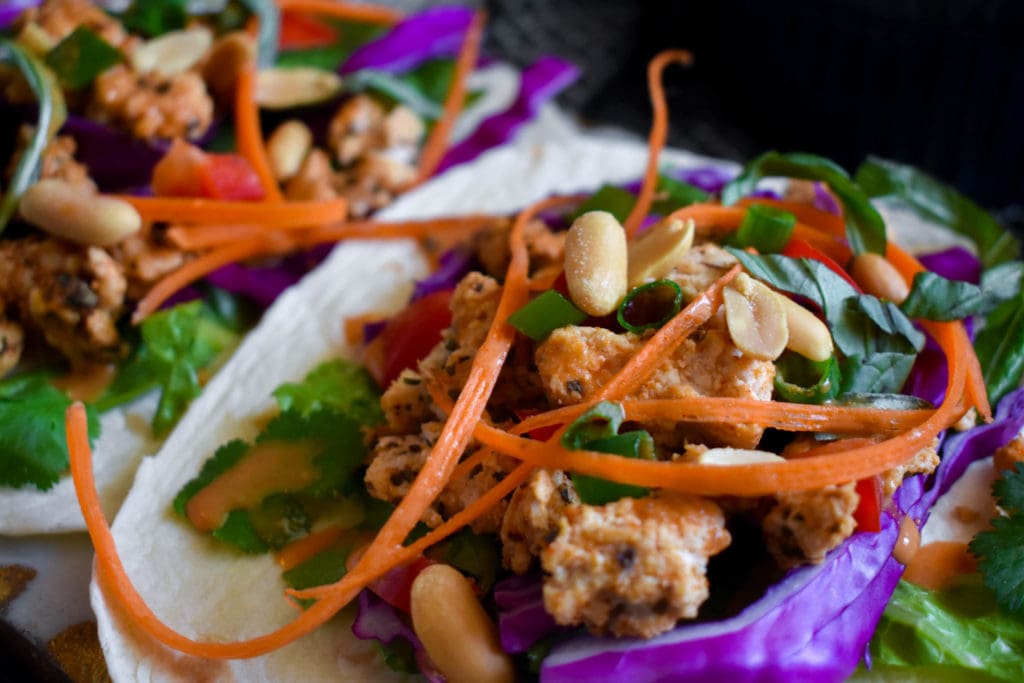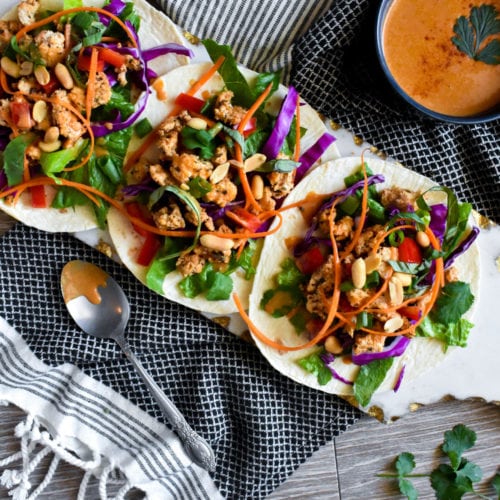 Healthy Thai Tacos with Spicy Peanut Sauce
These Thai tacos are an awesome way to get your daily allotment of veggies and peanut butter. There are few things better than tacos and peanut sauce. This recipe combines them both!
Ingredients
Toppings
1/4

head

purple cabbage

1

head

romaine

1

carrot

1

bell pepper

3-4

leaves of basil

1

small bunch

cilantro

2

green onions

1/4

cup

peanuts

6-9

tortillas

optional
Instructions
Chicken
Heat 2 tsp of oil in a large skillet over low-medium heat. Drain any excess moisture from the ground chicken. Add chicken and allow to cook through, stirring and breaking up as the chicken cooks (about 6 minutes).

Drain any excess moisture from the pan. Add the coconut aminos and spices. Mix spices in well and then remove from heat.
Peanut Sauce
In a medium sized pot, heat coconut milk over low-medium heat.

Begin adding all ingredients. Whisk together and incorporate. Reduce to a low simmer.
Toppings
While everything is cooking. Begin chopping the cabbage, romaine and basil into strips. Use a veggie peeler to get cut the carrot into thin strips. Chop the cilantro and green onion. Dice the bell pepper.
Tacos
Heat the tortillas on the stove or in oven briefly until they are warm. Fill with chicken and veggies. Drizzle on peanut sauce and top with peanuts. Enjoy!
Notes
Save the rest of the peanut sauce in the fridge for 5-7 days. It works great on veggie noodles, with tofu, over a stir fry or as a salad dressing.
Try lettuce wraps or Siete Foods Tortillas for a paleo taco!