These tasty Thai Tacos have just the right amount of crunch and the perfect balance of spice. This fun and unique taco recipe is incredibly nutrient dense, gluten-free and can be made paleo too!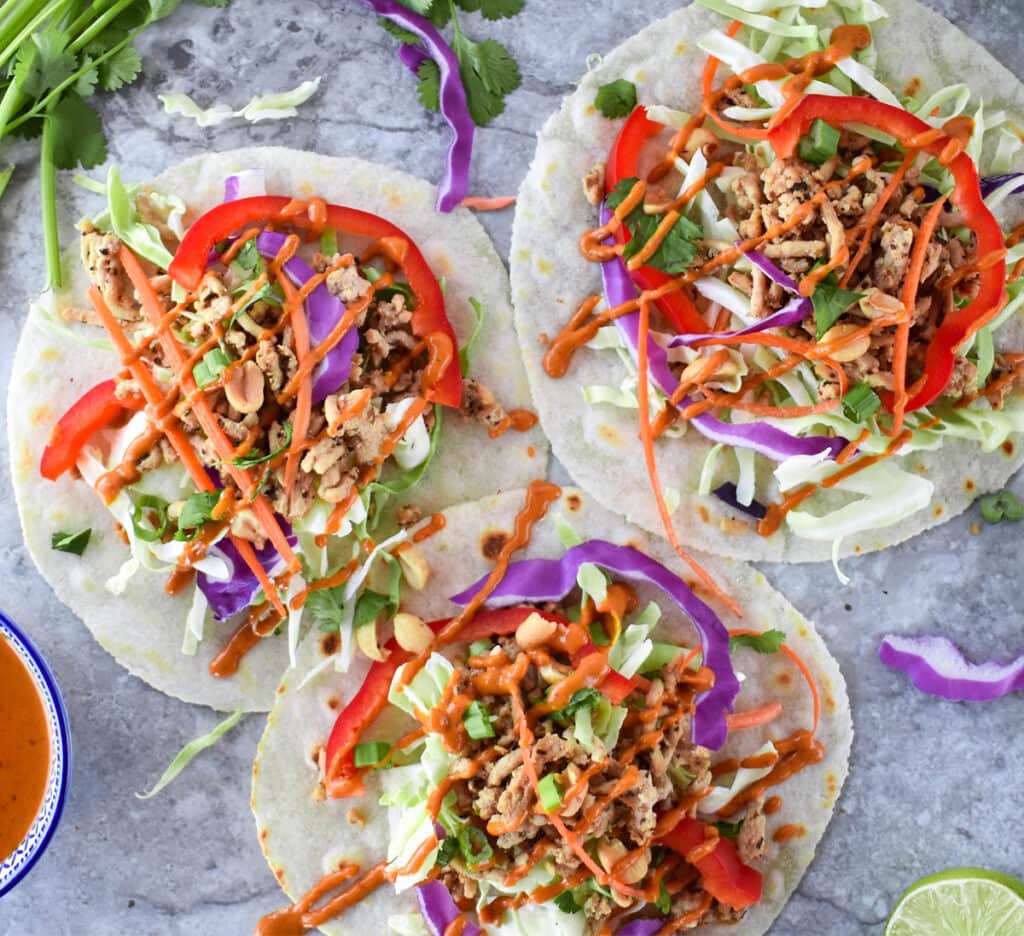 Jump to:
I have said it before and I will say it again, tacos make the perfect edible shovel. They bundle up all the good ingredients and serve as a vessel to your mouth. They are the literal best.
The peanut sauce used in this recipe really pulls these tacos together and is so versatile. Any extra sauce can be held in the refrigerator for up to 7 days.
Making The Peanut Sauce
I know peanut sauce is not for everyone, but to me it's the cat's pajamas. You could spiralize cardboard, cover it peanut sauce and I would commend you for your cooking skills and creativity on a budget. If you have yet to try peanut sauce, this recipe is a great place to start because it is quick and super simple.
As long as you don't have peanut allergies in your family, peanut sauce is a great way to get little ones to eat their veggies because kids love the creamy taste of peanut butter.
Ingredients
Simply mix the ingredients together. It helps if the peanut butter jar has been warmed in a glass of hot water for 1 minute to make it easier to stir.
What Coconut Milk Should I Use?
The ingredients you use are very important to this recipe. Choosing the right coconut milk will make this sauce a lot better and easier to mix.
I really like the pourable Simply Coconut Milk from Thai kitchen. It doesn't contain any gums, it doesn't separate too much and can easily be shaken. You can also use just what is needed for the recipe and save the rest. I find it at Walmart but you can purchase it from Amazon as well.
If you do choose a coconut milk that separates, you may want to warm it slightly before making the sauce. This will allow the cream to soften and mix back into the watery part of the coconut milk.
What Type Of Peanut Butter Should I Use?
As far as peanut butter goes, always select an unsweetened. I am partial to the Smucker's, Adam's, Laura Sudder's and Santa Cruz Organics brands. I think they are all under the same umbrella company because they taste the exact same to me. They are made of just peanuts and salt. You should be able to find one at most major retailers.
How To Make This Sauce Paleo Friendly
Turn this peanut sauce into "peanut" sauce by using almond butter instead. You can swap out the peanuts in the recipe with roasted almonds or cashews. All other ingredients used are paleo friendly.
If using almond butter, still select an unsweetened almond butter. I really like the raw almond butter from Trader Joe's. It has a nice, drippy consistency that makes it mix well in to the sauce.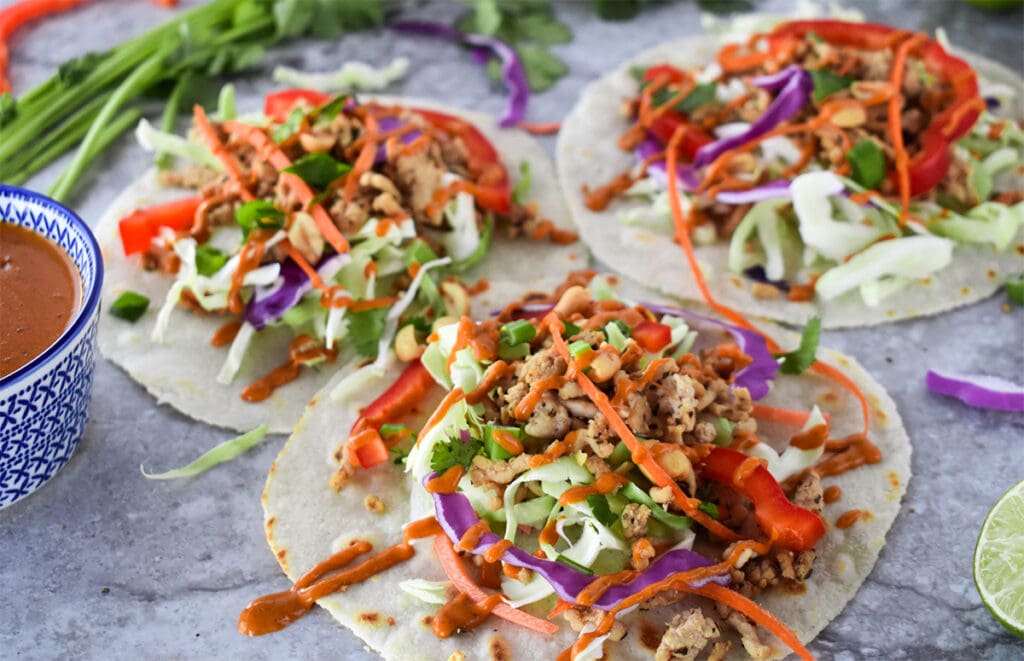 Low Carb Options
The ground chicken, peanut sauce and toppings make this meal so delicious you really don't need the tortilla. While eating tacos provides a unique satisfaction as all handheld foods do, you can ditch the tortillas for a lower carb option.
Simply, pile all the delicious Thai taco fillings in a bowl, wrap them in lettuce, or on top of a bed of cauliflower rice for all the flavor but fewer calories and carbs.
Are These Thai Tacos Healthy?
I love me a taco. They are a great way to get people to eat a variety of healthy ingredients. These Thai Tacos are no exception.
This recipe is flavorful, but also highly nutritious. These tacos are loaded with fiber, vitamins C and A, iron, magnesium and potassium.
The coconut milk is a healthy source of medium-chain triglycerides, which can provide immediate energy and keep you fuller for longer.
The chicken and peanuts add a nice amount of protein to the meal which rounds out the macronutrients and will keep you satisfied.
How To Make Vegan Thai Tacos
To make this recipe vegan, you simply substitute tofu for ground chicken. Select a frim tofu. Remove the moisture by squeezing the tofu between a clean towel.
You will cook it as you would the ground chicken in the recipe (using the same spices) by breaking it into crumbles in a pan. Scramble the tofu and add 1 tbsp. of coconut sugar and an additional tbsp. or two of coconut aminos to give it more flavor.
Other Ways to Use Peanut Sauce
This peanut sauce is fantastic because it is super versatile. I save half of the sauce and use it later in the week. Here are some other ideas:
Drizzle it on a chicken and veggie stir fry paired with some cauliflower rice.
Use it on a variety of veggie noodles. I love it on butternut squash noodles.
Try it as a salad dressing. Top the salad with peanuts, basil and bell peppers!
Use it to dip raw veggies like carrots or peppers.
Related Recipes
📖 Recipe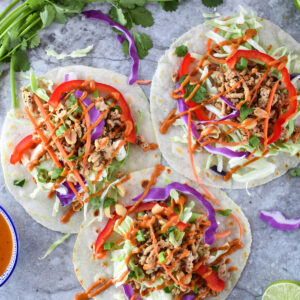 Paleo Spicy Thai Chicken Tacos
These Spicy Thai Chicken Tacos are the perfect way to load up on a veggies and use a tortilla a shovel for peanut sauce. What more could you want? This recipe is gluten free and can be made paleo!
Equipment
Knife

Cutting board

Whisk

Sauce Pan

Frying pan
Ingredients
Toppings
2

cups

coleslaw mix

1

bell pepper

¼

cup

fresh basil

shredded

2

tbsp

cilantro

finely chopped

2

green onions

¼

cup

crushed peanuts

crushed, roasted almonds or cashews for paleo

8

grain free tortillas
Instructions
Chicken
Heat a large non-stick skillet over medium heat. Add chicken and begin to brown and break apart.

Once fully cooked, drain any excess moisture from the pan. Add the coconut aminos and spices. Mix spices in well and then remove from heat.

While the chicken cooks, heat a small sauce pan over medium heat. Add in all sauce ingredients and whisk together. Allow to cook for several minutes until everything in warm and nicely incorporated. Set sauce aside.

While everything is cooking. Begin prepping the veggies. Thinly slice the bell pepper, finely chop the cilantro, shred the basil and chop the green onion.

Warm a clean frying pan over medium heat. Cook each tortilla for about 10-15 seconds on each side.

Assemble the tacos. Fill the tortillas with veggies and chicken. Top with cilantro, basil, green onions and peanuts and then drizzle with the peanut sauce.
Notes
Save the rest of the peanut sauce in the fridge for 5-7 days. It works great on veggie noodles, with tofu, over a stir fry or as a salad dressing.
Nutrition info does not include tortillas.
Nutrition
Serving:
1
taco
Calories:
198
kcal
Carbohydrates:
8
g
Protein:
14
g
Fat:
13
g
Saturated Fat:
4
g
Cholesterol:
49
mg
Sodium:
332
mg
Potassium:
479
mg
Fiber:
2
g
Sugar:
2
g
Vitamin A:
880
IU
Vitamin C:
26
mg
Calcium:
32
mg
Iron:
2
mg