This Paleo Curry Chicken Salad recipe takes your boring traditional chicken salad and kicks it up with some mild curry spice making it a fun and flavorful alternative. For this recipe we emphasize healthy fats and protein making it a great option for lunch or dinner.
Jump to: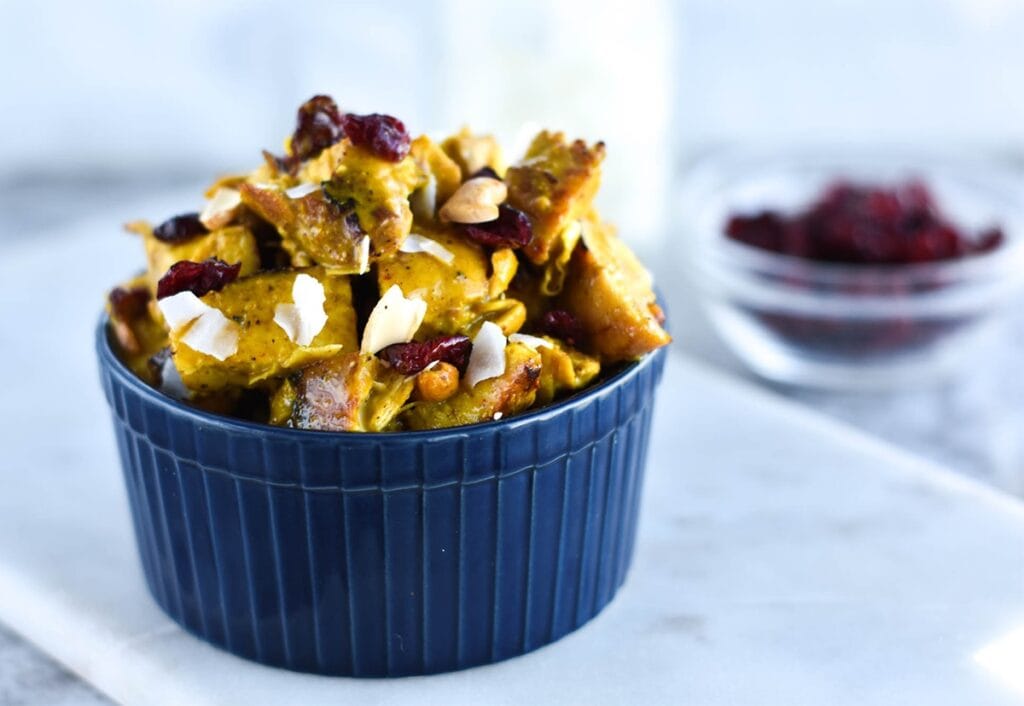 I love curry. Sweet curry flavored foods, melt your face off Indian curry, creamy coconut Thai curry, literally all curry. I do not discriminate. Curry could be on the menu every day and I would not complain.
This recipe incorporates those warm curry flavors in a sweet and tasty chicken salad unlike any other. I use coconut, cranberries and cashews to add flavor and texture. I love to throw this salad on top of bed a bed of lettuce and enjoy. Simple and so satisfying.
What Makes This Chicken Salad Healthier
Traditional chicken salad uses soybean oil mayo. In this version we swap out that processed soybean oil for something a lot less inflammatory, avocado oil mayo.
Soybean oil is high in polyunsaturated fatty acids, specifically proinflammatory omega-6 fats. In fact, soybean oil is 55% omega-6 fats. Excessive omega-6 fatty acids can lead to inflammation and disease. Because soybean oil is one of the most common oils used in our food system, it is very easy to get omega-6's in excess.
In contrast, avocado oil is predominantly monounsaturated. Monounsaturated fatty acids are healthier because they are less likely to undergo oxidation which can cause free radical damage.
Benefits Of Turmeric
Yellow curry powder gets it's color from the turmeric used as one of the ingredients in the spice mix. Turmeric is a member of the ginger family, and can be found in it's raw form as a root with a bright orange-yellow center.
This root has been used for both medicinal and flavoring purposes for thousands of years. In ancient medicine, turmeric has been used to reduce inflammation and pain, and continues to be used for this purpose to this day.
Interestingly, decreased inflammation has been reported in countries where individuals consume an estimated average of 125 mg of turmeric per day (1).
This root contains an biologically active compound called curcumin which is thought to reduce inflammation by inhibiting the COX-2 enzyme. This is the same inhibition pathway that NSAIDS pain relievers, like Tylenol, use. Curcumin also helps to blunt inflammation by inhibiting cytokines and other communication proteins that promote the inflammatory cascade (2).
Will curry cure all your ailments? Probably not, but it might be worth including turmeric in you weekly menu.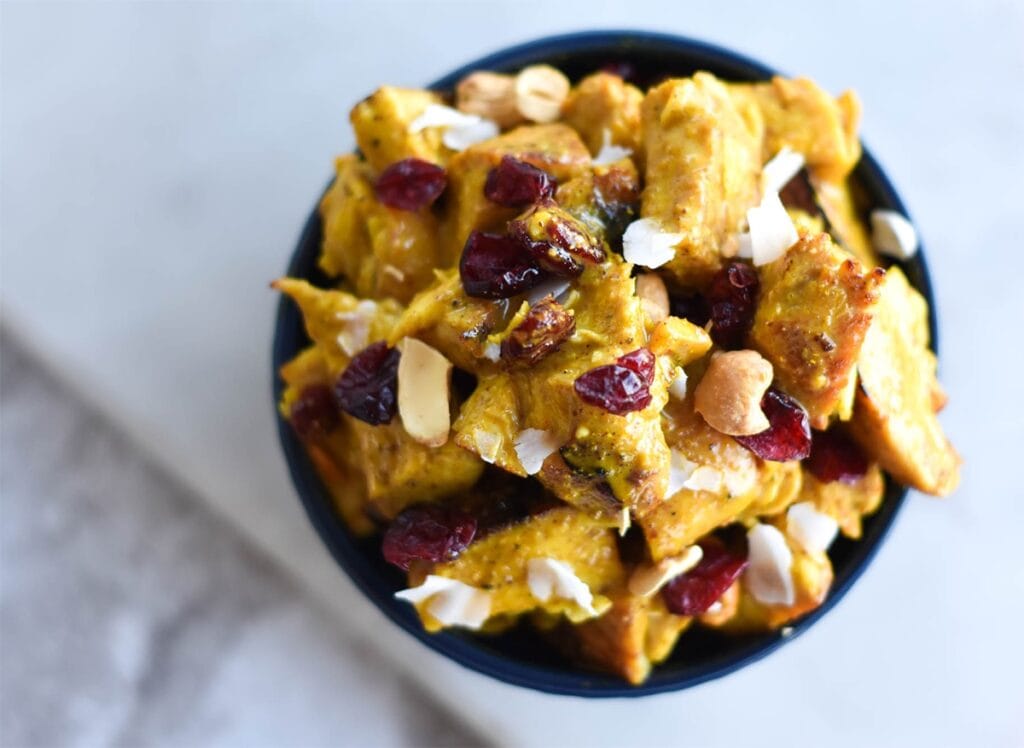 How To Serve This Salad
This salad goes well on top of romaine lettuce to make it a proper meal. Shredded green cabbage or chopped celery also taste good in this recipe, and add some bulk and micronutrients.
Frequently Asked Questions
Can I substitute regular mayo?
Yes, but the recipe will not be paleo compliant. The taste will be the similar but the recipe will be less healthy.
Is this recipe spicy?
Nope. The curry powder (unless you purchase hot or spicy yellow curry powder) should be fairly mild.
Why do we need fruit juice sweetened dried cranberries?
This is to make the recipe paleo. If you're not paleo or choose to include a little sugar in your diet, regular dried cranberries will work just fine.
Recipe Tips
If you have some thick chicken breasts, you can take the chicken out of the pan once it has been browned on both sides and slice it. Then throw it back in the pan to finish cooking. This will just speed up the process.
This is a great way to use leftover grilled chicken breast! You would just add the cold, cooked chicken to the dressing and combine the other ingredients.
Add the cashews before serving if you want them to stay crunchy.
Store in the fridge in an airtight container for up to 3-4 days.
Related Recipes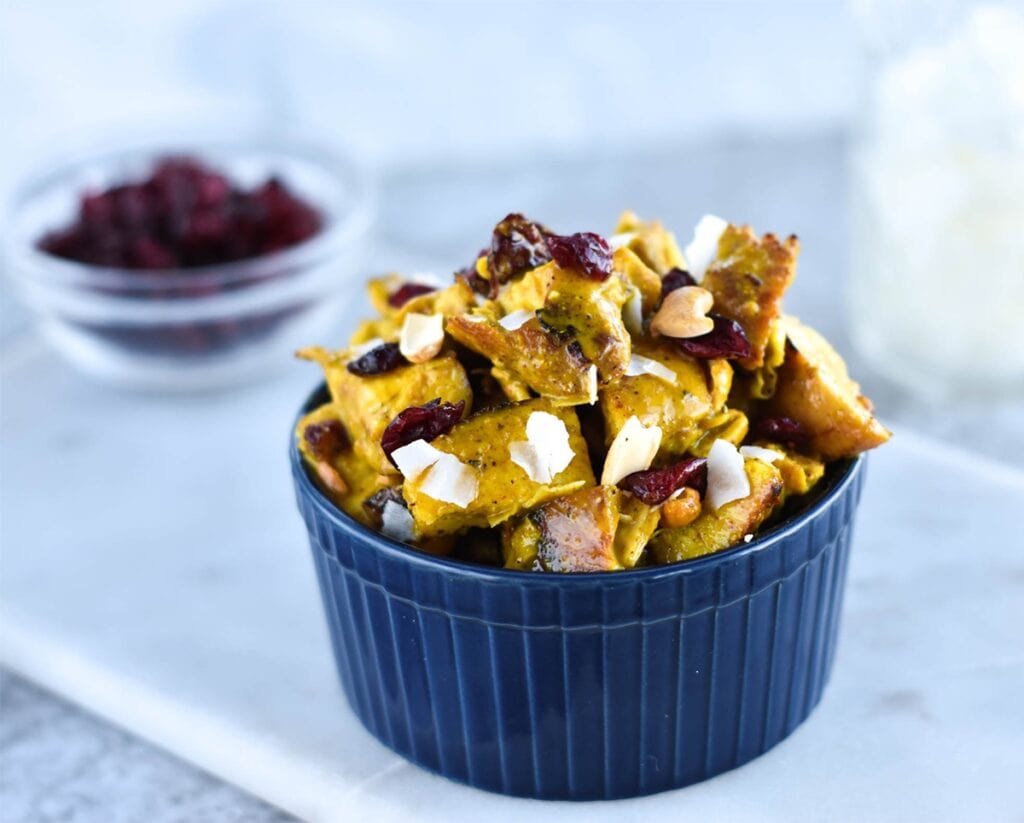 📖 Recipe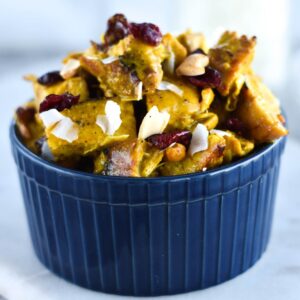 Cashew Curry Chicken Salad
This is a kicked up version of chicken salad with the great flavor of yellow curry. It worked great in salads, sandwhiches or by itself.
Instructions
Chicken
Begin by placing the chicken breasts shiny side up in a plastic Ziploc bag. Seal the bag, and pound the eat until it is an even thickness using a mallot or rolling pin.

Add marinade ingredients to the bag. Seal bag, and massage until chicken is evenly covered. Place in the fridge for 15 minutes.

Heat avocado oil in a large frying pan on medium heat. Place chicken breasts in pan. Cook until browned, about 5-8 minutes on each side. Thickness of the chicken breast will determine cooking time.

Remove from pan. Cut the breasts in half to make sure they are done. If done, place on a plate in the fridge for 15 minutes to allow them to cool. If not done, return to the pan on slightly lower heat prevent from burning.

Once chicken has cooled, slice breasts in to thin bite size pieces.
Dressing
While chicken is cooking, combine all dressing ingredients in a small bowl and mix together.
Salad
Add sliced chicken, coconut, cashews, and cranberries to a large bowl and coat with the dressing. Start by adding half of the dressing, and continue to add more until everything is covered.

Extra dressing can be saved for up to a week in an airtight container in the fridge.

Serve on top of a bed of romaine lettuce, or enjoy by itself.
Notes
Choosing cranberries that are sweetened with apple juice will make this recipe paleo friendly.
For a lighter version, substitute the avocado mayo with a grass-fed yogurt. Choose a variety that isn't very sour, and omit the lemon juice. You may need to taste and adjust the coconut sugar and spices to account for the tanginess of the yogurt.
Nutrition
Serving:
4
servings
Calories:
481
kcal
Carbohydrates:
18
g
Protein:
38
g
Fat:
28
g
Saturated Fat:
6
g
Cholesterol:
117
mg
Sodium:
549
mg
Potassium:
719
mg
Fiber:
1
g
Sugar:
12
g
Vitamin A:
51
IU
Vitamin C:
5
mg
Calcium:
22
mg
Iron:
1
mg