These Paleo Thai Chicken Lettuce Wraps make the perfect summer meal. The only cooking required in this recipe is sauteing the onion, and browning the ground chicken. From start to finish, you can prepare this recipe in less than 20 minutes. This is a total win for me.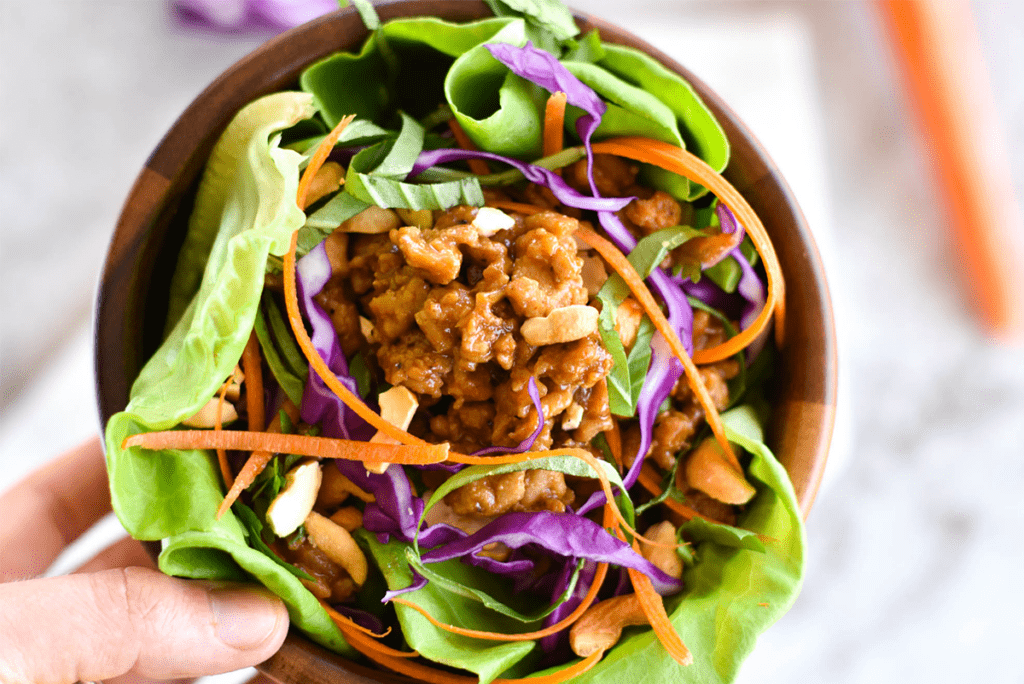 Jump to:
It is officially summer here in Washington State.
The mornings are still magical, dewy and cool. The days are now pleasantly long and the nights are that sweet spot between hot and cold. They almost beg you to sit outside and enjoy your dinner while watching the sun fade (and, possibly indulge in a second margarita). Summers are damn near perfect here.
The days here are starting to push 90 and when the temperatures rise I find myself craving foods that are crisp and cool. I like to think that this is an intrinsic craving from my body's innate wisdom guiding me to eat more seasonal foods. But, in reality it might just be the fact that I don't want to stand by the oven when in is 92 degrees. I'm sure sweating into your meal is both unattractive and a food safety hazard.
That is why these flavorful and low carb lettuce wraps make a great summer meal to spice up your weeknight routine.
I knew I nailed the recipe when Kevin told me it was the best meal I have ever made. My disclaimer is that we had just finished a pretty intense workout. This was also the first real meal I had cooked for him since he got back from his deployment. And, we had just returned from a week long backpacking trip where dinners consisted of dehydrated meals and airport food.
Nonetheless, these colorful Thai chicken lettuce wraps are a crowd favorite.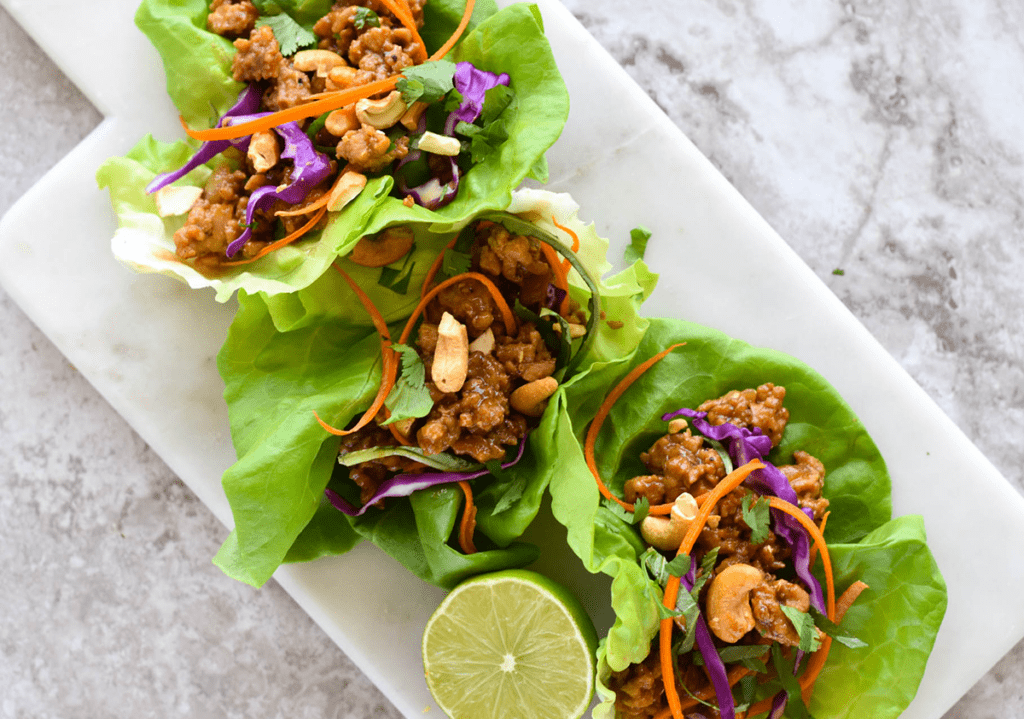 Nutritional Benefits
Lean Protein - The ground chicken used in this recipe is great way to get a healthy amount of protein while keeping it lower in calories. Although eating full-fat animal products can and should be part of a healthy diet, choosing cuts of meat that are lower in fat can allow you to vary your fat sources. We add a little coconut oil and cashews to this recipe to make it satiating, add some fun texture and supply several healthy fat sources.
Micronutrients - The colors in this recipe are a great indicator that your are getting a variety of vitamins and minerals with each bite. With all the vegetables and herbs in this recipe, you get a hearty amount of Vitamins K, B6, B1, C, A, and folate, along with magnesium and potassium.
Phytochemicals - The sulfur compounds in the onions, garlic and green onions can help fight off a nasty cold. The anthocyanins in the purple cabbage are important to include in your diet because they can help protect you from a variety of diseases and cellular oxidation.
Meal Prep Options
This is a super simple meal to prepare ahead of time and eat for a weekday lunch. Meal prepping good insurance to support your healthy intentions!
The best way to do this is to first double the recipe (unless you are cooking for one). This will give you 5-6 lunches. You will only need to buy extra chicken and butter lettuce. The cabbage, carrots, cashews, basil, nut butter and other ingredients will likely be enough to make two recipes worth.
Once cooked and sauce has been added, separate the chicken into individual containers. It is helpful to use containers that are split (like these) so that you can put the chicken on one side and crunchy veggies on the other, but you could also just use separate containers.
Keep all the topping separate from the chicken while storing. When reheating just remove the lettuce and toppings from the container. Assemble and enjoy. Use within 5 days of cooking.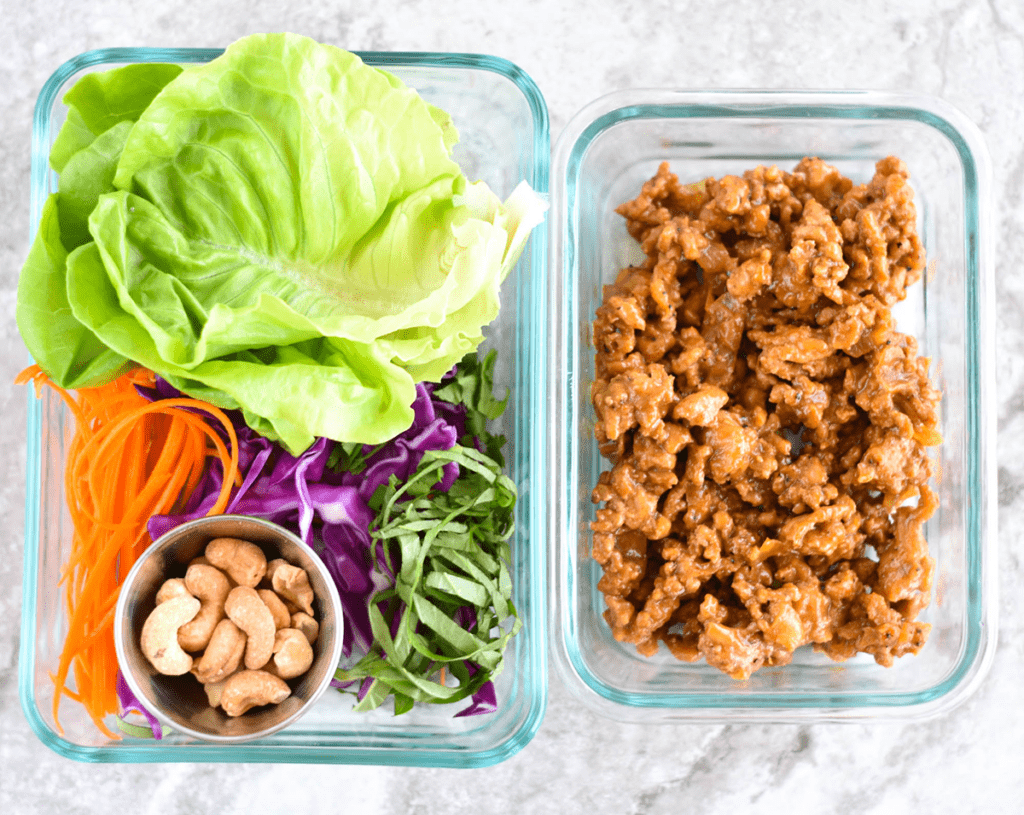 Other 30 Minute Meals
Main Ingredients and Substitutions
Ground Chicken - I like ground chicken because it is a little lighter, but you could use ground pork for this recipe also. The end product will be about the same.
Coconut Oil - You could substitute any high quality cooking oil. Avocado oil would be a good choice.
Onion - I usually use yellow onions in most my recipes because they are slightly sweeter. A white onion would also work.
Garlic - You could use fresh garlic (about 2-3 cloves) but I like to buy pre-minced garlic because I don't love chopping garlic. If you do, go for it!
Coconut Aminos - Coconut aminos is what I would recommend in this recipe. You could substitute soy sauce or soy aminos but this would make the recipe non-complaint with the paleo diet. If using one of these alternatives taste before adding additional salt because soy sauce and soy aminos tend to be saltier and less sweet than coconut aminos.
Coconut Sugar - Maple syrup or maple sugar would work well in this recipe.
Sunflower Butter - Sunflower butter works really well in this recipe, but almond butter or cashew butter would work too. Peanut butter would also be an option if you're not following a paleo diet.
Lime - You can use store bought lime juice and won't notice much difference.
Butter Lettuce - This lettuce variety is my preferred lettuce for lettuce cups because it is soft and not overpowering. Iceberg could work but wouldn't look as pretty.
Purple Cabbage - Also called red cabbage, I like purple cabbage for the color. Green cabbage or a pre-cut coleslaw mix would would not affect flavor or quality in this recipe.
Cashews - Peanuts would be a good swap if not following paleo! You could also use crushed roasted almonds.
Ginger Paste - You could use fresh ginger or ground ginger. If using ground ginger decrease amount by half.
Recipe Tips
Sometimes the chicken will have excess moisture. You may need to drain this before adding the sauce if it doesn't evaporate.
You can use a coleslaw mix if you don't think you will use up a whole head of cabbage. Another good solution would be picking another recipe that uses cabbage and throwing that into your weekly meal plan.
Warming the sunflower seed butter or almond butter in the microwave for 30 seconds will help it incorporate into the sauce.
Related Recipes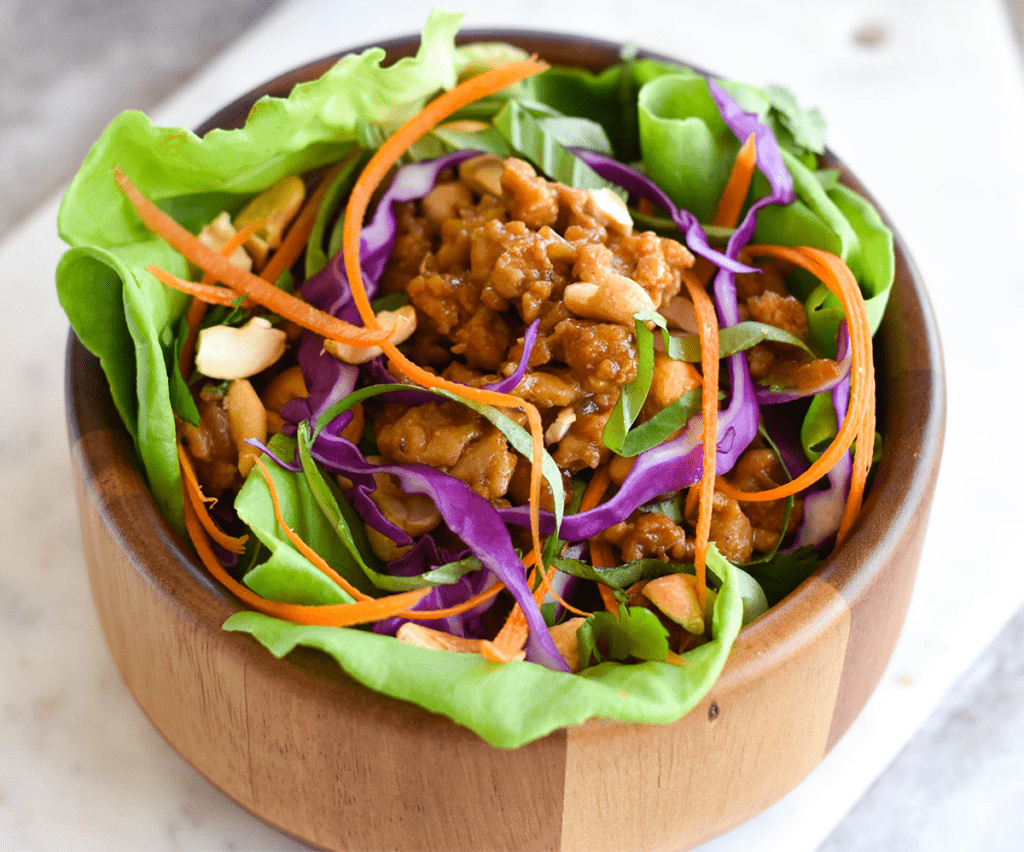 📖 Recipe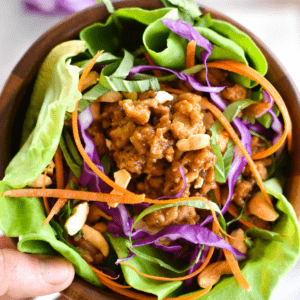 Paleo Thai Chicken Lettuce Wraps
These fresh and crunchy paleo Thai Chicken Lettuce Wraps are full of amazing flavors, and simple enough for a hot summer weeknight.
Ingredients
Wraps
1

head

butter lettuce

washed and dried

1

cup

purple cabbage

chopped

¼

cup

cashews

chopped

2

tbsp

fresh basil

chopped

2

tbsp

cilantro

optional

1

carrot

shredded
Instructions
Begin by putting the coconut oil in a large frying pan. Once the oil has heated, add the onion and begin cooking on a medium heat until it starts to caramelize. It should turn slightly brown.

Add the minced garlic to the pan and continue to cook for 1 minute. Then add the ginger paste.

Add the ground chicken to the pan. Cook over medium heat and allow to brown. As chicken cooks break it up with a spatula.

While chicken cooks, prepare the sauce by combining the ingredients in a small bowl and whisk together.

Once the chicken has cooked drain any excess moisture.

Add the spices and coconut aminos. Mix the spices in and let the coconut aminos cook down for about a minute.

Reduce the heat and add the sauce to the pan. Allow to simmer for another minute. Stir and remove from head.

Prepare the vegetables by pulling the leaves from the butter lettuce. Remove the outside leaves from the cabbage and slice into thin strips. Shred the carrot with a vegetable peeler. Chop the herbs and green onions. Crush cashews.

Assemble the lettuce wraps, and enjoy!
Notes
Any nut butter will work in this recipe, but try to aim for an unsweetened variety. I like the mild nutty flavor of the sunflower butter. 
Add as much cayenne pepper as you'd like. Cayenne is spicy, while paprika usually is not unless it says something like "hot smoked paprika". If you don't have cayenne pepper on hand but want to add a little kick, you can add 1-2 tsp of chili paste or sriracha to the sauce.  
Nutrition
Serving:
3
Lettuce wraps
Calories:
434
kcal
Carbohydrates:
29
g
Protein:
31
g
Fat:
22
g
Saturated Fat:
7
g
Cholesterol:
130
mg
Sodium:
967
mg
Potassium:
1153
mg
Fiber:
3
g
Sugar:
11
g
Vitamin A:
5616
IU
Vitamin C:
25
mg
Calcium:
67
mg
Iron:
3
mg
If you try these paleo Thai Chicken Lettuce Wraps, leave me a comment and tell me how it went. I'd love to hear from you!