This Whole30 Green Beans Almondine recipe is the perfect side to any meal. These green beans are flavorful with caramelized shallot, crunchy almonds and a touch of grass-fed butter or ghee (to make them Whole30 compliant!). Salty, fresh and super satisfying.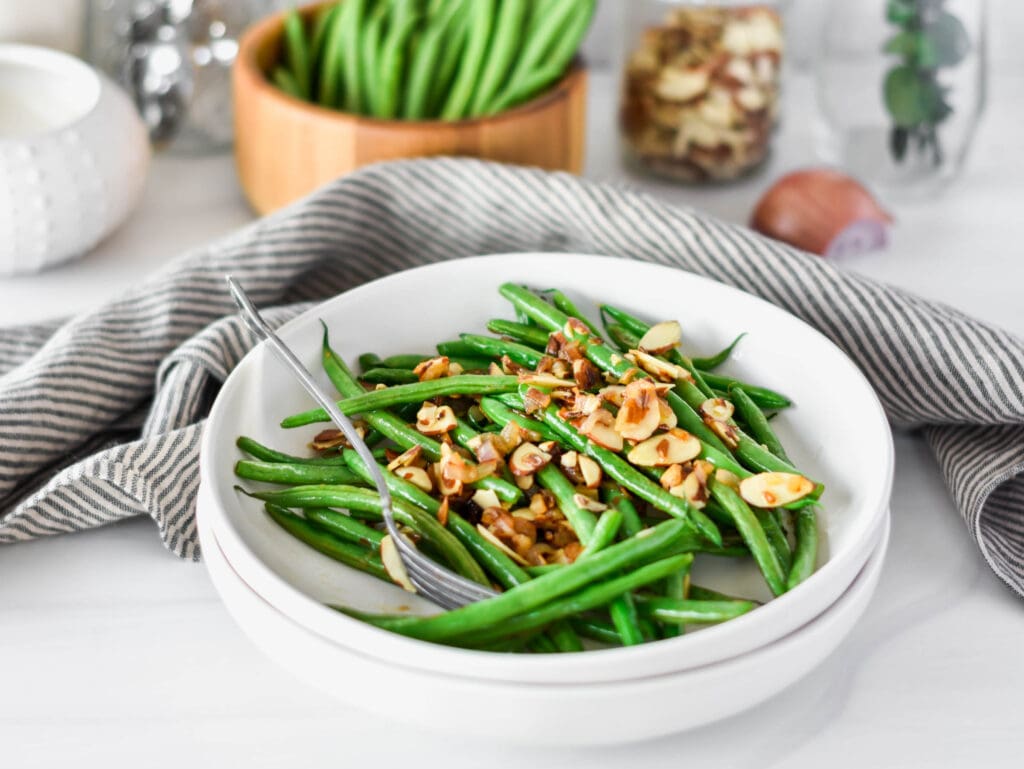 Jump to:
My mother in law was visiting one time and made the BEST green beans. They were something simple, made with almonds and shallot and a decent whack of salt. I was skeptical because I like my beans blistered in the oven, but one taste of these green beans and I was hooked.
Little to my knowledge this is totally a thing. Green beans almondine! And, it is literally the best. This is my version of green beans almondine with a whole30 option!
What is Green Beans Almondine
Green beans almondine originated in France. It contains fresh beans, butter, and almonds. Some variations have olive oil and/or lemon juice too. It is a light, vibrant side dish that goes well with almost any entrée.
Benefits of Grass-Fed Dairy
Grass-fed dairy is one of those higher end foods that I am constantly advocating for. It usually only costs a quarter or two more but the benefits are worth it! When buying full fat dairy products grass-fed, pasture raised is a must!
Grass-fed dairy is a more dense source of fat-soluble vitamins like vitamins A, E and K2. Vitamin A is important for skin, vision, reproductive and immune system health. Antioxidant vitamin E helps support the reduction of reactive oxygen species. Vitamin K2 supports bone and cardiovascular health, and is not found in high quantities in grain-fed cattle.
The important benefit of K2 in conjunction with calcium is that it increases the utilization and binding of this mineral. Excessive calcium that is not utilized in the body has been shown to cause calcification of the soft tissue, including arteries. Because K2 activates calcium binding proteins, it prevents excess calcium from floating around in the blood stream.
In addition, this type of dairy is higher in omega-3 fatty acids and lower in pro-inflammatory omega-6's.
Get the grass-fed butter!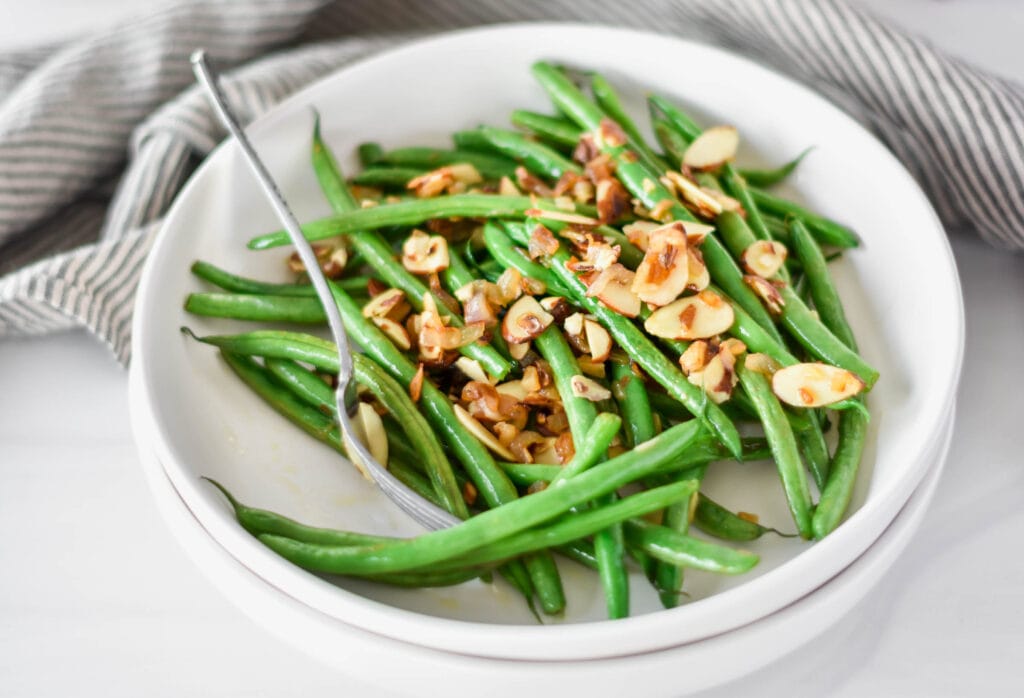 Ingredient Notes
Shallot
I used to think you can just substitute onion for shallot. Like, I actually learned that in school! I mean maybe, if you are in a pinch, okay, but for best results use the darn shallot! It is SO much better.
Shallots have a more mild flavor, slightly sweet and not as sharp on onions with hints of garlic. They are so tasty!
Green Beans
Fresh green beans are a must in this recipe. I prefer French green beans (or verts!). They are a little more sweet, tender and a little smaller.
Almonds
Select raw (not roasted) slivered or sliced almonds. They will toast in the pan while cooking!
Grass-Fed Butter or Ghee
You could substitute a little more olive oil in place of the butter or ghee, but if you can tolerate the butter do it! You only add a little but it adds so much flavor to the beans. Plus, a high-quality butter is both healthy and delicious.
For those following Whole30, you will want to use either ghee or olive oil to stay complaint.
Recipe Tips
Add the garlic after the beans have cooked at least halfway through. This will help ensure that the garlic does not burn. The shallot can cook with the beans because you want it to caramelize.
Some people like their beans with a little bit of a snap, some like them cooked through. I am the latter. They taste more sweet when cooked all the way. Make sure you cook the beans to your desired level of doneness so the dish is as enjoyable as possible to you!
Related Recipes
Did you try this recipe? I would love to see how it went! Share a photo and tag me on Instagram or leave a comment on Pinterest.
Love this recipe? Connect with me by leaving a comment below! 😊
📖 Recipe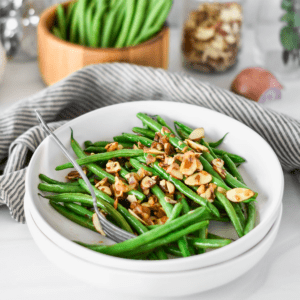 Whole30 Green Beans Almondine
The perfect green beans almondine made Whole30-friendly with caramelized shallots and a touch of ghee or grass-fed butter.
Equipment
Frying pan

Cutting board

Knife
Ingredients
1

lbs

Green beans

French green beans work best

2

tbsp

Olive oil

1

Shallot

Small

¼

cup

Sliced almonds

2

cloves

Garlic

½

tbsp

Grass-fed butter (ghee for Whole30)

Sub a little more olive oil for strict paleo or vegan

Salt to taste

I used ½ tsp
Instructions
Peel and finely chop both the shallot and the garlic cloves. Trim the ends of the green beans.

In a frying pan, heat 1 ½ tbsp of olive oil over low-medium heat. Add the beans and shallot. Sauté for about 5 minutes. The garlic will burn if it cooks too long so make sure the beans are at least halfway cooked before adding it. Add the garlic and continue to cook until the beans soften and the shallot begins to caramelize, about 10 minutes. Cook until beans are your desired level of doneness.

Add in the salt, almonds and butter. Toast the almonds for 1-2 minutes.
Nutrition
Calories:
116
kcal
Carbohydrates:
8
g
Protein:
4
g
Fat:
9
g
Saturated Fat:
2
g
Trans Fat:
1
g
Cholesterol:
3
mg
Potassium:
247
mg
Fiber:
3
g
Sugar:
3
g
Vitamin A:
522
IU
Vitamin C:
10
mg
Calcium:
57
mg
Iron:
1
mg