I can't tell you how much I love this 5-Minute Paleo Romesco. It is the perfect addition to spice up any bland dish. This roasted red pepper and tomato sauce is the perfect accompaniment to mild flavored fish, chicken or steak. You can also use it like pesto in veggie pasta dishes or gnocchi.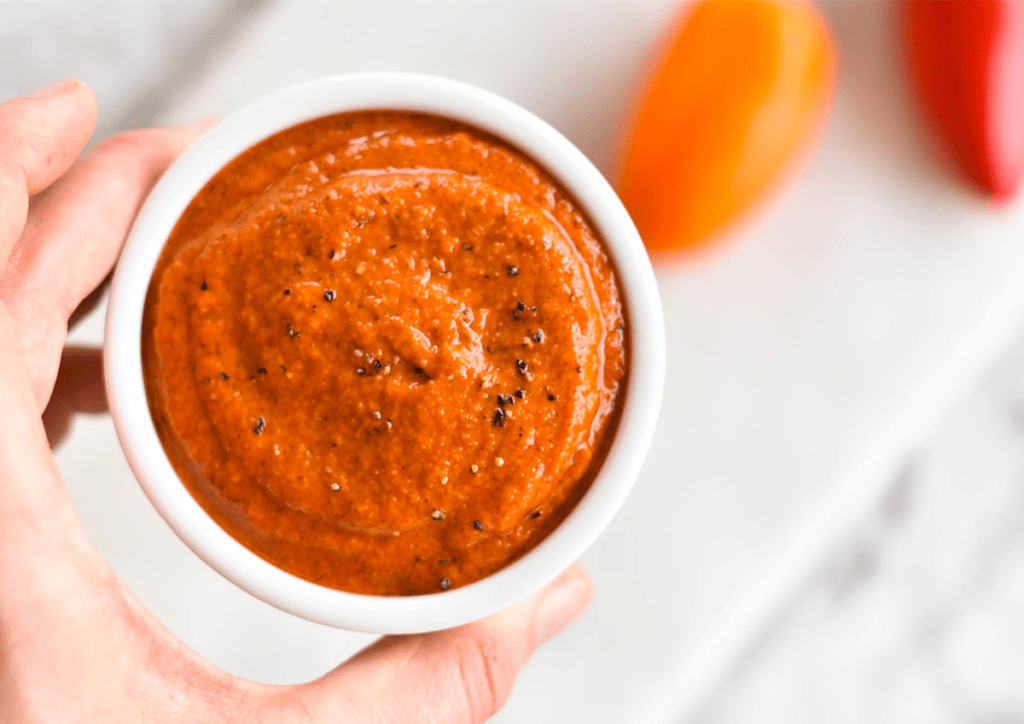 Jump to:
You know the saying ignorance is bliss? I am sure you can recall a time when you were going about your life perfectly happy until you are introduced to something that made you starkly aware of what exactly you had been missing. Once this revelation has occurred, you can't go back to your once seemingly happy life and be content.
For me, this revelation has happened twice. When I met my husband, and when I first tasted romesco. Comparable in importance, I would argue.
What Is Romesco?
Romesco is a versatile sauce made primarily from roasted red peppers and nuts. It originated in Spain. Originally, it was created by a Spanish fisherman to add flavor to fish. I hadn't heard of this sauce until I started doing Sun Basket.
It was during a particularly busy time in our lives when I was in the tail end of master's degree. I was in a particularly grueling internship and still waiting tables. We were not finding much time to actually shop for and cook our meals. A friend had recommended this meal service.
If you haven't heard of Sun Basket I would highly recommend it. No affiliation here, I just think it is the best quality meal delivery service out there. The meals we selected were paleo based, and gluten free. They were an excellent way to ease some stress without letting our meal quality suffer.
In one of the meals came a little container of bright red sauce called romesco. I tried it and was instantly obsessed with in recreating it.
Often times, traditional romesco may contain stale bread. I omitted that to keep it paleo-friendly. I feel like none of the flavor was sacrificed.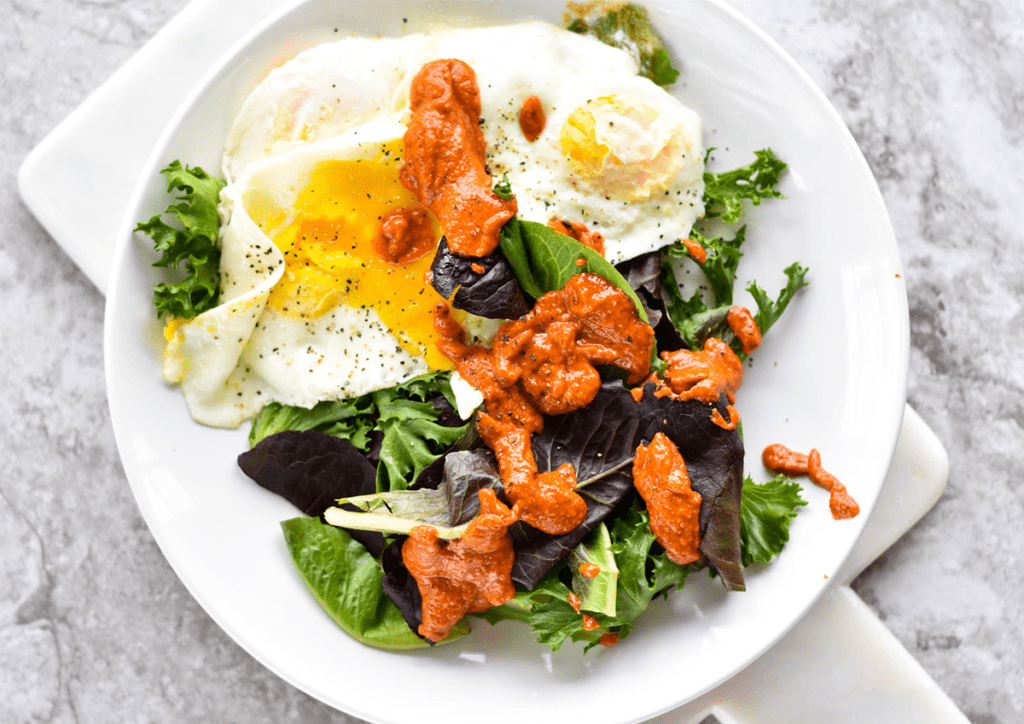 What Can I Put This Sauce On?
So many things! I love this sauce so much, I will put it on just about everything but here are some ideas...
Any type of white fish (i.e. cod, tilapia, halibut, etc.).
Steak
Pasta or veggie noodles
Cauliflower gnocchi (from Trader Joe's) or this 10-minute Paleo Gnocchi
Eggs
Why Use Store Bought Roasted Red Peppers?
It is a time saver! By using jarred roasted bell peppers, you can make this recipe in 5 minutes flat. The barrier for people including flavorful additions to their everyday recipes is usually time. A jar of roasted bell peppers can be the perfect solution.
Where Do I Find Roasted Red Peppers?
They can be found near the tomato sauces or near the sundried tomatoes in the produce isle depending on your grocer. I got mine from Trader Joe's. You can also find them on Amazon.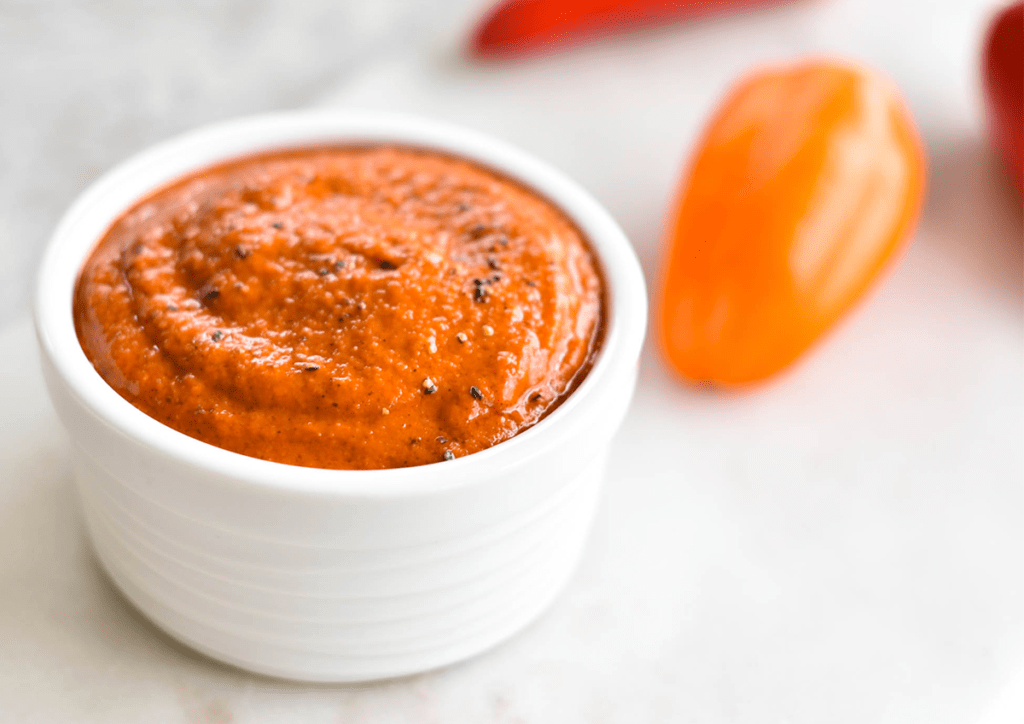 Can I Use Fresh Roasted Bell Peppers?
You can certainly roast bell peppers if you would like to. Fresh roasted bell pepper add a degree of smokiness and complexity to the recipe.
How To Roast Red Peppers
Time needed: 45 minutes.
How To Make Roasted Red Peppers
Preheat the oven to 400 degrees.
Brush a baking sheet with avocado oil or other cooking oil.
Place the bell peppers on the baking sheet.

Peppers should be lying on their sides.

Bake the peppers.

Allow the peppers to cook for 20 minutes. Remove the baking sheet. Using tongs, flip the peppers and return them to the oven. Allow them to cook for another 20 minutes.

Remove them from the oven when the are done and separate the flesh from the stem and seeds.

The peppers should look charred and slightly deflated when they are done. Check to make sure they look this way after the 40 minutes of cooking, if not allow them several more minutes to cook. Once cooked, they should pull apart from the stem and seeds very easily. Use a knife to remove any spin that might still be there.
Is Romesco Keto?
This paleo romesco is considered low carb and can fit into a keto diet. In this recipe, there are 3 grams of net carbs per 2 tbsp. serving. So, feel free to top all your low carb veggie pasta dishes, fish or steak with this delicious sauce.
Related Recipes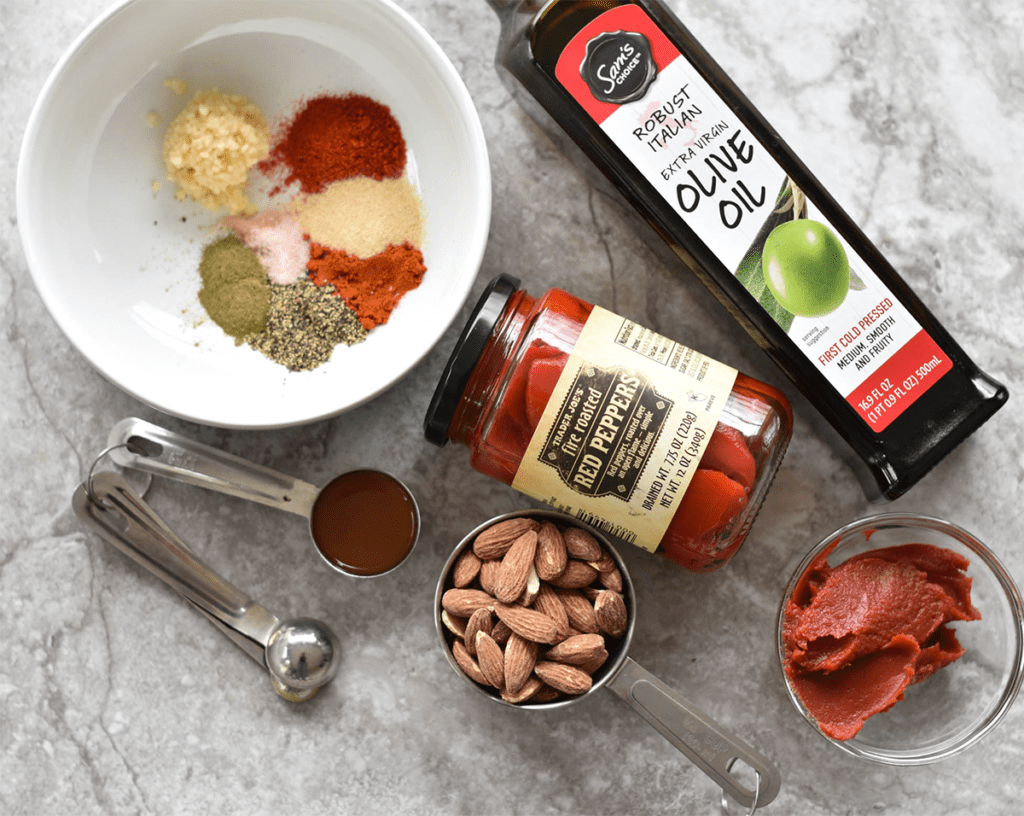 📖 Recipe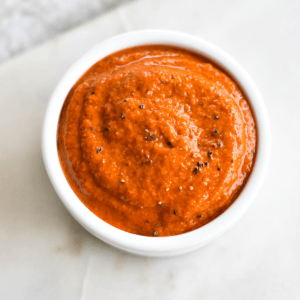 5-Minute Paleo Romesco
This creamy and flavorful red pepper sauce is great on top of fish or chicken.
Equipment
Blender or food processor
Instructions
Begin by blending the almonds. Add the roasted almonds to a blender and pulse until they are completely ground.

Add all remaining ingredients into the blender with the almonds, except the olive oil. Blend until smooth.

Put into a bowl and incorporate the olive oil. Stir well.

Serve immediately, or store in a sealed container in the refrigerator for up to 5-7 days.
Nutrition
Serving:
56
g
Calories:
88
kcal
Carbohydrates:
4
g
Protein:
2
g
Fat:
7
g
Saturated Fat:
1
g
Polyunsaturated Fat:
1
g
Monounsaturated Fat:
5
g
Sodium:
136
mg
Potassium:
109
mg
Fiber:
1
g
Sugar:
3
g
Vitamin A:
208
IU
Vitamin C:
2
mg
Calcium:
19
mg
Iron:
1
mg