Dessert on the autoimmune protocol is always hit or miss. Lucky for you this AIP Pumpkin Pie recipe is all hit. This pumpkin pie will be enjoyed by anyone, whether they have dietary restrictions or not. This paleo, gluten free and AIP-compliant pie is the perfect allergy friendly holiday recipe!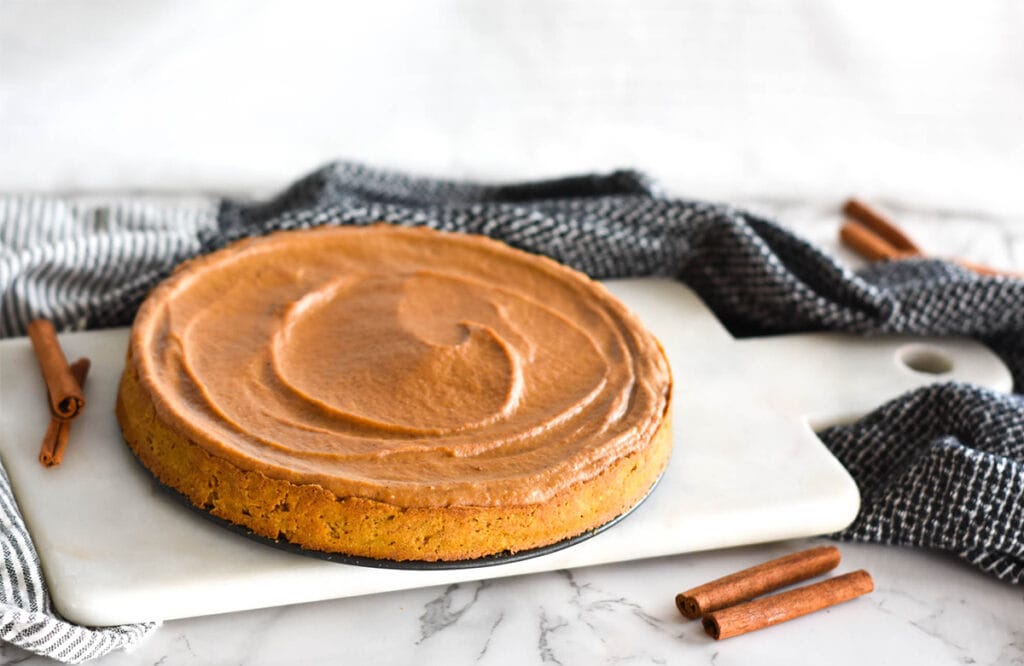 Jump to:
The holidays can be the hardest time to follow the Autoimmune Paleo protocol. Dietary restrictions are challenging in any context, but when you can't enjoy traditional and nostalgic seasonal foods with friends and family you may feel like you are missing out on a big part of the holidays.
Finding recipes you love, that you can share with your loved ones is key to success on this protocol through the holidays. This pumpkin pie is tasty enough to be enjoyed by all, not just those following AIP.
I developed this recipe the first year my husband was following AIP. With Thanksgiving approaching, I wanted badly for him to have foods he could safely enjoy with everyone.
Making recipes he could enjoy was arguably more important to me than him. I am 1000% more food focused than my husband (i.e. dietitian with a food blog, never more than 10 ft from a snack, just in case). Cooking for people is very much so one of my love languages.
This pumpkin pie was enjoyed by myself, my husband and my very non-paleo family. I think that speaks to it's merit. Not to mention, I am a certified pumpkin pie expert (I do continuing education yearly to maintain my cert 😉). Pumpkin pie has been my favorite dessert for as long as I can remember. This pumpkin filling is truly unbeatable and can be enjoyed crustless or paired with your favorite paleo pie crust.
Possible Substitutions
Pumpkin Puree - Canned sweet potato puree or fresh pumpkin puree can be used in this recipe.
Coconut Milk - Coconut milk is preferred because the fat content helps with the texture and creaminess of the pie. If you have an intolerance to coconut, you could use any type of milk alternative. Higher fat will produce better results.
Maple Syrup - You can use your preferred sweetener, but if you use a granulated sweetener you may need to add more coconut milk. Both the maple syrup and the coconut milk are the liquids needed to create an appropriate texture with the gelatin. Removing the maple syrup and substituting with a non-liquid sweetener will create a more firm dessert.
Beyond the suggestions listed, I don't recommend making substitutions to this recipe.
Making The Crust
I often make this AIP pumpkin pie without a crust (as I describe below). The crust has never been my favorite part of the pie and I usually only eat the inside anyway. I know, I know. This may sound like blasphemy to all you crust lovers out there.
If you're one of those people who like crust and want to make a classic pumpkin pie, I suggest using this crust from The Paleo Mom. This crust is tasty and has the perfect texture, made from fully compliant ingredients.
The only ingredient that you might need to leave out is the vanilla. Most conventional vanilla extracts are not going to be AIP compliant due to the alcohol used for the extraction.
This crust will take 30 minutes to cook and requires the following ingredients: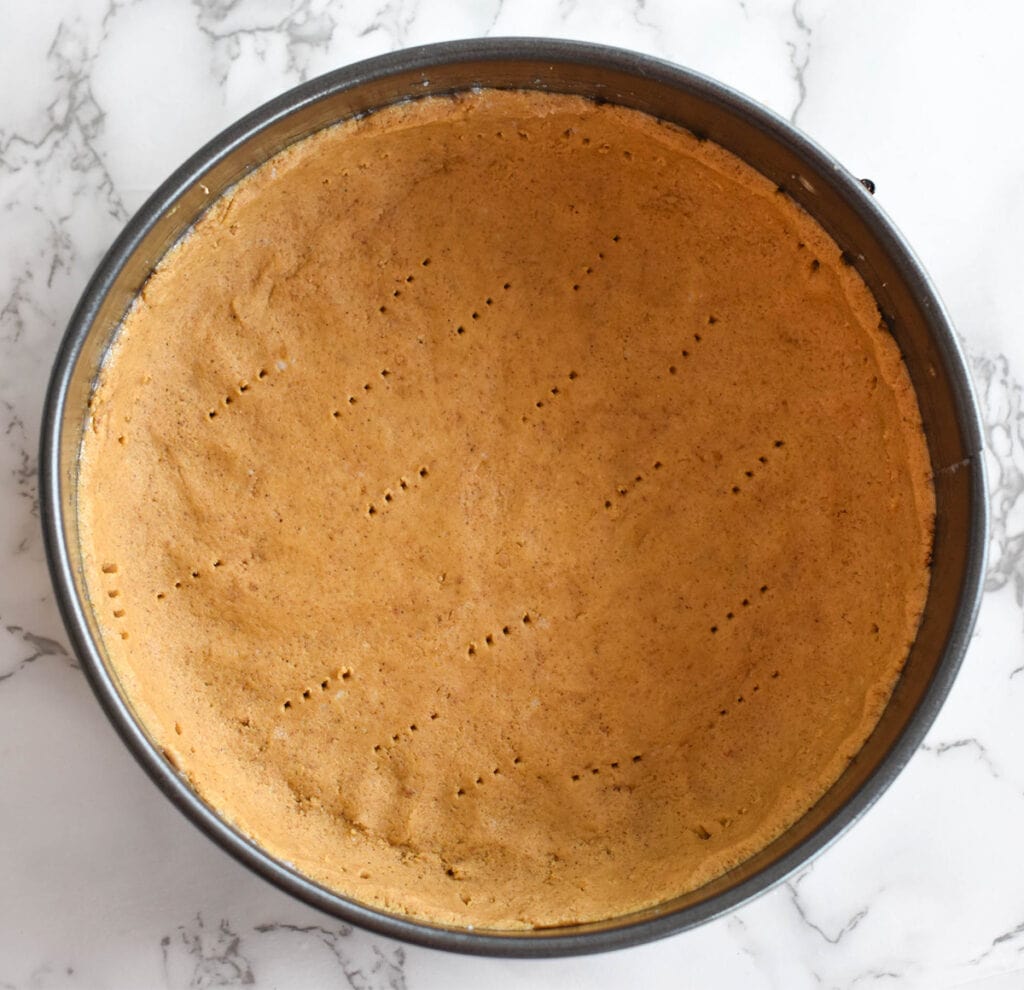 Can I Make Crustless AIP Pumpkin Pie?
Absolutely, you can! My kind of people!
My husband is fairly sensitive to starches. While the crust of this pie is made with AIP ingredients, we often choose to make the pie without crust. I am only here for the filling anyway.
If you choose to go crustless, you can either make a standard sized pie in a pie tin or smaller individual pies in ramekins (my preferred method). If making the pie in a pie tin, you may want to add another ½ tbsp. of gelatin. This will allow the pie slices to be cleanly removed from the tin without breaking once the pie has set. I usually grease the pie tin with coconut oil also, for good measure.
Using ramekins, you can keep the ingredient quantities as written in the recipe below. Once heated, simply divide the pumpkin filling in the desired number of ramekins based on how big you want the servings to be or how many people you are serving. Next, place filled the dishes in fridge to set for 2-3 hours. After the filling has set the pies are ready to serve. Top with whipped coconut cream, a date caramel sauce or enjoy by itself!
How To Make Whipped Coconut Cream
Whipped coconut cream makes a great and classic topping for this paleo pie. The process is very simple and a good tool to have in your toolbox that can be used to make any AIP dessert more decadent.
Time needed: 10 minutes.
How To Make Whipped Coconut Cream
Select full fat canned coconut milk or coconut cream.

See AIP recommendations below.

Chill a can of coconut milk overnight in the refrigerator to harden.

This will allow the coconut cream to separate from the liquid. I usually will place the can in the back of the fridge where it is the coolest. Placing in the freezer doesn't work quite as well.

Scoop the hardened coconut cream into the bowl of a stand mixer, leaving behind the clear liquid.
Whip the cream with a stand mixer until light peaks form.

A handheld electric mixer can also be used in place of a stand mixer.

Add desired sweetener to taste.

A granulated sweetener will work best in order to keep the cream nice and thick.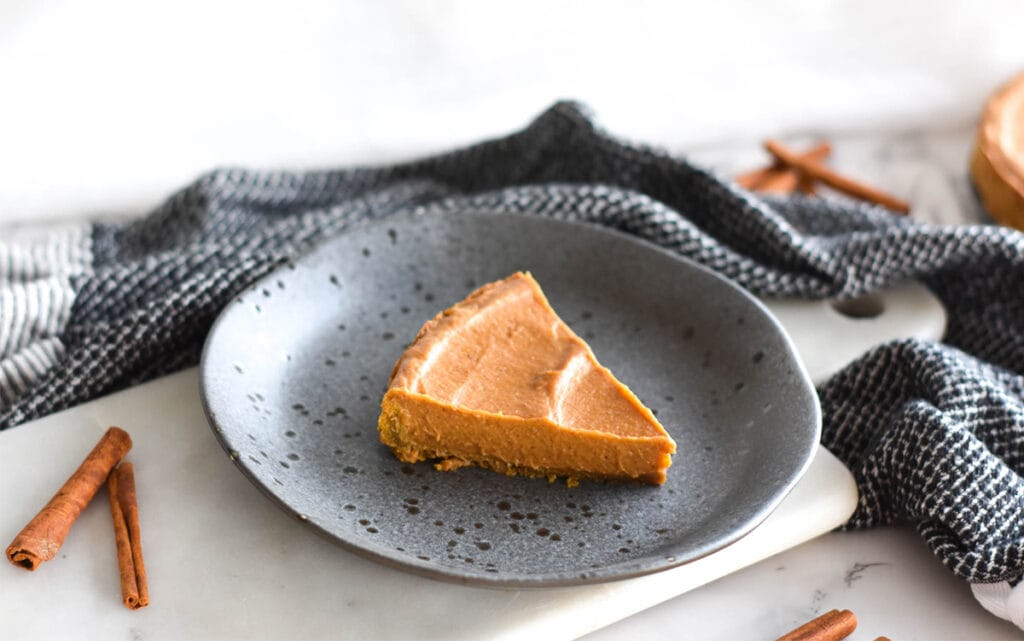 What Brands Of Coconut Milk Are AIP Compliant?
It is important to check the labels when choosing coconut milk if you are following an AIP protocol. The clean brands I have had success with are carried by Thrive Market or Trader Joe's. Thai Kitchen "2 Simple Ingredients" pourable coconut milk is another good option and available at most Walmarts in the US and online.
Any of the three options listed above can be used in this recipe. Generally, coconut milk that contains gaur gum will work best in whipped coconut cream but this ingredient should be avoided during the elimination phase of the AIP protocol.
Related Recipes
Did you try this AIP Pumpkin Pie? I would love to see your creations! Take a photo and tag me on Instagram or leave a photo comment on Pinterest.
Feel free to leave a comment and a rating below. Feedback is always appreciated! 😊
📖 Recipe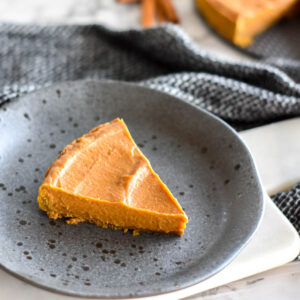 AIP Pumpkin Pie
This paleo AIP pumpkin pie is the ultimate allergy friendly dessert.
Equipment
Mixing bowl

Whisk

Sauce Pan

9 inch pie tin
Instructions
In a sauce pan pour in coconut milk and maple syrup. Add gelatin and allow to bloom for 5-10 minutes.

Add remaining ingredients except pumpkin puree to sauce pan and begin to warm over medium heat. You may need to heat container of coconut butter in hot water to soften before measuring it out. Whisk until gelatin has dissolved and mixture starts to simmer.

Once gelatin has dissolved, mix in pumpkin puree and remove from heat.

Pour into crust or divide evenly among ramekins and allow to set for 3-4 hours in the fridge.
Notes
** This pie filling can be used to make a crustless pumpkin pie. See blog post for instructions.
Nutrition
Serving:
1
piece
Calories:
246
kcal
Carbohydrates:
33
g
Protein:
2
g
Fat:
13
g
Saturated Fat:
11
g
Sodium:
307
mg
Potassium:
234
mg
Fiber:
1
g
Sugar:
20
g
Vitamin A:
4971
IU
Vitamin C:
4
mg
Calcium:
54
mg
Iron:
1
mg