Perfectly cooked, flaky salmon paired with a sweet and tangy teriyaki sauce is hard to beat. This Paleo Teriyaki Salmon recipe is gluten-free, fruit juice sweetened and appropriate for people following an autoimmune paleo protocol or Whole30.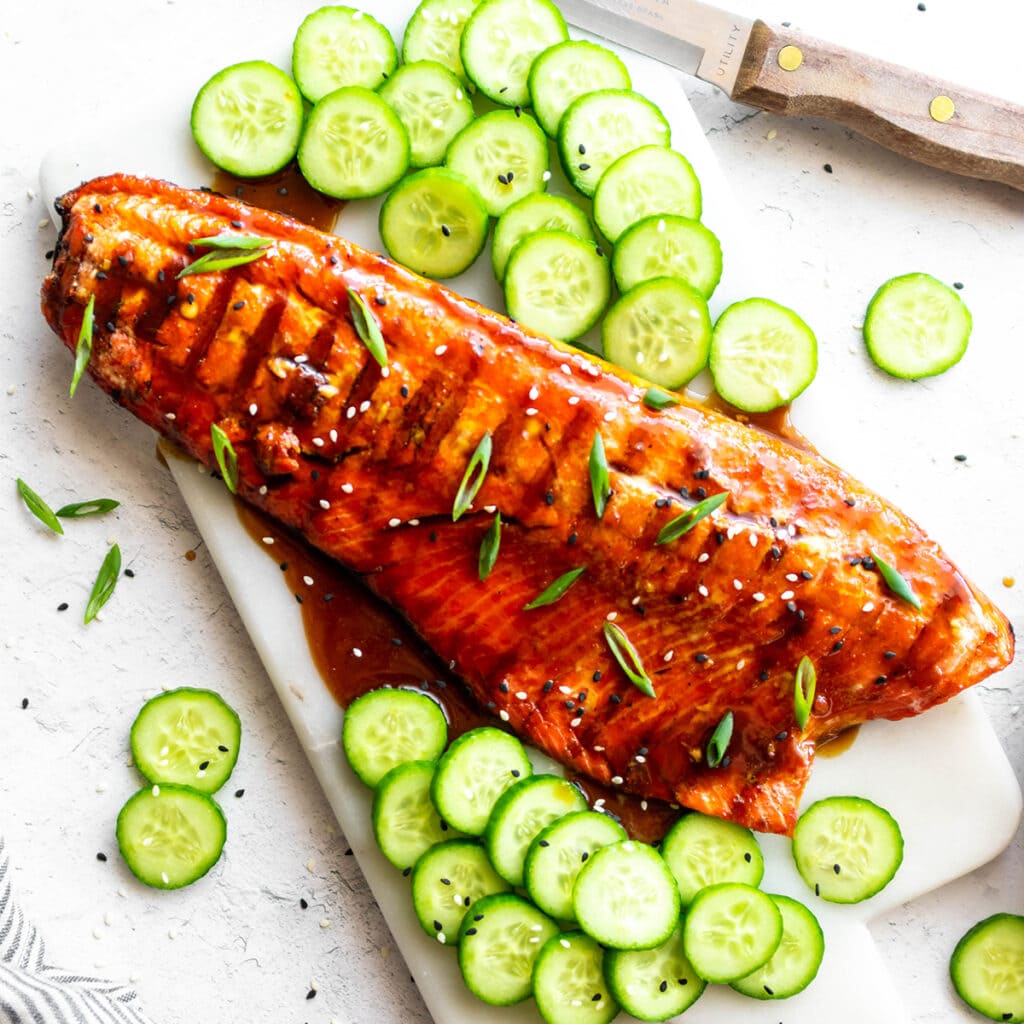 Jump to:
Teriyaki salmon is one of those classic pairings. It is a shame to have to skip what could be a tasty and nutrient dense meal because of the unwanted ingredients in most conventional teriyaki sauces.
Most teriyaki sauces contain junky ingredients that promote inflammation and can be autoimmune triggers. In this recipe I share a super simple teriyaki sauce that is free of most common allergens, sweetened with fruit juice and full of that trademark sticky sweet and savory flavor. Balanced with the perfect touch of saltiness and tanginess so you don't have to miss out on this favorite at all.
What Makes This Recipe Whole30-Friendly?
This recipe is free of ingredients found in store-bought teriyaki sauces like soy and processed sugar, that are not allowed on a paleo diet. Not only is this sauce made from 100% paleo-friendly ingredients, it also is juice sweetened making it appropriate to include while doing a Whole30.
Why This Recipe Works Well For Those Following AIP
The Autoimmune Paleo (AIP) Protocol can be quite restrictive. On the elimination phase of this protocol you are asked to avoid non-paleo foods like grains, soy, legumes, dairy, and refined sugar. In addition to those foods, AIP requires the elimination of nightshades, berry-based spices, nuts and seeds.
When following AIP and you happen to find something that is both compliant and tastes like the real thing, you are winning. This sauce is made from simple, AIP-friendly ingredients and can be used for a variety of purposes making your AIP meals more exciting.
Making The Paleo Teriyaki Sauce
The process for making this paleo teriyaki sauce is quite simple and a great recipe to have repertoire for other things like stir fries, chicken wings, or as a dipping sauce.
Here is what you will need for the sauce:
Simply combine the ingredients in a small sauce pan and bring to a low boil then reduce the heat and let simmer. The sauce will thicken as it reduces down.
Continue to stir as the sauce reduces so it does not stick to the bottom of the pan. The hardest part is waiting. It will take about 25 minutes for the sauce to become the consistency of maple syrup. Once you have achieved the desired consistency you can remove it from the heat and allow it to cool.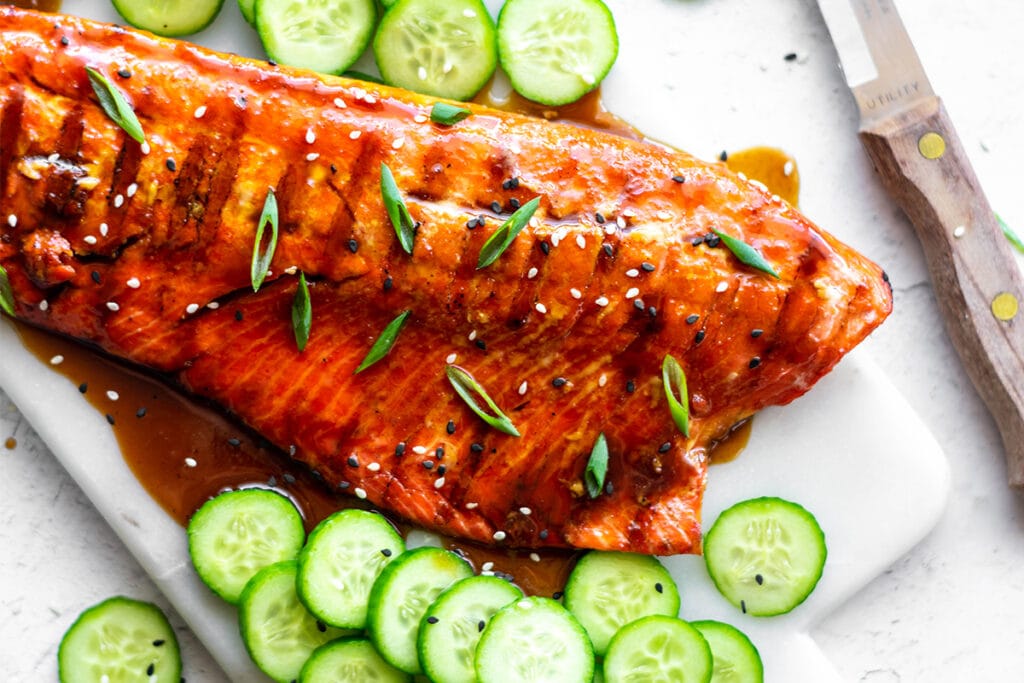 Where Can I Find Coconut Aminos?
Coconut aminos are not shrouded in mystery as they were 5 years ago. These days most standard grocery stores carry coconut aminos. You can generally find them in the gluten-free aisle, next to the soy sauce or next to the cooking oils.
Coconut aminos are also sold online from retailers like Amazon or Thrive Market.
Serving Suggestions
Serving suggestions for this recipe will vary based on the type of diet you are following, but here are some ideas:
Pair with simple stir fry veggies like bell peppers, broccoli, onions, etc.
Throw together some raw veggies or a simple raw vegetable salad dressed with a little vinegar, sesame oil and coconut aminos. Things like cucumber, green onion, red bell pepper and nori would work well.
Pair with rice or cauliflower rice.
Serve on top of a green salad!
Recipe Tips
Consider doubling the recipe for the sauce. You can store the sauce for up to 7 days in an airtight container in the fridge and use it for a variety of dinner recipes during the week. Work smarter not harder.
Do allow the sauce to thicken properly. Don't loose faith that it will thicken. Once enough of the moisture evaporates off it becomes a sticky consistency and once it cools it will become even more viscous.
Be careful not to overcook the salmon. Salmon is rather quick cooking, especially at high heat. It only needs several minutes per side. Wild-caught salmon is less fatty that farm raised and will dry out even easier. It is better to undercook the salmon and have to return it to the grill than over cook it.
Want the sticky teriyaki sauce cooked on? Simply brush some of the teriyaki sauce on the top of the salmon during the second half of the cook.
Related Recipes
Did you try this Paleo Teriyaki Salmon recipe? I would love to see your creations! Take a photo and tag me on Instagram or leave a photo comment on Pinterest.
Feel free to leave a comment and a rating below. Feedback is always appreciated! 😊
📖 Recipe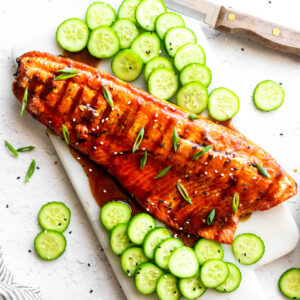 Paleo Teriyaki Salmon
This sweet and tangy paleo teriyaki salmon makes the perfect weeknight meal. This homemade teriyaki sauce is free of junky ingredients and loaded with flavor, paired with delicious flaky grilled salmon.
Equipment
Sauce Pan

Whisk

Cutting board

Knife
Ingredients
Garnish
½

tsp

Sesame seeds (omit for AIP)

Optional

2

Green onions

Sliced
Instructions
Teriyaki Sauce
Combine all ingredients in a small sauce pan and whisk together.

Bring ingredients to a low boil then reduce heat to a simmer for 20-25 minutes or until it thickens. Continue to stir to prevent it from burning and keep a close eye on it. The sauce will start to boil more vigorously when it is close to being done. You will know it is finished when it has reduced to about ½ cup and has a viscosity similar to that of maple syrup.

Once sauce has reduced, remove from the burner and transfer to a container. Store in the fridge to allow it to thicken more when cooled while you are preparing the salmon.
Salmon
If needed, cut the salmon into filets. I usually will cut 2 8-oz filets, but you can make them as large or small as you need. Pat salmon fillets dry and season with salt on the side without the skin. Heat grill or stovetop over high heat. Brush grill or grill pan with the coconut or avocado oil.

If using a pellet grill: I would select apple, cherry or pecan pellets for a lighter smoke. Set the temperature to 400 F and cook for 5 minutes per side. Be sure to open the grill plate under the grate.

Traditional grill: Once smoking hot, add fillets skin side down and cook 3-5 mins. Using a metal spatula, carefully flip salmon. Grill the other side for another 3-5 mins depending on the thickness of your fillets. Done salmon should flake easily with a fork and be opaque in the center. Try not to overcook.

Smoker: Cook for 3-5 minutes per side depending on thickness of filet. Be sure to open the grill plate under the grate. Once preheated, add fillets skin side down and cook 3-5 mins (depending on thickness). Using a metal spatula, carefully flip salmon. Grill the other side for another 3-5 mins. Done salmon should flake easily with a fork and be opaque in the center. Try not to overcook.

Once salmon is done, carefully remove it from the grill and place on a serving plate. Brush with teriyaki sauce, top with sesame seeds and green onions and serve.
Nutrition
Serving:
1
fillet
Calories:
455
kcal
Carbohydrates:
28
g
Protein:
46
g
Fat:
15
g
Saturated Fat:
2
g
Cholesterol:
125
mg
Sodium:
1462
mg
Potassium:
1311
mg
Fiber:
1
g
Sugar:
12
g
Vitamin A:
216
IU
Vitamin C:
14
mg
Calcium:
58
mg
Iron:
2
mg