Are potatoes paleo? This is a question I get frequently and it is not necessary a simple yes or no. There are a lot of factors that can help you decide whether or not to include potatoes in your paleo lifestyle.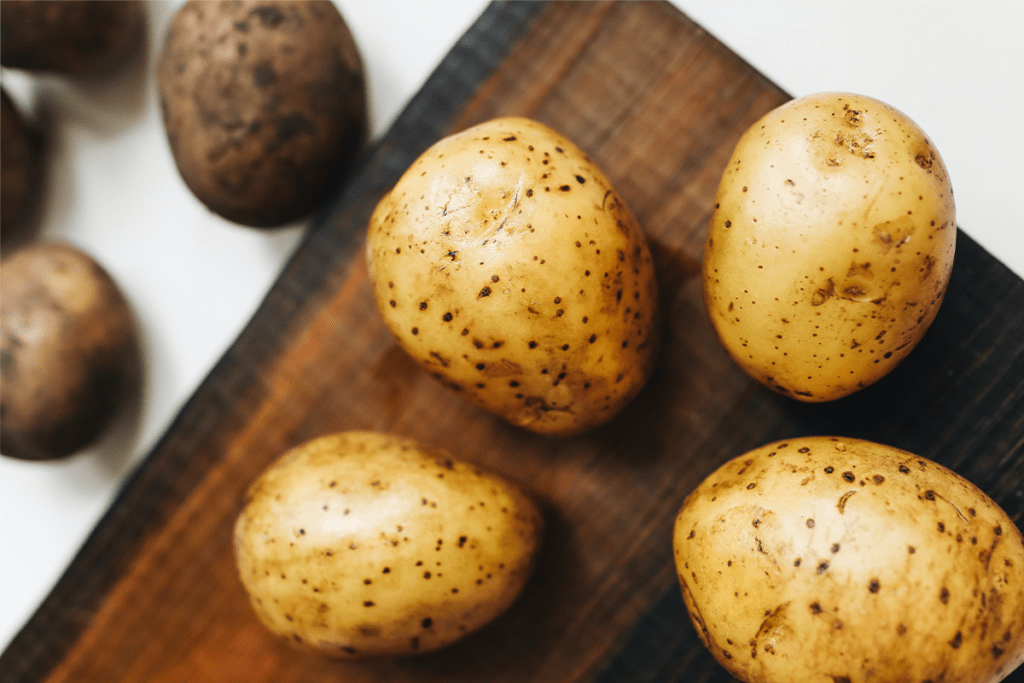 Jump to:
Where Do Potatoes Come From?
The potato has 155 wild relatives that grow in various climates and ecosystems throughout the world. They are mostly concentrated in South America where potatoes originated [1].
Are Potatoes Paleolithic?
The paleolithic era ended about 10,000 years ago and transitioned to the Neolithic era with the discovery and development of agriculture. During this time farmed plants became a major food source.
The potato was first cultivated in South America between 7,000 and 9,000 years ago (during the Neolithic era), but there is evidence to suggest that potatoes grew wild in the region over 13,000 years ago [2].
There exists evidence of the extended consumption of the potato in the pre-Inca cultures from the Peruvian Andes, dating back to 8,000 years ago. Although, this timeframe overlaps with the Neolithic era, it suggests the possibility of potato consumption well before the agricultural revolution in the Americas [2].
This supports that potatoes existed and were eaten prior to the agricultural evolution. The potato eaten pre-agriculture was very different than the ones we consume today. But, this remains true for most plants we grow and consume.
Even if potatoes were only consumed during the Neolithic era (which is most likely not the case), avoiding a food based solely on the timeframe the human race started consuming this food is both shortsighted and suboptimal. A well formed ancestral diet will utilize the paleo framework, but also allow individualizations based on tolerance and goals to create an optimal nutrition strategy that supports health and longevity.
Why Do People Think Potatoes Are Not Paleo?
There are a lot of arguments about why white potatoes should not be included in a paleo diet, but honestly they don't hold much merit. The idea that they didn't exist before the agricultural revolution is a strong one for people, but as you read above, that is likely not true.
Other arguments include:
Potatoes aren't paleo because they are consumed in highly processed forms.
The high carbohydrate content make potatoes not paleo.
Potatoes aren't Paleo because they contain glycoalkaloids.
Potatoes aren't paleo because they are consumed in highly processed forms.
This is the one point I do understand. I agree that consuming avocado oil potato chips might be considered paleo by some, but kind of defeats the purpose. Part of the paleo framework is limiting highly palatable foods that are designed to be overeaten.
For this point you really need to use common sense. To exclude potatoes from an entire dietary approach because you loose your mind around a bag of potato chips isn't necessarily needed. Many people can enjoy roasted potatoes or shepherd's pie in a completely normal and healthy way.
The high carbohydrate content make potatoes not paleo.
A small white potato weighing 138 grams has about 134 calories, 30 grams of carbohydrate, 4 grams of protein, 3 grams of dietary fiber, and .2 grams of fat [3].
As you can see, the macronutrient profile on this tuber is mostly (almost 90%) carbohydrate. So, yes, the potato is high in carbohydrate, but there is no surprise there.
To exclude the potato from a paleo diet for the sole reason that it is high in carbohydrate is not exactly reasonable. By this exclusion criteria we would be eliminating other high carbohydrate but well accepted paleo foods including the sweet potato, many fruits, honey, maple syrup, and dates.
Remember, paleo and low carb are not the same thing! Many people who choose to follow a paleo diet may also choose to eat higher carb and that is entirely okay. This decision should be based on your individual carb tolerance, goals and activity level.
Potatoes aren't Paleo because they contain glycoalkaloids.
Glycoalkaloids are chemical compounds naturally present in nightshade plants. They function as a defense mechanism to protect themselves from predators including bacteria, fungi, viruses, insects, animals and humans.
Glycoalkaloids are highest in concentration in the leaves, flowers, and unripe fruits of these plants. When potatoes are exposed to light and turn green, these compounds increase.
For potatoes, the peel typically contains the bulk of these compounds. This can be mitigated almost entirely by removing the peel. Certain potato varieties can be higher in these compounds like the Snowden variety, while varieties like the White, Russet and Benji have negligible amounts even whole [4].
When it comes down to it, these compounds are present in other foods from the nightshade family including tomatoes, peppers and eggplants which are allowed on a paleo diet.
For people with autoimmune issues, you may need to avoid nightshades because many people find this to be an autoimmune trigger. But, that doesn't mean people who can tolerate these foods well should go out of their way to avoid them.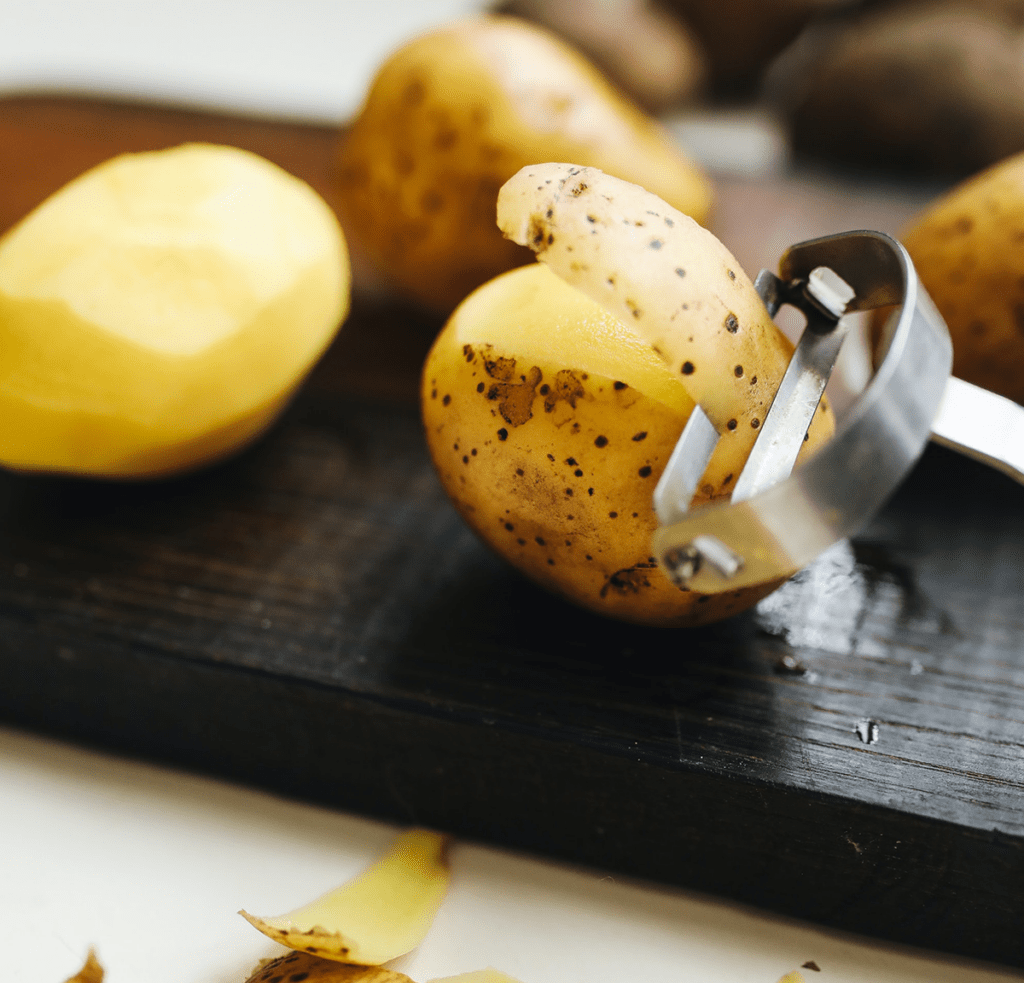 Are Potatoes Healthy?
Potatoes, are they even healthy? Are they worth eating? This is up to you. Healthy is a very subjective term and can mean a lot of different things to different people.
From a nutritional standpoint, this tuber contains vitamin C, vitamin B6, folate, niacin, and pantothenic acid, and minerals like magnesium, phosphorus, potassium, copper, and manganese [5].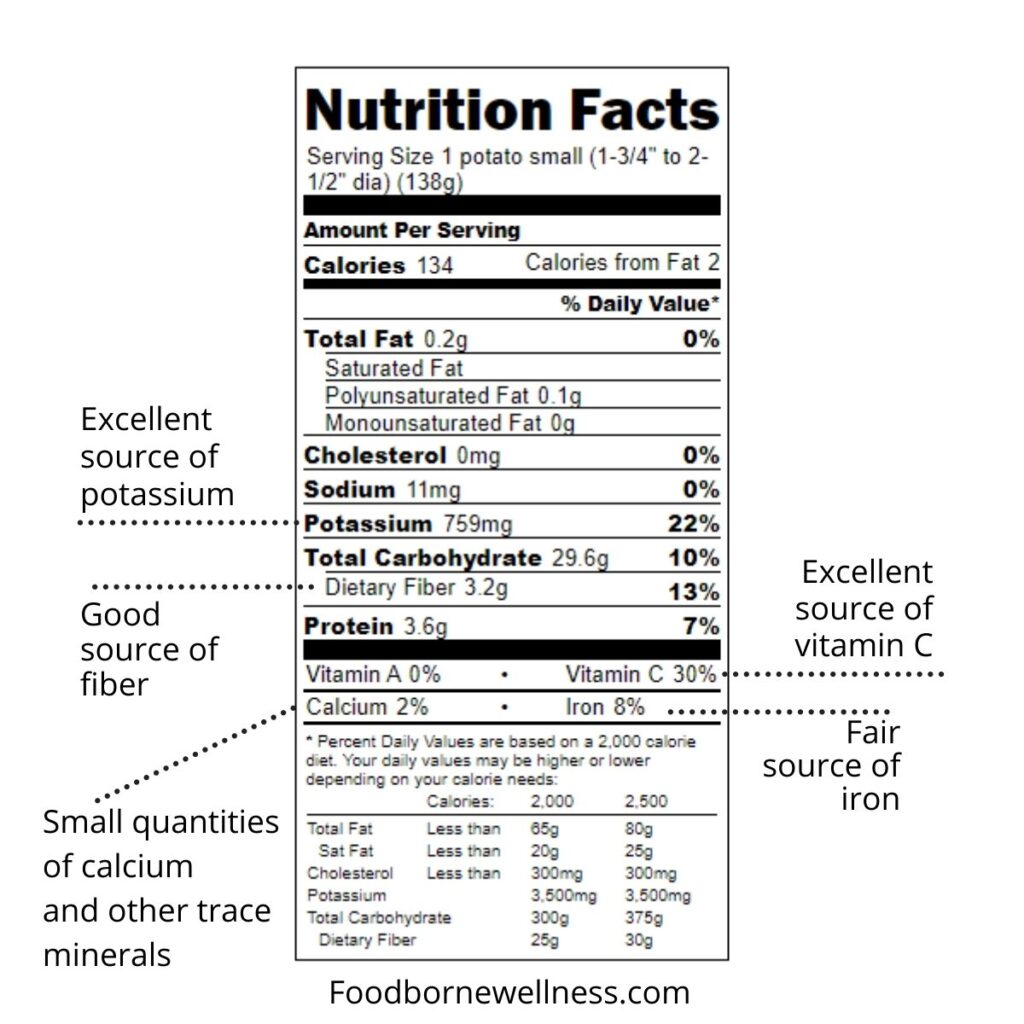 Potatoes, when cooked and cooled, are also good sources of resistant starch which provides a substrate to our beneficial bacteria. Resistant starch has been show to have positive effects on our gut health and microbiome diversity. It is also something that shows promising data related to appetite and weight regulation.
Are Potatoes Allowed On Whole30?
Yes! Foods made from whole potatoes like mashed, baked or roasted potatoes are allowed on the Whole30 diet. Processed versions like chips and fried are not.
You can find more information on the new Whole30 program rules here.
Should You Include Potatoes In Your Paleo Diet?
This is totally individualized! Choosing to avoid this tasty tuber simply based on principle doesn't make much sense. Many people can eat a well intentioned and healthy ancestral diet while including white potatoes. I choose to include potatoes in my diet because I don't have a good reason to restrict them.
What you should consider is your carbohydrate tolerance. If you have diabetes or are trying to lose weight, you may choose to avoid white potatoes. In this situation, sweet potatoes may also be worth limiting. Testing your blood sugar 1-2 hours after eating white potatoes to see how you tolerate the carbohydrate load will be a good data point to help you decide whether to include or exclude this food.
If you have an autoimmune condition, white potatoes may be worth limiting along with other plants from the nightshade family. I would recommend following a well planned autoimmune elimination diet to determine if these foods are an autoimmune trigger for you.
Related Content