Maple Bacon Sweet Potato Soup
This paleo maple bacon sweet potato soup combines the satisfyingly salty flavor of BACON that everyone loves, with the decadently sweet flavor of MAPLE syrup to create one of the ULTIMATE flavor combinations.
Sweet potatoes, bacon and maple are three things that were absolutely made to be eaten together by the almighty one himself (I am sure that is written in scripture somewhere). Sweet potatoes are undoubtedly one of my favorite foods, and sweet potato soup happens to be one of my favorite ways to eat this vibrant tuber because it is such a simple process. I love this recipe because it is something most people will accept and enjoy. As my brother has said, healthy food is easier to accept if it is wrapped in bacon. He's not wrong.
Nutrient Density
Soup is an incredibly powerful food because it is easy to eat, easy to digest and easy to load with nutrient dense vegetables to help you meet your nutrient needs so that you can accomplish your goals and perform at an optimum level. This soup is relatively low in calories because the base is made from broth and lite coconut milk, but provides an impressive amount of micronutrients. By using bone broth in place of traditional chicken broth you can give your immunity a boost while supporting the health of your gut lining because bone broth is rich in gut-healing amino acids and collagen proteins.
Why a coconut milk base is superior to cow's milk, cream or broth alone:
MCT's - The coconut milk provides healthy fats in the form of medium-chain triglycerides which are uniquely energizing, and help to satiate you so you feel more satisfied after your meal.
Vitamins and Minerals - People generally associate cow's milk with calcium, but unfortunately, the vitamins and minerals found is cow's milk are harder for the human body to absorb than most would think. Cow's milk simply isn't made for the human body to digest. When ingested, cow's milk creates an acidic environment in the human body which triggers a biological response.  The corrective action of the body is to pull minerals from the bones to be used as a buffer to reduce body's the pH. This is one of the reasons why, although Americans have the highest average consumption of dairy products, they still rank among the worst for bone density in developed nations. Coconuts provide B vitamins, vitamin C and E, and are particularly rich in important minerals like potassium, magnesium, iron, phosphorus, copper and manganese. These minerals are not only vital for bone health, but incredibly important for maintaining healthy blood pressure. Magnesium and potassium also aid in tissue and cellular repair, making these minerals necessary to replace after strenuous physical activity to support healthy muscle growth.
Gut Health - The type of fiber along with the anti-inflammatory properties of coconut can support gut health by improving the lining of your GI tract, easing bowel movements and feeding beneficial gut flora.
The Process
I use a simple technique to make this maple bacon sweet potato soup. This technique is the same method that I used for most the squash or root vegetable soups that I make at home. If you like this simple soup recipe you might want to check out my Curried Coconut and Butternut Squash Soup which is comparably simple but has it's own unique flavor profile.
To make this soup, I start by heating a small amount of oil in a stock pot. I coarsely chop an onion and throw it into the pot and allow the onion to cook on a low to medium heat. After that, I add garlic. I buy a large container of garlic already minced because I cook frequently and this allows me to simplify my food prep.  While the garlic and onions continue to cook I work on peeling and chopping the sweet potatoes into medium sized pieces. I add the broth, then the potatoes and allow them to cook until they can be pierced easily with a fork. This process is rather quick and usually takes less than 15 minutes. After that I just throw the sweet potatoes and broth, along with the remaining ingredients into a blender and puree it. It is an easy way to make a wholesome meal in less than 30 minutes. 
The Product
The finished maple bacon sweet potato soup is thick with an incredibly rich and creamy texture. It freezes and reheats well when stored properly, and can be kept in the refrigerator for about 5 days. This recipe is an excellent meal prep idea for week day lunches. For best quality, the bacon should be kept separate when the soup is being stored and added at time of serving.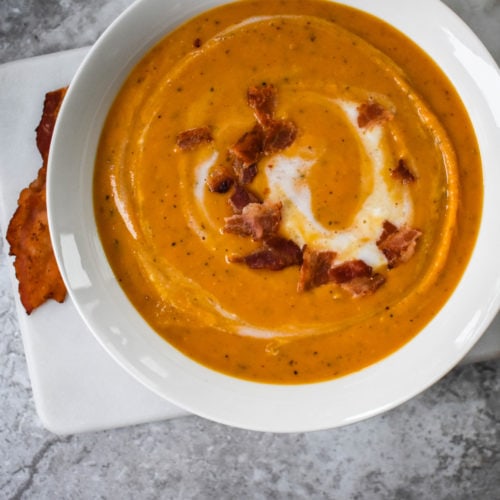 Maple Bacon Sweet Potato Soup
This soup combines the satisfying taste of bacon with the decadent sweetness found in maple syrup in a recipe that is both paleo, and soul-warming.
Ingredients
3

large sweet potatoes

about 8 cups chopped

2

tbsp

avocado or olive oil

1

medium onion

1

tbsp

garlic

minced

2

cups

bone or chicken broth

1

can

lite coconut milk

1/4

cup

maple syrup

1/2

tbsp

sage

1/2

tbsp

rosemary

2

tsp

corriander

1-2

tsp

celery salt or ground celery seed

sea salt

to taste
Instructions
Begin by heating oil in a large stock pan over low to medium heat.

Coarsely chop onion, and add to oil. Allow to cook until onion begins to brown slightly, stirring occasionally. Then add garlic.

While onion is cooking, peel sweet potatoes and cut into large chunks.

Add broth and potatoes to pot. Allow to cook until they become tender and easily pierced with a fork.

While the potatoes are cooking, begin pan frying the bacon. Remove the bacon once it has cooked fully on both sides and pat grease with a paper towel. Tear into pieces and set aside.

Once potatoes are tender, pour broth and sweet potatoes into a large blender or food processor. Process until smooth and all chunks have been pureed. If blender is large enough, begin adding the coconut milk and all the spices and then blend until everything has been incorporated (if you have a smaller blender, you can pour the mixture back into the stock pot and add the remaining ingredients, whisking to incorporate).

Top with bacon, serve and enjoy.
Notes
If you have a smaller blender, you can pour the mixture back into the stock pot and add the remaining ingredients, whisking to incorporate.
Add as much or as little bacon as you want.
If you find that the consistency is too thick (which may happen depending on the size of your sweet potatoes), you can add more broth to make it smooth but the finished product should be thick and creamy.
You can use full fat coconut milk if you prefer a richer soup. 
If you thick your soup might be on the thinner side, either reduce the amount of broth or cut out some of the watery portion of the lite coconut milk.
You can set aside a small amount of the coconut cream from the coconut milk if you want to use it to create a creamy, white swirl before serving.