This Pumpkin Chia Pudding is incredibly delicious and satisfying. And, so wholesome you can eat it as a meal or a dessert. Junk-free and nutrient dense, this spin on the fall favorite is good all year-round. This recipe is paleo, vegan and can be made low carb!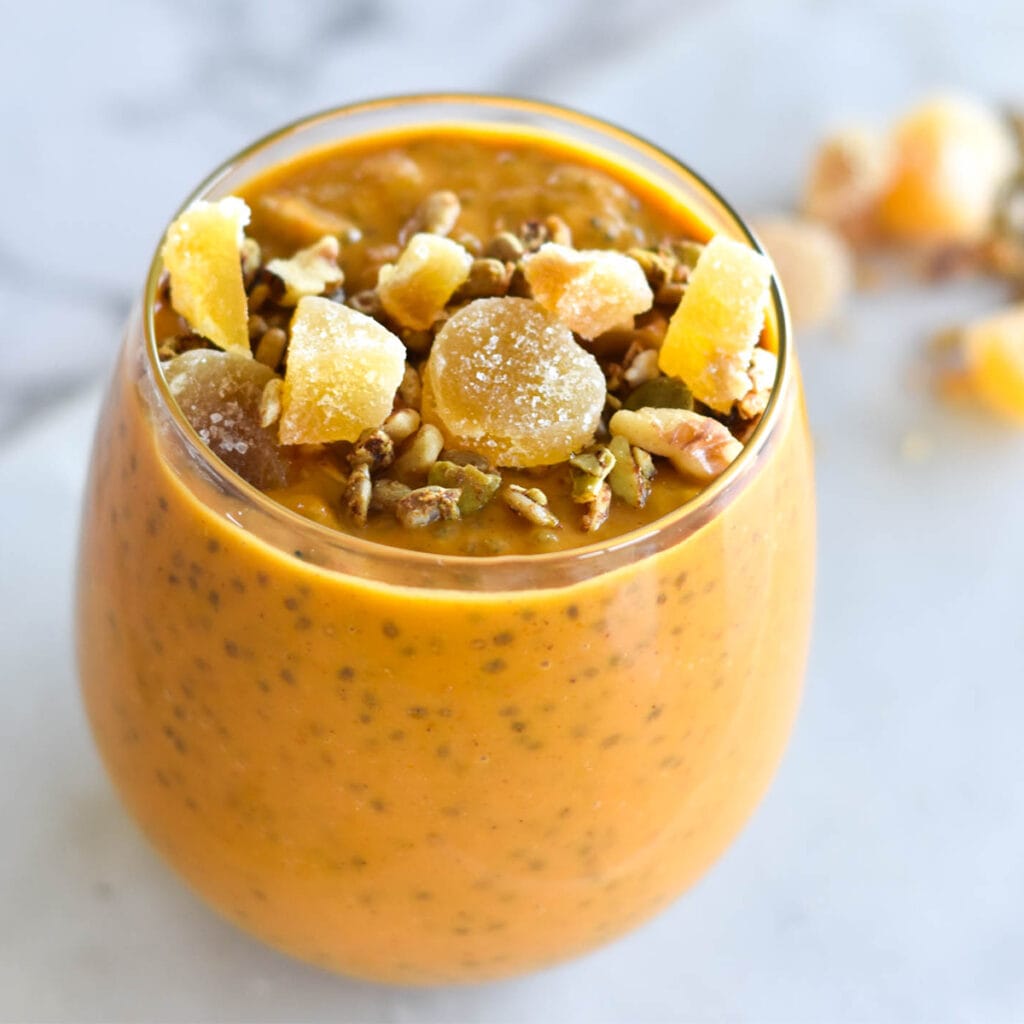 Jump to:
I love pumpkin. Not like the "Oooh, it's October and time for pumpkin spice lattes!" kind of love. I don't just like pumpkin flavored things. I like real pumpkin and the sweet and flavorful spices that pair so well with it. This Paleo Pumpkin Chia Pudding is the perfect balance of real pumpkin and warm spices.
Back in my early 20's, I ate a very restrictive diet. At this time I was slowing beginning to develop an interest in nutrition, but I was still throws of an eating disorder that lasted most of my early adulthood.
I had a constantly waxing and waning desire to eat foods that would be considered healthy vs. a desire to choose foods that were strictly low calorie. My diet was reigned in by a set of self-imposed restrictions and limited to about 20 or so different foods.
A normal day would consist of one packet of oatmeal, 10-18 raw almonds, one brazil nut, one banana, 2 apples, spinach with mustard, and a dollop of fat-free yogurt with one cup of blueberries... not that I was counting or anything [but I was].
And, for lunch EVERY SINGLE DAY. I would eat pumpkin. Yes, just pumpkin.
I would add cinnamon and Splenda (give me a break, this was 10 years ago). I would bring it with me to work and call that lunch. Did this look odd? Oh, abso-freaking-lutely it looked odd.
My coworkers joked about my strange food choices every day, but I was just so pleased with the fact that I could eat something that looked almost like an appropriate adult-size portion of food for 175 calories [again, who's counting?].
What Is Carotenosis?
What happens when you eat the same orange food on repeat? Week after week? Great question.
I kid you not, I turned orange. Like Oompa Loompa, Donald Trump, no joke, ORANGE! My palms looked like I had stayed up all night finger painting Jack-o-lanterns.
My diet was restrictive and lacked variety, and you could literally see that.
I didn't even notice my flesh was changing color until someone pointed it out to me. I was immediately terrified I had jaundice. Was my liver failing? If any of you all know me, you would know that I am a hypochondriac to rule all hypochondriacs.
I then did some research and found out that if you eat too much beta-carotene, which is a precursor to vitamin A found in dark green, red and orange fruit and vegetables (like pumpkin!), you will start to excrete the orange pigment through your skin. This benign condition is called carotenosis.
Because I ate spinach and pumpkin daily for months, my body was getting way too much beta-carotene. My body was protecting me by removing the excessive vitamin precursor in the most effective way before it became problematic. So, I was bad-spray-tan orange for the foreseeable future.
I guess you are what you eat.
What I've Learned From This Experience
I still eat pureed pumpkin to this day, but, its not the only food I eat. I sweeten it with stevia or maple syrup now, and I sure as hell don't call it a meal.
At this time in my life where I was eating well below my caloric needs, and eating the same foods every week, I was at a particular low point in my health. My mood swings were wild. I slept horribly. My anxiety was anxious through the roof. I got sick ALL the time. My hair was dull. I was so incredibly tired, and I would take a handful of vitamins and caffeine pills in the morning on an empty stomach and wondered why I still felt like garbage.
Without giving my body what it needed both in micro and macronutrients I wasn't able to achieve any mental or physical stability. My body was always in need of something that I stubbornly (and stupidly) refused give it.
Of course, I didn't just eat more food and suddenly the stars aligned and everything in my life was better. That is not how these things work. Still at 27 I am making steps towards finding balance in my diet and achieving a better relationship with food.
Do you wake everyday with a struggle, tired and groggy? Are you in physical pain, have an over or under active immune system? Do you have mood swings? Maybe you just generally don't feel healthy (or maybe you don't know what healthy feels like because you've felt like shit so long), then it might be time to evaluate your diet and other daily habits.
This may also be a good time to seek out professional help from a good functional medical practitioner, therapist, or dietitian. By examining the underlying issues in your health, and actively working towards creating a health promoting diet and lifestyle, you may be able to improve your overall quality of life.
Lesson 1: Variety in your diet is so important!
Eat ALL the colors. Eat carbs, fats and protein. Don't count your calories if you don't need to for a medical reason. And, for God's sake, don't turn orange. Fools turn orange.
Lesson 2: Pumpkin is fantastic, both in flavor and nutrition. Just don't eat it every day.
Pumpkin is nutrient dense (specifically high in beta-carotene) and a great way to add fiber to your diet, but it shouldn't be the bulk of your diet.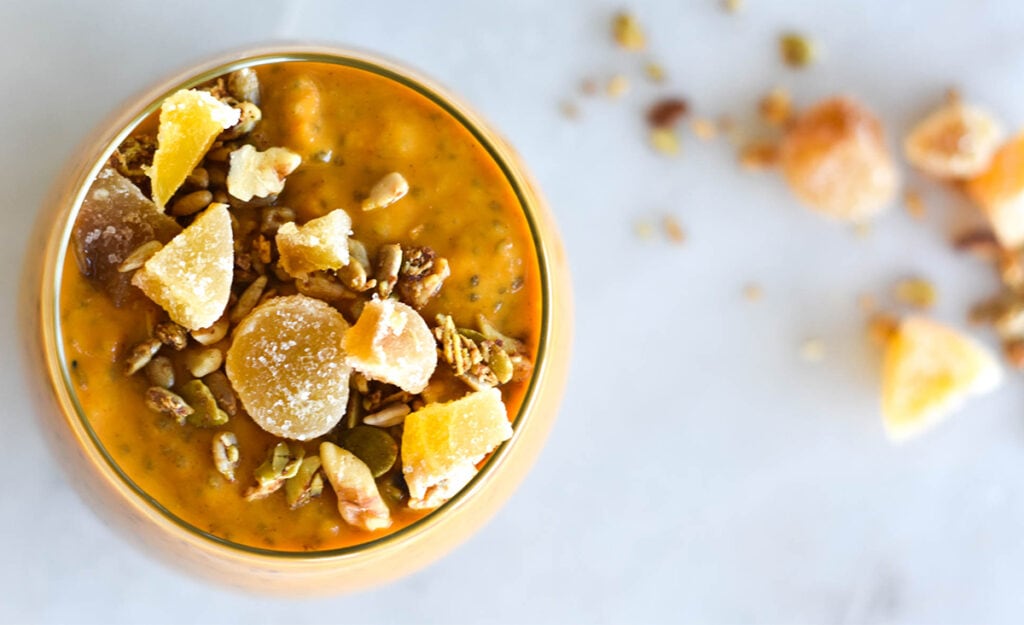 What Makes This Chia Pudding So Nutritious?
Pumpkin is loaded with vitamin A (obviously, from the story above), potassium and natural plant fiber, which is generally better for your digestion than added fiber or fiber from grains. It is a good source of iron, magnesium, vitamin C and B6.
Because pumpkin is rich in potassium, it may help with blood pressure regulation and reduction. The combination of protein, fat, and fiber with the complex carbs in the pumpkin allows for a slow release of sugar into the bloodstream. Sweetened with stevia, this dessert is ideal for people who struggle with blood glucose control or just crave steady energy.
The spices in this recipe are sweet and warming. The ginger and pecans add something unique to the texture. You can make this treat more decadent by using lite or full fat canned coconut milk or opting for maple syrup, soaked dates or coconut sugar as a sweetener.
Topping Ideas
Add the right toppings to this recipe can make it even more enjoyable. Here are some suggestions:
Whipped coconut cream
Or, whatever else that has that sweet and toasty flavor that you happen to have in your cupboard.
Recipe Tips
If using full-fat coconut milk, remember that the fat in the coconut milk will solidify in the fridge. So you might need to let it sit at room temp for a while to avoid getting chunks of coconut oil.
The longer you let the chia seeds soak up the moisture, the more they will expand and soften. Thirty minutes is usually a good amount of time for this particular recipe.
Sweeten to taste. I didn't provide measurements for sweeteners in this recipe because sweetness can be a very subjective taste. Don't be afraid to taste and add more maple syrup as needed.
Store in the fridge for 3-4 days in a jar with a lid or airtight container.
Related Recipes
Did you try this Paleo Pumpkin Chia Pudding? If so, I would love to hear from you. Leave a rating and comment below!
📖 Recipe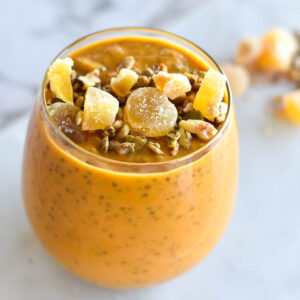 Paleo Pumpkin Chia Pudding
Pumpkin is an awesomely nutritious food, and pairs so well with sweet and flavorful spices. This recipe combines everything good about pumpkin pie into a indulgent and nutritious dish.
Instructions
Add pumpkin, milk, spices and sweeter to a bowl. Whisk until everything is incorporated.

Add chia seeds. Continue to whisk together for several minutes until the chia seeds are fully suspended.

Place in fridge for at least 15 minutes, the longer the better. Stir several times while refrigerated to ensure the chia seeds don't settle at the bottom.

Remove from the fridge, pour into a bowl, and top with crystallized ginger and pecans.
Notes
If you want to use a full can (1-¾ cups) of pumpkin you can just double the recipe and the results will be pretty much the same.
For a thicker pudding you can add another ½-1 tbsp of chia seeds - mix well.
Nutrition
Serving:
1
cup
Calories:
130
kcal
Carbohydrates:
17
g
Protein:
4
g
Fat:
6
g
Saturated Fat:
1
g
Sodium:
245
mg
Potassium:
301
mg
Fiber:
8
g
Sugar:
4
g
Vitamin A:
19065
IU
Vitamin C:
5
mg
Calcium:
313
mg
Iron:
3
mg