This Strawberry Basil Balsamic Glazed Salmon is a season all itself. There is something supremely summery about the combination of basil and strawberries. paired with a balsamic reduction, the tangy, sweet and herbal flavors in this meal combine everything I love about summer.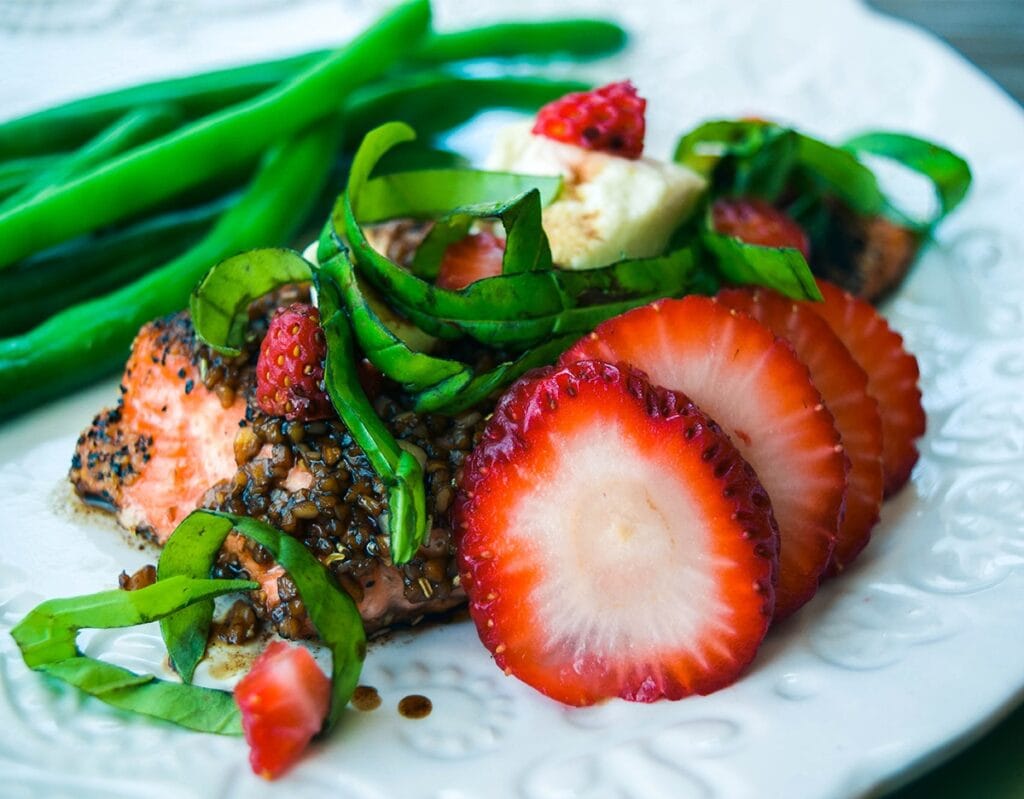 Jump to:
Few things smell as therapeutic to me as a fistful of freshly picked basil. Earthy, yet crisp and green. It's a romantic fragrance is so unique that it ignites some pretty hefty memories for me. Ones of warm weather and comfort food, both of which their own significant therapeutic benefits.
Basil is one of the few foods I want to roll around in and shove down my pie hole, simultaneously (can we pause, briefly, to talk about how literal and completely fantastic the word "pie hole is"? 😂🥧). With all that said, I would take a bouquet of basil over roses any day.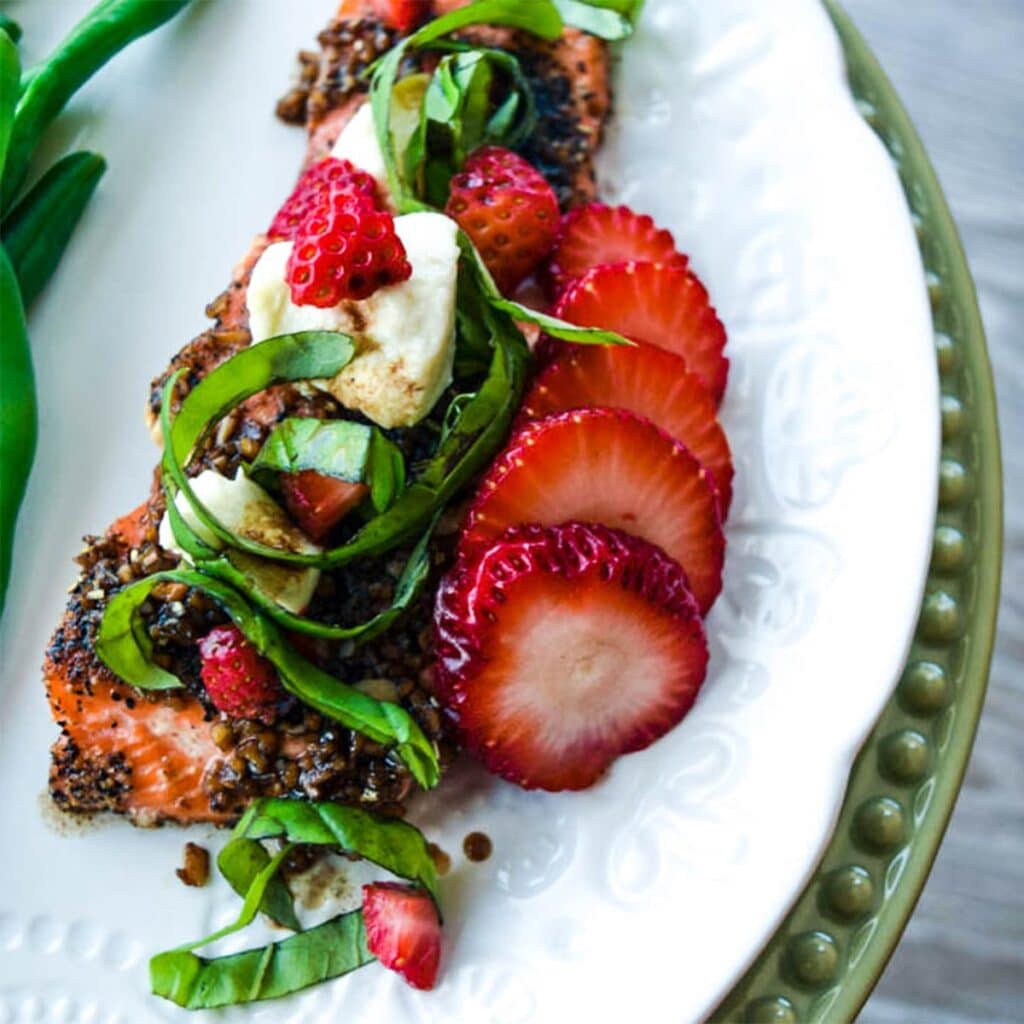 Everyone says that Christmas season is "the most wonderful time of the year". I tend to disagree. Now, don't get me wrong. I love eating my weight in tree-shaped cookies and putting rum in every warm beverage in arms reach as much as the next person (maybe even more).
But, when it comes to the most wonderful time of the year few things can trump Farmer's Market season. Fresh vegetables that were picked the day of purchase, and I had to do absolutely no work to reap the rewards. God bless America.
We are lucky enough to have strawberries, goat cheese, basil and salmon produced locally in our area. The focus on local ingredients, when possible, adds freshness to recipes while supporting your local economy and small scale farming practices. Win.
Tips For Making This Recipe
Prepare the goat cheese, strawberries, basil and marinade while you cook the salmon.
Cook the salmon most the way through on the skin side to get it to cook through without burning.
Add the marinade after the salmon is mostly cooked and reduce the heat. This will prevent it from burning but still give it a nice flavor. Pour any extra marinade over the top of the salmon when finished.
Making It A Meal
Basil, strawberries and a balsamic reduction is a recipe for instant summer feels.
Throw this Strawberry Basil Balsamic Glazed Salmon on top of a spinach and some walnuts and you will have a full meal. You'll be pleasantly surprised by this antioxidant and omega-3 rich salad. The whole family revel in the warmth of summer and your expertise in the kitchen. Cheers to that.
For other great salmon recipes check out these!
How To Make A Balsamic Reduction
Never made a balsamic reduction before? While balsamic reductions are found at most grocery stores next to the balsamic vinegars (sometimes called a balsamic glaze), this is a truly simple technique that can be used in so many ways. It is absolutely worth learning if you can bear your nose hair getting singed by the smell of vinegar in the process.
The balsamic reduction can make a bland recipe so much more flavorful, and give you that "I know what I am doing" vibe in the kitchen.
Time needed: 15 minutes.
How to Make A Balsamic Reduction
Add 1 cup of balsamic vinegar to a pan and bring to a boil.

Stir frequently with a whisk because the natural sugars have a tendency to burn. Watch closely to prevent it from boiling over. Turn on the circulating air in your kitchen.

Once the vinegar boils, reduce the heat.

Allow vinegar to simmer for 10-15 minutes. Continue to stir and watch it to prevent it from burning.

After about 10 minutes of heating, the vinegar should star to thicken.

You can remove it at this time or continue to thicken it further. It should at least be the consistency of maple syrup. If you want it thicker you can continue to cook it. Do not overcook it or it will be too thick and sticky to use.
Once reduced the vinegar becomes a sweet sauce perfect for dressings and marinades.
You can also add equal parts honey, and balsamic vinegar and slowly boil if you're looking for something a little extra. With honey, the reduction is even sweeter and makes an awesome sweet and tangy salad dressing.
Store Bought Balsamic Glaze
Like I said, to skip this step you can purchase a balsamic reduction or balsamic glaze at the store usually near dressings or vinegars. Be smart, and read the ingredients to avoid crazy additives and undesirable ingredients. The ingredients should be simple.
Naples Drizzle is a paleo friendly balsamic glaze I found on Amazon with great ingredients.
📖 Recipe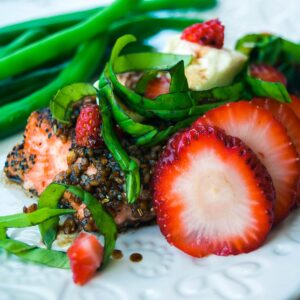 Strawberry Basil Balsamic Glazed Salmon
Strawberry, basil, creamy goat cheese and balsamic reduction paired to make this tasty summery salmon dish.
Instructions
Cut the salmon filet into 2-3 pieces, aiming for 5-8 ounces per piece depending on how many people you are serving.

Season both sides of salmon with salt and pepper.

Begin heating coconut oil in a frying pan over medium heat.

Once oil is hot, place salmon in pan. Allow salmon to cook most of the way with the skin side down, then flip to sear the top.

While salmon is cooking, combine garlic, balsamic vinegar and coconut aminos in a small bowl and whisk. Reduce the heat to low and then pour directly over the cooking salmon when it is almost cooked through (about 6 minutes).

Allow the salmon to finish cooking for several more minutes. Keep the heat low to prevent the mixture from burning. As it thickens you can spoon some over the top of the salmon. The salmon should only take about 8-10 minutes to cook through depending on the thickness.

Chop the basil and strawberries if you haven't already. Crumble the goat cheese.

Once the salmon is done, remove from the pan and top with goat cheese, strawberries, basil and balsamic reduction and serve.
Notes
Serve on a bed of spinach or mixed greens for a full meal.
Nutrition
Serving:
1
serving
Calories:
504
kcal
Carbohydrates:
20
g
Protein:
49
g
Fat:
24
g
Saturated Fat:
10
g
Cholesterol:
131
mg
Sodium:
1080
mg
Potassium:
1225
mg
Fiber:
1
g
Sugar:
9
g
Vitamin A:
395
IU
Vitamin C:
24
mg
Calcium:
79
mg
Iron:
3
mg