This chia pudding parfait is an awesome alternative to oatmeal or yogurt. For someone who is grain-free and dairy-free, chia pudding will be your best friend. Keeping a jar of chia seed pudding in the fridge offers a great, healthy snack or treat available on the spot.
Chia pudding is both filling and satisfying, and so easy to make! I am a sucker for recipes I can whip up in under 10 minutes of active time.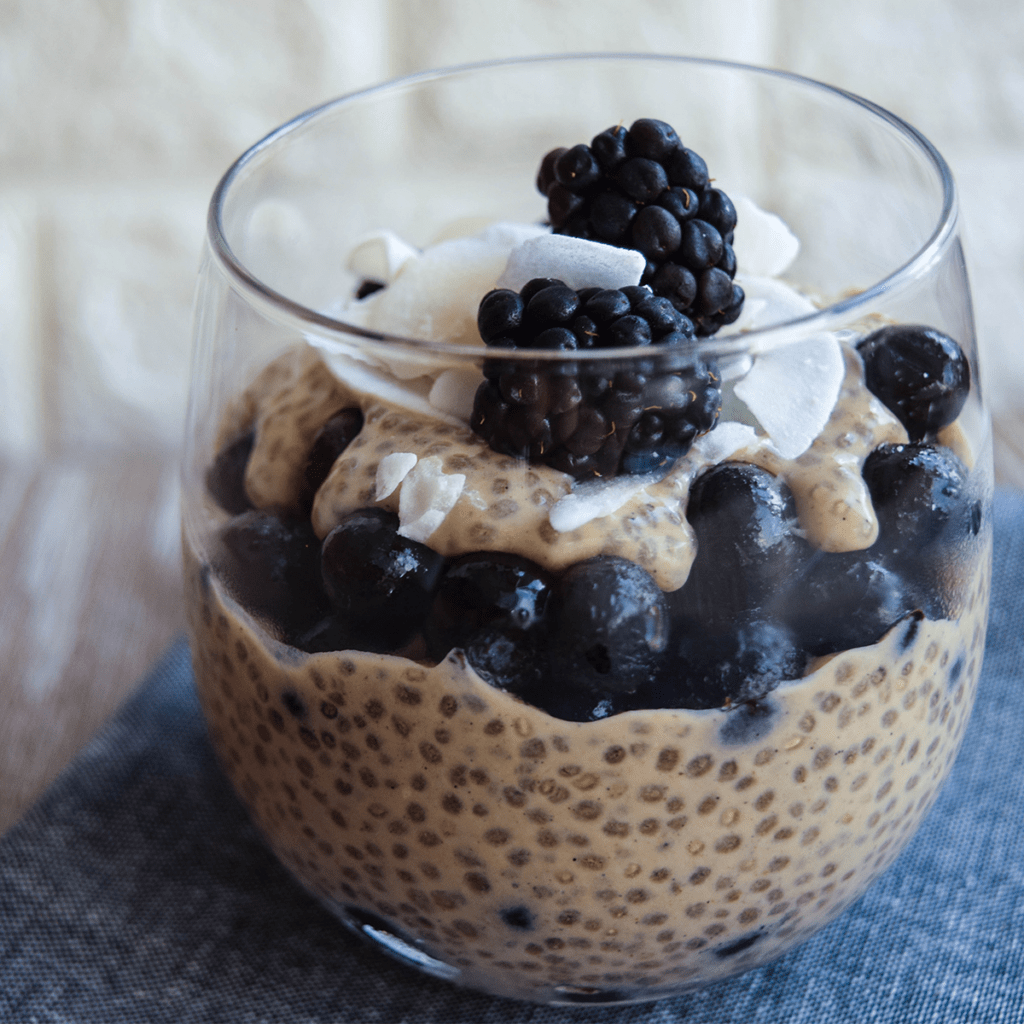 Jump to:
Benefits of Chia Seeds
Omega-3 Fatty Acids - Plant sources of omega-3's are fairly limited. Grains and seeds generally contain much more omega-6 compared to omega-3 fatty acids. This causes out omega-6 to omega-3 ratio to get thrown off, which can lead to inflammation and disease. Add chia seeds into your diet can be a way to buffer this. Chia seeds alone won't fix that ratio though. Don't forget to reduce your consumption of vegetables oil and grains and include foods like wild caught salmon, grass fed meat and pasture raised eggs.
High Fiber - Almost all the carbohydrate in these seeds are non-digestible. One ounce of chia seeds has 12 grams of carbs, but 11 grams of fiber, making the effective carb count 1 gram. This fiber can be beneficial for people how need softer stools or help with regularity (I know, that is not sexy talk but it is important). For those who have irritable bowel disease, I would caution against introducing these seeds if this is not something you know you tolerate well. High fiber can be problematic for these conditions.
Antioxidants - The antioxidants are present to help the seed protect the fat from going rancid. These antioxidants can help protect you from free radicals and are a good addition to your diet.
Blood Sugar Regulation - Chia seeds are slow digesting. This means that when paired with carbohydrate, chia seeds can create slow churning fuel that will last four hours and help you avoid blood sugar spikes.
Where Can I Get Chia Seeds?
Chia seeds are now in most stores. They will likely be found in the baking aisle, health food section or where the nuts and seeds are located at your local grocery store.
Here are some inexpensive chia seeds found on Amazon.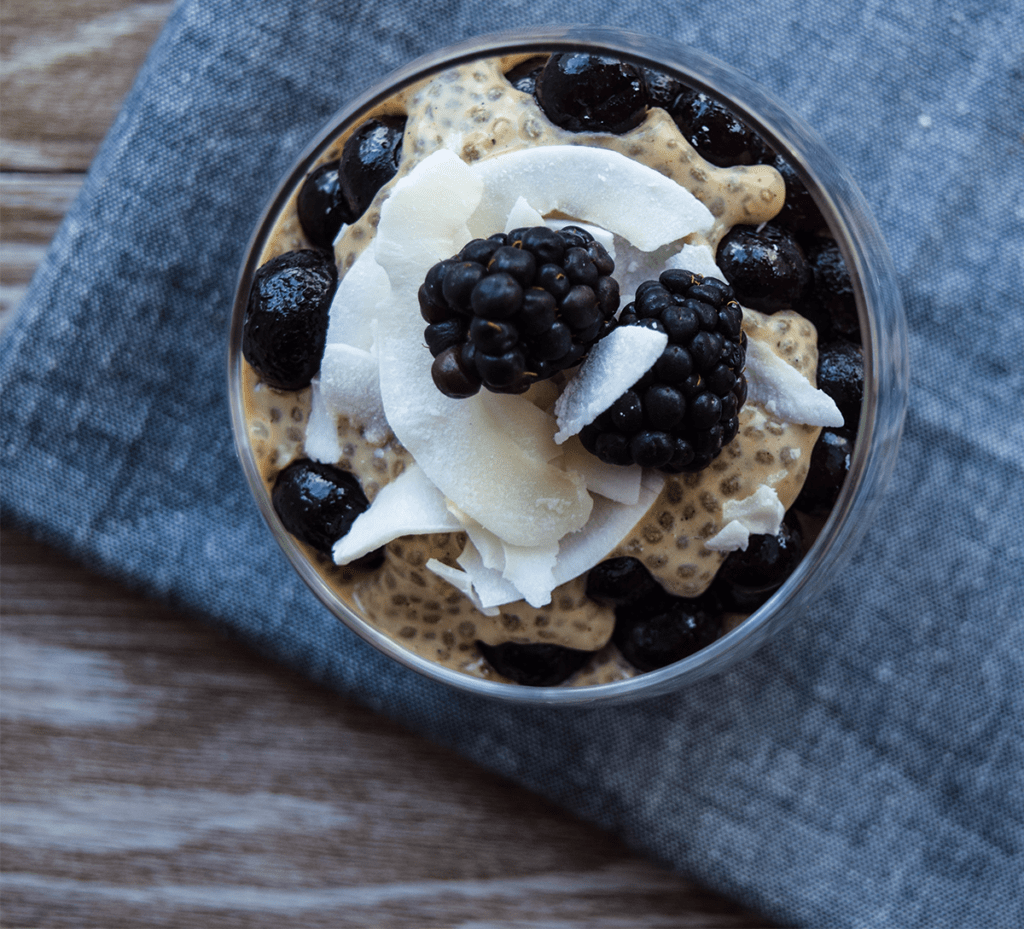 How to Make Chia Pudding
Time needed: 1 hour and 10 minutes.
How To Make Chia Seed Pudding
Combine chia seeds with your choice of liquid.

Pick something creamy like coconut or almond milk. You will want about ½ cup of liquid for every 1-1.5 tbsp of chia seeds. Using 1.5 tbsp of chia seeds will produce a thicker and quicker setting pudding. Using 1 tbsp will be slightly thinner and best to let set stand overnight.

Agitate the chia seeds to help them stay suspended and absorb the liquid.

This is great to do in a mason jar with lid, but can be also done in a bowl using a whisk. Shake or stir the chia seeds for about 5 minutes.

Put the chia pudding in the fridge and let it set for at least 1 hour.

During this time you want to shake or stir the seeds occasionally to prevent them from settling on the bottom.

Add a sweetener and any extras you might enjoy.

I usually use stevia and vanilla extract, plus berries, nuts, cacao, coconut or any other fun add-ins I am feeling.
Can I Make This Recipe Keto?
Yes, absolutley! Chia seeds are low in net carbs and can be keto friendly. You will want to choose a low carb liquid like unsweetend almond milk or coconut milk. Also, opt for a carbohydrate-free sweetener like stevia, erythritol or monk fruit. Berries like raspberries and blackberries tend to be lower carbohydrate so stick with these and limit to ½ cup per serving.
This will give you about 185 calories and 6 grams of net carbs per ⅓ the recipe using unsweetened almond milk.
Tips For Making This Recipe
This Ccoconut Chia Pudding Parfait is a quick recipe and almost fool-proof, but here are some tips to make sure you're successful.
For a thicker, quicker setting pudding use ½ cup of chia seeds. For a thinner, lower calorie pudding use ¼ cup and let set overnight.
To make it even easier, try making it in a mason jar that has a lid. This allows you to shake the pudding vigorously with making a mess. It also makes the pudding perfectly portable and minimizes dishes.
If you don't have a jar you can whisk the ingredients in a bowl, but be sure to whisk until the chia seeds are fully suspended.
Mix or shake up the chia seeds at least several times during their resting period. This will help prevent them from settling on the bottom.
If you are using frozen berries, thaw for 30-45 seconds in the microwave before making your parfait.
If you have made this recipe, please leave a comment and a rating below! I would love to hear from you.
Related Recipes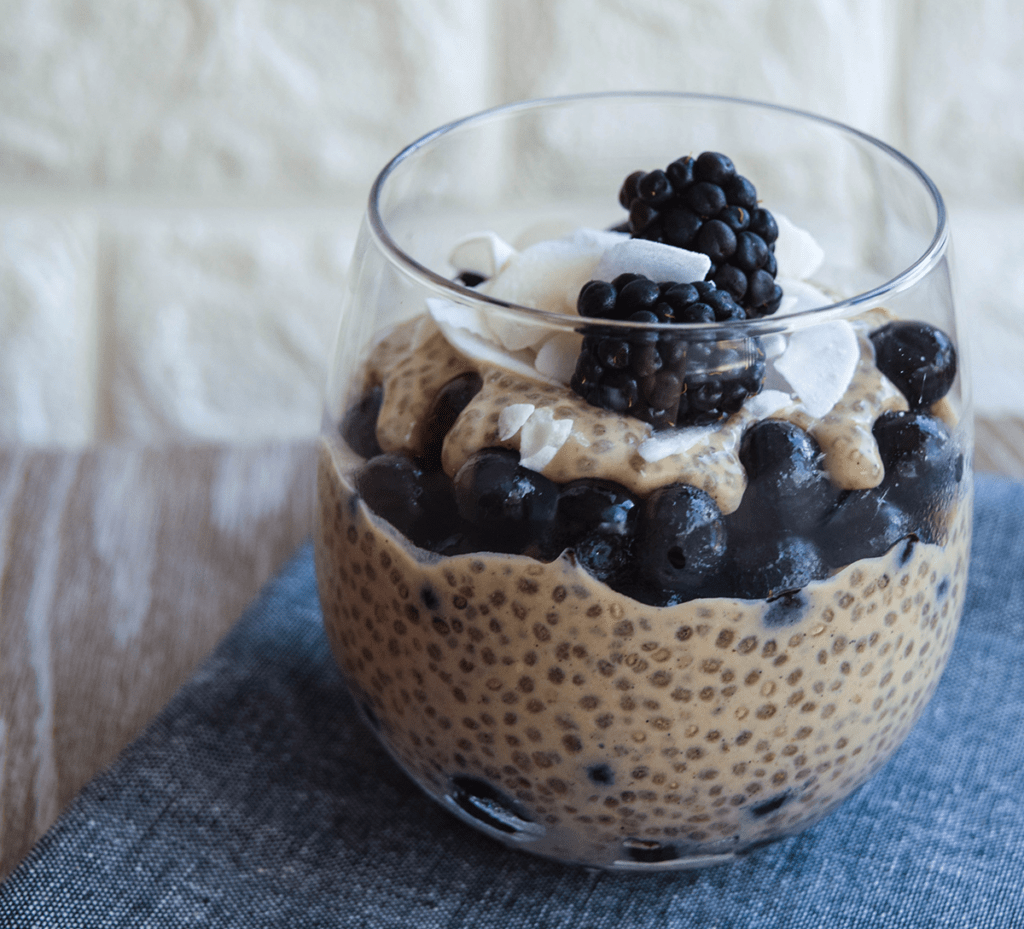 📖 Recipe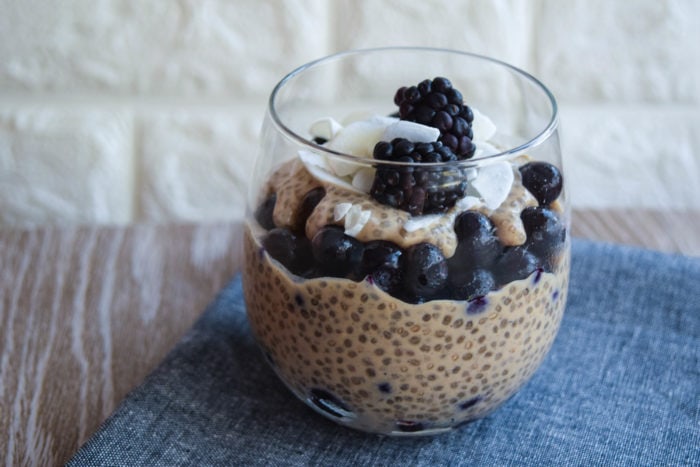 Creamy Vanilla Coconut Chia Pudding and Berry Parfait
This is a simple, delicious and nutrient dense pudding that can be served for breakfast or dessert.
Ingredients
2

cups

Coconut or almond milk

6

tbsp

Chia seeds

*See Notes

¼

tsp

Vanilla extract

¼

tsp

Coconut extract

Optional

Stevia, honey or maple syrup

To taste

3

tbsp

Coconut chips

1 ½

cup

Berries

Fresh or frozen
Instructions
Add the coconut milk, chia seeds, extracts, and sweetener into a jar. With lid on, begin agitating for 1-2 minutes until chia seeds are fully suspended.

Place jar in refrigerator, allowing the chia seed to absorb much of the liquid. Viscosity will increase the longer it stands. Give it a couple shakes during this time if you remember, to make sure the chia seeds don't end up on the bottom.

Pudding can be served about an hour after it is made, but for best results let set in the fridge overnight.

Remove the chia seed pudding from the fridge. In a glass or bowl, layer berries, chia seed pudding and coconut, and repeat. Enjoy immediately, or allow to thaw if using frozen berries.
Notes
**For a thinner pudding use up to ¼ cup of chia seeds.
I always make chia pudding in a jar because it is the easiest way to agitate the mixture, but it can also be done in a bowl with a whisk. Blending the mixture will break the chia seeds up and not result in the same thick texture.
Make chia seed pudding the night before to allow to chia seeds to absorb moisture overnight and they will be ready for you in the morning.
Contains 3.6 g of Omega-3's per serving.
Nutrition
Serving:
257
g
Calories:
185
kcal
Carbohydrates:
18
g
Protein:
6
g
Fat:
12
g
Saturated Fat:
3.6
g
Polyunsaturated Fat:
5.3
g
Monounsaturated Fat:
1.8
g
Sodium:
119
mg
Potassium:
332
mg
Fiber:
12
g
Sugar:
4
g
Vitamin A:
496
IU
Vitamin C:
16
mg
Calcium:
464
mg
Iron:
5
mg