Whipped cream makes everything a little bit better. Just because you are doing a low carb diet does not mean you have to go without. This Keto Whipped Cream recipe only contains 2 ingredients, is ready in minutes and doesn't contain any of the funky ingredients found in the sugar-free store bought versions!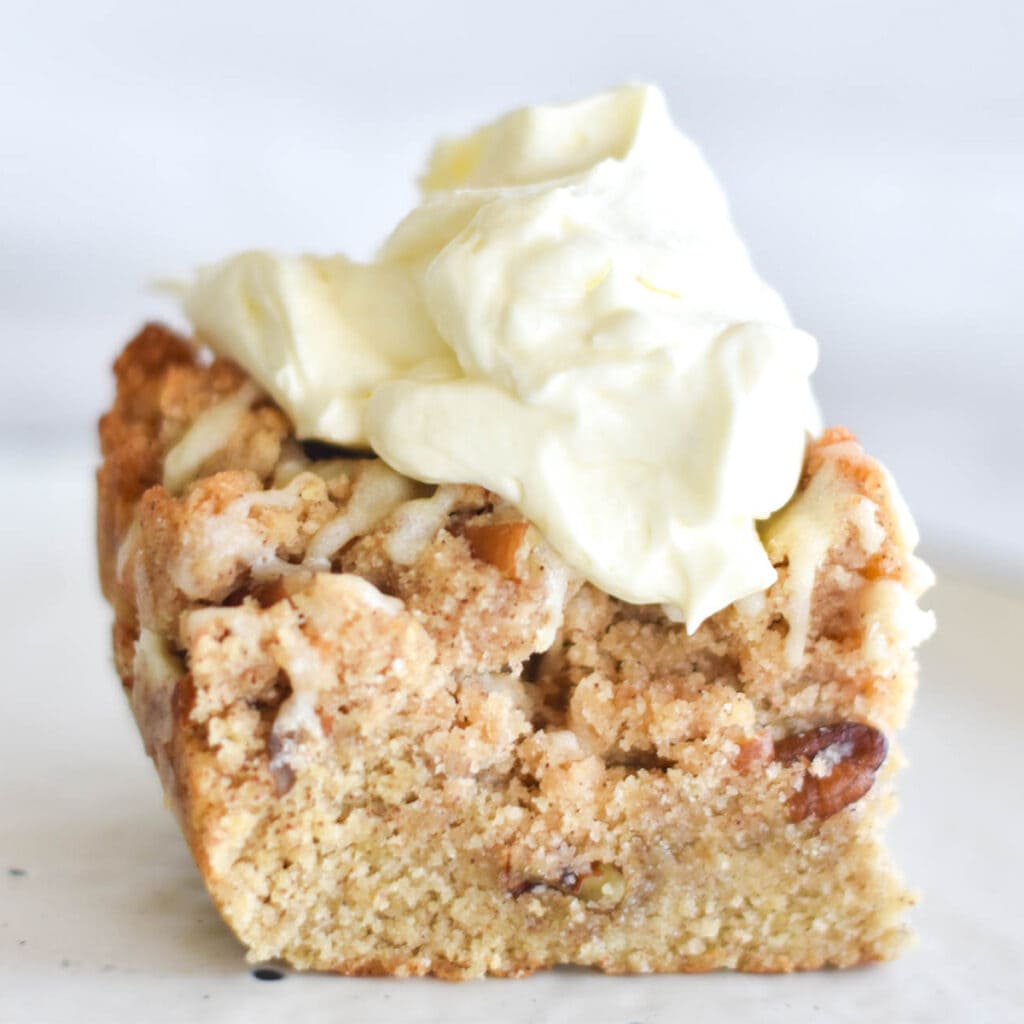 Jump to:
With Thanksgiving just a month away, I am constantly trying to come up with healthier and low carb swaps to improve upon my thanksgiving meal. This low carb whipped cream is a super simple alternative that not even the keenest dinner guest will detect.
I definitely feel Thanksgiving (or any holiday) should be a time to enjoy food and family and not stress too much about your diet. With that being said, even a day of going hog wild on processed food and sugar can leave me feeling crappy for some time to come.
The Thanksgiving meal itself is pretty easy to make from whole foods and nutrient dense dishes, so that generally is not a concern for me. Where I get in to trouble is dessert. I am not the kind of girl to have a small slice of pumpkin pie a call it. I like to taste them all! Hey, you only get a spread like this once per year!
When I am cooking Thanksgiving desserts for my family, I try to make several paleo and/or low carb options that I feel good about. That way I am happy to have leftovers to nibble on for the weeks to come and I am not crippled by a food hangover. I prefer to save my handovers for the real thing.
Why Powdered Monk Fruit Sweetener?
Powdered monk fruit is probably one of my favorite non-glycemic sweeteners. It taste convincingly like sugar in most treats and is super easy to use. It is usually made from a blend of erythritol and monk fruit. I tend to think erythritol by itself has too much of a "cooling" sensation, so I enjoy that this is mixed with monk fruit.
I generally buy Lakanto Powdered Monk Fruit Sweetener. It can be found in some health food stores or online. Most powdered sweeteners will work in this recipe, so don't worry about purchasing a whole bag of sweetener if you already have a low carb powdered sweetener on hand!
A powdered sweetener will work because it blends well in the cream. You could use a liquid sweetener like pure stevia, but I would advise again using a liquid sweetener that requires a larger volume to achieve adequate sweetness because this could result in runny whipped cream, and no one wants that.
A granulated sweetener would also work, but the end product would not be as smooth. You might still have granules in the finished product. Using powdered monk fruit is really the best way to go!
Choose Heavy Cream From Pastured Cows
A high quality cream will not only taste better but is also significantly healthier. Because pasture raised cows get to chow down on their natural diet, grass, they have a better fatty acid profile.
When cows are fed grains, which contain a high amount of omega-6 fats, the milk produced will contain high levels of omega-6 fats. Omega-6 fatty acids in the context of a conventional diet can promote inflammation and disease. Opting for products from a cow that grazes on grass will increase the omega-3 content and make it less inflammatory.
It is totally worth it to spend an extra dollar on organic, grass-fed cream if you have it! If you know a farmer who raises cows on a pasture and produces high quality cream, even better. I understand buying organic is not in everyone's budget, and that is okay too. Just knowing the why behind choosing some organic or grass-fed foods can be important to ensure that your dollar is spent wisely.
What Is Wrong With Store Bought Sugar-Free Whipped Cream?
Even the most innocent looking store bought whipped creams tend to have some nasty ingredients. Making low carb whipped cream at home is so easy and limits your exposure to unwanted ingredients and chemicals.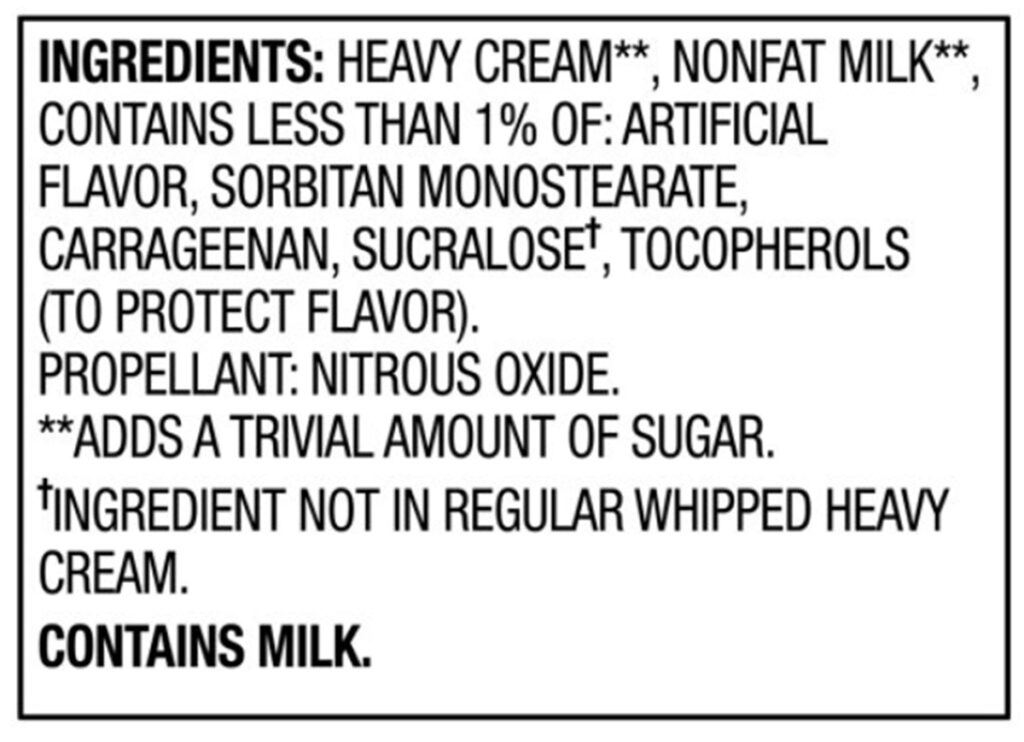 Here are a few problems I found with this conventional sugar-free whipped cream ingredient list:
Sorbitan Monostearate
This ingredient is an emulsifier. Emulsifiers are used to keep fat molecules suspended in an aqueous solution. It is made from sorbitol (a sugar alcohol) and stearic acid (a fatty acid). Though unlikely to cause any issues in small doses, there have been studies that suggest this ingredient can cause skin irritation, digestive issues and liver enlargement. This emulsifier is largely considered safe and has been approved by the FDA for food use. There is not a lot of research regarding this ingredient. While I wouldn't stress if I accidentally ate something containing sorbitan monostearate, it is not something I would wish to include in my diet regularly just to be on the safe side.
Carrageenan
This ingredient is used to emulsify and thicken the product. It is commonly found in many vegan products to mimic a creamy texture or to replace gelatin and other thickeners. Some evidence suggests that carrageenan can trigger inflammation and damage to your digestive system (1). There is petitioning for products containing carrageenan to be labeled with a warning or removed entirely. Additionally, degraded carrageenan is a known carcinogen and is used in animal studies to induce inflammation (2). Again, I don't think a small amount will kill you but when purchasing food I actively try to avoid this ingredient.
Sucralose
This is a low-glycemic sweetener that is commonly known as Splenda. This sweetener has been linked to things like increased risk of developing type 2 diabetes, leaky gut and may generate toxic and carcinogenic compounds when heated. One study demonstrated that sucralose has a significant negative impact on gut microbiome diversity and is positively correlated with increased gut reactivity. This means that it could potentially increase the risk of developing autoimmune conditions, specifically Crohn's and ulcerative colitis (3).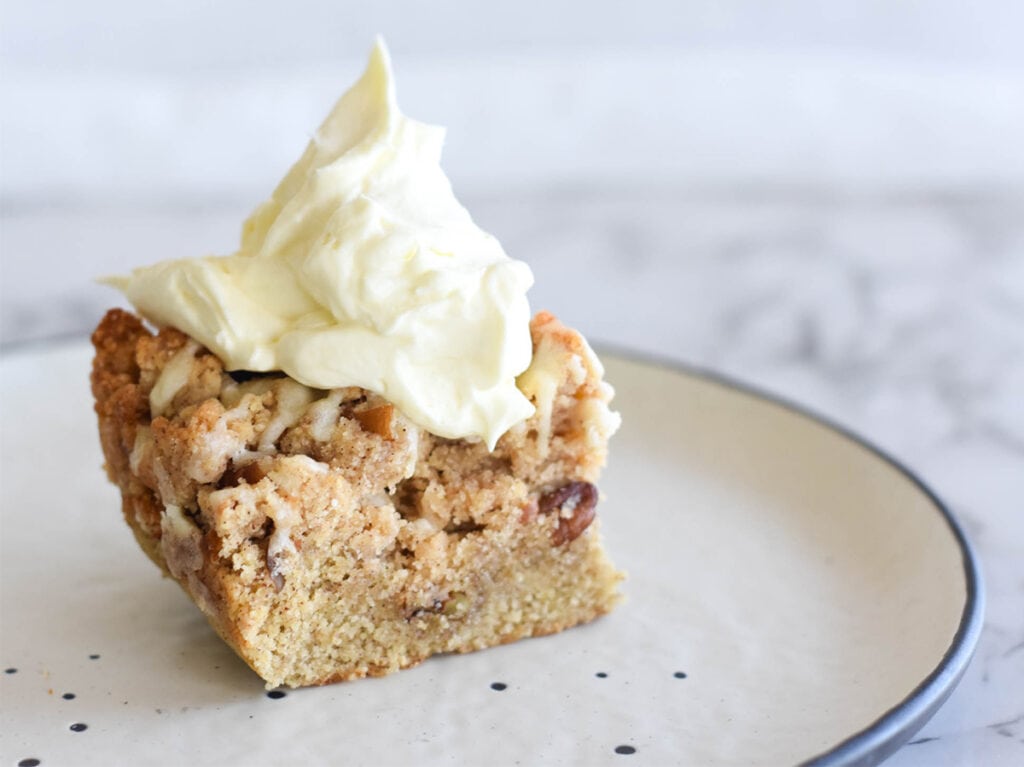 Equipment Needed
This simple 5-minute recipe requires only a stand mixer or an electric hand mixer, a bowl for mixing and a simple rubber spatula! It could also be made using a bullet blender.
Recipes To Top With Keto Whipped Cream
Keto Cinnamon Coffee Cake
Did you try this Keto Whipped Cream recipe? I would love to see what you put it on! Take a photo and tag me on Instagram or leave a photo comment on Pinterest.
Feel free to leave a comment and a rating below. Feedback is always appreciated! 😊
📖 Recipe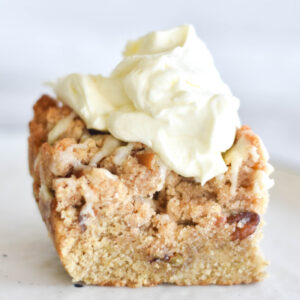 Keto Whipped Cream
This quick, 2 ingredient Keto Whipped Cream recipe makes the perfect topping for all your low carb treats.
Instructions
Add ingredients in the bowl of the stand mixer. Using the whisk attachment start beating on high speed until stiff peaks form, about 1 minute.

Serve immediately or store in the an airtight container in the fridge for up to 5 days.
Notes
This can also be done in a high powdered blender or using an electric hand mixer.
Nutrition
Serving:
2
tbsp
Calories:
103
kcal
Carbohydrates:
1
g
Protein:
1
g
Fat:
11
g
Saturated Fat:
7
g
Cholesterol:
41
mg
Sodium:
11
mg
Potassium:
22
mg
Sugar:
1
g
Vitamin A:
437
IU
Vitamin C:
1
mg
Calcium:
19
mg