This cauliflower-based Keto Cheesy Garlic Bread is the perfect solution for those missing their favorite comfort foods on a low carb diet. Pair with a hearty marinara dipping sauce and this satisfying recipe will give you cauliflower amnesia. What vegetables?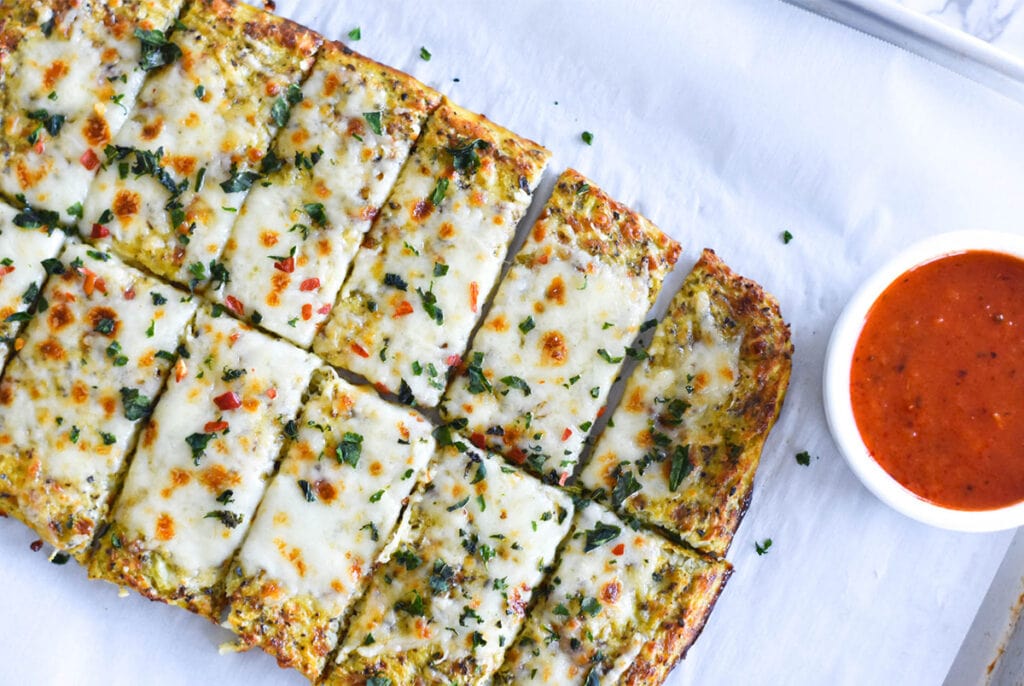 Jump to:
To be honest, cauliflower is one of my least favorite veggies. I won't be caught adding it to stir fry or eating it steamed. The only way I can enjoy cauliflower is if it is guised as some more desirable food.
This cauliflower cheesy bread makes me forget it is even made from cauliflower. That is a pretty significant feat. I can suss out some pretty discrete bits of cauliflower in most dishes. The things you can do with cheese and garlic are pretty magical.
This garlic bread is great dipped in a rich and flavorful marinara sauce. A garlic butter sauce would also be great!
Can I Use Packaged Cauliflower Rice?
You can. The only problem with packaged cauliflower rice is it tends to be more coarse. You will likely have larger chunks compared to "ricing" the cauliflower at home in your food processor. So, if your a little put off by cauliflower, like myself, I would just "rice" it at home. It only takes a few minutes.
With all that being said, I do not recommend you use frozen cauliflower rice. The freezing process makes the cellular structure of the veggie weaker. This can make removing the liquid more challenging and will likely make for a soggy cheese bread.
Can I Use This Crust To Make Pizza?
Uh, yes! This crust would make a great pizza base. Just add sauce, cheese and toppings to the cooked crust and broil for a delicious low carb pizza.
Where Can I Get Low Carb Marinara Sauce?
Most stores carry some type of low carb marinara you just may have to do a little label reading. Rao's is always a safe options, but can be rather pricey. I recently discovered the Farmer's Market line from Prego which has no added sugar and is only about $3 at Walmart. That is a win, count it.
If you are not having any luck finding low carb store-bought sauce, you can always try my easy Traditional Marinara Sauce recipe which is keto-friendly.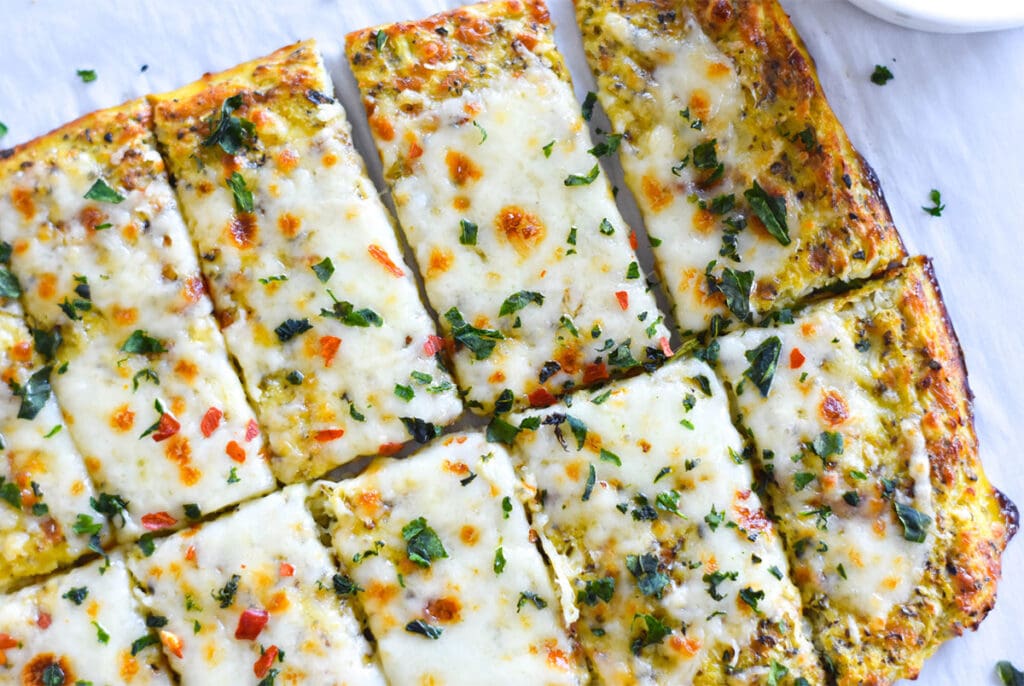 How To Make Keto Cheesy Garlic Bread
Rice the cauliflower.
The first step is to "rice" the cauliflower. I like to get the cauliflower "riced" as finely as possible. This makes for no large chunks of cauliflower in the finished product.
To rice, remove the stem and leaves and coarsely chop the cauliflower head into florets. Toss florets into a food processor or blender. If using a blender, a high powdered blender with blades that extend towards to the top will work best. I use a basic Ninja blender and it works great for this purpose.
Microwave the cauliflower rice.
Once the cauliflower is finely chopped, transfer to a microwave safe bowl and microwave for five minutes. You may need less or more time depending on the wattage of your microwave. My microwave is pretty low power. You are looking to soften the cauliflower and heat it throughout.
Allow cauliflower to cool entirely before you start to wring. This will save your hands from burning and also help you draw out more moisture!
Remove the excess liquid.
Next you will start to wring the cauliflower. I like to use folded paper towels and a clean dish towel. The folded paper towels help prevent fibers from the dish towel from sticking to the cauliflower. I fold about 5 paper towels and put that cauliflower in the center. Then I wrap the papers towels around it and follow that with a dish towel which I gather at the top (see photo #1).
I wring the cauliflower for several minutes of the sink. You should get at least a cup of liquid. It is very important to wring until no more liquid comes out. This will help improve the texture of the garlic bread.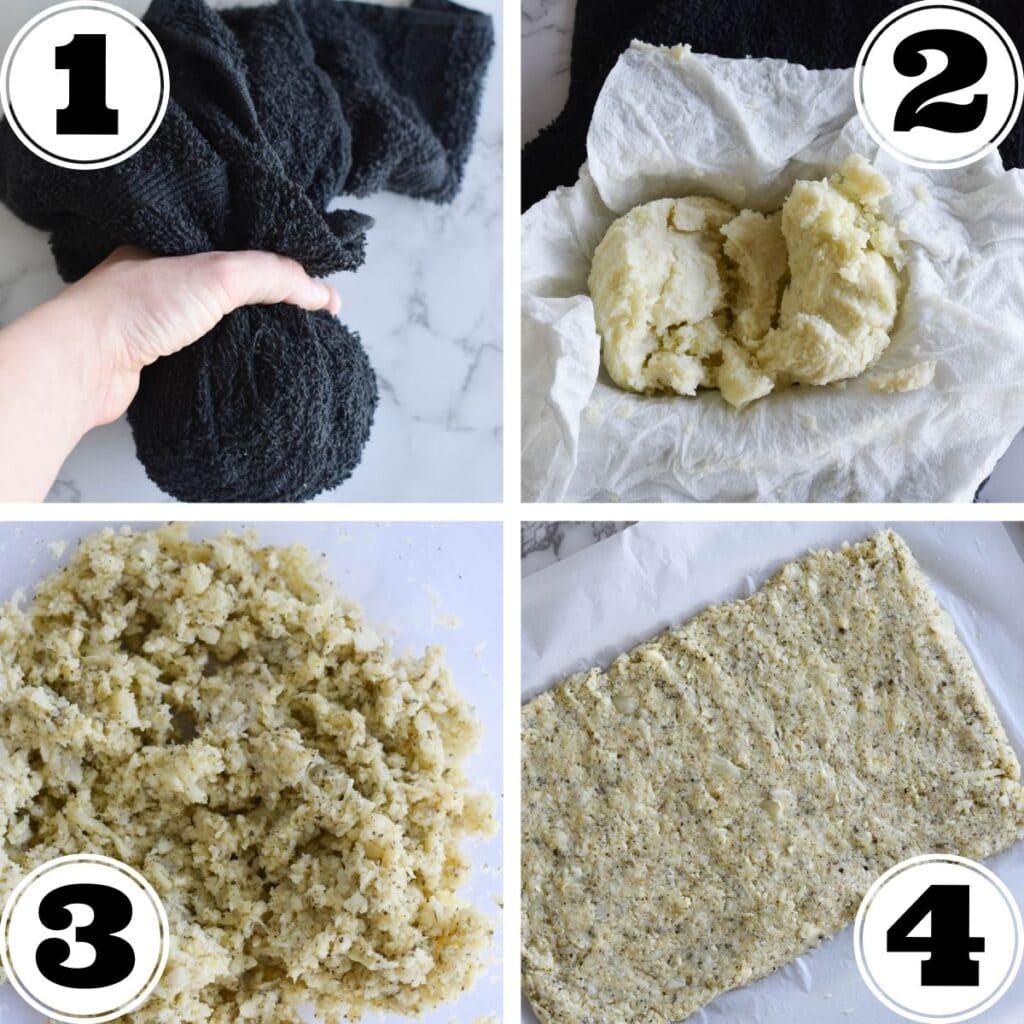 Form the dough.
Once the cauliflower is dry (see photo #2) add to a bowl and combine with remaining ingredients for the breadsticks. Mix together with a fork (photo #3).
The oven should be preheated to 450 degrees F. Line a sheet pan with parchment paper. Next take the "dough" and start to form a rectangle on the pan (see photo #4). Flatten it out and form the edges with your hands. The size of the "crust" will vary based on how big the head of cauliflower was, but you will want it to be about ¼ inch thick.
Bake the crust.
Place the "crust" in a preheated oven and cook for 20 minutes. The crust should be golden brown around the edges when finished. Top with cheese and broil for another five minutes. Then serve your tasty low carb cheesy garlic bread with marinara sauce.
Equipment Needed
You will need the following items to make this recipe:
Related Recipes
Did you try this Keto Cheesy Garlic Bread recipe? I would love to see what you made! Take a photo and tag me on Instagram or leave a photo comment on Pinterest.
Feel free to leave a comment and a rating below. Feedback is always appreciated! 😊
📖 Recipe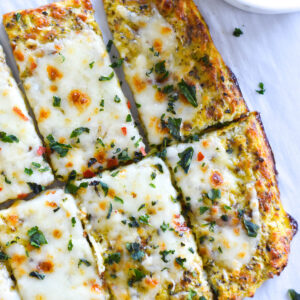 Keto Cheesy Garlic Bread
This cauliflower-based Keto Cheesy Garlic Bread is the perfect recipe for those missing their favorite comfort foods on a low carb diet.
Equipment
Food processor or blender

Towel

Mixing bowl

Whisk

Sheet pan

Parchment paper
Ingredients
Topping
1

cup

Freshly grated cheese

I used mozzarella and parmesan.

Sprinkle of herbs

Minced garlic

To taste
Instructions
Preheat the oven to 450 degree F.

Begin by removing the green leaves and stem from the cauliflower. Cut into chunks and place in a large blender (see notes) or food processor.

Process cauliflower until it is finely "riced" and there are no large chunks.

Transfer cauliflower into a microwave safe bowl and microwave for 5 minutes on high. Allow to cool for at least 5 minutes or until it is cool enough to handle.

Lay out a clean dish towel. On top of towel, lay out several folded paper towels. Place cooled riced cauliflower in the center of the paper towels. Fold the paper towels around it and then wrap it in the dish towel gathering the extra dish towel at the top. See photos in post for visual.

Wring the cauliflower out over the sink. You should get at least a cup of liquid. If you burst the paper towels, you can transfer the cauliflower to a new set of folded paper towels and continue to wring until no liquid comes out. Take the time to get as much water as possible.

In a large bowl, whisk the eggs. Add the cauliflower, herbs, salt and ½ cup of cheese. Mix with a fork.

Peel and finely mince garlic cloves. Add to cauliflower.

Line a sheet pan with parcment paper. Spread the "dough" evenly on the pan. press down with clean hands and shape. The dough should be about ¼ inch thick and approximately 6 inch by 8 inch when spread on the pan.

Place pan in oven and cook for 20 minutes. The dough should become golden brown around the edges. Top with the rest of the cheese, garlic and sprinkle on herbs. Set oven to broil and cook for another 5 minutes.

Slice and serve immediately with marinara sauce for dipping.

To reheat leftovers, pop in the air fryer for several minutes.
Notes
If using a blender, it will need to be a high powdered blender with blades that extend upwards. I use the Ninja blender.
Nutrition
Serving:
1
Breadstick
Calories:
57
kcal
Carbohydrates:
2
g
Protein:
5
g
Fat:
3
g
Saturated Fat:
2
g
Cholesterol:
30
mg
Sodium:
194
mg
Potassium:
127
mg
Fiber:
1
g
Sugar:
1
g
Vitamin A:
116
IU
Vitamin C:
17
mg
Calcium:
91
mg
Iron:
1
mg