Is collagen powder safe while pregnant? This is such a common question! Collagen is becoming a very popular supplement taken in the United States and other parts of the world. This may leave expecting mother's wondering about it's safety and efficacy.
Being pregnant offers many opportunities to worry about every little supplement or food that touches your mouth. Don't stress! Let's dig into possible benefits and side effect of collagen supplementation. This will help you decide if it is right for your prenatal journey.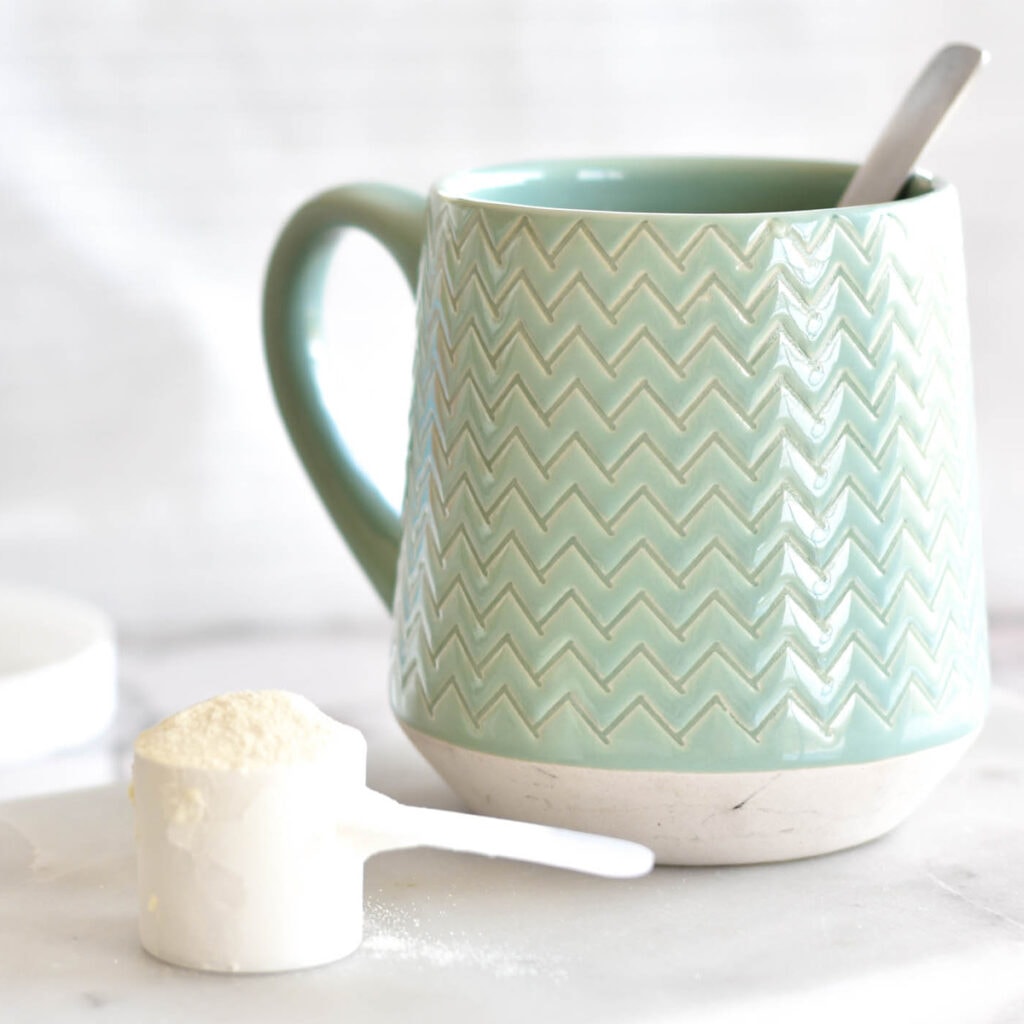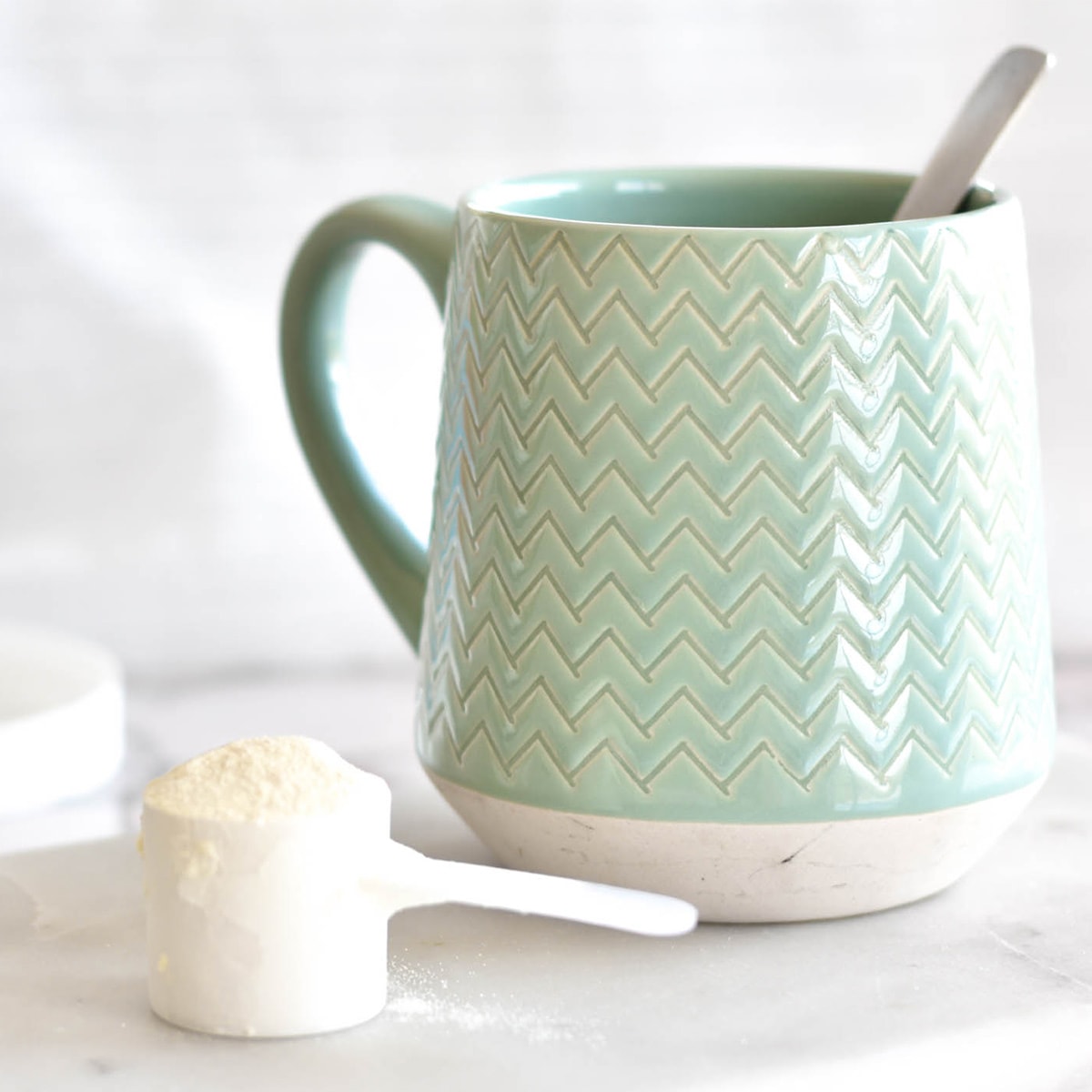 Jump to:
What Is Collagen?
Collagen is a naturally occurring protein found throughout the body. It is also a major component of bones, skin, muscles, ligaments and tendons. Additionally, it is an important building block for things like cartilage, blood vessels, intestines and joints.
This protein is the most abundant protein found in the body. It accounts for one third of all body protein.
Although collagen is a component of much of the solid structures in our body (i.e. bones), it also acts as the glue. Collagen helps bind together tissues and cellular junctions.
How Does Collagen Function In The Body?
There are thought to be 16 types of collagen found in the body. Each type has their own function. The three main types are type I, II, III. These types make up 80-90% of the body's collagen (1).
Roles of these three types of collagen: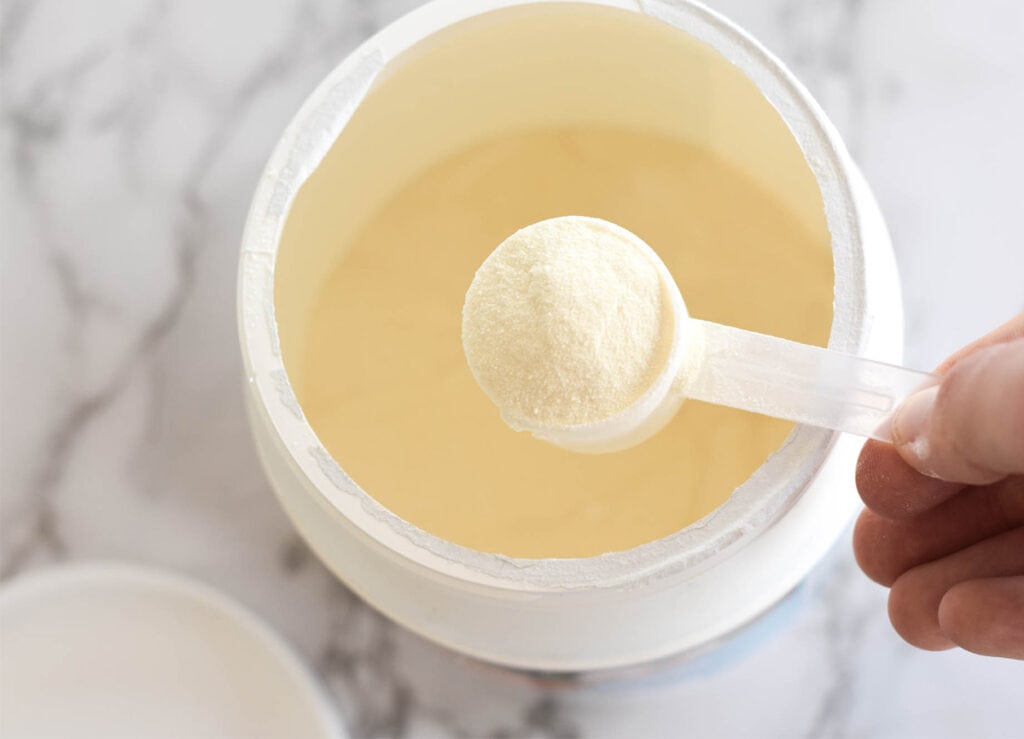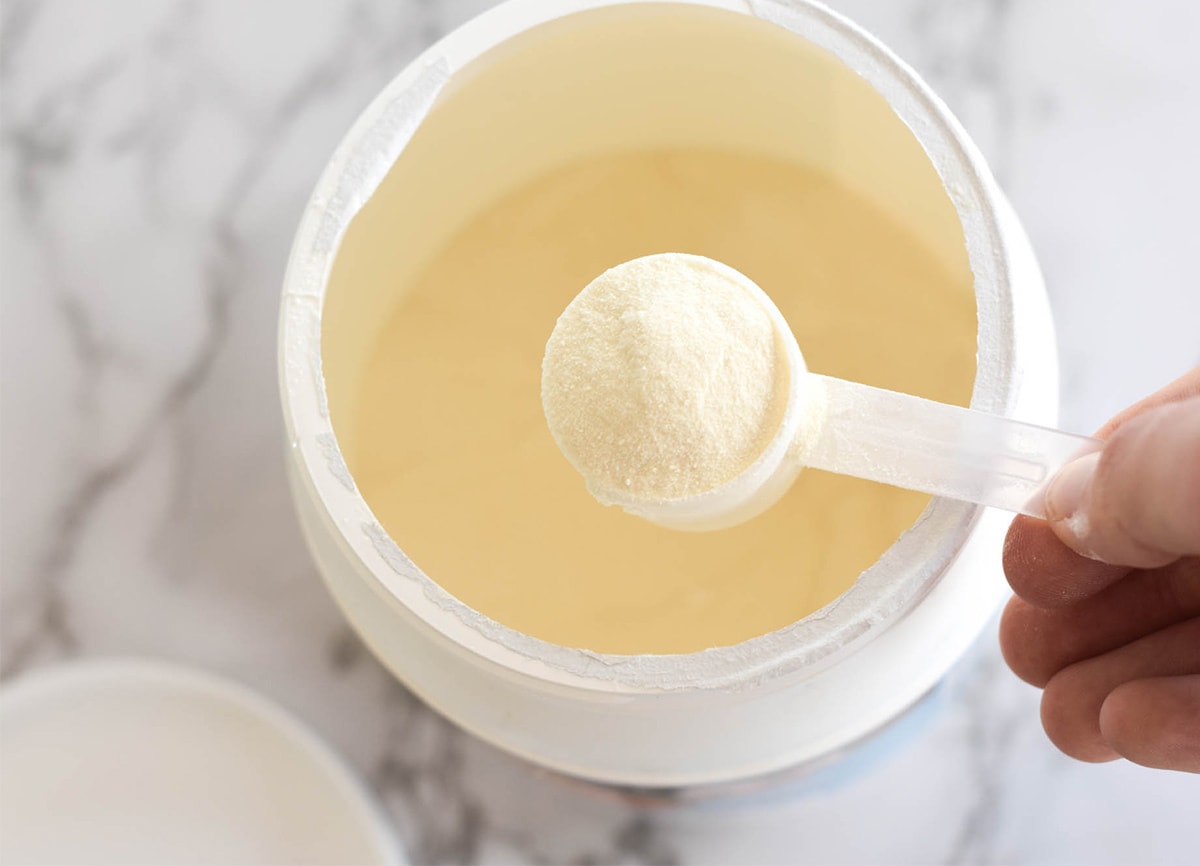 What Nutrients Support Collagen Production?
Collagen is something that our bodies are good at making when given the right ingredients. The precursor to collagen is procollagen. This precursor is made from the amino acids glycine and proline.
Glycine can be found largely in the skin of animals, specifically chicken and pork. It can also be found in the bones and meat of animals. Glycine makes up 33% of collagen (2).
Proline makes up 15% of collagen. It can be found in foods like organ meats, grass fed beef, pasture raised chickens, fish and bone broth (3).
Ensuring you get enough of these amino acids can support your bodies production of collagen. Additionally, you these micronutrients for this process:
What Are Collagen Peptides?
Collagen peptides are a commonly used type of powder protein supplement. They are derived from animal collagen. This supplement is made from peptides, which are small chains of amino acids. Collagen peptides are primarily made of the amino acids glycine, proline, hydroxyproline and arginine.
Is Collagen Safe To Take While Pregnant?
Most likely, yes! Because collagen is a natural and necessary component of our diet it is something I would generally considered safe to supplement. As with anything, I would recommend checking with your doctor or midwife before starting a supplement.
It is important to point out that the research on this topic is limited. There are ethical issues with running randomized control trials on pregnant woman (no surprise there). The lack of evidence makes hard-fast guidelines difficult to establish.
I was able to find a small animal study demonstrating possible benefits of vitamin C supplementation in the prevention of uterine prolapse and urinary incontinence (5). As we discussed above, vitamin C plays an important role in stimulating collagen production.
Considering this is something abundant in our diets and made in our bodies, collagen supplementation will not likely have any deleterious affects.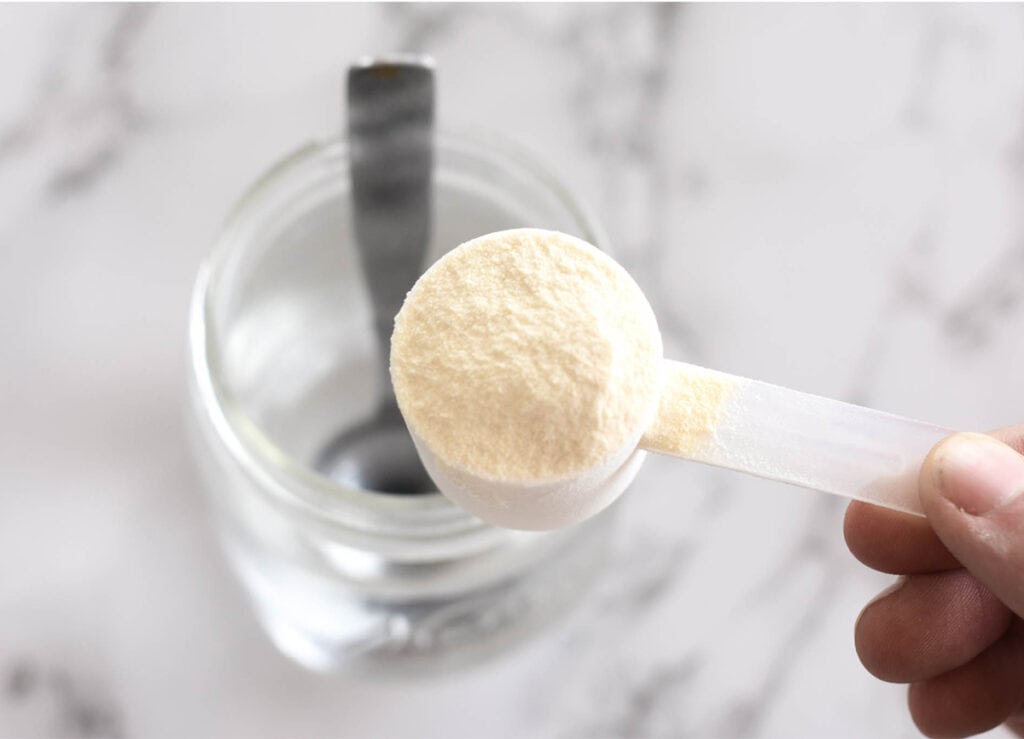 Benefits of Collagen Supplementation During Pregnancy
Pregnancy is an unprecedented time in your life. Your collagen needs are much higher than normal. This is because you are creating an entire human! Not only do you need collagen to support your body throughout these changes, but your baby needs collagen for proper growth and development.
Baby
All of your baby's collagen containing muscles, bones, ligaments and connective tissue are developing. Their eyes, teeth, organs and intestines all require this protein. So, as you can imagine the amount of collagen you use during pregnancy increases dramatically.
Stretch Marks
Another thing to consider is our skin. Our skin stretches a great deal during pregnancy. With our growing bellies and growing bodies, stretch marks might be a concern. Others may experience tight and itchy skin which can be quite uncomfortable.
Collagen may not guarantee that you wont find stretch marks after baby comes. But! It might help to improve elasticity in your skin, allowing it to stretch easier.
Joints and Ligaments
The other big consideration is the hormonal changes that prepare our bodies for labor. Relaxin is a hormone released early in pregnancy. It is responsible for relaxing the intrauterine ligaments, allowing the uterus and pelvis to expand. Unfortunately, the effect is not isolated to this one area of your body.
Pregnant woman often have issues with heartburn, painful joints, or pubic symphysis dysfunction due to relaxin. Some may even pull muscles easier during this time. Supporting the integrity of your joints, GI tract and muscles during this time can be beneficial. Collagen might help you do this.
Considerations For Taking Collagen While Pregnant
Difficulty Getting "Water" To Break
During pregnancy, your baby is surrounded by a fluid-filled sac called the amniotic sac. Typically, at some point during labor the membrane of this sac membranes will rupture. This is known as your water breaking.
I have heard anecdotal stories of women who supplemented with collagen throughout pregnancy and had trouble getting their water to break during labor. I was unable to validate this claim. Although, it is a possibility because this sac is composed partly of collagen.
In the case that the water does not break on it's own, a medical professional is usually able to intervene. The membrane can be broken manually in order to get labor to progress, so this is not likely a safety concern.
Protein Intake
Collagen should not make up the bulk or even a large portion of your protein intake during pregnancy. For most healthy moms, I would recommend getting at least 100 grams of protein ever day. this should not include any additional protein you might be getting from collagen.
In terms of the quality of the protein in collagen, collagen actually ranks lower than most proteins. The PDCAAS (protein digestibility-corrected amino acid score) of proteins is based on how easy it is absorbed and used within the body. On a scale of zero to one, one being best, collagen has a score of zero.
This is due to the fact that collagen is not a complete protein. It lacks the essential amino acid, tryptophan, and is also very low in methionine. This just means that collagen cannot be used to build all body proteins, therefore keeping your complete protein intake adeqaute is important.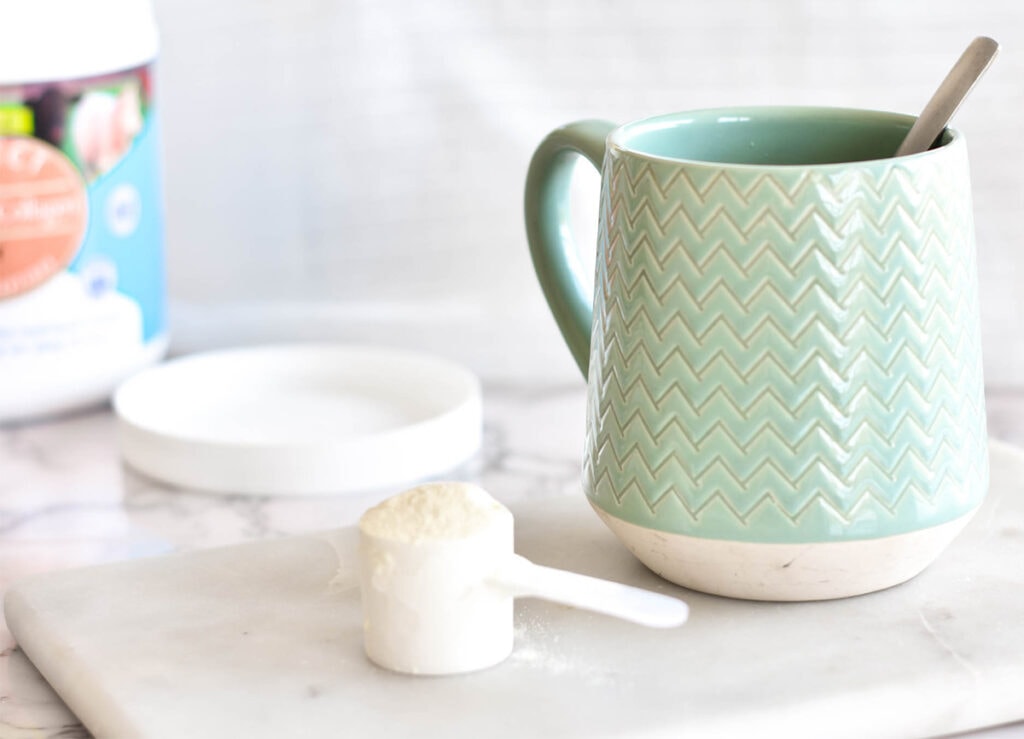 How Much Collagen Should I Take During Pregnancy?
Because research is limited, there is no established dose of collagen during pregnancy. As a general recommendation, I think supplementing a few servings per week should be sufficient. Remember, you are already getting collagen in your diet, especially if you eat a nose-to-tail ancestral diet. Your body also has the ability to make collagen using the amino acids from dietary protein.
One the high end, I think a daily serving of collagen peptides would likely be safe and even beneficial. I would advise against using more than the manufacturer recommends on the label.
How To Use Collagen Peptides
Collagen will mix the best using a hot liquid but can also be blended in cold beverages with a little effort. Here are some ideas on how to use collagen peptides:
Where To Buy Collagen Peptides
You can find collagen powder in most grocery stores in the health food or supplement section. You can also find it online from retailers like Amazon or Thrive Market. When looking for a collagen supplement I would encourage you to opt for a grass fed, pasture raised variety.
Here are a few of my favorite collagen brands:
Read More