This gooey Keto Pumpkin Spice Collagen Fudge is everything. Made from simple ingredients and so, so easy to make. This is the perfect recipe for kiddos to make, and because it has no added sugar, made from nutrient dense ingredients, and is incredibly satisfying, you can feel good feeding it to your whole family.
Eating Seasonally
I, like many people, love pumpkin. Arguably, more so than most. If you want to delve into my relationship with pumpkin read the story here.
It's interesting how most of the cultural food traditions seem to be rooted in some innate wisdom. We eat more pumpkin, garlic, apples and squash in the fall, not because we are "basic" but because these foods finish growing and are harvested in this season. Eating food freshly harvested allows us to reap more nutritional benefit from these foods.
We crave these types of foods more in later seasons partly because after having a summer full of fresh fruits and greens our body's needs are shifting with the season. Eating seasonally helps us get a variety of nutrients, both macro and micro, and important phytochemicals that are more abundant during different times of the year.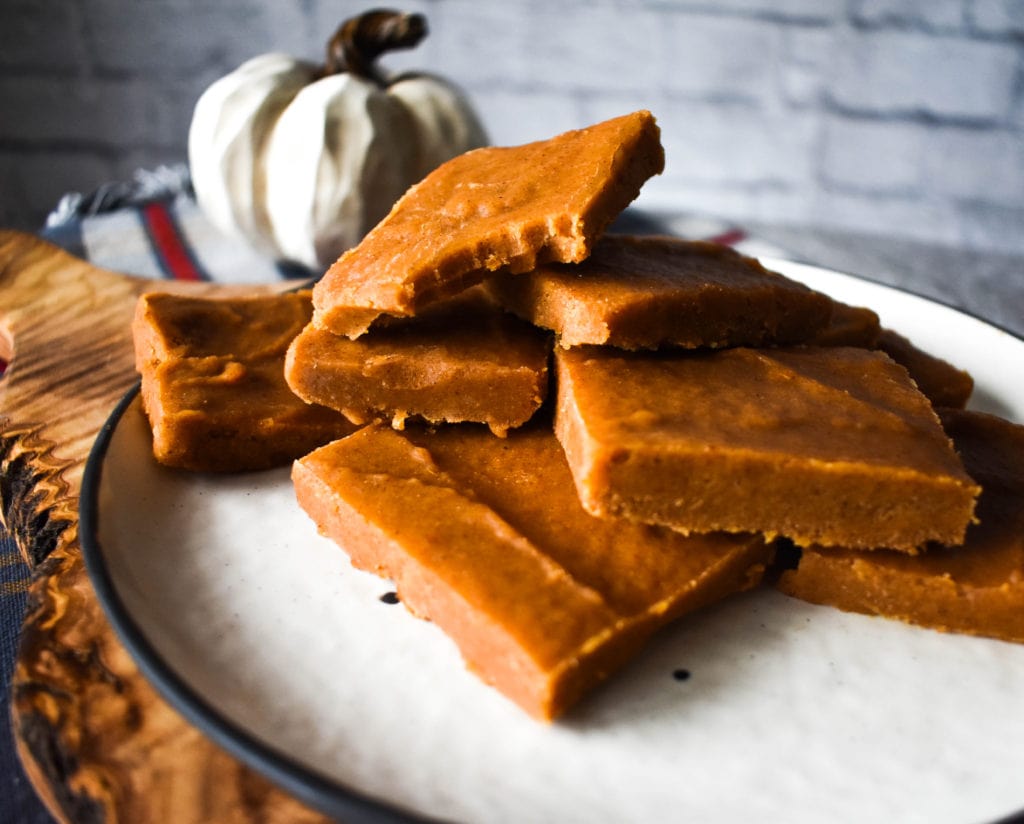 Supporting Immunity
Food like pumpkin and squash are high in the precursor to vitamin A. This nutrient plays an important role in supporting our immune system, and becomes more abundant in the foods harvested in the fall which coincides with the onset of flu season. Additionally, foods like garlic and onion which finish late in the season in most regions, are antiviral and antimicrobial. These components can help us fight off the cold and flu season bugs that are more prevalent in fall and winter months.
Effects of a Global Food System
Changing our diet seasonally feels natural for most people because, as humans, we are very intuitive creatures. Part of this is cultural, but the reason we have cultural practices relating to seasons and food is because we are triggered to eat this way due to the seasonal changes in our environment.
Traditionally, we had to eat seasonally to survive. Whatever could be gathered during the season was what we ate, simple as that. Now that you can get strawberries in Alaska in December, we don't entirely rely on availability and intuition to guide our nutrition decisions. While a global food system allows year-round variety and food availability that we would not otherwise be able to attain, it prevents us from relying entirely on the nutrient dense local foods that change with the season to provide us what we need during that specific time of the year.
Seasonally Low-Carb?
In the past, we (at least those of us who don't live in equatorial regions) would tend to eat more fat and fewer carbs in the winter months because not much was growing. Now that we are beginning to understand a link between vitamin D status and carbohydrate tolerance/insulin sensitivity, it makes sense to reduce carbohydrate intake when you are getting fewer hours of sun exposure.
This is part of the reason I believe cycling carbohydrate intake throughout the year can be beneficial for some people. With shorter days we become less active, we have less sun on our skin, and therefore need (and may benefit from) fewer carbs. Between Halloween candy and Christmas cookies, there is no shortage on carbs during the winter these days, but that doesn't mean this practice is not of value.
With winter coming (#winteriscoming), it is a great time to experiment with fasting and carb cycling. Try on a lower carbohydrate diet for the season and see how it makes you feel. Eating low-carb can have a multitude of benefits both micro and macro-vascular, not to mention metabolic benefits. Eating a diet high in healthy fats and lower in carbs can be very neuroprotective, even if you only partake int his eating style at specific times of the year. Eating more carbohydrate when fruits are in season during spring and summer months can help you capitalize on improved carb tolerance from adequate vitamin D, and allow you to focus on more nutrient dense carbohydrate choices like those found locally.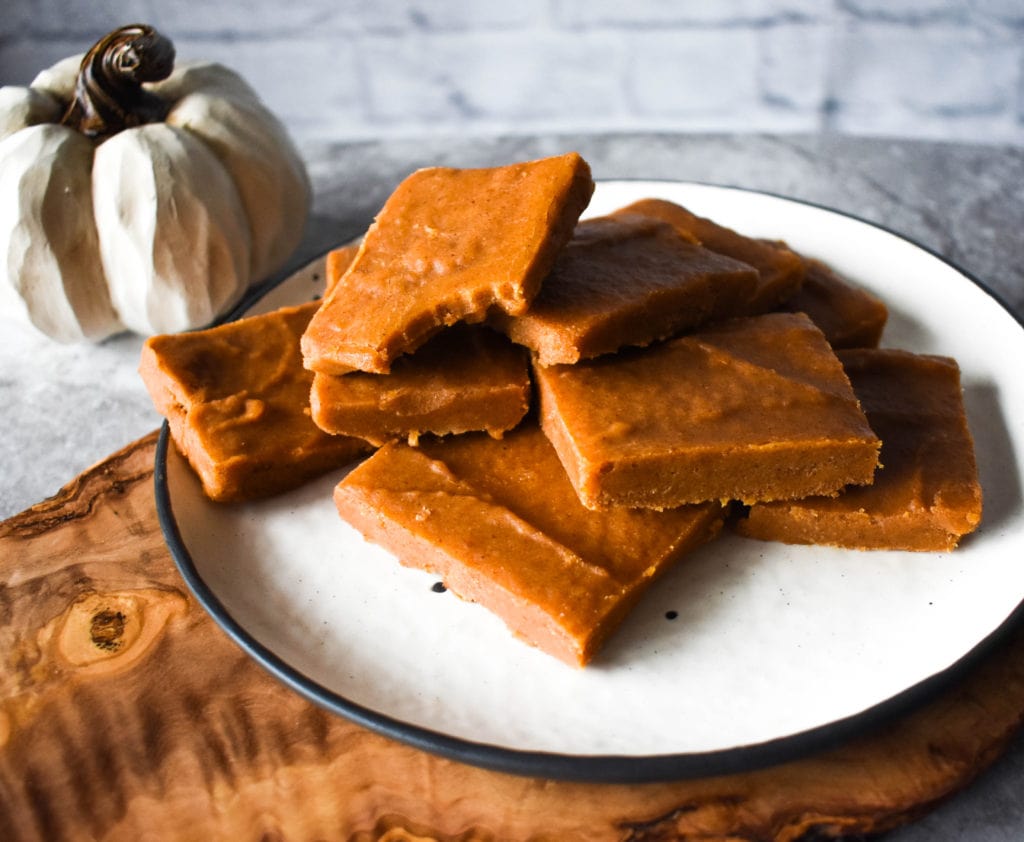 In walks this Keto Pumpkin Spice Collagen Fudge.
This Keto Pumpkin Spice Collagen Fudge can scratch the pumpkin itch, while helping you adhere to seasonal dietary changes that might best suite your needs with shorter days and colder weather. It is paleo, vegan and sugar-free, not to mention, delicious.
If you are not sold on eating seasonally low-carb, that is perfectly fine. You can always swap the erythritol for coconut sugar, maple sugar (which would be delicious), raw honey or maple syrup. I have not tested quantities for these sweeteners but a good place to star would be just swapping 1:1 and taste testing sweetness. Maple syrup might make the recipe a little too liquid-y, but I think raw honey, maple sugar or coconut sugar should provide similar consistency and hold up well in this recipe.
To note, this recipe does not contain any stabilizers like gums or starches. It is made to be a freezer fudge. This just means it does not stay solid at room temperature and will have to be stored in the fridge or freezer.
A good swap to make this more solid at room temp would be substituting the almond butter for coconut butter (I think you would have to play around with consistency a little). To make this AIP friendly you could do the same swap and use maple sugar in place of the other sweeteners. I plan to recipe test this in the future.
Happy Fall!
For other tasty, low-carb pumpkin recipes check out these:
Paleo Pumpkin Pie Chia Pudding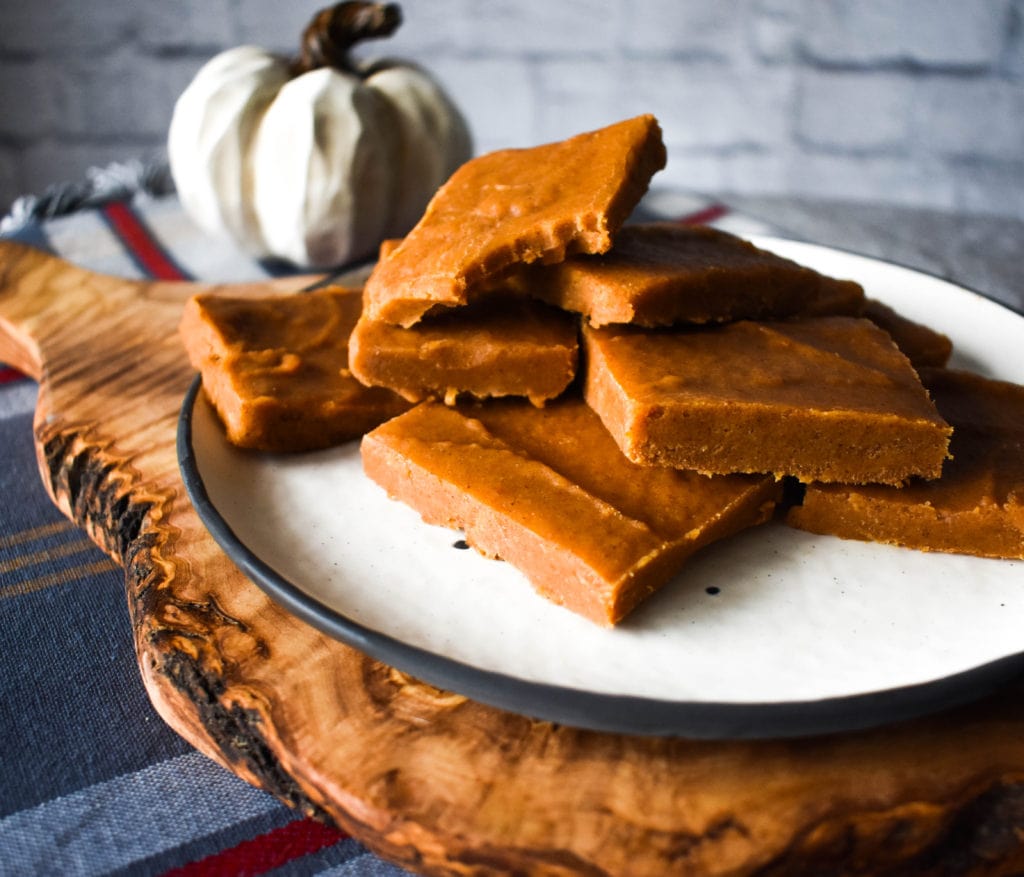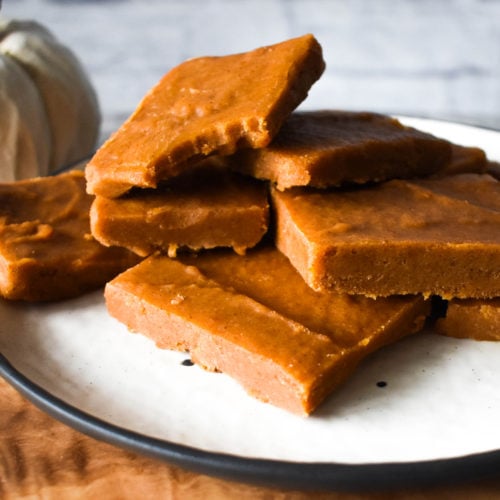 Paleo Pumpkin Spice Collagen Fudge - Keto, Gluten-free
This warm and spicy low-carb treat is the perfect way to get your pumpkin fix. With a healthy ingredient list, this fall treat can be enjoyed as an anytime desert or a satiating snack.
Equipment
Silicone muffin baking cup

Large bowl

Whisk

Spatula
Ingredients
1

Cup

Unsweetened almond butter

or cashew butter (higher carb but delicious)

1/2

Cup

Coconut oil

Measure, then melt

1/2

Cup

Pumpkin puree

1

tsp.

Pumpkin pie spice

1/2

tsp.

Himalayan salt

1/4

Cup

Erythritol

or maple sugar if not low carb

1

Dash

Powdered ginger

1/4

tsp.

Pure vanilla extract

3/4

Cup

Grass-fed collagen protein powder
Instructions
Whisk together all ingredients in a large bowl, mixing the collagen powder last. Make sure there are no lump.

Spoon in to silicone muffin cups and place on a tray in the freezer for 5-10 minutes. Remove and enjoy. Keep in the fridge because the ingredients are soft at room temp.
Notes
If you don't have silicone baking cups you could also spread in to a medium sized baking dish. For best results use a silicone dish or line with wax paper.
Depending on the almond butter you use, you may have a thicker consistency that would be conducive for rolling into protein balls. If you want to try this, cool in the freezer for 5-10 minutes and give it a go.