This Keto Pumpkin Fudge is made from simple ingredients and so easy to make. It is the perfect recipe for kids to be involved. And, because it is made from nutrient dense ingredients, has no added sugar and is incredibly satisfying, you can feel good feeding it to your whole family.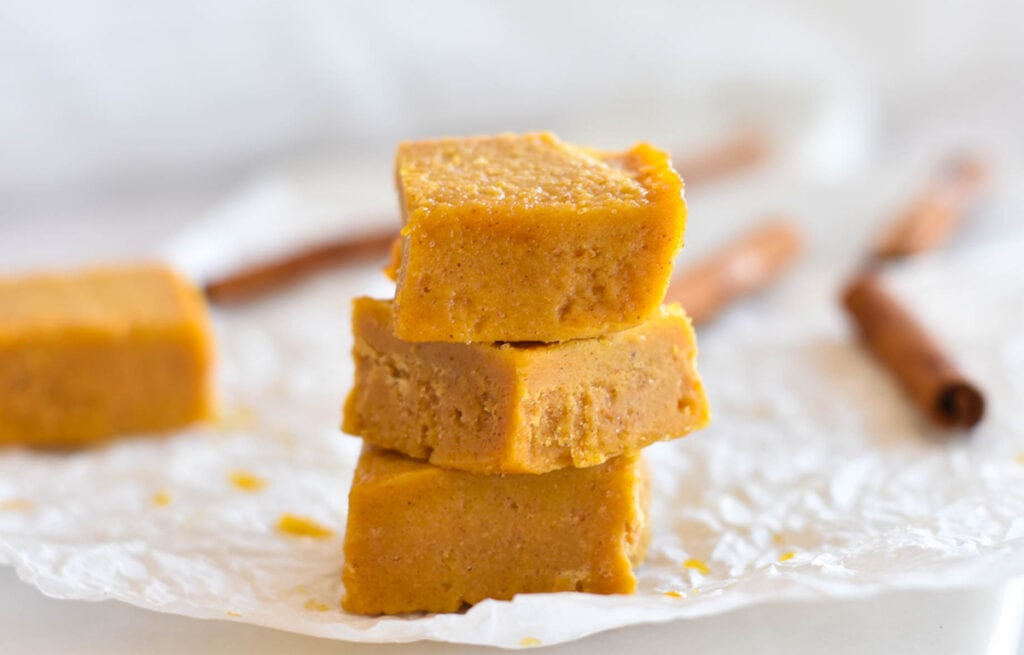 Jump to:
Eating Seasonally
Many cultural food traditions seem to be rooted in some innate body wisdom. We eat more pumpkin, garlic, apples and squash in the fall, not because we are "basic" but because these foods are harvested in this season. Eating food freshly harvested allows us to reap more nutritional benefit from these foods.
We crave these types of foods more in later seasons because our body's needs are shifting with the season. We have just enjoyed a summer full of fresh fruits and greens. Eating seasonally helps us get a variety of nutrients, both macro and micro, and important phytochemicals that are more abundant during different times of the year.
Changing our diet seasonally feels natural for most people because, as humans, we are very intuitive creatures.
Traditionally, we had to eat seasonally to survive. Whatever could be gathered during the season was what we ate, simple as that. Now that you can get strawberries in Alaska in December, we don't entirely rely on availability and intuition to guide our nutrition decisions.
While a global food system allows year-round food availability, it prevents us from relying on the nutrient dense local foods. The foods that change with the season to provide us what we need during that specific time of the year.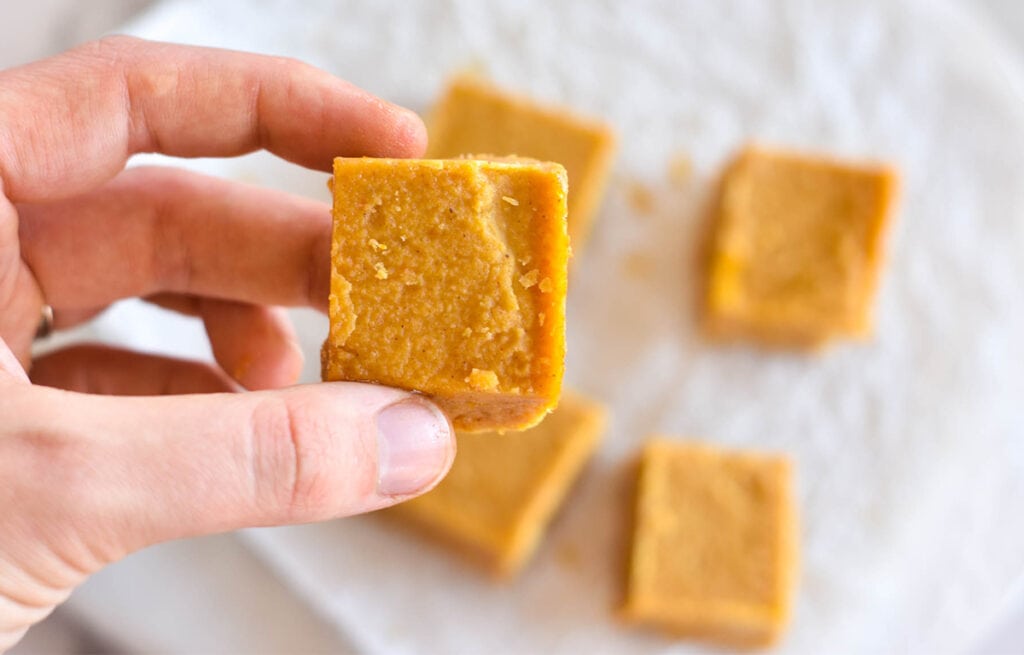 Seasonally Low-Carb
In the past, we tended to eat more fat and fewer carbs in winter months because not much was growing. At least those of us who do not live in equatorial regions.
Now that we are beginning to understand a link between vitamin D status and carbohydrate tolerance/insulin sensitivity, it makes sense to reduce carbohydrate intake when you are getting fewer hours of sun exposure.
This is part of the reason I believe cycling carbohydrate intake throughout the year can be beneficial for some people. With shorter days we become less active. We have less sun on our skin, and therefore need (and may benefit from) fewer carbs.
Between Halloween candy and Christmas cookies, there is no shortage on carbs during the winter these days. But, that doesn't mean this practice is not of value.
With winter coming, it is a great time to experiment with fasting and carb cycling. Try on a lower carbohydrate diet for the season and see how it makes you feel.
Eating low-carb can have a multitude of benefits both micro and macro-vascular, not to mention metabolic benefits. A diet high in healthy fats and lower in carbs can be very neuroprotective. Even if you only partake in this eating style at specific times of the year you might be able to reap the benefits.
Eating more carbohydrate when fruits are in season during spring and summer months can help you capitalize on improved carb tolerance from adequate vitamin D. It can also allow you to focus on more nutrient dense carbohydrate choices like those found locally.
Supporting Immunity
Food like pumpkin and squash are high in the precursor to vitamin A. This nutrient plays an important role in supporting our immune system. It becomes more abundant in the foods harvested in the fall which coincides with the onset of flu season.
Additionally, foods like garlic and onion which finish late in the season in most regions, are antiviral and antimicrobial. These components can help us fight off the cold and flu season bugs that are more prevalent in fall and winter months.
This Keto Pumpkin Fudge can scratch the pumpkin itch. All while helping you adhere to seasonal dietary changes that might best suite your needs with shorter days and colder weather. It is paleo, vegan and sugar-free, and, not to mention, delicious.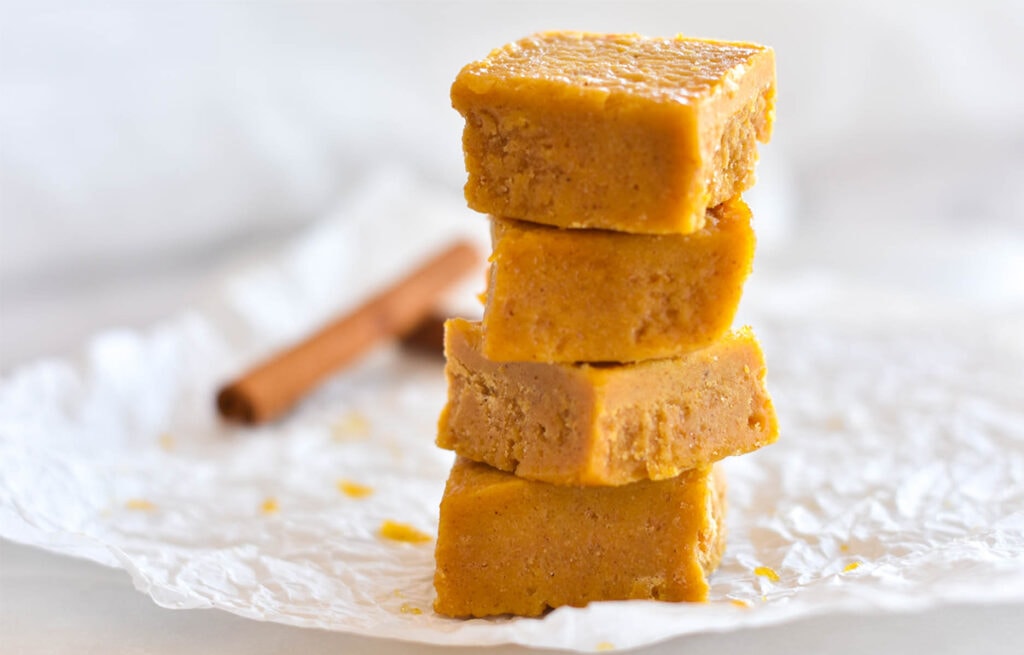 Ingredients and Substitutions
Golden Erythritol - You could substitute regular erythritol or your favorite granulated low carb sweetener. For a softer texture, you could try using low carb maple syrup like Lakanto Maple Flavored Syrup. If you are not low carb, maple sugar would be great in this recipe. Maple syrup and honey would work but are more liquid-y so the fudge will be softer and may need more time in the freezer to solidify before cutting.
Coconut Butter - No substitutions for this ingredient. It is important for the texture and stability of this treat.
Coconut Oil - I do not recommend substituting this ingredient either.
Maple Extract - Maple extract is great in this recipe, but you could used pure vanilla extract in it's place.
Recipe Tips
This fudge needs to cool completely before being cut. It also should be stored in the fridge. This allows the fudge to keep shape since the ingredients are soft at room temp. If you enjoy your fudge a little softer, just let it sit out at room temp for 5-10 minutes before eating.
Melt the coconut oil before mixing it into the recipe. It should only take 15-20 seconds in the microwave.
Make sure your coconut butter is softened before using it. Place the jar of coconut butter in a bowl of hot water for 5-10 minutes will do the trick.
This recipe stores well in the fridge for several weeks, and can be stored in the freezer for longer.
Can I Make This Pumpkin Fudge AIP Compliant?
I know finding AIP safe treats is so hard! You can make this recipe AIP compliant pretty easily.
To make this recipe compliant for the autoimmune protocol you will need to follow these steps. Omit the maple extract, anything containing alcohol is not compliant. Use maple sugar in place of erythritol for a safe sweetener. And, substitute the pumpkin pie spice for cinnamon or AIP pumpkin pie spice.
To make AIP pumpkin pie spice simply combine the following spices: 4 tablespoons ground cinnamon, 2 teaspoons ground ginger, 2 teaspoons ground mace and 2 teaspoons ground cloves. Mix together. Label and store in an airtight container.
Other Pumpkin Recipes:
Did you try this Keto Pumpkin Fudge? I would love to
see your creations! Take a photo and tag me on Instagram or leave a
photo comment on Pinterest.

Feel free to leave a comment and a rating below. Feedback is always
appreciated! 😊
📖 Recipe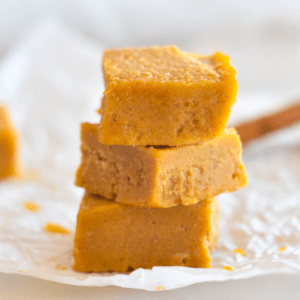 Keto Pumpkin Fudge
This low-carb treat is the perfect way to get your pumpkin fix. With a healthy ingredient list, this fall dessert can be enjoyed anytime.
Equipment
Bread pan

Large bowl

Whisk

Parchment paper
Instructions
Melt coconut oil in the microwave for 20-30 seconds. You may need to soften the coconut butter. Usually placing the jar in a large bowl a hot water is the best way.

Whisk together all ingredients in a large bowl, mixing the collagen powder last. Make sure there are no lumps.

Cut a piece of parchment paper to line the bottom of the bread pan. I like to cut it a little big so you can grab on the the end of the paper when removing the fudge. Add the mixture to the pan and spread evenly with a rubber spatula. I press down lightly with a piece of parchment paper to get it smooth.

Place in the freezer for about 20 minutes or until it hardens enough to cut. Slice into 12 pieces and enjoy. Store in the fridge because the ingredients are soft at room temp.
Notes
Allow fudge to sit at room temperature to soften before eating if being kept in fridge or freezer.
Nutrition
Serving:
1
square
Calories:
120
kcal
Carbohydrates:
4
g
Protein:
1
g
Fat:
11
g
Saturated Fat:
6
g
Sodium:
25
mg
Potassium:
11
mg
Fiber:
2
g
Sugar:
1
g
Vitamin A:
794
IU
Vitamin C:
1
mg
Calcium:
8
mg
Iron:
1
mg