This Paleo Pad Thai is a flavorful alternative to traditional Pad Thai made with spaghetti squash. Loaded with vegetables, micronutrients and a healthy sauce makes it a superior choice for those of us who are health conscious.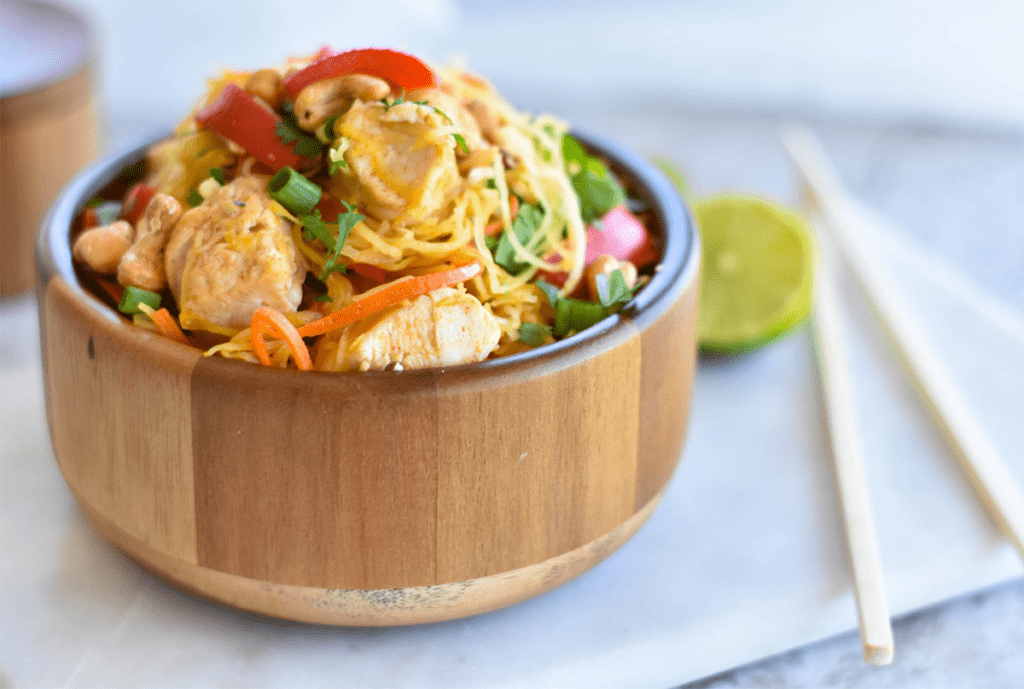 Jump to:
One thing my sisters and I always agree on is Thai food. We are three of the most indecisive women on this planet. Choosing a restaurant is usually a pain staking process when it's just the three of us. When in doubt, we always choose Thai.
Thai restaurants are great because you can choose the type of protein used in most of the dishes, have heaps of stir fried vegetables, and adjust the level of spice. I tend to live by the motto of what doesn't kill you makes you stronger, at least when it comes to spicy foods.
What I don't love about Thai and most restaurants in general is that the sauces are generally very high in sugar and the oils used to cook the food are always sub-optimal.
What Makes This Pad Thai Healthier?
This Paleo Pad Thai recipe offers the balanced, sweet and spicy flavors of a traditional Thai meal but with the freedom to control the amount of added sugar, salt and quality of the oil you use.
These spaghetti squash noodles are much lower in carbohydrate and higher in things like beta carotene and fiber.
Restaurants are notorious for using soy, corn or other vegetable oils in order to cut costs. These oils are often rancid before they are even used in your food because of the high heat and chemical processing that is used during production. They are also generally higher in omega-6 fatty acids. Excess omega-6 fatty acids can lead to inflammation and be a precursor to many health problems. are pro-inflammatory.
I really believe that high quality cooking oil (avocado oil or coconut oil) is important to use in your home, and a worthwhile investment.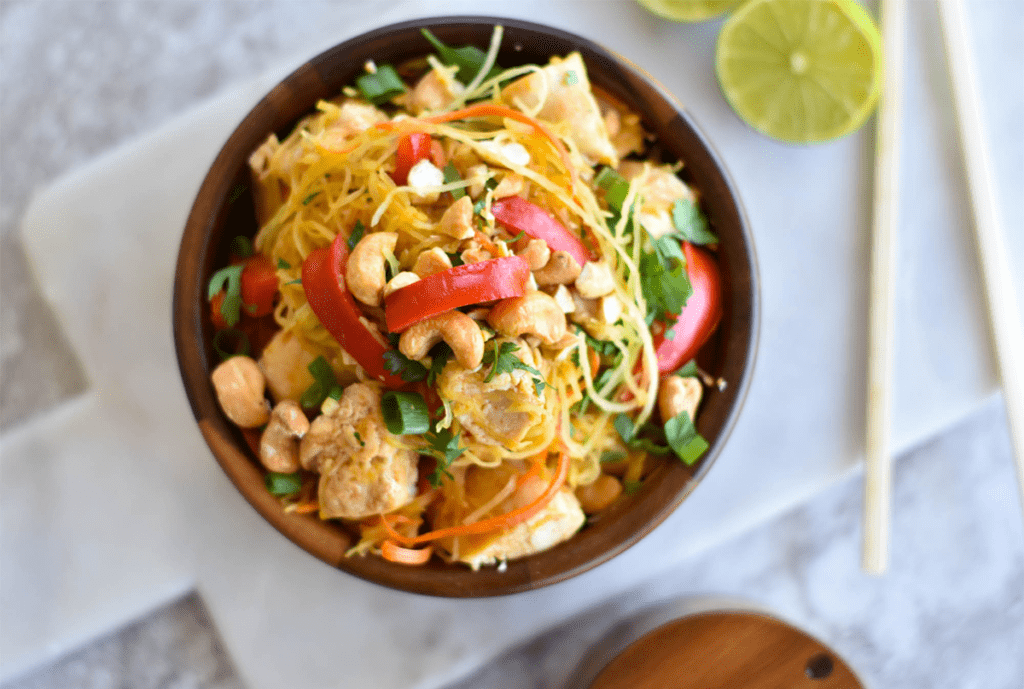 Choosing a Cooking Oil
Get to know the smoke points of common cooking oils that you like to use in your home. This will allow you to choose the appropriate oil for the job.
All oils are all composed of a fatty acid profile, meaning they all contain a mixture of saturated, monounsaturated and polyunsaturated fatty acids. The fatty acid composition of oils plays a role in their tendency towards oxidation.
Saturated Fats
The most stable cooking oils are going to be those with a higher level of saturated fatty acids. Coconut oil, high quality tallow, sustainably produced palm oil and ghee are the best options for high temperature cooking and frying.
I know most people are still a little weary of saturated fats. Current nutrition recommendation still advise saturated fat to comprise 10% of calorie intake, but as we accumulate high quality research studies we are beginning to devillainize these fats. It is becoming more apparent that the role of saturated fats in relation to heart disease is less significant than it was originally thought to be. High saturated fat intake in the context of an otherwise healthy diet and lifestyle has been shown to be health promoting and even nueroprotective in most people.
Monounsaturated Fats
Monounsaturated fats should make up the bulk of your dietary fat intake. Generally speaking, monounsaturated fatty acids tend to have a lower smoke point. That is why olive oil should not be used for high temp cooking. Olive oil should be saved for low temps or be added to food after cooking. One exception is avocado oil. Although it is mostly monounsaturated fats it has a smoke point of 520 degrees Fahrenheit.
Polyunsaturated Fats
Oils high in polyunsaturated fatty acids can oxidate easily at any temperatures. Like I mentioned above, a lot of vegetable and seed oils (which are typically high in polyunsaturated fats) are rancid before they are even brought home. That is because it takes high heat and chemical processing in order to extract a small bit of fat from a food that is inherently low in fat.
When an oil oxidizes it forms free radicals which can cause cellular damage when ingested. Free radicals can lead to premature aging, vascular damage and cancers.
Who knew food quality was so damn important?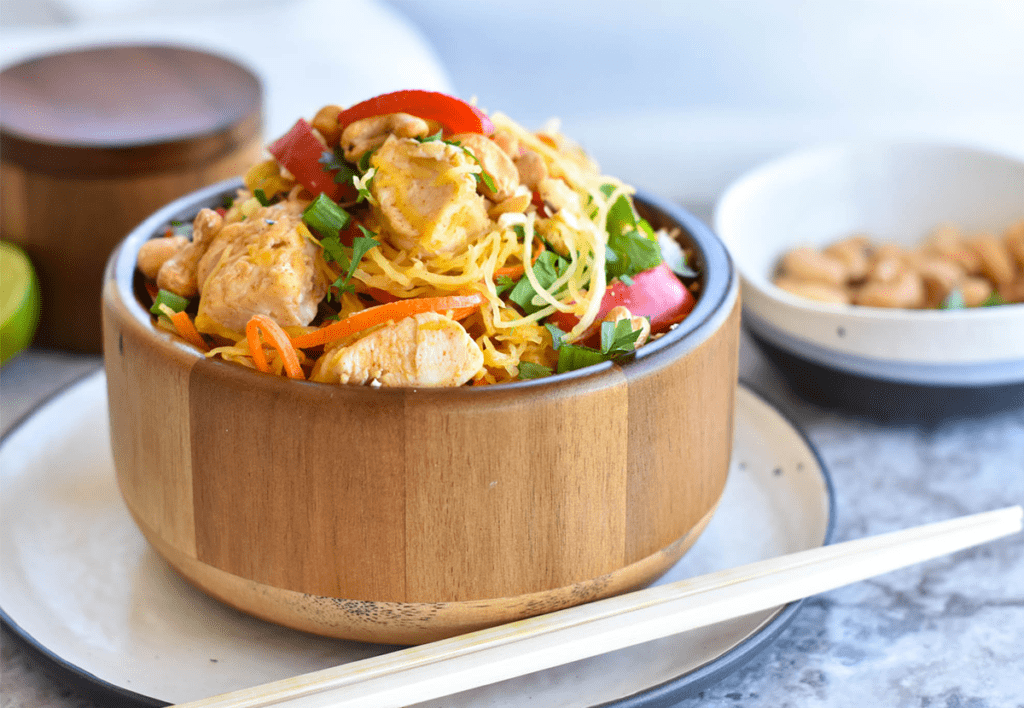 Cooking The Spaghetti Squash
You will want to begin with roasting the squash. Here is a quick how to if this is something you're not familiar with.
Be careful not to overcook it. You want the "noodles" to be firm. This will help prevent the dish from becoming soggy once the sauce is added.
You really only need a small squash which may only take 20-30 minutes at 375 degrees in the oven. Poke the squash with your finger after 20 minutes to see if your finger leaves an indent. If it does, remove the squash and let it cool.
Once the squash has been roasted, the remainder of this recipe will only take about 15 minutes.
For my vegetarian friends out there, swap the chicken out for tofu or a couple of fried eggs for a protein source.
Helpful Recipe Tips
I will say this again, avoid overcooking the squash! It cooks more in the pan.
Warm the almond butter for 30-45 seconds before incorporating it into the sauce to make it blend smoothly.
I use chicken tenderloin or chicken breast tenders in this recipe. I like this option because they are already trimmed and you just need to slice once cooked.
Add the carrots right before the sauce so that they retain a bit of crunch.
Buying julienne cut carrots, minced ginger and minced garlic will save you some prep time.
Substitutions
Maple Syrup - You can use honey in this recipe. If your honey is older, you may need to warm the bottle in a bowl of warm water to get it to incorporate well to the sauce.
Chicken Breast Tenderloin - You could substitute regular chicken breast you will just have to trim it before cooking. Cut it into 1 inch cubes after it has been cooked.
Coconut Oil - If you don't have coconut oil you could use avocado oil or another high heat cooking oil.
Coconut Aminos - Tamari soy sauce and soy aminos are gluten free substitutions for coconut aminos. They both taste saltier and have less of a sweet flavor so you may need to use a little less. Consider adding a dash more of maple syrup if you are using this substitution.
Almond Butter - You could use peanut butter if you're not paleo. Cashew butter would also work well.
Cashews - Crushed, roasted almonds or peanuts could be a replacement for the cashews in this recipe. Choose whatever you have on hand and what aligns with your dietary preference or restrictions.
Making This Recipe Keto
This recipe can be made low carb fairly easily.
Although I prefer coconut aminos in this recipe, removing the coconut aminos and using soy sauce instead can reduce 24 grams of carbs from the total recipe. You may need to only use 3 tbsp of soy sauce because it tends to be more salty and less sweet than coconut aminos.
You will also need to substitute the maple syrup for Lakanto Maple Flavored Syrup or your preferred low carb liquid sweetener. Depending on your carbohydrate goals, you may want to use roasted almonds or macadamia nuts for the crunch instead of cashews because cashews are higher carb.
With these adjustments, 1 serving of this recipe will have about 11 grams of net carbs.
If your try this recipe please leave a comment and a rating below! I would love to hear from you!
Related Recipes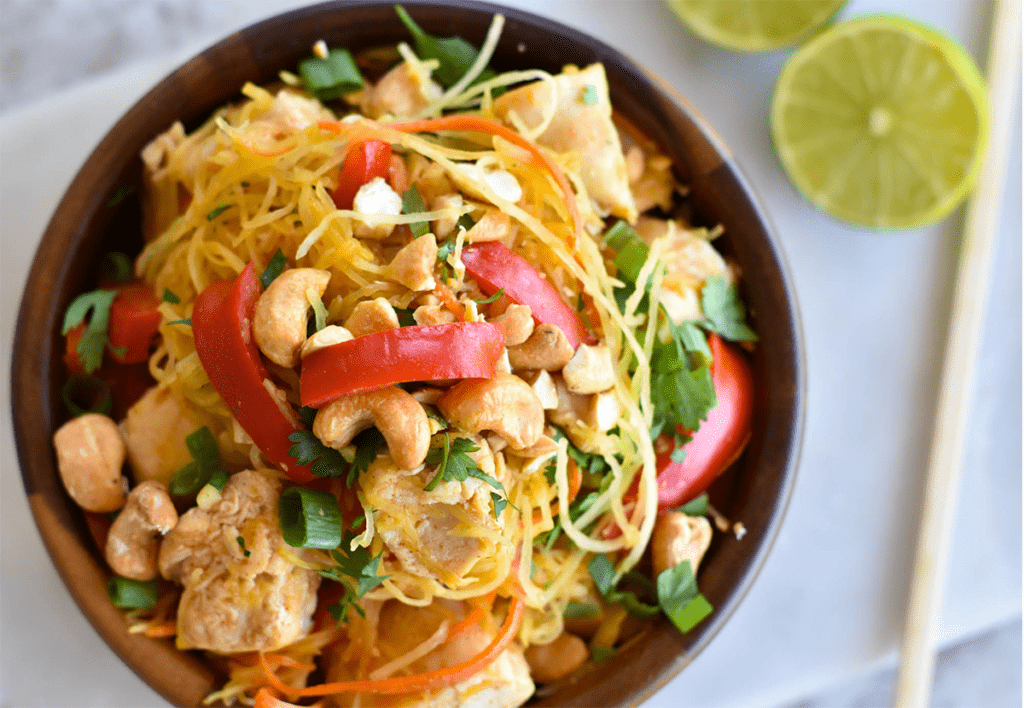 📖 Recipe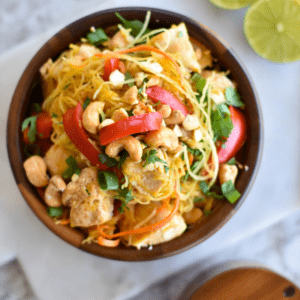 Paleo Pad Thai
This paleo spaghetti squash pad thai is a lower carb, veggie-loaded version of the traditional rice noodle pad thai with a sweet and spicy sauce.
Ingredients
1

Spaghetti squash

Roasted

1

Red bell pepper

2

Carrots

1

lbs

Chicken breast tenderloin

2

tbsp

Coconut oil
Garnish
1

bunch

Cilantro

4

Green onions

Chopped

¼

cup

Dry roasted cashews

Chopped
Instructions
Preheat the oven to 375 degrees. To roast the spaghetti swuash you will want to cut it in half, remove the seeds and place face down on a tin foil lined baking sheet. You can find full instructions here. Be careful not to overcook the squash. A large squash will take 30-45 minutes, a small one may only take about 20-30 minutes. Check to see if it is ready after 20 minutes by poking the skin and seeing if your finger makes an indent. If so, remove the squash.

Once the squash is cooked, you will want to take a fork and begin scraping the inside out. The squash should come off in noodle-like ribbons. Set aside for later.

Heat 1-2 tbsp of coconut oil in a large frying pan over medium heat. Begin removing the chicken from the package and salting. Once oil is hot, add the chicken and allow to cook until chicken has browned on both sides. This will take 10-15 minutes. Remove the chicken from the pan.

Move the chicken to a cutting board and cut into 1 inch cubes.

While the chicken cooks combine the almond butter, coconut aminos, chili paste, garlic, ginger, lime juice, rice vinegar, and maple syrup in a bowl. Whisk together. Its helpful to start with warmed almond butter.

Peel the carrot into thin shreds using a veggie peeler. You could also use julienne cut carrots instead. Cut the bell pepper into thin 1.5 inch strips. Chop the green onions and chop the cilantro removing the stems. If your garlic and ginger is not pre-minced, you can mince them now and add them to the sauce.

In the same pan that the chicken cooked in, add the bell pepper to the pan. Allow to cook for several minutes. Then add the squash and the cubed chicken.

Add the carrots, then pour the sauce into the pan. Keep stirring until everything is evenly coated. The sauce should cover all the ingredients.

Garnish with cilantro, green onions, cashews, and serve.
Notes
For instructions on how to roast a spaghetti squash click here.
The time needed for this recipe includes roasting the spaghetti squash.
Be careful not to overcook the squash or it will turn out mushy.
Warm the almond butter for 30-45 seconds in the microwave before adding it to the sauce to make it whisk smoothly.
Buy pre-minced garlic and ginger to save a step.
To make this recipe keto, sub the coconut aminos for soy sauce (only use 3 tbsp), the maple syrup for Lakanto Maple Flavored Syrup (use ¼ cup + 1 tbsp) and the cashews for roasted, crushed almonds. 
Nutrition