What is Spaghetti Squash?
Spaghetti squash is a squash variety that can be easily shred into noodle-like pieces. It has a very neutral flavor making it a great alternative to pasta and other carb sources. Using this squash as a pasta replacement opens up a whole realm of possibilities for grain-free options that are both tasty and filling.
Cooking a spaghetti squash is a simple skill that is necessary for any healthy kitchen. Whether you are transitioning in to more paleo based cooking, or you just want to incorporate fewer processed carbohydrates into your diet, this squash is a necessity.
This culinary vegetable is nutrient dense and loaded with beta-carotene which is a precursor to vitamin A. It also has a good amount of fiber, making it both filling and supportive to the gut microbiome.
How to Make a Spaghetti Squash
Cooking a spaghetti squash involves just a few simple steps.
Preheat the oven to 375 degrees Fahrenheit. While to oven is heating, half the squash and remove the seeds.
Place the halves face down on some parchment paper or tin foil and roast for 35 minutes. At this time, pull it out and poke the skin with your finger. If you leave an indent then it is done. If not cook for 5 more minutes and check again.
Remove the squash from the oven and allow to cool. Begin scraping the inside with a fork to create noodle-like shreds.
Serve and enjoy!
Paleo Pad Thai
This paleo spaghetti squash pad thai is a lower carb, veggie-loaded version of the traditional rice noodle pad thai with a sweet and spicy sauce.
Check out this recipe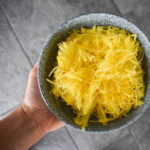 Print
Roasted Spaghetti Squash
Simple instructions for roasting spaghetti squash.
Instructions
Cut the squash in half, and remove the seeds.

Place open side down on pan drizzled with oil, or lined with parchment paper or tin foil.

Cook for 35-45 minutes. To test to see if the squash is done, poke the shell and see if your finger can leave an indent.

Once squash is cool enough to hold, shred into "noodles" by scraping flesh with a fork until entire squash has been removed from shell.