This Spicy Tahini Sauce is going to make any ordinary meal over-the-top delicious! Drizzle this rich and spicy sauce on roasted chicken, grilled salmon or a kale salad for a flavorful and tasty twist. This sauce is vegan-friendly, gluten-free and paleo!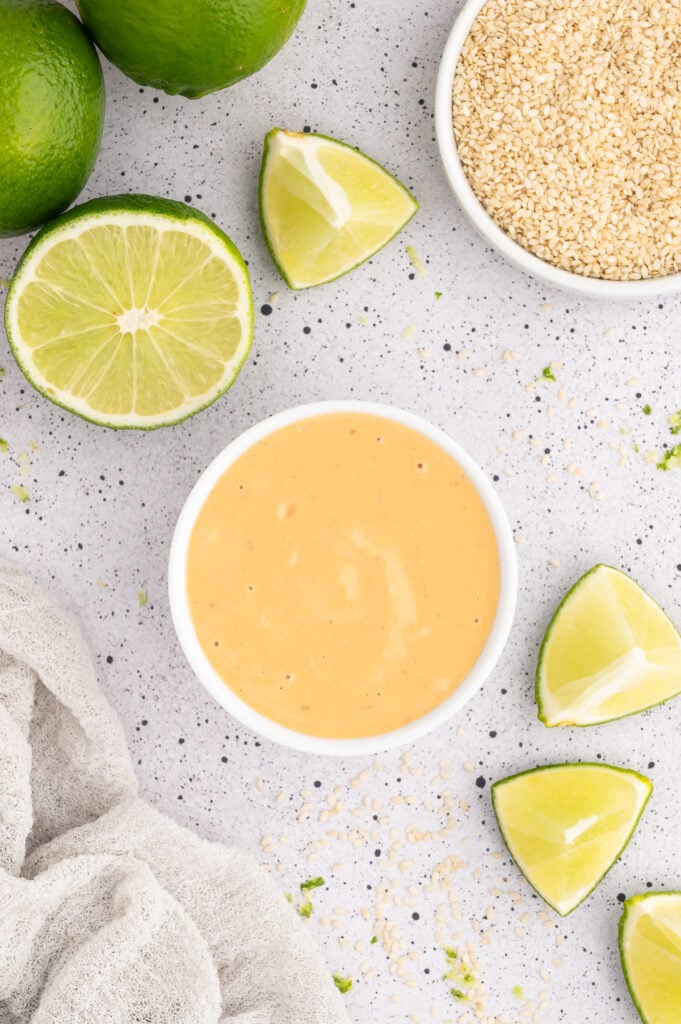 Jump to:
I am obsessed with tahini and have been loving it in sweet and savory dishes. Gone are the days where tahini's primary purpose is to be used in hummus and it is otherwise neglected. This spicy tahini sauce can be used as a dressing for salads, a dip for veggie, or to drizzle over cooked food.
What is tahini?
Tahini is a paste made from sesame seeds used commonly in Mediterranean and Middle Eastern cuisines. It can be made from both hulled and unhulled sesame seeds; however, unhulled sesame seeds can be more bitter and harder to get smooth. You can find tahini at most conventional grocery stores in the Asian aisle or next to the nut butter. You can also make tahini at home in just about 5 minutes by processing sesame seeds into a smooth paste.
How long does tahini last?
An open container of tahini can last for up to 6 months if stored properly. The fat in the sesame seeds does have the possibility of going rancid, so it should be kept in a sealed airtight container in a cool, dry and dark location to prevent this. The fridge is a great place to store open jars of tahini to maximize its life.
Unopened tahini may last up to 6 months past the "best by" date printed on the container. Keep in mind that "use by" and "best by" dates are different than expiration dates.
What type of chili paste should I use?
You can use any type of chili paste that you have on hand or prefer. If using lemons in the tahini sauce, I prefer to use harissa chili paste because it contains lemon juice. When using limes, I will favor Thai chili paste because limes generally pair best with Thai cooking. If you want this sauce extra spicy, feel free to add 2-3 tbsp of chili paste.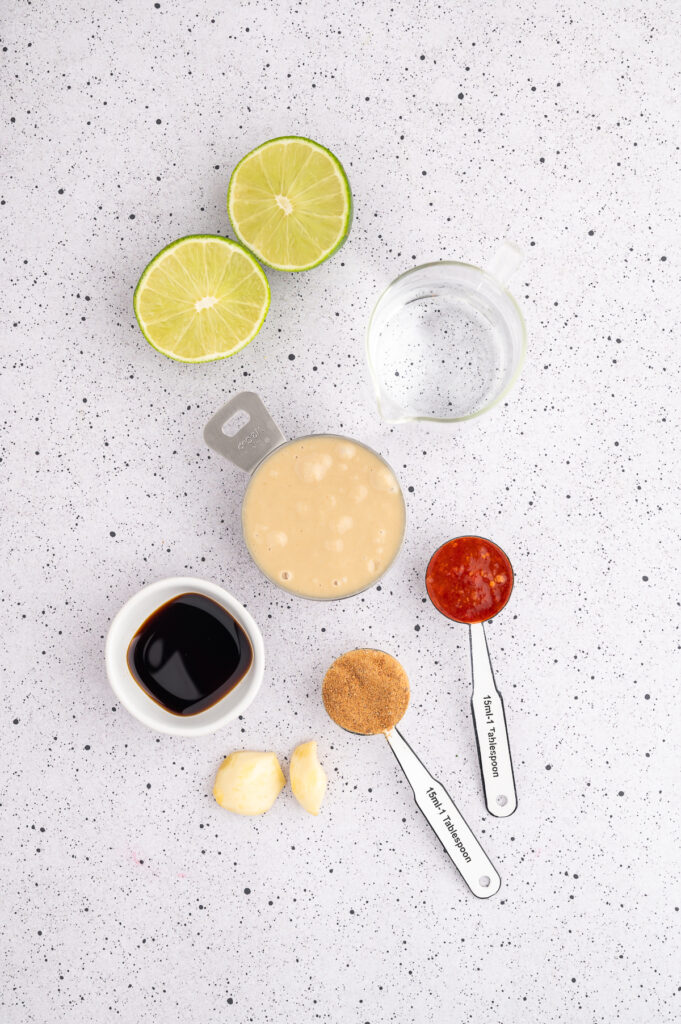 Ingredient Notes
Tahini - I used raw tahini for this recipe. Another type of nut or seed butter will work but will create a different flavor profile.
Coconut Sugar - Coconut sugar adds a touch of sweetness but you can substitute pure maple syrup or even regular brown sugar for a similar flavor.
Lime Juice - Lime juice pairs really well with Thai chili paste, but lemon juice can also be used. Lemon juice will work a little better with the flavor of harissa chili paste, but can be used for either. Don't forget the zest because it really does add a pop of flavor!
Chili Paste - I tested this recipe with both Thai chili pasta and harissa chili paste. You can use whichever you prefer. Feel free to adjust to taste to make the sauce more spicy!
Coconut Aminos - Coconut aminos is a gluten-free and soy-free alternative to soy sauce. It is less salty and has a slightly sweet flavor. You can use low sodium soy sauce as a substitute in this recipe but will want to add another tsp of coconut sugar to balance the flavors.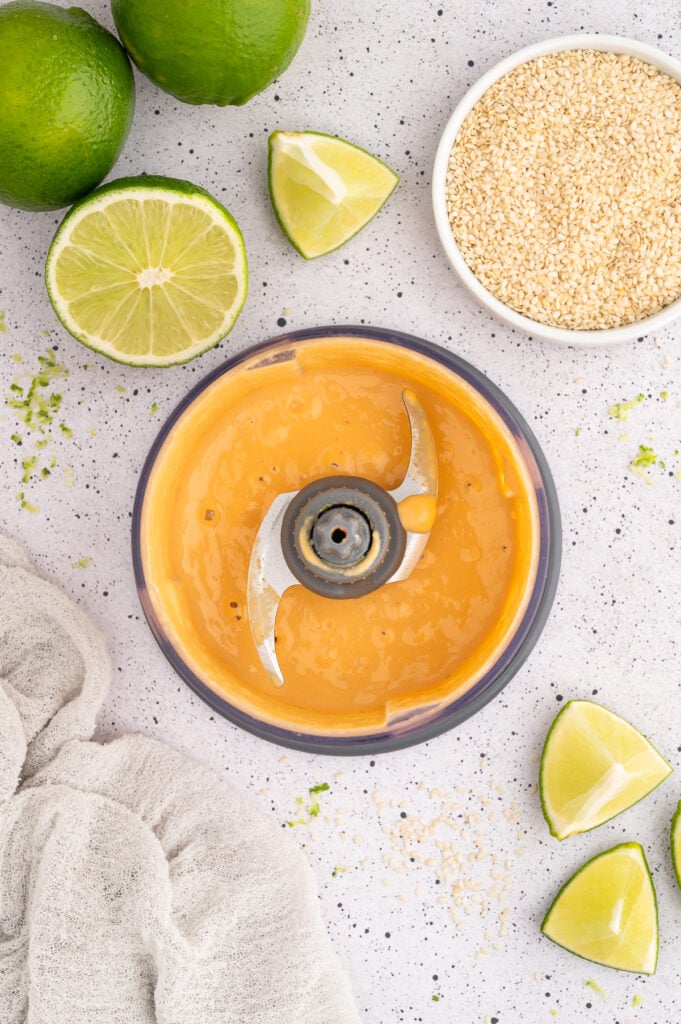 How To Make Spicy Tahini Sauce
This spicy tahini sauce is super simple to make and can be done in just 5 minutes! Simply, place all ingredient into a blender or food processor and blend until the sauce becomes smooth and everything is well incorporated. Serve immediately or store in an airtight container in the fridge until read to use.
Nutrition Highlights
This Spicy Tahini Sauce is appropriate for those following a vegan or paleo diet! It contains fiber and is relatively low in carbohydrates with only 4 grams of net carbs per 2 tablespoon serving.
In just 2 tablespoons of this sauce you will get over 10% of your daily value for thiamine, copper, manganese, and phosphorus!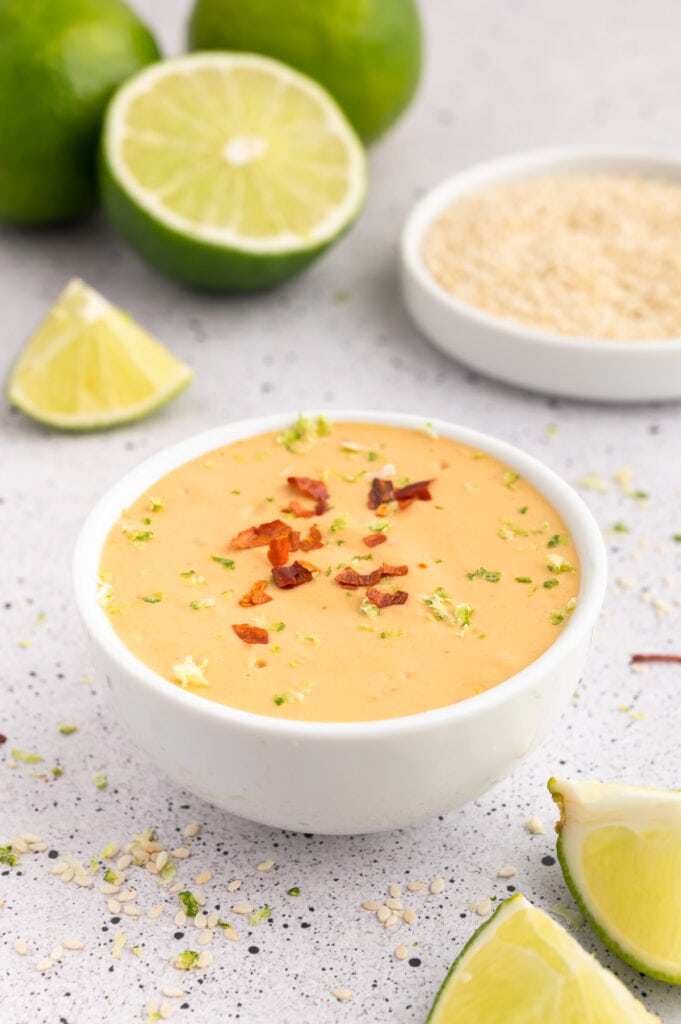 Why I Think You Will Love This Spicy Tahini Sauce
This tahini sauce is one of my favorites! Here is why I think you will love it too:
Meal Prep Made Easy - This sauce makes a great addition to most healthy meals, making them super flavorful without compromising nutrition. I love having this sauce in the fridge to throw on to a salad or some prepped protein to make a boring meal into something special in seconds.
Easy Storage - This sauce stores well in the fridge for 2-3 weeks. Just give it a stir and you have a sauce that is ready for whatever you are serving!
Serving Ideas
This Spicy Tahini Sauce is so versatile and can be served on so many dishes. Here are some ideas:
Massage it into a kale salad with toasted slivered almonds
Pour it over some baked salmon
Use it to dress up some grilled chicken thighs
Keep it on hand as a fun dip for raw veggies
Pour it over cubed crispy tofu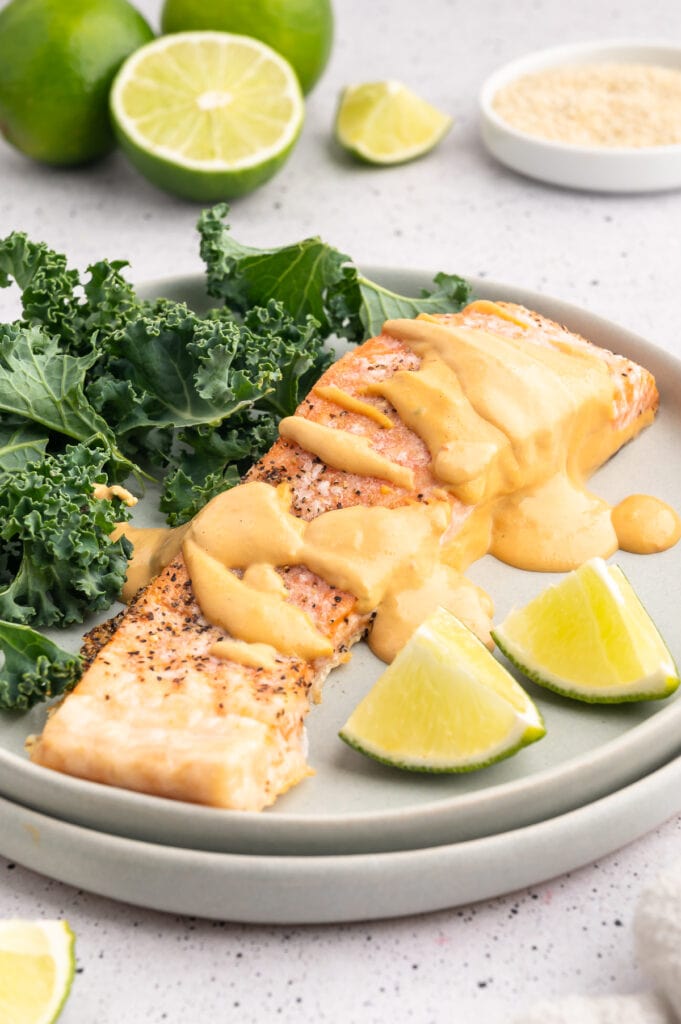 Related Recipes
Did you make this Spicy Tahini Sauce? I would love to see your creations! Take a photo and tag me on Instagram or leave a photo comment on Pinterest.
Feel free to leave a comment and a rating below. Feedback is always appreciated! 😊
📖 Recipe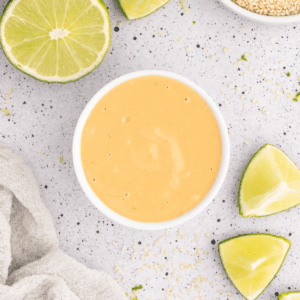 Spicy Tahini Sauce
This rich and creamy Spicy Tahini Sauce is the ultimate drizzle to make any orindary meal over-the-top delicious!
Equipment
Food processor

Or bullet blender
Ingredients
½

cup

Raw tahini

or sesame seed butter

⅓

cup

Warm water

1

tbsp

Coconut sugar

or brown sugar

Juice from 1 lime

about 2 tbsp. (you can alternatively use lemon)

½

tsp

Lime zest

2

tsp

Coconut aminos

2

Garlic cloves

1

tbsp

Chili paste

plus more to taste
Instructions
Place all ingredients into a small blender or food processor, juicing and zesting the lime (you'll only need about ½ tsp of lime zest) directly into the food processor. Process until the sauce becomes thick and even in color. Scrape the sides of the food processor with a rubber spatula if needed and continue to blend until everything is well incorporated. Serve immediately or store in an airtight container in the fridge for 2-3 weeks.
Nutrition
Serving:
2
tbsp
Calories:
89
kcal
Carbohydrates:
5
g
Protein:
2
g
Fat:
7
g
Fiber:
1
g