These chewy Pumpkin Protein Balls are a sweet and satisfying way to get healthy collagen protein in. These treats taste like pumpkin pie but are loaded with nutrition and healthy ingredients making them the perfect snack to reach for. Add them to a packed lunch or use them to satisfy a sweet tooth anytime.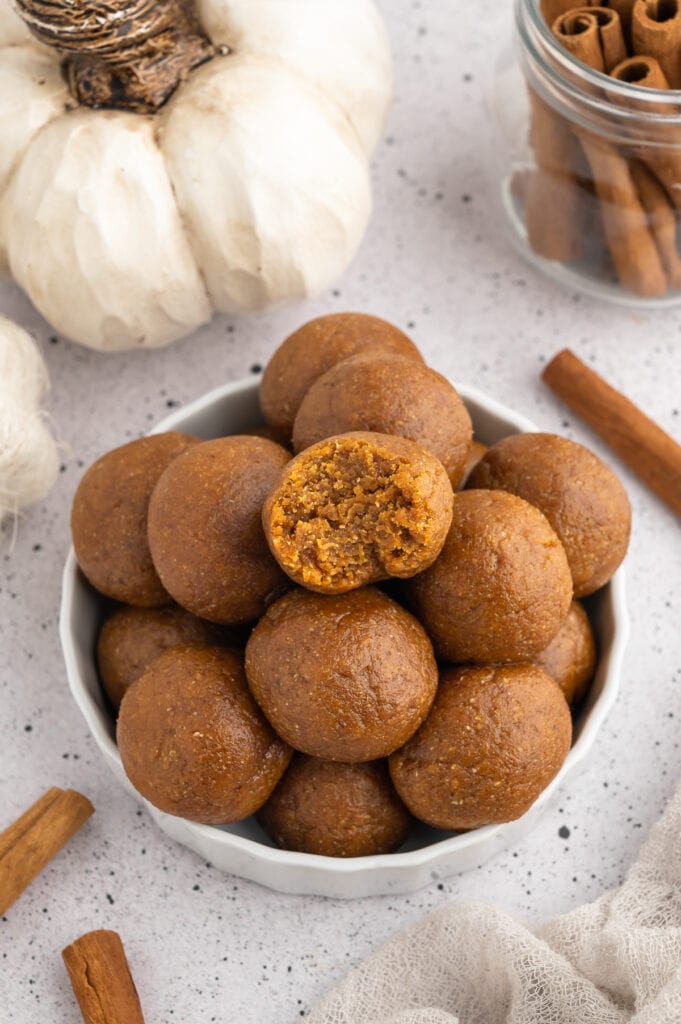 Jump to:
I am here for pumpkin year-round. If you don't know that already you are new here, so welcome. I love the sweet and spicy flavor of everything pumpkin and don't think it belongs only in the Fall. These pumpkin protein balls are the perfect way to satisfy that pumpkin craving without making people think you are off your rocker because you are making a pumpkin pie in July.
Here is what you'll love about these Pumpkin Protein Balls
There is so much to love about this recipe! Here is why I think these Pumpkin Protein Balls will be a hit:
Collagen Protein - Collagen protein can be hard to get in because it doesn't mix well into cold liquids and some people don't like the taste. Trust me when I say this, protein balls are the best way to use collagen because it is indetectable in recipes like this and helps create the perfect texture!
Grain-Free - Most pumpkin protein balls found on the web are not necessarily protein-rich and are actually more like energy balls (because they all contain oats). These protein balls are both gluten-free and grain-free, and contain fewer carbohydrates than many of the other options.
Packable - These protein balls are ultra-packable making them a great snack to throw in packed lunches or as a perfect post-workout snack on the go.
Benefits of Collagen
Collagen is the most abundant protein found in the body. It is a structural protein that gives many of our tissues support and rigidity. It is found all over the body in tissues including hair, skin, nails, ligaments, joints, muscles, organs, and the GI tract.
This protein is extremely important in the support of the tissues where it is found in. Collagen has been shown to:
Improve the elasticity, hydration, and appearance of skin.
Increase nail and hair growth with less breakage.
Improve joint pain (specifically age- and activity-related pain) and improve symptoms of osteoarthritis.
Increase bone density, bone metabolism, and protein synthesis.
Improve post-exercise recovery.
Improve the integrity of the gut lining, along with other GI benefits.
Collagen for Gut Health
Collagen can support the gut microbiome, nourish the lining of the intestinal tract (aiding in the prevention of leaky gut), and even increase the production of short-chain fatty acids like butyrate by the gut bacteria which can help mitigate gut inflammation.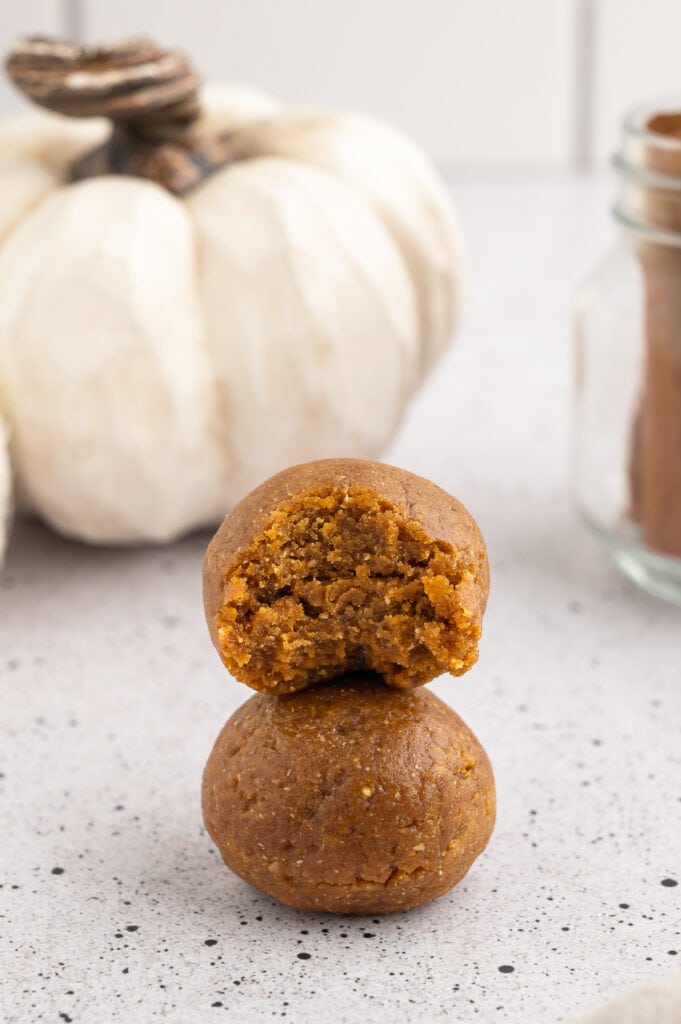 Ingredient Notes & Possible Substitutions
Here are some ingredient notes and suggestions to help you have success when making this recipe. If you try any substitutions, please let us know what works in the comments below!
Cashew Butter
I like to use cashew butter in this recipe because it is fairly neutral in flavor and naturally a little sweet. Select a cashew butter that is unsweetened or lightly sweetened. Trader Joe's, Target, and Walmart generally carry this ingredient. Thrive Market is another great option! Almond butter will also work but the flavor will be more nutty and more apparent in the finished recipe.
Coconut Sugar
Coconut sugar has a caramel-y flavor that goes well with this recipe. You can use another granulated sweetener (like maple sugar) but I don't recommend using a liquid sweetener as it will add too much moisture to the recipe.
Coconut Oil
Coconut oil is added to add moisture so that the balls are not too stiff to roll, but then once refrigerated it helps them set into a solid and chewy treat. I don't recommend substituting this ingredient with another type of oil.
Collagen Protein
Collagen protein is ideal for this recipe. I used Vital Proteins unflavored collagen protein powder. Other types of protein powder may work but it changes the recipe quite significantly. If you want to try to use a vegan protein powder or another type of protein, I would recommend measuring this ingredient by weight and not volume (try using about 75 grams). You may have to adjust the other ingredients to get the right liquid-to-dry ratio. If you are using a sweetened protein powder, consider adjusting the coconut sugar to prevent the protein balls from becoming overly sweet.
Almond Flour & Coconut Flour
We truly need both of these ingredients to give the protein balls the right structure. Coconut flour is drying and helps absorb some of the moisture from the pumpkin puree, while almond flour is used more to add bulk.
Ground Flaxseed
Ground flaxseed helps to bind these protein balls. You may be able to substitute an additional 2 tbsp of collagen protein, however, I did not test this.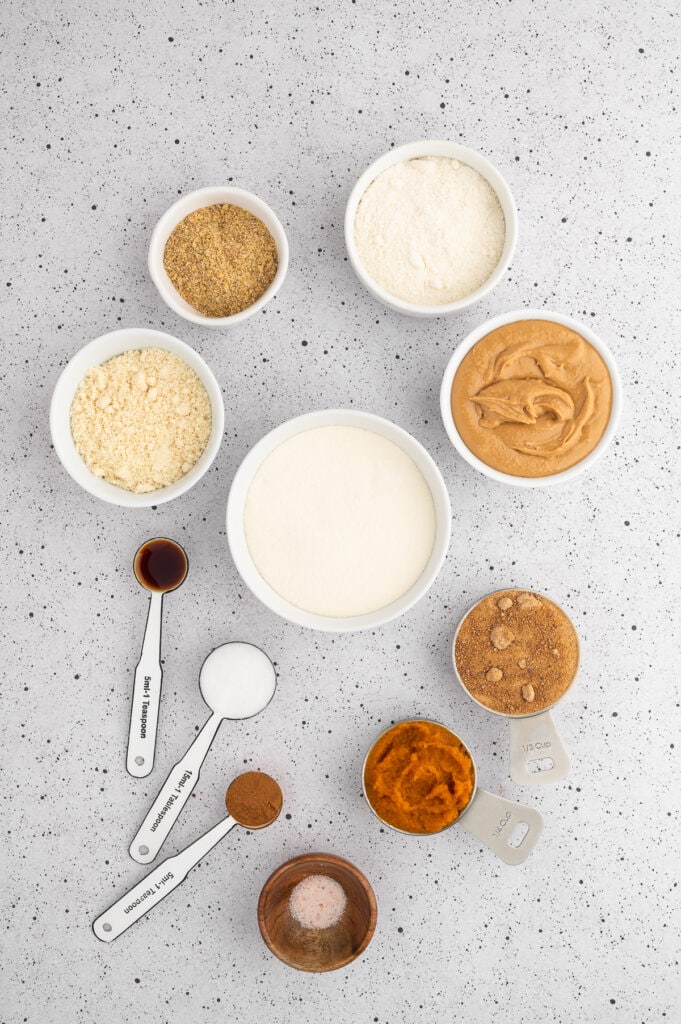 How to Make Pumpkin Protein Balls
These protein balls can be whipped together in just 15 minutes of active time. Here's how:
Combine wet ingredients + coconut sugar and mix together until smooth.
Add collagen powder. Make sure to stir thoroughly so there are no lumps or streaks.
Add remaining dry ingredients. The dough will become stiff. Continue to work it until everything is well-incorporated.
Scoop out the dough using a cookie scoop and roll between hands until smooth.
Place protein balls in the fridge to set and enjoy!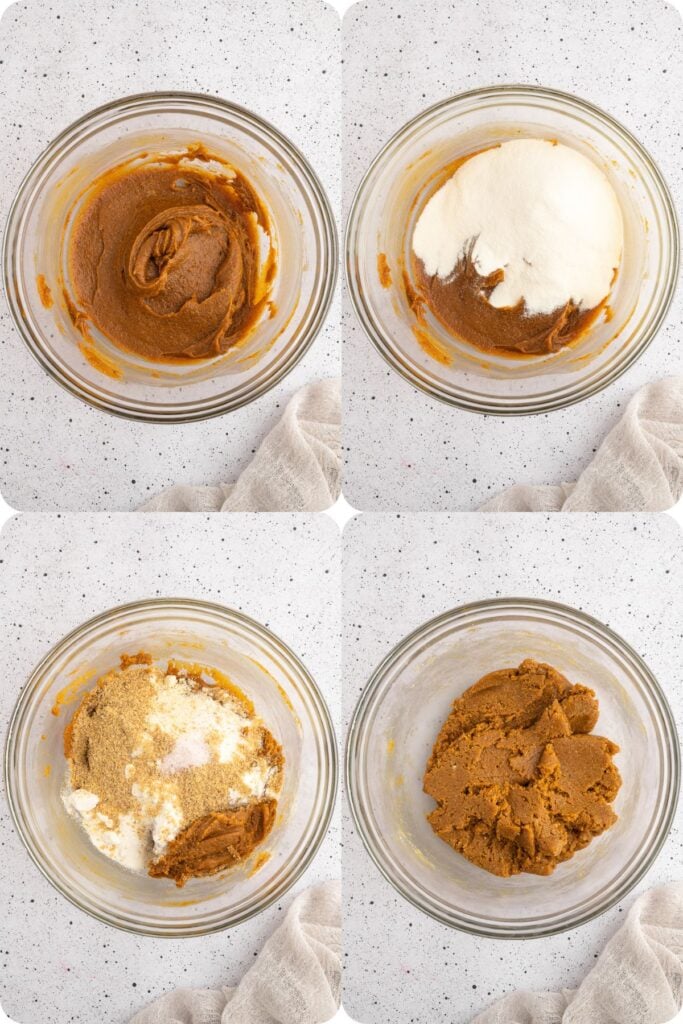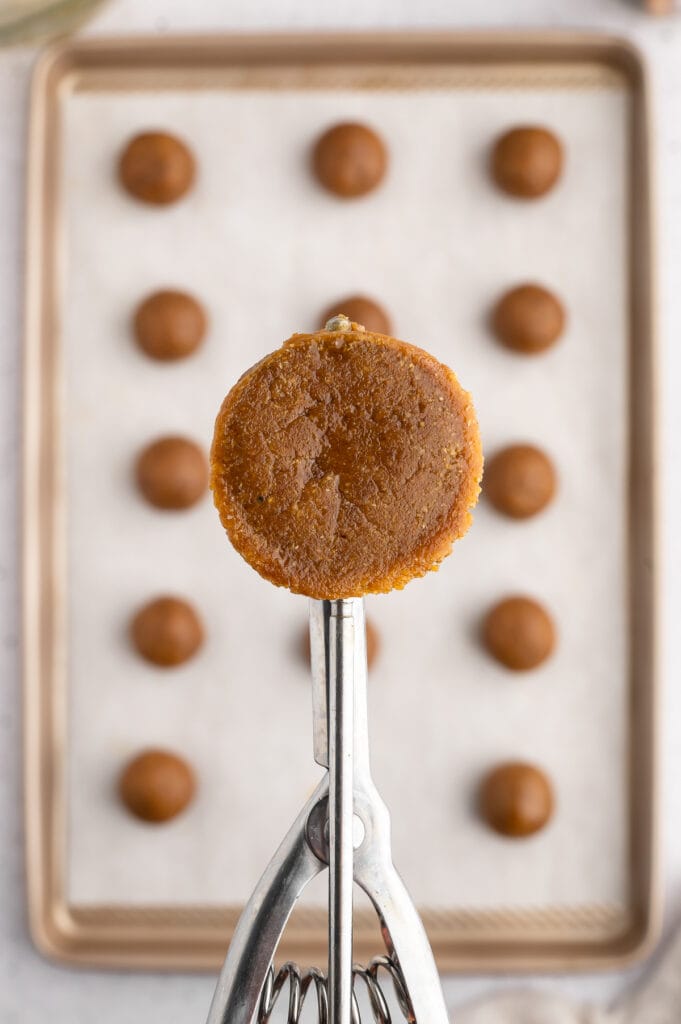 Recipe Tips
Mix the collagen protein into the liquid/sugar mixture first before adding the other dry ingredients. This will allow it to be incorporated easily without clumping together.
The mixture becomes really stiff pretty quickly after the dry ingredients are added. Use your upper body strength and really stir it to make sure everything is evenly distributed.
When you start rolling, the melted coconut oil will get all over your hands. Be mentally prepared for this. It is a messy, but trust the process. Once the protein balls are refrigerated the coconut oil will harden and they will no longer be oily.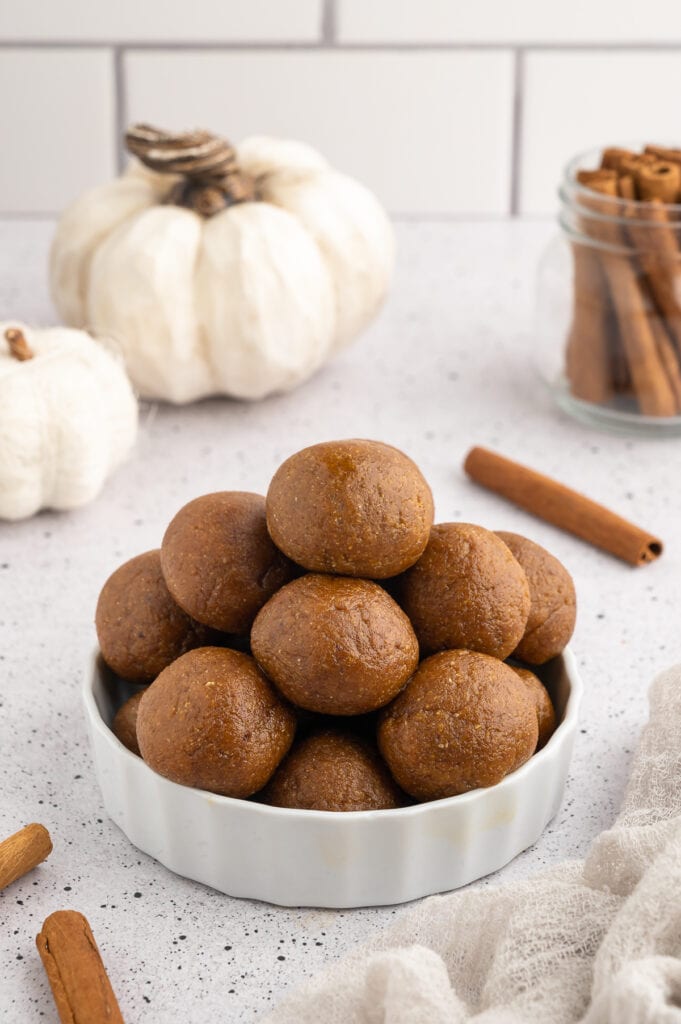 Related Recipes
Did you make these Pumpkin Protein Balls? I would love to see your creations! Take a photo and tag me on Instagram or leave a photo comment on Pinterest.
Feel free to leave a comment and a rating below. Feedback is always appreciated! 😊
📖 Recipe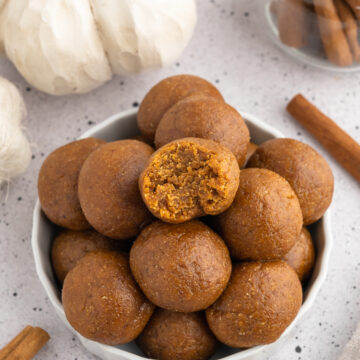 Pumpkin Protein Balls
These chewy Pumpkin Protein Balls are a sweet and satisfying way to get healthy collagen protein in. These treats taste like pumpkin pie but are loaded with nutrition and healthy ingredients making them the perfect snack to reach for. Add them to a packed lunch or use them to satisfy a sweet tooth anytime.
Equipment
Large mixing bowl

Rubber Spatula

1-ounce cookie scoop

Parchment paper

Baking sheet
Instructions
Combine the cashew butter, pumpkin puree, coconut sugar, melted coconut oil, and vanilla extract in a large mixing bowl and stir together until smooth using a whisk or rubber spatula.

Sprinkle the collagen protein powder into the wet mixture while stirring. Continue to stir until there are no streaks or lumps and the collagen is well incorporated.

Add the remaining dry ingredients to the bowl. Stir using a rubber spatula. The mixture will become very stiff but continue to work the dough until it is even in color with no streaks.

Use a 1-ounce cookie scoop to measure out the dough. Roll the balls between your hands until smooth and place on a parchment paper-lined baking sheet.

Once all the dough has been rolled. Place the baking sheet in the fridge to chill for about 30 minutes. Once the pumpkin protein balls are set, store them in a sealed Ziploc bag in the fridge and enjoy them within 2 weeks.
Nutrition
Serving:
1
Ball
Calories:
127
kcal
Carbohydrates:
9
g
Protein:
7
g
Fat:
8
g
Fiber:
2
g