Butternut squash soup done right is one of my favorite meals! This Paleo Curry Butternut Squash Soup is rich and flavorful, with warm curry spices and creamy coconut. This simple recipe is gluten free, dairy free and ready in 30-minutes!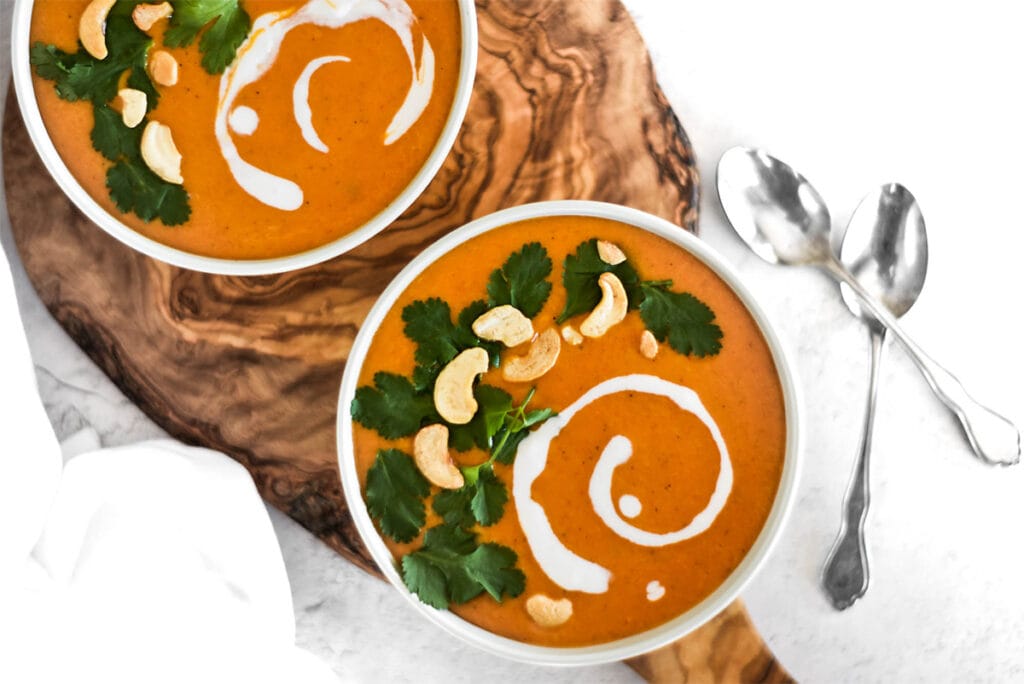 Jump to:
Ever had butternut squash soup that tastes like nothing? Yea, me too.
I have tried countless versions of butternut squash soup and am almost always disappointed to find out that they taste like squash-flavored broth. What is the point of that?
We have a fantastic little local market and deli near our home, called the Rocket Market. Last winter I gave their curried butternut squash soup a try, and fell in love. This soup has an awesome flavor profile and just the right amount of spice. I get this soup every time I see it in the deli, and have since been trying to create a butternut squash soup that rivals it.
This recipe is my ode to that soup, and honestly, it might even be better. This curry butternut squash soup is anything but flavorless. It is rich, and creamy, with a decent kick of spice that can be tapered for any preference.
The Perfect Fall Soup
It is that time of year again. The days are getting shorter, the leaves are turning to warm hues of oranges and reds, and the air outside is getting brisk and cool. It is Fall, folks.
Here in Washington we have been getting loads of rain, and I kind of enjoy it. I love the fresh air, the wet leaves, and living the cliché of curling up in a warm house with homemade soup and a book.
Fall is the perfect time to explore warm and flavorful spices, and all the seasonal produce that is now available. Am I the only one who naturally starts craving sweet potatoes, squash, apples, and pears as soon as the season begins to change?
Fall also happens to be one of those times of the year when everyone seems to be getting sick. It is not an old wives tale that soup can help you get over a sickness. Soup is the perfect food to help you kick a cold, or prevent one from getting the best of you in the first place.
Why This Soup Is So Great For Cold Season
Bone Broth
Good bone broth is rich in collagen and immune healing amino acids like glycine, proline and glutamine. The digestive tract is the seat of the immune system, in which 70-80% of your body's immune cells are located. This makes gut health so incredibly important for proper immunity.
Collagen is particularly healing for the lining of your gut, which can help keep your immune system functioning as it should.
Additionally, the amino acids in bone broth support cellular regeneration which allows the cells of your GI tract to repair.
Both help to heal or prevent leaky gut by maintaining a strong gut lining to keep those bacterial invaders from entering your blood stream and wreaking havoc.
Bioavailable Micronutrients
Soup is an incredibly fantastic way to get the nutrients your body needs when you are sick. Cooking and pureeing vegetables increases digestibility, giving your digestive system a much needed break, and allows for increased absorption of nutrients.
Unfortunately, many cooking methods destroy or dispose of these valuable nutrients. When you steam or boil vegetables, a lot of the water-soluble vitamins are lost in the cooking water. This is not the case with this soup because the broth you boiled the squash in is blended into the soup, preserving the vitamins and making them easily accessible for your body.
Butternut squash is loaded with vitamins A and C, with countless other vitamins and minerals. Consuming vitamin C via soup increases the chance of retaining and using this vitamin.
Products like Emergen-C, which supply you with mega-dose quantities of powdered vitamin C, boast immune boosting properties but research does not support this claim. These products generally just result in expensive urine due to low bio-availability of these forms of vitamins, and low storage capacity for water soluble vitamins in the body.
Support For Gut Flora
Just like collagen and amino acids, the healthy bacteria in your gut have an extensive role in assisting your body with immune functions.
Some varieties of friendly bacteria in your GI tract have been shown to activate immune cells causing them to proliferate, and attract them to the lining of your intestinal wall to help keep foreign invaders on the outside.
These happy bacteria feed on what we call "prebiotic fibers". Resistant starch, found in green bananas, sweet potatoes, and squash, is considered a prebiotic and is food for these immune boosting friends.
Antioxidants
Antioxidants play an important role in fighting infections and this soup is loaded with them. Eating an adequate amount of antioxidants can help protect your immune cells from environmental damage while encouraging the production of white blood cells.
Nutrient dense foods like fruits and vegetables are obvious sources of antioxidants, but some of the richest sources of antioxidants can be found in your spice cupboard. Curry, turmeric, ginger, paprika, chili, basil, cinnamon and oregano are all incredibly rich sources of antioxidants.
One teaspoon of ground spices can have significantly more antioxidants than cups of nutrient dense fruits or veggies, depending on the type and freshness. All the more reason to close your spice jars tightly, and preserve all that health promoting goodness.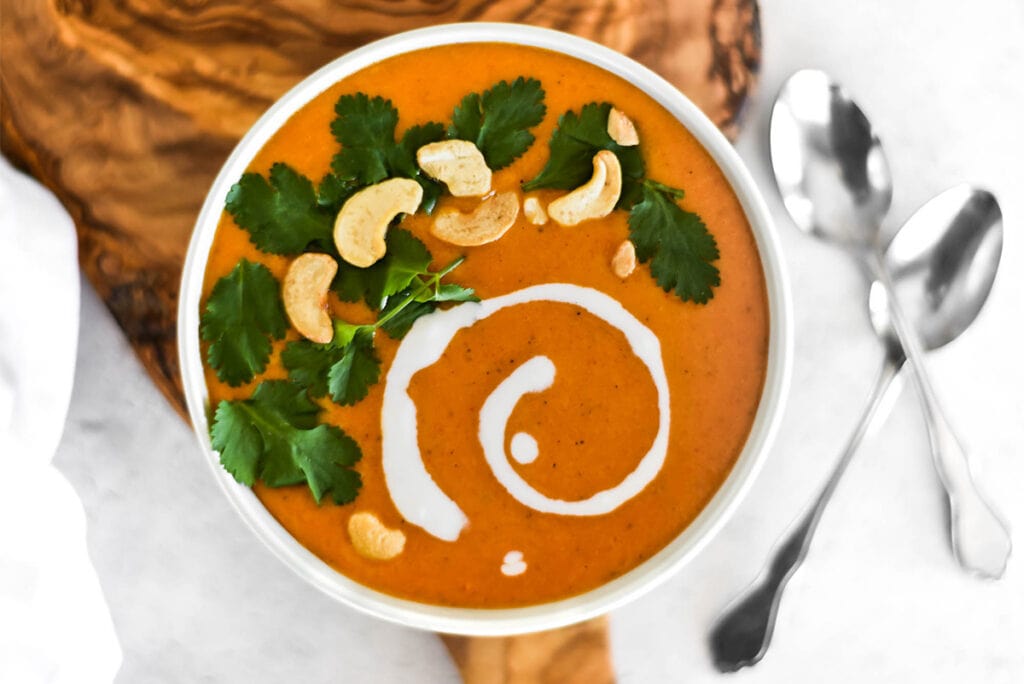 Can I Make This Soup In the Instant Pot?
Of course, my friend! To make this tasty paleo curry butternut squash soup in the Instant Pot just follow the first three steps in the recipe as written but instead use the crock from the instant pot.
Sauté your onions and garlic in the bottom of the Instant Pot using the sauté feature. Then toss in your peeled and cubed squash along with your bone broth. Set the timer for 15 minutes on the "Soup" setting.
What Kind Of Curry Paste Should I Use?
I always use the Thai Kitchen Red Curry Paste. This is because it is largely available throughout the country and is made with paleo-friendly ingredients. I have used the green curry paste from the same brand and that worked well, however I have a slight preference for the red curry paste.
You can try a different curry paste if you prefer, but this is the brand I have tested in the recipe. Tried and true.
Can I Make This Recipe Whole30 Compliant?
Yes! You will just need to omit the coconut sugar. To bring out the natural sweetness of the butternut squash you could consider adding some unsweetened applesauce instead. Or, just expect a more savory soup. Still delicious!
Once the timer goes off, release the steam and add ingredients from the crock into the blender along with the rest of the recipe ingredients. Blend until smooth and enjoy!
Can I Make This Recipe Vegan?
Easily! Just sub the bone broth for vegetable broth. All other ingredients are not made from animal products.
Equipment Needed
Beyond basic kitchen utensils like a veggie peeler, knife, cutting board and measuring cups/spoons, you will need a high powdered blender. I use my ole faithful, Ninja Blender. It has blades that extend to the top of the pitcher making it appropriate for blending soups.
Recipe Tips
When cooking on the stove, you might boil off too much of the liquid. To prevent this, just lower the stove temp. If this happens to you, simply add another cup or so of broth to the squash before blending.
The bigger the squash, the more broth you will need to get the desired consistency. For reference, I use about 600 grams of cut and cubed squash.
Omit the chili paste if you are sensitive to spice. The curry paste will have a bit of kick but is fairly mild. I don't recommend omitting the curry paste as it contributes highly to the flavor.
This soup makes a great make-ahead meal. Just allow the soup to cool fully and transfer to an airtight container or freezer bag. Seal and store in the freezer for up to one month. When ready to enjoy, just pull from the freezer and thaw in the fridge. Reheat in the microwave.
Related Recipes
Paleo Chicken Noodle Soup
Did you try this Paleo Curry Butternut Squash Soup recipe? I would love to see your creations! Take a photo and tag me on Instagram or leave a photo comment on Pinterest.
Feel free to leave a comment and a rating below. Feedback is always appreciated! 😊
📖 Recipe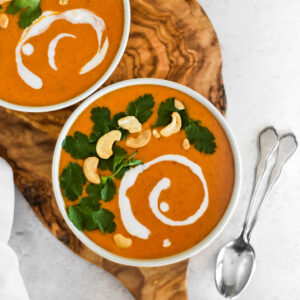 Paleo Curry Butternut Squash Soup
This soup is anything but bland. The flavors are rich and bold. This soup is low in calories, high in nutrients, and incredibly delicious.
Equipment
Blender

Stock Pot

Knife

Cutting board
Instructions
Begin by heating the avocado oil in a very large pot over medium heat.

Coarsely chop the onion and add to the pot. Cook until onion becomes translucent (about 3 minutes). Add garlic and cook for several more minutes.

While onion is cooking, peel squash, cut in half and remove seeds. Chop squash into chunks. Add chopped squash and broth to pan with onion and garlic.

Allow broth to come to a low boil and reduce heat. Cook squash in broth until tender (you should be able to pierce it with a fork - about 15-20 minutes). If most of your broth has cooked down, you may need to add another cup of bone broth. Add coconut aminos and lime juice.

Pour squash and broth into a large blender. Add spices, coconut sugar and coconut milk to blender. Blend until spices are incorporate and mixture is smooth and creamy.

Chop cilantro and cashews. Pour soup into bowls. Top with cilantro and cashews, and enjoy!
Notes
You can substitute lime juice for the apple cider vinegar. If you do not have coconut sugar, a small amount of any sweetener could work. Chicken or vegetable broth can be used in place of bone broth.
To make vegan - substitute bone broth for vegetable broth.
Nutrition
Serving:
1
cup
Calories:
207
kcal
Carbohydrates:
19
g
Protein:
3
g
Fat:
15
g
Saturated Fat:
10
g
Sodium:
604
mg
Potassium:
463
mg
Fiber:
2
g
Sugar:
5
g
Vitamin A:
9154
IU
Vitamin C:
23
mg
Calcium:
67
mg
Iron:
3
mg