There is nothing worse than bringing home a jar of tasty tomato sauce and realizing you can't enjoy it because it has unwanted ingredients. I have good news! This Whole30 Marinara Sauce is a simple recipe that can be ready in 25 minutes using ingredients you most likely will have on hand!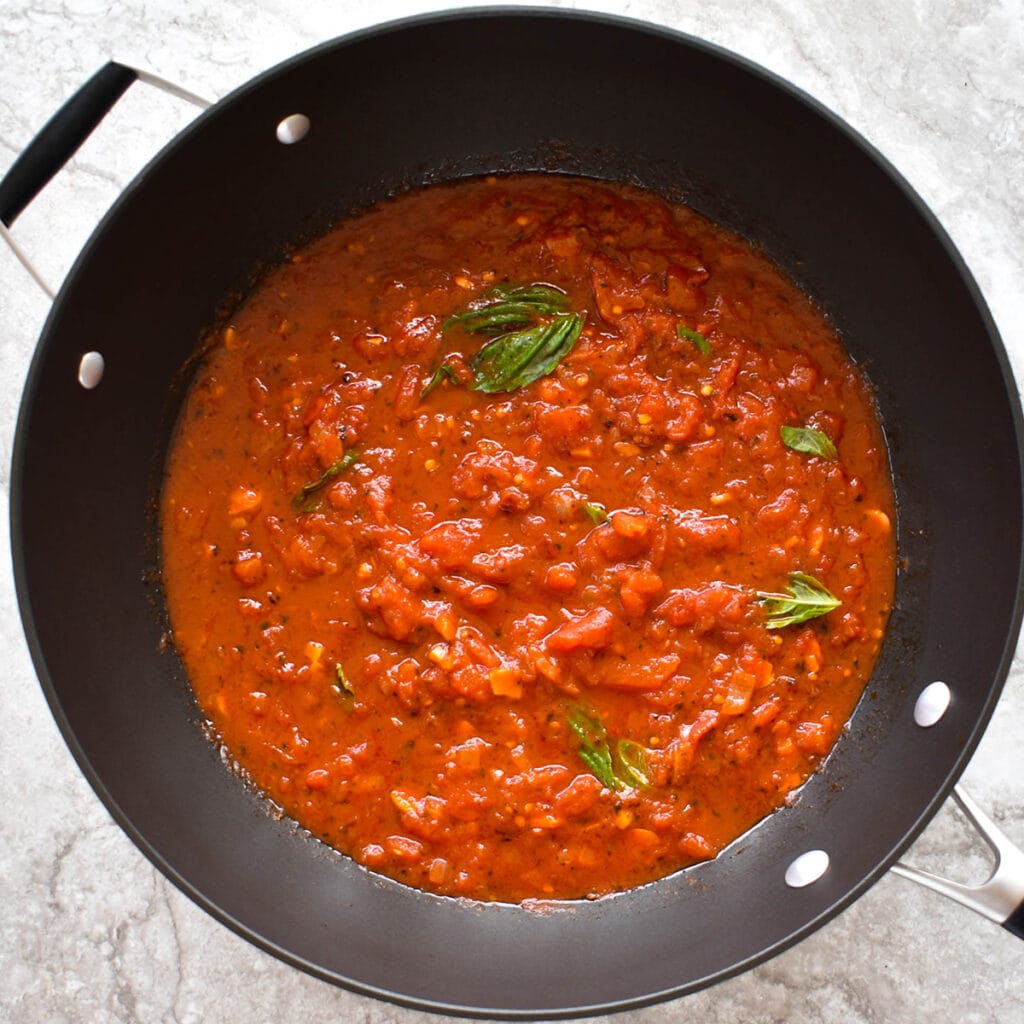 Jump to:
If you know me, you know I am a big fan of Italian foods. Basil is among my favorite smells and I could (and have) eaten pesto by the spoonful. There are few things more satisfying than a rich and hearty tomato sauce. Although, I could do without the pregnancy heartburn I have been experiencing.
This marinara recipe is free of added sugars, additives or vegetable oils. It is paleo, low carb and Whole30 complaint, but also tasty enough to enjoy even if you're not following any specific diet.
A good marinara is simple. The flavor profile depends highly on good quality olive oil! When you see things like canola oil or soybean oil in a tomato sauce, run. Few things are quite as appalling.
What Is The Difference Between Marinara And Tomato Sauce?
Generally speaking, marinara sauce is a quick sauce. Commonly, this sauce will only be seasoned with garlic, crushed red pepper, and basil. The finished texture of marinara can be loose and chunky.
Tomato sauce tends to be more complex. It usually begins with pureed tomatoes, and often includes things like onion, carrot, celery, and bay leaf. It is left to simmer until it thickens and has developed a signature rich flavor. The taste is sweeter and more layered.
Why Use Whole Peeled Tomatoes?
Like explained above, marinara sauce can chunky and the taste should resemble that of fresh tomatoes. It is best when made with whole San Marzano tomatoes, coarsely crushed by hand.
Sauce Variations
If you prefer a sweeter sauce, you can cook down the sauce for longer. Traditional marinara is a quick sauce, but there is nothing wrong if you prefer to cook it longer and let it reduce.
If you like a smooth sauce, simple run the finished sauce through the blender. Again, this is totally a preference thing. You will still have the classic marinara flavor just without the chunks.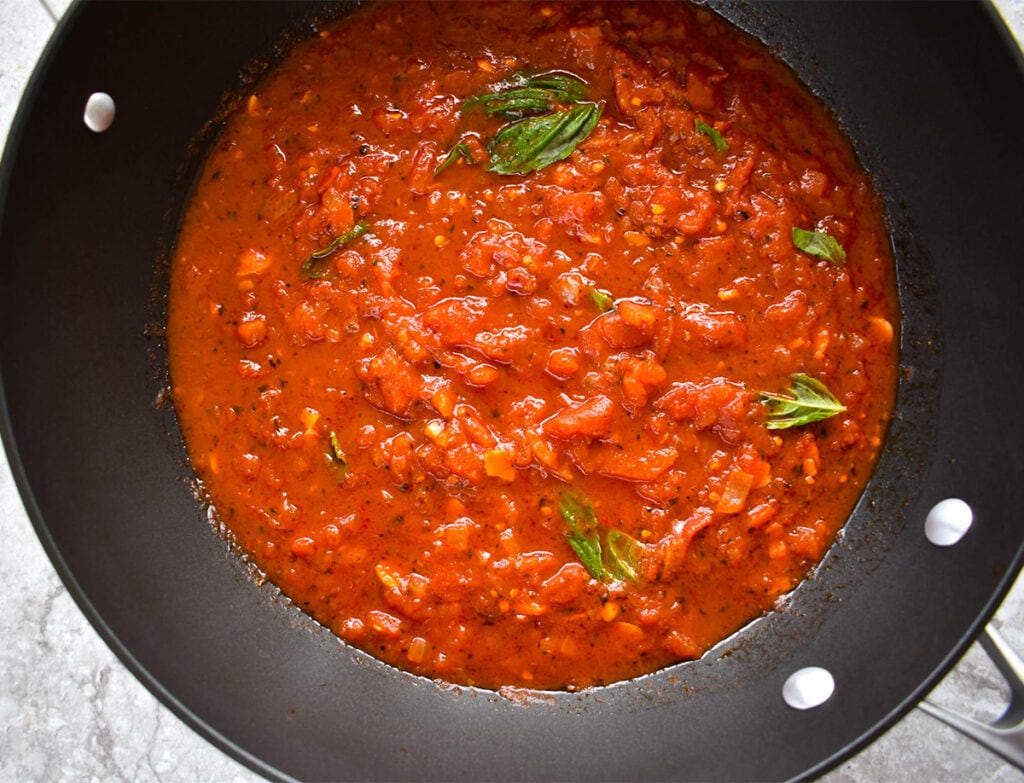 Frequently Asked Questions
Can I use fresh tomatoes in this recipe?
This recipe is designed to be easy and made with ingredients you have on hand. Fresh tomatoes would likely work. My concern would be that the acidity in the fresh tomatoes might require a little sugar to balance it. You can try using fresh tomatoes, but I have not tested this.
Can I use a different type of oil?
Olive oil is preferred for this recipe and do not recommend substituting it because it adds depth to the sauce.
Can I store or can this marinara sauce?
Yes! You can freeze this sauce for 1-2 months. Just put the cooled sauce in a mason jar or other airtight container and store in the freezer. You could also use freezer bags but something you can pour from would be more practical. Just thaw when you are ready to use.

With proper canning practices you should be able to store this recipe for up to a year. I am not a canning expert by any means, but here are some resources so that you can safely can and store this and other recipes:
USDA Home Canning Guide
CDC Home Canning Safety
I can find San Marzano tomatoes, can I use something else?
Although this is preferred, other tomatoes would work as well. I would opt for plum tomatoes if available.
Is This Recipe Keto?
Tomato does contain some natural sugars and carbohydrates, but a properly made marinara sauce can be appropriate for a keto diet. This recipe contains 4 net grams of carbohydrate per half cup serving!
What Makes This Recipe Whole30 Compliant?
Simple, no added sugars. Sugar is the most common issue with many conventional sauces. Although, some sauces have additives or vegetable oils that would also make this recipe not Whole30-friendly.
Where Can I Buy Whole30 Compliant Marinara?
If you don't have interest in making marinara at home but still want to enjoy marinara sauce while completing a Whole30 there are options.
These are some of my favorite store bought Whole30 compliant marinara sauce options:
Primal Kitchen - You can purchase online or at a local health food store.
Rao's - Also available online and at most grocery stores now.
Related Recipes
📖 Recipe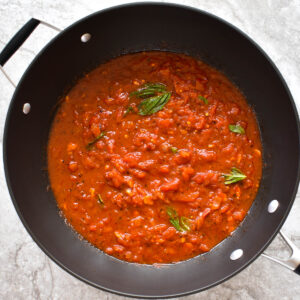 Whole30 Marinara
This simple marinara sauce is delicious and free of unwanted ingredients or added sugars making it gluten free, low carb and paleo and Whole30 friendly.
Equipment
Large rimmed frying pan

Wooden spoon

Cutting board

Knife
Instructions
Heat the frying pan with the olive oil over low heat.

Finely chop the onion. Add to the frying pan and allow to cook for 5 minutes, stirring occasionally.

Thinly slice the garlic cloves and add to the pan. Allow to cook for another 5 minutes until both the onions are garlic become very fragrant.

Add the tomato paste to the pan. Stir. If using fresh oregano, throw in the whole basil leaves at this time.

Add the remaining spices. Allow the flavors to combine for several minutes.

While everything is cooking. Pour the canned tomatoes into a bowl. Begin crushing the tomatoes with clean hands until there are no large chunks. Remove any hard, fibrous pieces where the stem attaches. These pieces will be easy to feel and see because they are tough and a little more yellow than the rest of the tomatoes.

Add the tomatoes to the pan. Stir and continue to break up the tomatoes with the spatula. Allow to cook for another 5 minutes. The sauce should begin to bubble. For a richer and sweeter flavor, allow sauce to continue to cook down. As it cooks, flavor will develop and the sauce will reduce.
Nutrition
Serving:
0.5
cup
Calories:
86
kcal
Carbohydrates:
6
g
Protein:
1
g
Fat:
7
g
Saturated Fat:
1
g
Sodium:
449
mg
Potassium:
232
mg
Fiber:
2
g
Sugar:
3
g
Vitamin A:
155
IU
Vitamin C:
11
mg
Calcium:
46
mg
Iron:
1
mg