This Whole30 Orange Chicken recipe is exactly how orange chicken should be. The breading is crispy and the chicken is juicy. The sauce is tangy, slightly sweet and flavorful. The best part is this recipe can be made in 30 minutes!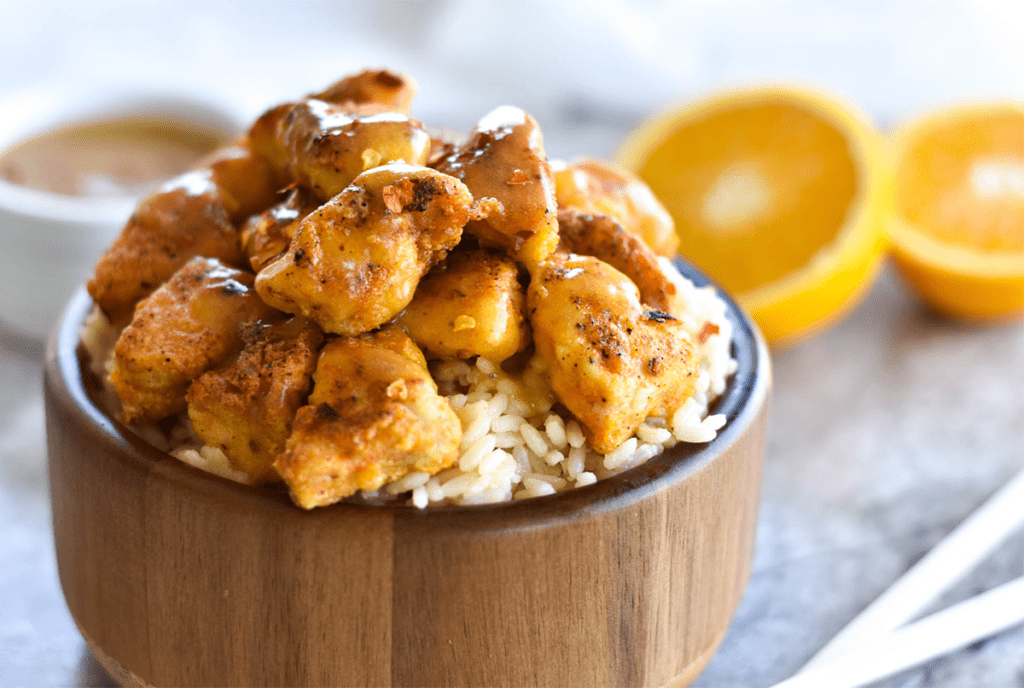 Jump to:
For my paleo and Whole30 friends, serve this meal on top of some sauteed cauliflower rice or stir fried veggies. I love it with a combo of bell peppers and cauliflower rice! For everyone else who is just looking for a healthier version of orange chicken, this recipe tastes great with regular rice or a mix of half rice and half cauliflower rice!
If you have tried this recipe, leave me a comment and rating below! I'd love to hear how this recipe worked for you.
What Makes This Orange Chicken Healthier?
This recipe utilizes high quality cooking oils, no processed sugar and is completely gluten and grain free. I use orange juice and a few dates to sweeten this sauce. No weird additives, only whole foods.
Cassava flour is used to make a very light breading which means you are getting more protein in each bite instead of a vegetable oil soaked gluten gut bomb. Can we cheers to that?
How To Make Cauliflower Rice
Making cauliflower rice is fairly simple. Most stores carry pre-riced cauliflower, which is going to be the easiest solution. I make cauliflower rice at home from scratch because it doesn't require much work and is a little cheaper.
You will need a food processor or a blender for this job. I use this blender.
Begin by taking the head of cauliflower and begin cutting it into chunks. Remove all the green leaves and stems. Throw the chunks into the food processor and pulse for several seconds. Scrape the side of the food processor with a spatula and pulse again.
The goal is to chop the cauliflower into small pieces, about the size of a grain of rice. Be careful not to pulse for too long or you might end up with a cauliflower mash.
Once the cauliflower is in the desired size, heat 2 tbsp. of avocado oil in a pan over medium heat and add the cauliflower rice. Season generously with salt and pepper. Cook for about 5-8 minutes. You don't want to overcook it or it will become mushy. Serve in place of rice in your favorite dish for a low carb, grain-free option.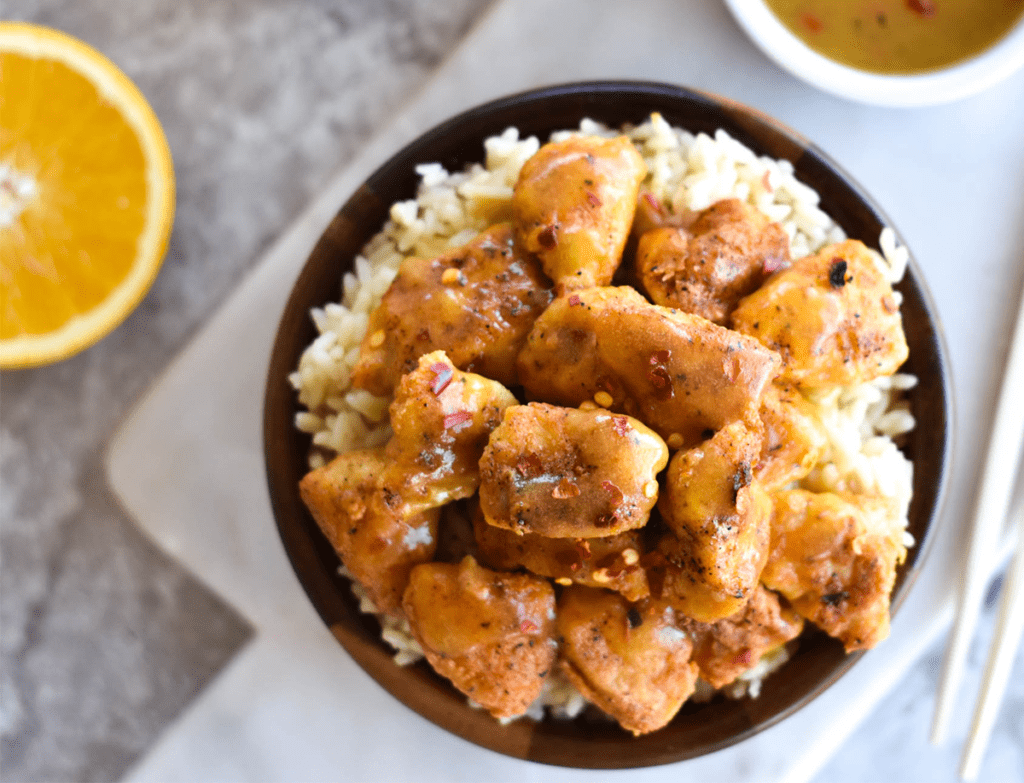 Substitutions
Dates - If you are not doing Whole30 you can substitute 1 tbsp of honey for the soaked dates. Coconut sugar and maple syrup would also work fine.
Chicken Breast Tenders - If you have made my recipes before you know I favor chicken breast tenders. I like them because they are already trimmed and easy to use. You could trim and cut regular chicken breasts for a similar result.
Cassava Flour - Tapioca starch can be substituted for the cassava flour in the same quantities. Corn starch would likely be okay (but not paleo compliant) but I have not tested this.
Avocado Oil - Any high temp cooking oil can be used here. I would prefer avocado oil or coconut oil.
Not Doing Whole30?
As mentioned above, if you are not doing Whole30, just using honey in the recipe give you more room to sweeten to taste and is a little easier than using soaked dates. I would suggest this for anyone follow a standard paleo diet.
Equipment
You don't need fancy equipment to make this Whole30 Orange Chicken recipe. You will need a frying pan, tongs, knife, hand juicer (to squeeze orange juice), sauce pan, whisk, cutting board and a couple bowls.
Additionally, if you are using soaked dates you will need a blender and a mesh strainer. The dates are used to make the recipe Whole30 compliant. Using honey or an alternative sweetener would not require this step.
I use a Ninja bullet blender for this. You can find my blender here.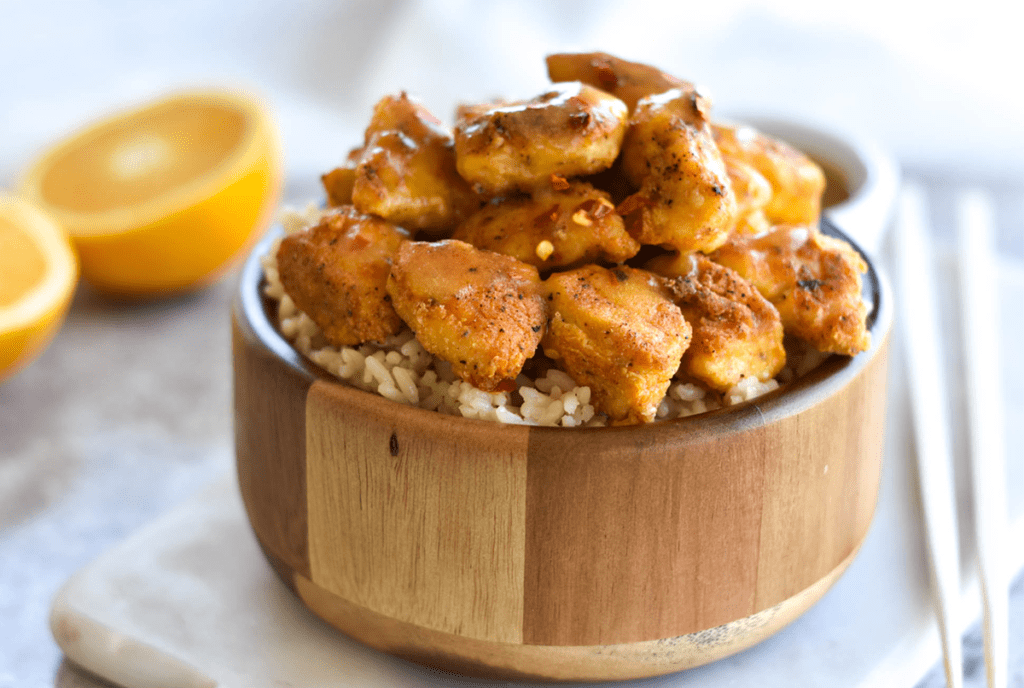 Recipe Tips
If using soaked dates, soak the dates in 2 tbsp of hot water. I usually do this the day before and just store them in the fridge in the liquid.
To create a smooth, pulp-free sauce, take the orange juice, soaked dates and soaking liquid and blend for 30 seconds in a bullet blender. Pour the mixture through a mesh strainer into the pan. You may need to rinse the strainer out at least once during this process to get rid of any excess pulp so you can strain all the liquid.
If you are making cauliflower rice, I would make the chicken first and then make the cauliflower rice in the same pan after the chicken is done to save dishes.
I wait until serving to add the sauce. This allows the chicken to stay crispy. This is just my preference. It also allows me to reheat the chicken in the air fryer because they don't have the orange sauce on it. The air fryer gets the leftovers nice and crispy and it tastes just as good as day one.
Taste your sauce while cooking. Some people like a sweeter sauce, some people prefer it more tangy. If you want it sweeter ad a little more honey (if not doing Whole30). To make the sauce more tangy add a little more rice vinegar.
Related Recipes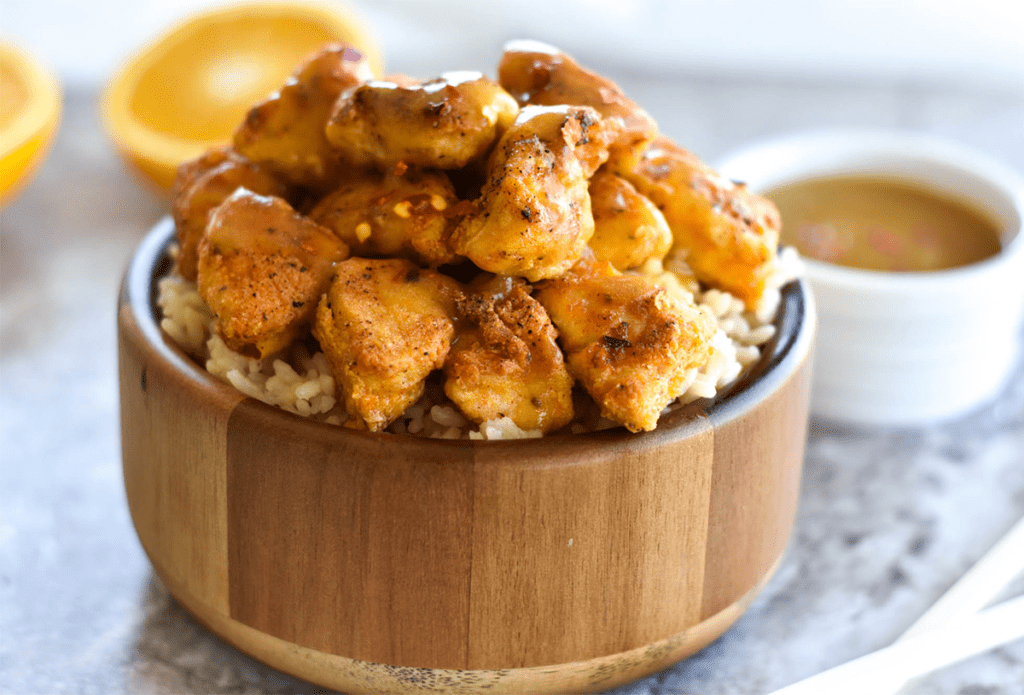 📖 Recipe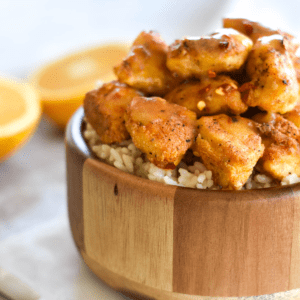 Whole30 Orange Chicken
This healthy recipe yields the perfect crispy, juicy orange chicken with a sweet and tangy sauce.
Equipment
Blender

Frying pan

Bowls (2)

Whisk

Tongs

Sauce Pan

Hand press juicer

Mesh Strainer
Instructions
Orange Sauce
If using dates: Soak three medjool dates in about 2 tbsp of hot water at least 15 minutes before you start this recipe. I usually soak them the day before and keep them in the fridge so they are extra soft.

Use 2-3 tbsp of honey instead if you are not doing Whole30. If using honey, you can skip steps 1 and 3.

Juice the oranges to get ¾ cup of juice (about 3 navel oranges).

Combine the juice, soaked dates and soaking liquid in a small blender. Blend until it is mostly smooth.

Pour the mixture through a mesh strainer. If it gets clogged, just rinse the pulp from the strainer and continue to strain until all you have is the liquid.

Pour the liquid into a sauce pan over medium heat.

Take 1 ½ tsp of cassava flour and mix in 2 tbsp of cold water to dissolve. After the cassava has dissolved into the liquid, add this to the sauce pan.

Add the remaining ingredients to the sauce pan. Whisk together. Add salt, pepper and red pepper flakes to taste.

Allow the sauce to heat for about 5-10 minutes or until you notice the mixture thickening. Remove from heat and set aside.
Crispy Chicken
Salt the chicken breast tenders and cut into about 1 inch pieces. Add to bowl with egg.

Mix together the paprika, garlic powder, black pepper and cassava flour in another bowl.

Heat the oil in a frying pan over medium heat.

Dredge the chicken with the cassava mixture, piece by piece. Add dredged chicken to pan once the oil is hot.

Allow chicken to brown, about 2-5 minutes. Flip the chicken and allow to brown on the other side. Do this until all the chicken has been cooked. Add more oil if needed.

Remove cooked chicken from the pan. Top chicken with sauce before serving. Pair with rice, cauliflower rice or stir fried veggies.
Notes
To soaking and straining the dates, you could use 1 tbsp of honey in place of the dates.
You can use store bought orange juice if this is something you would prefer.
The calories account for all the sauce and all the cooking oil divided amount three servings. Some cooking oil will likely be left in the pan and actual calories consumed may be less.
Nutrition