Summer is a time to revel in the fresh flavors of the season. It is also a time to spend as little time in the kitchen as possible. These Chicken Summer Rolls fit the bill.
This recipe combines crunchy veggies, bright herbs and a flavorful peanut sauce. And, these tasty rolls can be ready in 20 minutes. No need to turn on the stove.
Jump to:
If you know me, you know peanut butter is my happy place. I love all things peanut-y. In my humble opinion, few things can hold a flame to a solid peanut sauce. Peanut sauce can make almost anything taste amazing!
The peanut sauce in this recipe is super versatile. I love to use it as a salad dressing or to dip veggies in. I would probably dip cardboard in it if I didn't have any other options on hand.
This summer roll recipe has been a favorite in my house during this last month. A.K.A I have eaten these summer rolls at least twice each week every week. They make the perfect satisfying summer meal. Such light and fresh flavors, almost no cooking and peanut sauce. That's what my summer dreams are made of.
Ingredients
In this fresh and flavorful recipe we want to select the best produce available. This recipe is ideal for the summer because you will likely have access to fresh herbs, avocados and cucumbers.
The avocado is a very important component of this recipe. Make sure you have a large ripe avocado or two small ripe avocados. A ripe avocado has darker skin and indents when you press on it with your finger. You want a richly colored and creamy avocado.
The fresher the cucumber the better. If the cucumber is on it's last leg it might make the rice paper soggy from excess moisture.
Consider selecting a peanut butter that has nothing but peanuts and salt on the ingredient list. These types are usually the most flavorful and work best in the peanut sauce. The peanut sauce is the star of the show, after all.
Substitutions
Coconut Milk - I do not recommend substituting this or using a lite version. You should use a brand of coconut milk that does not separate. This will make the peanut sauce so much smoother and easier to make. I use the pourable Thai Kitchen (the one in the can will separate), Thrive Market or Trader Joe's coconut milk.
Cucumbers - I used traditional cucumbers for this recipe but English cucumbers would likely work fine.
Coconut Aminos - You can find coconut aminos at Thrive Market, Trader Joes or most grocery stores. It will be located near the soy sauce or in the gluten free section. You could substitute soy sauce if you are in a pinch, but soy sauce is much saltier and less sweet so you may need to use less. If possible I would recommend using coconut aminos.
Rice Papers - No substitutions available for this ingredient. I used the Blue Dragon brand because that it what we had at our local grocery store. I am sure most brands will work for this recipe.
Maple Syrup - You can use coconut sugar or honey if you don't have maple syrup on hand.
Peanut Butter - I like unsweetened peanut butter in this recipe. Peanut butter will taste best because it is a peanut You could substitute almond butter if you have a peanut allergy.
Pickled Ginger - You can omit this ingredient if you can't find it at the store. I do not suggest substituting fresh ginger. Be sure to the check the ingredients because some pickled ginger can have added colors and funky ingredients.
Sriracha - Chili paste can be used in place of Sriracha. It will just be a little less sweet and a little spicier.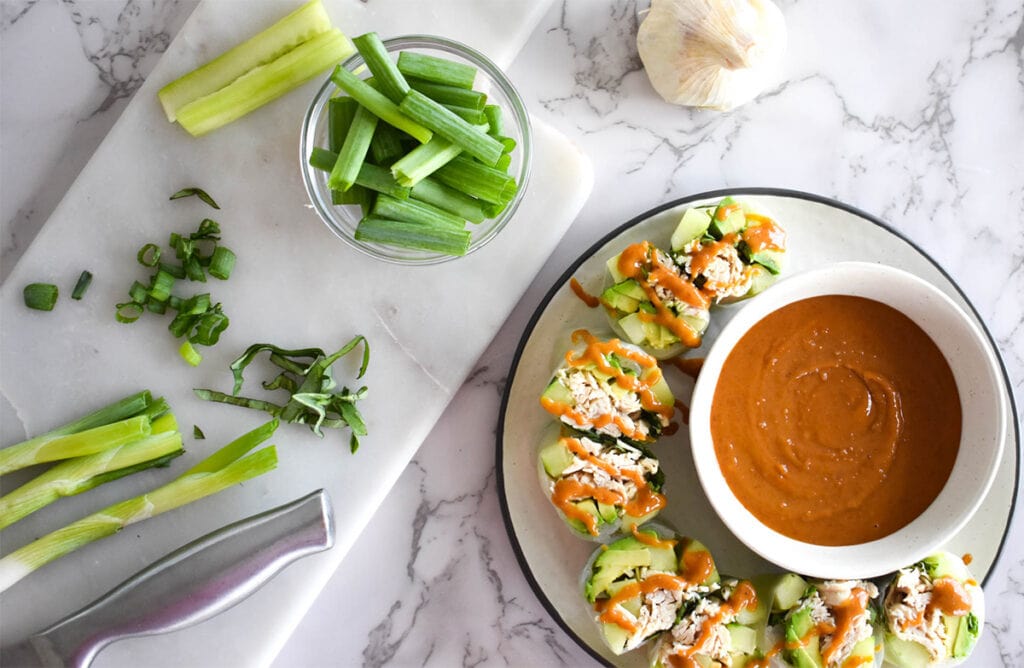 Making The Shredded Chicken
For the shredded chicken in these summer rolls I always use this Instant Pot Shredded Chicken recipe. It is so easy to make. I like to prep it and freeze it so I always have a batch on hand. I just thaw as needed and use in a variety of ways.
Because it only takes 20 minutes to make in the Instant Pot, this shredded chicken is the perfect thing to get started before begin you prepping the veggies for this recipe. When the chicken is done you will be ready to assemble your rolls!
Another great options is to use left over rotisserie chicken. Just shred the chicken meat with cleans hands or two forks and it is ready to use!
Setting Up Your Assembly Station
Preparation is key when making summer rolls. You don't want your rice paper to spend too much time wet or it might get soggy. Prepare your rolling assembly line before wetting your first paper.
What you will need on your assembly line:
A sheet pan with a layer of warm water. This will be used to dip your rice papers in.
Rice papers
Cucumbers, peeled and sliced
Shredded chicken
Avocado slices
Shredded basil
Green onions, chopped
Thinly sliced garlic
Pickled ginger
A clean, damp towel
Surface for rolling
Once you are ready to start rolling you will want to assemble with the cucumbers on the bottom and top of the roll to give it some rigidity. All other ingredients can be added in any order, just make sure to disperse throughout the length of the roll.
Make sure you prepare your peanut sauce before rolling the summer rolls, so you can serve immediately.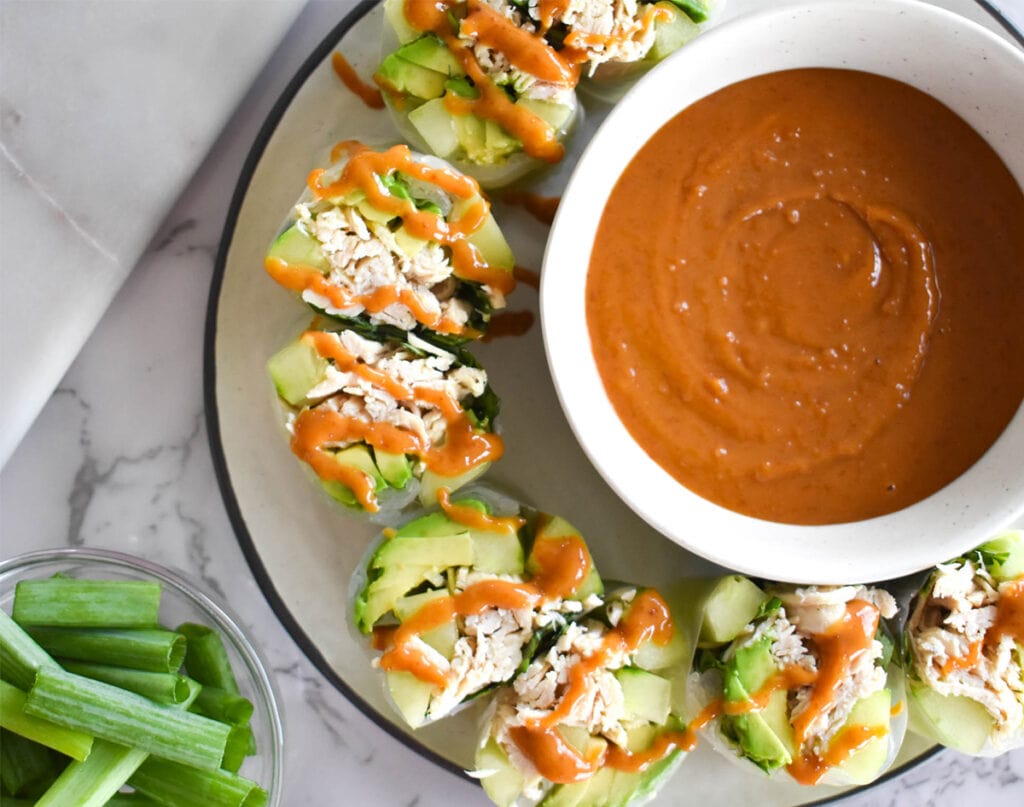 How To Roll Rice Papers
Time needed: 5 minutes.
How To Roll Rice Papers
Have all ingredients that you will need ready.

Your assembly station should be set before you begin. You will also want to wash your hands since you will be using your fingers for this process.

Dip a single rice paper in a pan of warm water.

Fully submerged the rice paper in the water for several seconds. Run your fingers over it pressing it down. Flip the paper and press the other side down. The paper should only be submerged for 10-15 seconds. Remove it when it starts feeling pliable.

Place the wet rice paper on a damp towel.

This helps remove any excess water.

Transfer the rice paper to your rolling surface.

You will want a clean flat space to roll your summer roll.

Fill the rice paper.

Add all the ingredients you are using for this recipe. Usually the larger ingredients will be added first, with the exception of the herbs which you may want visible from the outside. In that case they should be added to the top and/or bottom.

Roll the paper.

Fold the left and right ends of the paper up. Then fold the bottom side up. You will want to pull the filling towards you to make sure it is tight before your start rolling. Starting from the bottom, roll upwards until your reach the end of the paper.
Related Recipes
📖 Recipe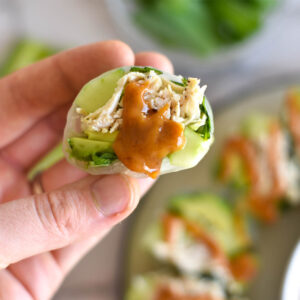 Chicken Summer Rolls with Peanut Sauce
These light and fresh summer rolls are the perfect recipe for a hot summer night. Paired with this sweet and flavorful peanut sauce these rolls will be enjoyed by the whole family.
Ingredients
2

cups

Pulled chicken

2

Cucumbers

1

Avocado, Large

Or 2 small avocados

½

cup

Basil

Shredded

4

Green onions

2

cloves

Garlic

Optional, this will be a little spicy raw

10

Rice papers
Instructions
Peel the cucumber. Cut off the ends and slice in 4 pieces lengthwise. Slice down the inside of each piece to remove the seeds. Cut into thin strips.

Take the basil leaves and roll the up. Thinly slice the leaves to create thin, shredded pieces.

Cut the avocado in half, remove the flesh and slice.

Thinly slice the green portion of the green onions.

Peel and mince the garlic.
Peanut Sauce
Combine all the ingredients for the sauce in a bowl. Juice the lime into the bowl. Whisk together. You will want to use a coconut milk that doesn't separate (the pourable Thai Kitchen that is just coconut and water works best).
Summer Rolls
One at a time, place each wrapper in a pan of warm water for about 15 seconds. Remove and blot on a damp towel. Transfer to a clean and flat rolling surface.

Assemble by adding chicken, avocado, basil, cucumber, onions, garlic, and pickled ginger to the center of the wrapper.

Fold up the wrapper on the left and right. The fold the bottom up. Push the ingredients towards the center to make the roll tight before rolling from the bottom up and closing.

Repeat for the rest of the rolls. Serve with peanut sauce.
Notes
If you can't find coconut milk that doesn't separate, you may need to heat the coconut milk in a sauce pan on low heat and stir so you can get the coconut cream and water to mix together.
Calories calculate use 1 tbsp sauce per serving.
There should be a visual on the back of the rice papers showing how to roll the wrap.
Nutrition
Serving:
1
roll
Calories:
187
kcal
Carbohydrates:
18
g
Protein:
11
g
Fat:
8
g
Saturated Fat:
2
g
Cholesterol:
21
mg
Sodium:
231
mg
Potassium:
379
mg
Fiber:
3
g
Sugar:
3
g
Vitamin A:
193
IU
Vitamin C:
6
mg
Calcium:
33
mg
Iron:
1
mg