I am a sucker for all things easy. When I can cook my meat in 20 minutes while preparing the rest of my meal I am seriously winning. This simple and versatile Instant Pot Shredded Chicken recipe is the perfect thing to have in your back pocket (not literally).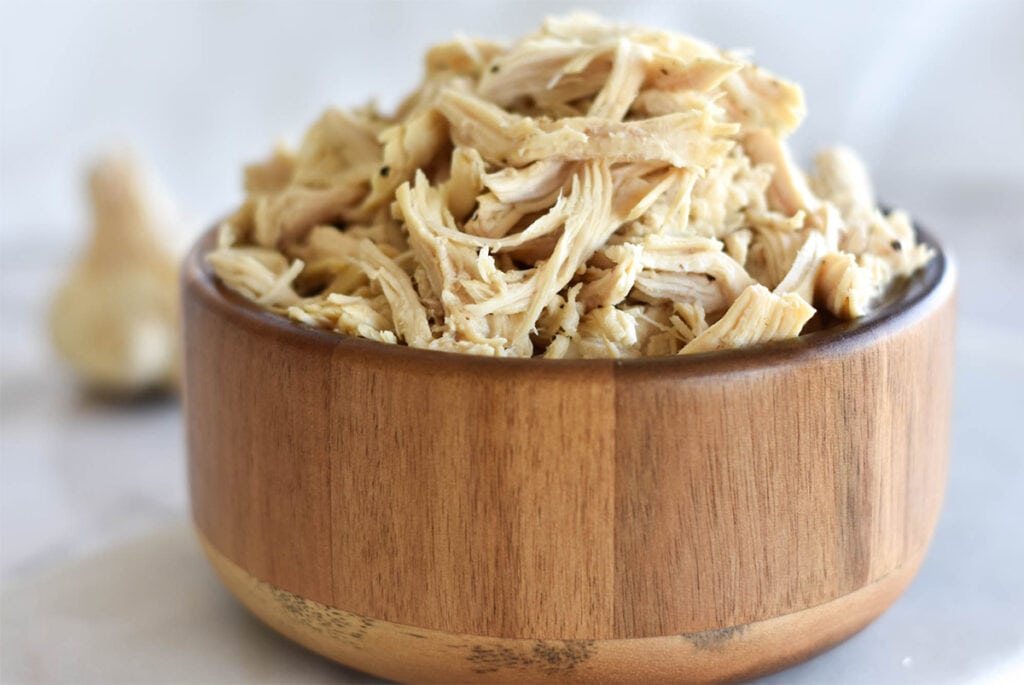 Jump to:
This recipe will make a 20 minute meal a realistic possibility. It is tasty, healthy, gluten free, low carb and 100% paleo. The perfect thing to prep ahead of time and keep on hand, or whip up in a pinch when the kids are asking "What's for dinner?".
Cooking shredded chicken in the Instant Pot is a balancing act. Too long and your chicken might be dry. Not long enough and you get salmonella. I found this method to be the most effective in creating a juicy shredded chicken that can be use din variety of different dishes.
When cooking shredded chicken we also want it to be flavorful. Who wants bland chicken? The seasoning mix I use in this recipe is light and simple so that this chicken can go with just about anything. But, it also makes it very easy to change up the spices to compliment your meal!
Freezing Shredded Chicken
As many of you know, I am very pregnant. I am currently planning all the meals I want to stash away in the freezer for those first weeks after baby arrives. This chicken is something I will have several bags of because I can use it in so many ways.
To freeze this chicken, just cook and shred as the recipe describes. Allow the chicken to cool. Then store the chicken and juices in a freezer bag or an airtight container. Label it. It will be good for about 3 months.
When you are ready to use it, just pull the day before and thaw in the fridge. Reheat in a large pan on the stove over medium heat. You can add more broth to the chicken during the reheating process if too much of the water evaporates.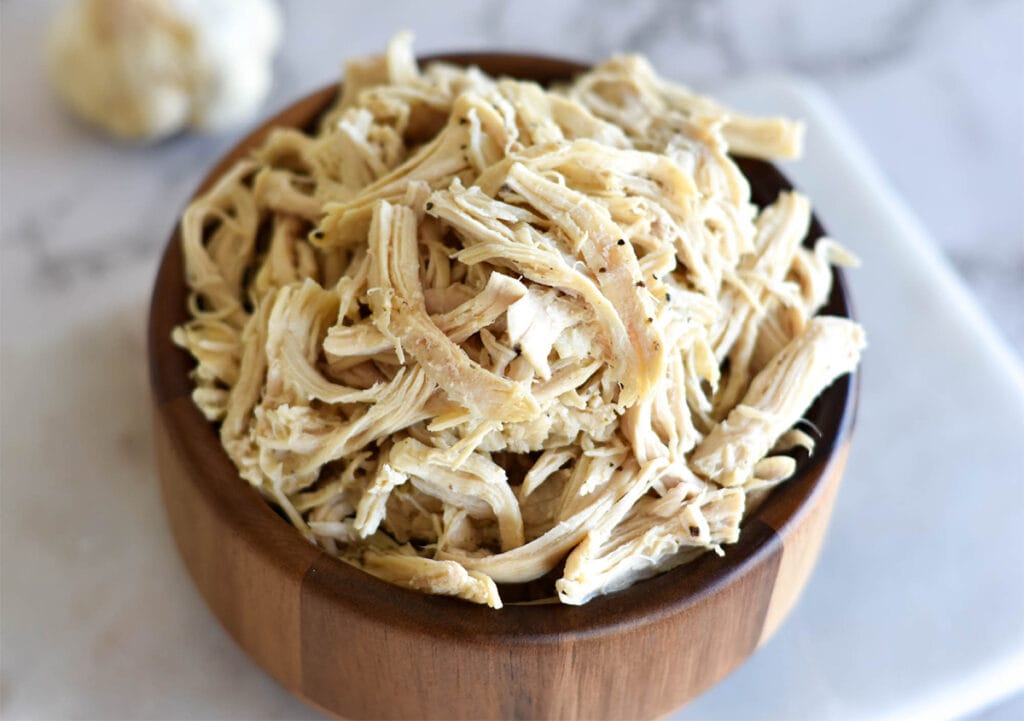 How To Use Shredded Chicken
This shredded chicken can be used in countless ways! Here are some ideas:
Chicken Tacos - For this, consider replacing the seasoning in the recipe with you favorite taco seasoning mix. Then just add it to your taco with all your favorite toppings.
Chicken Summer Rolls - Prepare these summer rolls while the chicken cooks for the perfect 20 minute meal.
Buffalo Chicken Soup - Use your freezer stash of shredded chicken in this recipe in place of the chicken breast. Just throw the chicken in with the vegetables and broth. Cook on the stove top until the veggies are tender, or in the Instant Pot on the "Soup/Broth" setting for 10 minutes. Then add the coconut milk, buffalo sauce and top with cilantro.
Paleo Chicken Curry Salad - Skip grilling the chicken and make this chicken salad with shredded chicken for a quick lunch!
Bowls - Fill a bowl with fresh or roasted veggies, a tasty carb source like roasted sweet potatoes, some healthy fat like avocado or a flavorful sauce and this shredded chicken.
Ingredient Substitutions
Chicken Broth - Bone broth, chicken broth or chicken stock can be used interchangeably in this recipe. If you are gluten free, be sure to check ingredients! My go-to gluten free bone broth brans are Bonafide Provisions, Kettle and Fire and Bare Bones Organics. You could also substitute water, but the broth really helps give it some flavor so I would not recommend if possible.
Seasoning Mix - We use garlic, pepper, onion powder and salt in this recipe, but you can have some creative freedom here. These spices were chosen because they go with just about everything. You can select your spices to specifically compliment your dish.
Equipment
Instant Pot - This pressure cooker is one of the most used appliances in my house. My aunt gifted us one for our wedding. I am embarrassingly resistant to learning new things, so I avoided it for a long time but now it is something we use at least weekly. Perfect solution for a lazy cook like myself. You also could use a slow cooker for this recipe. In the slow cooker, cook the chicken on low for 6-7 hours or 3 hours on high. Use a meat thermometer to make sure internal temp reaches 165 degrees F.
Meat Claws - I use two forks like a peasant, but I know people who swear by these for shredding meat. Totally optional.
Recipe Tips
Adding back in ¾ cup of liquid is usually perfect for immediately serving the chicken because most of this liquid will get absorbed. If you are cooking just to store right away, you can add back in all the liquid and save it that way. This will give you a little more liquid to prevent the chicken from drying out while it is reheated.
Allow the chicken cool a little before shredding. This will help prevent you from burning your fingers.
If your broth is particularly high in sodium, you can adjust the salt in this recipe. Usually good quality bone broth tends to be a little less salty.
You might get a little gelatinization when cooled. This can be from both the chicken and the bone broth. This is a good thing and will liquify when heated. This is a good source of collagen, gelatin and beneficial amino acids like glycine.
Tell me your favorite way to use this Instant Pot shredded chicken in the comments below! I would love to hear your ideas!
📖 Recipe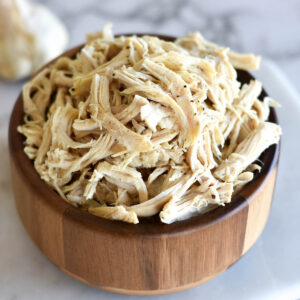 Instant Pot Shredded Chicken
This simple shredded chicken recipe is a great hat trick to have in your bag. Versatile, quick and tasty, what more could you want.
Equipment
Instant Pot

Forks or meat claws
Instructions
Add all ingredients to the Instant Pot.

Set on high or "meat" setting for 10 minutes. Allow to cook. When timer goes off, do not vent the steam. Let the steam from the Instant Pot naturally release with the lid on and vent closed for another 8 minutes.

Release steam and remove chicken breast. Place chicken breasts in bowl. Shred with two forks.

Add ½ to ¾ cup of broth from the instant pot to the chicken to help keep it moist and flavorful. Stir it to allow it to absorb most of the liquid. When storing you can store with some extra liquid from the pot to prevent it from drying out.

Serve immediately or store in the fridge for up to 4 days. Store in an airtight container or freezer bag in the freezer for up to 3 months.
Notes
To make this recipe AIP compliant, you will want to omit the black pepper and use an AIP compliant broth, homemade chicken stock that doesn't have any non-AIP ingredients or water.
Nutrition
Serving:
6
ounces
Calories:
211
kcal
Carbohydrates:
1
g
Protein:
39
g
Fat:
5
g
Saturated Fat:
1
g
Cholesterol:
116
mg
Sodium:
676
mg
Potassium:
679
mg
Fiber:
1
g
Sugar:
1
g
Vitamin A:
54
IU
Vitamin C:
2
mg
Calcium:
9
mg
Iron:
1
mg