This gluten-free Chickpea Flour Banana Bread is the perfect healthy alternative for all the die-hard banana bread fans out there. This moist and tasty banana bread is grain-free, nut-free, dairy-free, lower in carbohydrate and high in protein and fiber making it the perfect breakfast or snack.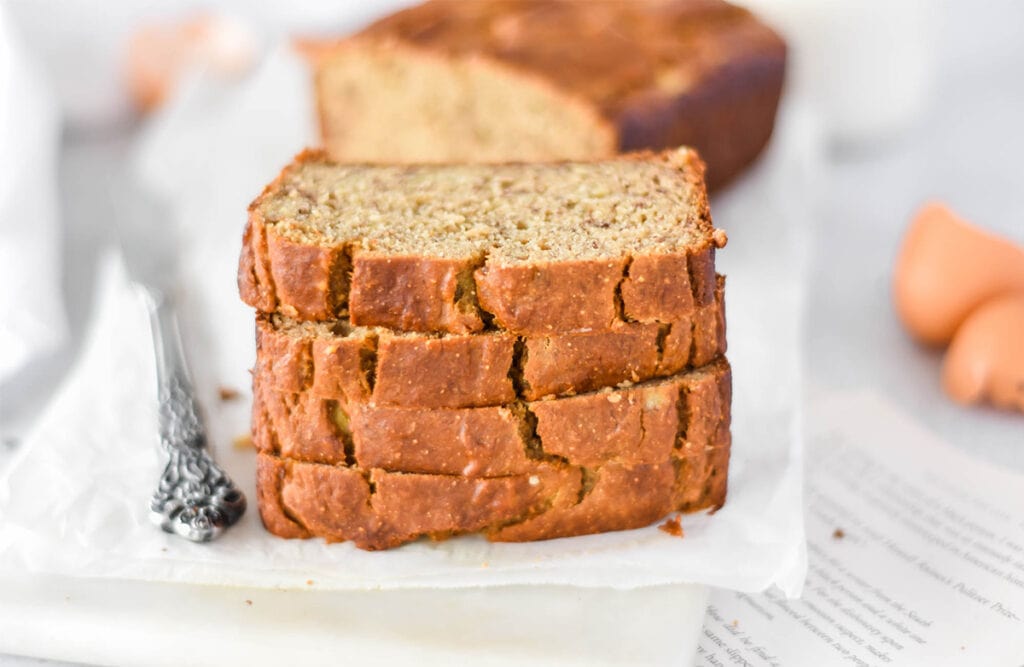 Jump to:
Banana bread was one of my favorite foods as a child. When my mom would make banana bread my siblings and I would form Tasmanian devil-like dust clouds around it until all that was left was crumbs. She would usually make several loafs at a time and freeze one so that it could be rationed out.
To this day a banana bread feels super homey to me. What is better than waking up to a fresh, moist loaf of banana bread for breakfast. Spread a little butter on it and enjoy it with a hot cup of coffee on the couch for all the Sunday feels.
What Is Chickpea Flour?
This tasty and healthy banana bread features chickpea flour. I am super new to baking with chickpea flour, but can I just say that I love it.
Chickpea flour is exactly what is sounds like, flour made from dried and ground chickpeas. It has been used in Indian and Middle Eastern dishes for centuries. This flour is also known as garbanzo bean flour, gram flour or besan, and it makes a great option for gluten-free baking!
What I love about chickpea flour:
It is blood sugar friendly! This flour is higher in fiber, protein and lower in carbohydrate than traditional flour making it's glycemic impact lower. With 5 g of fiber and 6 g of protein per serving, it is something you can feel good about using in your baked goods.
It is less calorically dense. Most grain-free baking flours tend to be high in calories. This makes grain-free treats even more calorically dense. Chickpea flour has less calories than both almond and coconut flour.
It's allergy friendly. Free of gluten, grains and nuts, this flour is appropriate for a lot people on a restrictive diet due to food intolerances.
It's neutral flavored. Chickpeas are not known for their strong flavor, which is an excellent quality to have in a versatile flour.
It has serious binding power. One of the biggest challenges with gluten-free baking is finding a way to mimic the binding power of that sticky, gluey gluten. Gluten is what gives baked goods like bread their springy texture and is what holds recipes together. Chickpea flour is sturdy and has innate binding tendencies which lends to a more favorable texture than many other gluten-free flour alternatives.
Where To Buy Chickpea Flour
I picked up chickpea flour from the HEB, a local grocery stores for all my Texas folks. High end grocers also carry this flour and I assume it will become more widely available once it gains popularity.
If you can't seem to find it in a grocery store near you, you can always purchase it from good ol' Amazon. This is the exact chickpea flour I used in this recipe.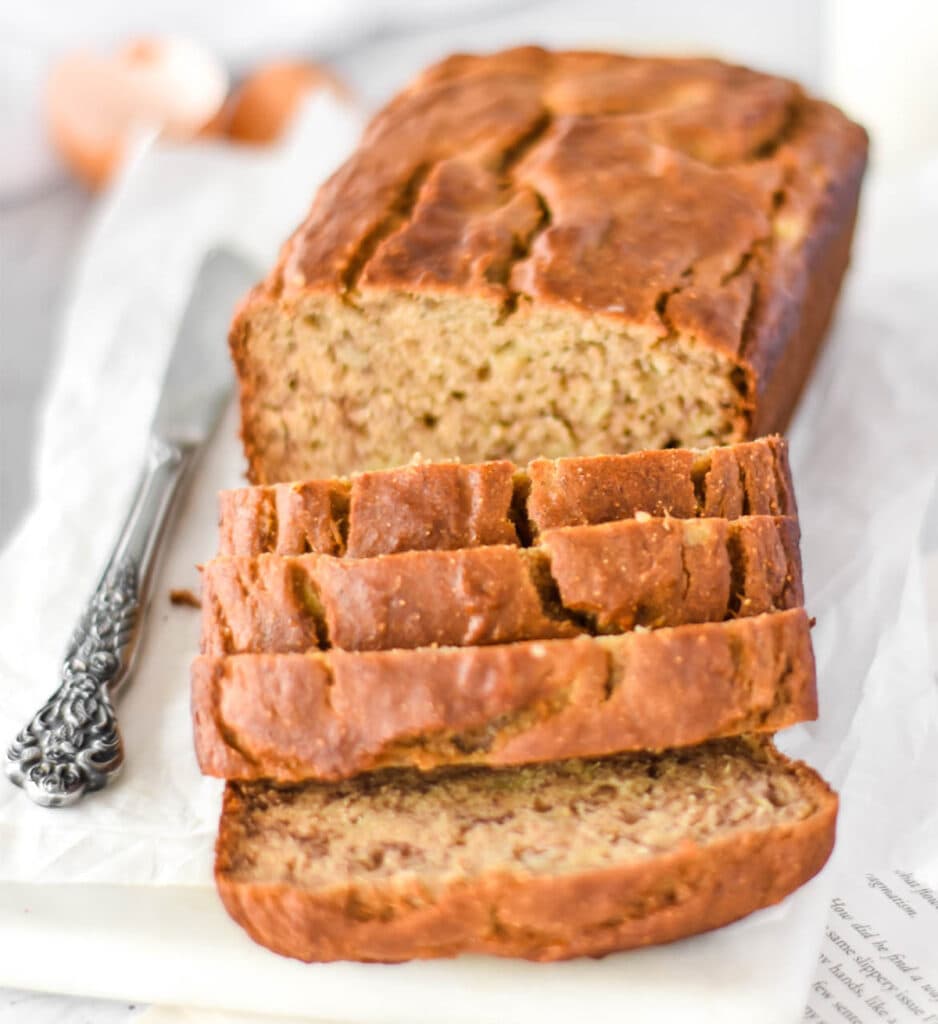 How To Use Chickpea Flour
Chickpea flour can be substituted 1:1 in place of heavy flours like buckwheat, almond flour or rye.
Keep in mind that it does not rise and expand quite as well as all purpose flour. Chickpea flour is also fairly dry (kind of like coconut flour), the recipe may need more oil or moisture to compensate for this.
In a recipe that uses all purpose flour, you can substitute up to 25% of the flour with chickpea flour. Avoid using chickpea flour in recipes that call for cake or pastry flour.
How To Store Chickpea Flour Banana Bread
This bread is best stored wrapped in foil at room temp. It tends to dry out more when stored in the fridge. The bread will maintain quality for 3-4 days on the counter.
I am sure it can be frozen, but I haven't experimented with freezing yet and will report back on quality and freshness after freezing.
Recipe Tips
Use brown bananas! Spotty bananas would work, but like with any banana bread, the grosser the bananas look the better they are for flavor and sweetness. If you are using less ripe bananas you may need to add a little coconut sugar for a caramel-y, nutty flavor or a pinch more maple syrup.
You can substitute any neutral flavored cooking oil or even melted butter for the avocado oil.
Make sure the loaf is completely cooked before pulling it from the oven or it will sink and have a gooey center. The top should be brown and firm, and if you poke the center of the loaf with a toothpick it should come out clean. There is a delicate balance between when the bread will be done on the inside and not too brown on the outside, for me this was at 50 minutes.
Related Recipes
Did you try this Chickpea Flour Banana Bread? I would love to see your creations! Take a photo and tag me on Instagram or leave a photo comment on Pinterest.
Feel free to leave a comment and a rating below. Feedback is always appreciated! 😊
📖 Recipe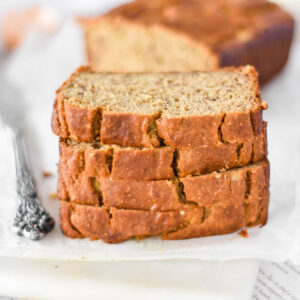 Chickpea Flour Banana Bread
This super moist and satisfying healthy banana bread is grain-free, gluten-free, nut-free and diary free, higher in protein and lower in sugar making it the perfect breakfast or snack!
Equipment
Bread pan

Parchment paper

Whisk

Mixing bowl

Fork
Instructions
Preheat oven to 350 F. Rub oil on the inside of a 9 inch bread pan and then line the pan with parchment paper and set aside.

In a large mixing bowl, begin mashing 3 overripe bananas. Add the oil and continue to mash. Then add the maple syrup and repeat until there are no large lumps of banana.

With a whisk, mix in eggs. Add the vanilla and apple cider vinegar. Continue to mix until the eggs are no longer identifiable in the mixture.

Combine the dry ingredients in a separate bowl. Mix with a fork until there are no lumps and everything appears incorporated. Then add dry ingredients to wet ingredients and whisk until the batter is smooth. Avoid over mixing.

Pour batter into the lined bread pan and place in the oven for 45-50 minutes or until you can pierce with a toothpick and have it come out clean. The center will not cook and the loaf will sink if it is not cooked long enough, but the outside does brown easily so be careful not to burn.
Nutrition
Serving:
1
slice
Calories:
168
kcal
Carbohydrates:
20
g
Protein:
5
g
Fat:
8
g
Saturated Fat:
1
g
Trans Fat:
1
g
Cholesterol:
27
mg
Sodium:
206
mg
Potassium:
219
mg
Fiber:
3
g
Sugar:
8
g
Vitamin A:
63
IU
Vitamin C:
3
mg
Calcium:
26
mg
Iron:
1
mg