This Chocolate Covered Cherry Smoothie has all the flavor of chocolate covered cherries without any added sugar. It combines a chocolate shell with sweet cherries and some added nutritious ingredients for a phenomenal anytime meal or treat. This smoothie is gluten-free, paleo and vegan.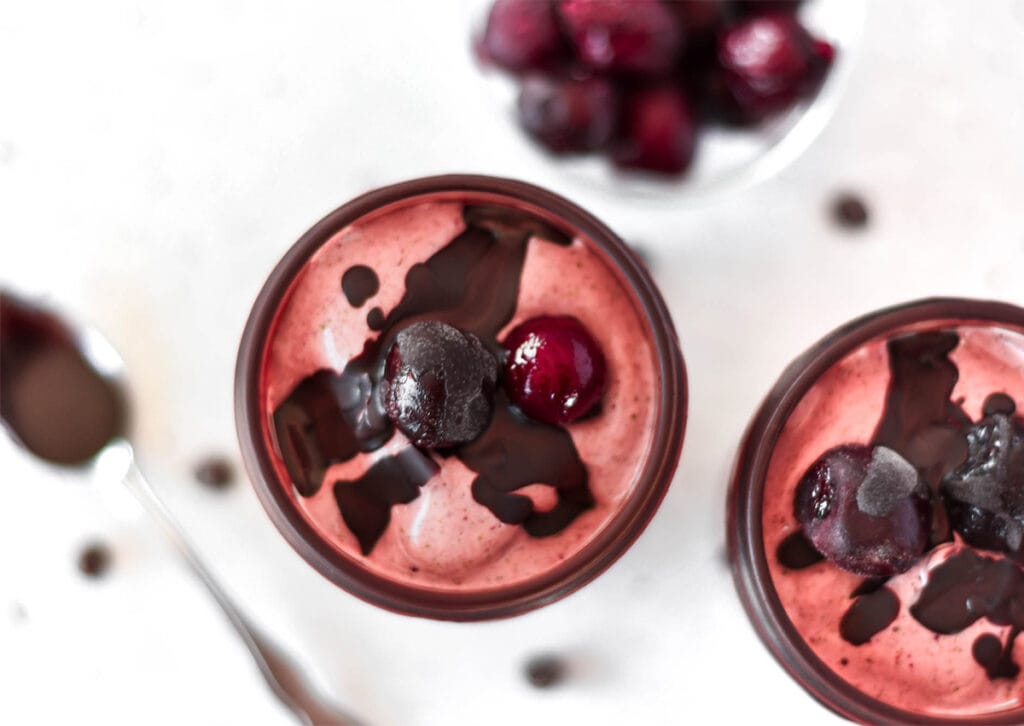 [feast_davanced_jump_to]
I was never a real smoothie person when the smoothie craze hit. When I realized you could eat them with a spoon, and that they are essentially an ice cream with nutritional benefits, things changed.
This chocolate covered cherry smoothie makes the perfect snack, dessert or small meal. It has healthy fats, protein, micronutrients and fiber making it satisfying and satiating.
How To Make A Chocolate Covered Cherry Smoothie
While all the ingredients are important in this recipe, the chocolate shell is the all-star. Without it this would just be a cherry smoothie. Still good, but not THAT good.
To make a chocolate covered cherry smoothie, prepare all the smoothie ingredients:
Combine all these ingredients in a high-powered blender. I use my Ninja blender and love it, but any blender designed to make smoothies should work. Blend until smooth, scraping the sides with a spatula if needed.
To make the chocolate shell, simply heat the coconut oil in the microwave until melted. Mix in the cacao powder until smooth and chocolate-y. Pour the liquid chocolate directly on the smoothie to form a shell. Lightly break the shell, leaving some chunks.
If unsweetened chocolate is a no-go for you, you can mix in ½ tablespoon or honey or preferred sweetener to the chocolate shell.
Separate the smoothie in to two bowls or cups and enjoy with a spoon to get the full texture experience.
If you are set on slurping your smoothie through a straw, you can pulse the smoothie with the chocolate shell in the blender to break up the chunks. This way the chunks won't get stuck in your straw. The only downside is that the smoothie will taste more like a chocolate cherry, rather than the excellence that is a chocolate covered cherry smoothie.
What Protein Powder Should I Use?
The type of protein powder you use is entirely up to you based on what tastes good to you, what you have on hand and what type of diet (if any) you follow.
The protein powder won't really affect the flavor or texture in this recipe (as long as you are using vanilla or unflavored protein), it will only affect the nutritional profile.
I suggest picking a protein powder that is low in sugar, contains only a few ingredients and has about 20 grams of protein per serving.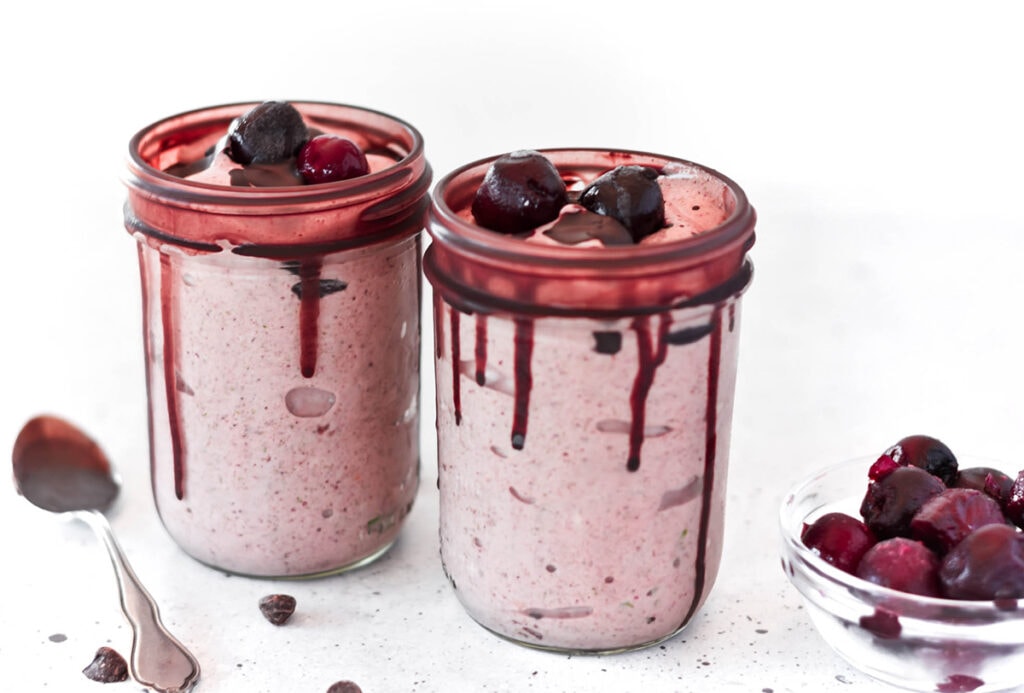 Recipe Tips
Cacao Powder
Use a flavorful cacao powder in this recipe. I like Hershey's Special Dark 100% Cacao Powder because it is widely available and has a consistent and rich chocolate flavor. Some cacao powders are not very flavorful which will lead to a lack luster chocolate shell.
Team Thick Smoothie
If you are like me and don't mind eating your smoothie with a spoon, that is my recommendation. Eating the smoothie with a spoon will allow you to fully enjoy the phenomenal texture of the chocolate shell.
Insist on drinking the smoothie with a straw? I would recommend blending the shell in to the smoothie that way you can avoid large chunks of chocolate getting stuck in your straw.
Frozen Fruit
While I like to use some strawberries in this recipe because they are lower in sugar and contribute nicely to the color, you can use all cherries or a mix of berries if you prefer.
Don't skip the frozen banana because it adds a nice creaminess and makes it a little sweeter.
Chocolate Shell
When eaten with the smoothie the chocolate shell tastes great because of the natural sweetness in the fruit. Eaten alone it will taste a little bitter because it is unsweetened.
If you are not a dark chocolate person consider adding ½ tbsp. of honey (or preferred sweetener) to the coconut oil when making the shell.
Other Healthy Treats
Did you try this Chocolate Covered Cherry Smoothie? I would love to see your creations! Take a photo and tag me on Instagram or leave a photo comment on Pinterest.
Feel free to leave a comment and a rating below. Feedback is always appreciated! 😊
📖 Recipe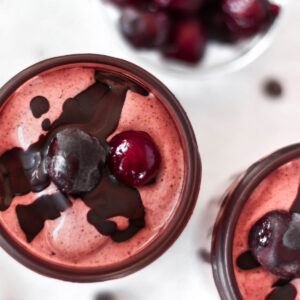 Chocolate Covered Cherry Smoothie
This chocolate covered cherry smoothie is the perfect combination of healthy and indulgent with a texture and flavor of a chocolate covered cherry.
Equipment
Blender

Spatula

Microwave safe bowl
Ingredients
Smoothie
1

Ripe frozen banana

¾

cup

Frozen cherries

½

cup

Frozen strawberries

Or another ½ cup of frozen cherries

2

cup

Baby spinach or baby kale

Loosely packed

2

tsp

Vanilla extract

1

tsp

Almond extract

2

scoops

Vanilla protein powder

Or unflavored

1

cup

Almond milk

Or any milk or milk alternative
Chocolate Shell
1

tbsp

Coconut oil

Melted

½

tbsp

Honey

Optional, only add if you dislike unsweetened chocolate mixed in to your smoothie.
Instructions
In the microwave, heat 1 tbsp. of coconut oil in a small microwave safe bowl for about 30 seconds or until melted. Mix in 1 tbsp. dark cacao powder and set aside.

Add all smoothie ingredients in blender and blend until smooth, scraping sides with a spatula as needed.

Once smoothie is blended, pour in coconut oil mixture to create a chocolate shell. Break lightly with a spatula and then pour smoothie into bowls or cups. To enjoy the chocolate shell texture eat smoothie with a spoon. If you want to drink your smoothie with a straw you should blend the shell into the smoothie so it does not get stuck in the straw.
Nutrition
Serving:
1
smoothie
Calories:
329
kcal
Carbohydrates:
34
g
Protein:
25
g
Fat:
11
g
Saturated Fat:
7
g
Cholesterol:
50
mg
Sodium:
235
mg
Potassium:
843
mg
Fiber:
5
g
Sugar:
18
g
Vitamin A:
6849
IU
Vitamin C:
110
mg
Calcium:
367
mg
Iron:
4
mg