My creamy and dreamy Maple Almond Butter Fudge has just a hint of cinnamon and cardamom to balance out the sweet and salty flavors. This freezer fudge is a simple, no-bake treat made from healthy, real-food ingredients and contains collagen for an added boost in protein and beneficial amino acids. You won't find any gluten, dairy or refined sugar in this paleo-friendly fudge.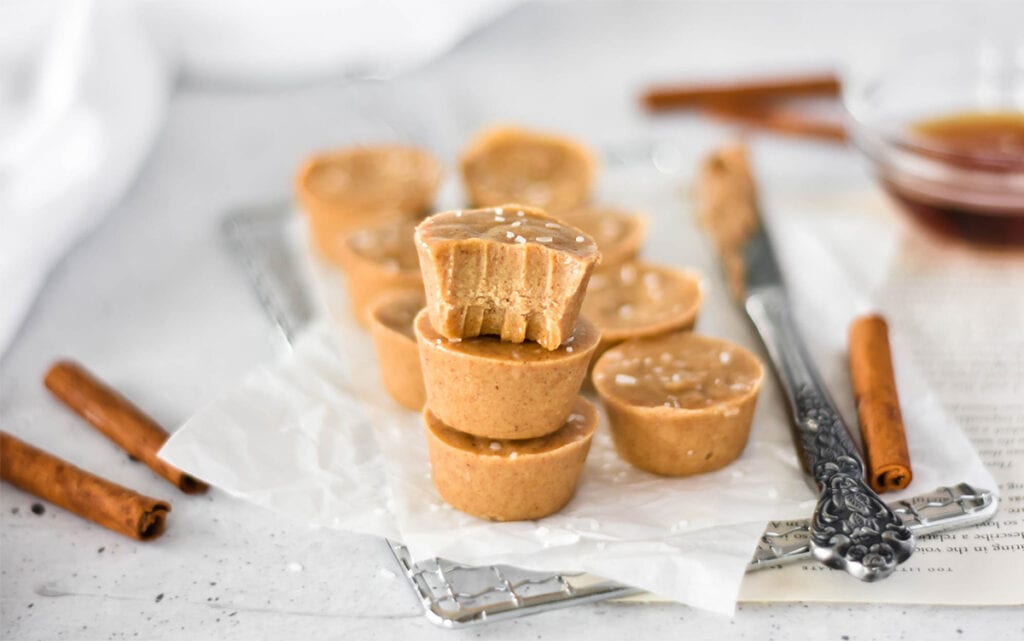 Jump to:
This freezer fudge is one of those oh-my-gosh-so-simple recipes. Ready in 20 minutes and made with wholesome ingredients you probably have on hand.
I was testing this tasty maple almond butter fudge recipe while my MIL was visiting us (read: our new baby). I thought it was quite perfect. She took a bite out of it and said, "You know what this needs? A little cardamom." Oh, yes!
You know I love me some warm and aromatic spices. Cardamom goes so well with nutty flavors, and really is a nice balance with the sweet and saltiness of this treat. It was a winner, and I think you will agree.
What Is Freezer Fudge?
Freezer fudge is a no-bake treat that requires no cooking. It does, however, require freezing to help solidify the fats used in the recipe. Once cooled, it achieves a rich, fudgy texture.
Because this fudge is made from simple, real-food ingredients it needs to kept in the fridge or freezer when stored. It will melt at room temp.
Keep this almond butter fudge in the freezer until you are ready to enjoy. Remove from the freezer and let sit at room temp for 5-10 minutes before eating for the perfect fudgy texture.
Benefits Of Using Collagen
While collagen protein should not make up the bulk of your protein intake because it is not a complete protein (meaning it does not contain all 9 essential amino acids), it is an important component of a healthy diet.
In traditional diets, collagen was consumed regularly. This is because the cartilage, skin and bone of an animal was always used when cooking and eating. Modern diets consist mostly of muscle meat. While muscle meat is a great source of protein, you miss out on a lot of the specific amino acids that are found in collagen-rich foods.
Collagen is the most abundant protein in the human body, accounting for ⅓ total body protein. It is the protein found in bones, ligaments, tendons and skin.
Adding collagen to your diet may help support the integrity of joints, tendons, ligaments, connective tissue, muscles, arteries, skin, gastrointestinal tract and other organs. This is because it supplies the specific amino acids needed to remodel these tissues.
Possible Substitutions
Almond butter can be replaced with your favorite nut butter. Keep in mind that the more liquidy the nut or seed butter (like sunflower seed butter) is the softer the texture of the fudge will be. Changing the nut butter will also change the flavor of the treat, not in a bad way, just different.
Instead of maple syrup you could use honey or a keto maple flavored syrup. Again, using honey in place of maple syrup will change the flavor some.
If you are vegan, the collagen can be omitted. I don't recommend replacing with protein powder as protein powder is quite drying and will result in a different texture.
Cardamom and cinnamon is just to add a bit of earthy spice that pairs so well with the maple and almond butter, if you don't have one of these ingredients you could use a different spice (like pumpkin pie spice) or omit it entirely.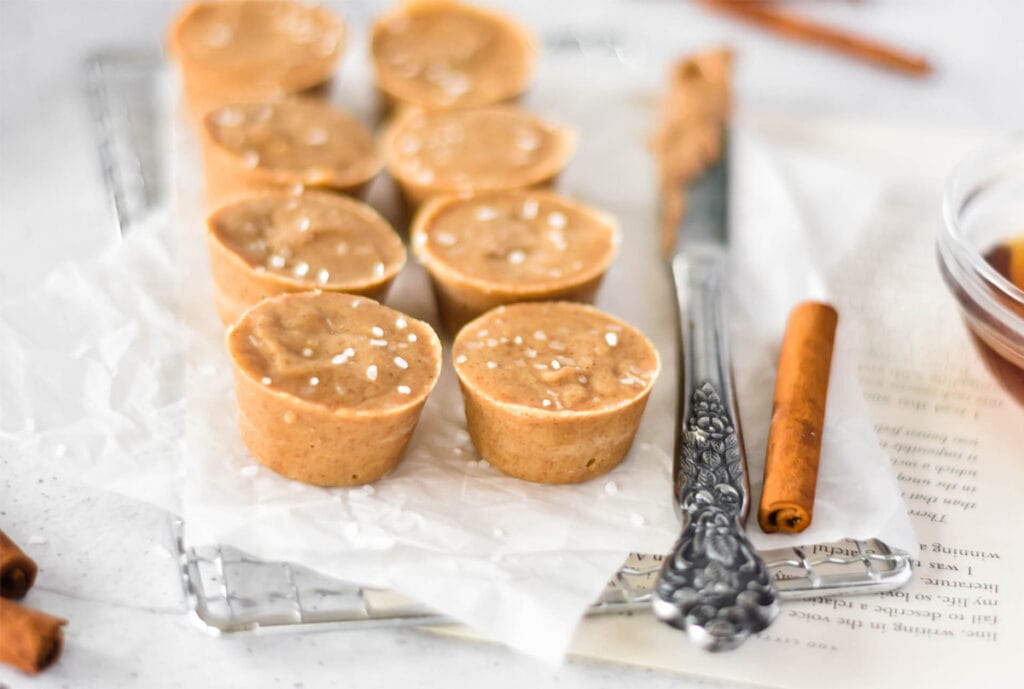 Recipe Tips
Almond Butter
Usually in recipes I like a nice, drippy almond butter. In this recipe a thicker, stiffer almond butter works a little better. Maranatha Almond Butter without sugar or salt is my favorite to use.
Heating up the almond butter for 15-30 seconds in the microwave before mixing will help to make everything mix better.
Silicone Molds
Using some kind of silicone molds for this "fudge" recipe is going to be the best option. I like using a silicone mini muffin pan, but have also used medium sized candy molds and full-sized silicone muffin liners. All work, I just think the mini muffin pan produces the best sized pieces.
How To Store This Almond Butter Fudge
This treat can be stored in the refrigerator or freezer in an airtight container. It will maintain quality in the fridge for up to 2 weeks. In the freezer this fudge will last for at least 1 month.
When layering the candies, use a piece of parchment paper to separate the layers.
Do not store at room temperature or the fudge will melt into a sticky, but delicious, mess. Remove from the freezer and let sit a room temperature for 5-10 before enjoying.
Related Recipes
Did you try this Maple Almond Butter Fudge recipe? I would love to see your creations! Take a photo and tag me on Instagram or leave a photo comment on Pinterest.
Feel free to leave a comment and a rating below. Feedback is always appreciated! 😊
📖 Recipe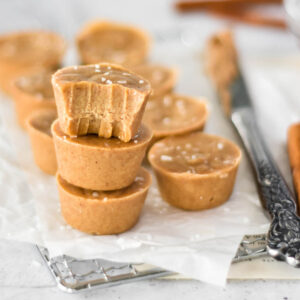 Paleo Maple Almond Butter Fudge
This sweet and salty paleo maple almond butter fudge is a no-bake treat that is ready in 20 minutes and incredibly creamy and satisfying.
Equipment
Whisk

Mixing bowl

Mini silicone muffin pan
Instructions
Microwave the coconut oil for about 30 seconds to melt it. Combine all ingredients with the exception of the collagen in a bowl and whisk together until well combined.

Slowly whisk in the collagen powder stirring to prevent it from clumping. Continue to whisk together until everything is a smooth texture and even color.

Spoon the mixture in to a mini silicone muffin pan, silicone muffin liners or medium sized silicone candy molds. Place fudge in the freezer for at least 15 minutes. After properly cooled the fudge should remove cleanly from the molds. Store finished fudge in an airtight container in the fridge or freezer to prevent it from melting at room temp.
Nutrition
Serving:
1
piece
Calories:
140
kcal
Carbohydrates:
7
g
Protein:
7
g
Fat:
10
g
Saturated Fat:
4
g
Sodium:
65
mg
Potassium:
94
mg
Fiber:
1
g
Sugar:
5
g
Vitamin A:
1
IU
Vitamin C:
1
mg
Calcium:
44
mg
Iron:
1
mg