These Peanut Butter and Jelly Protein Balls combine two of my favorite things, peanut butter and snacks with substance. This high protein snack is gluten-free and can be made vegan or paleo with a few simple tweaks.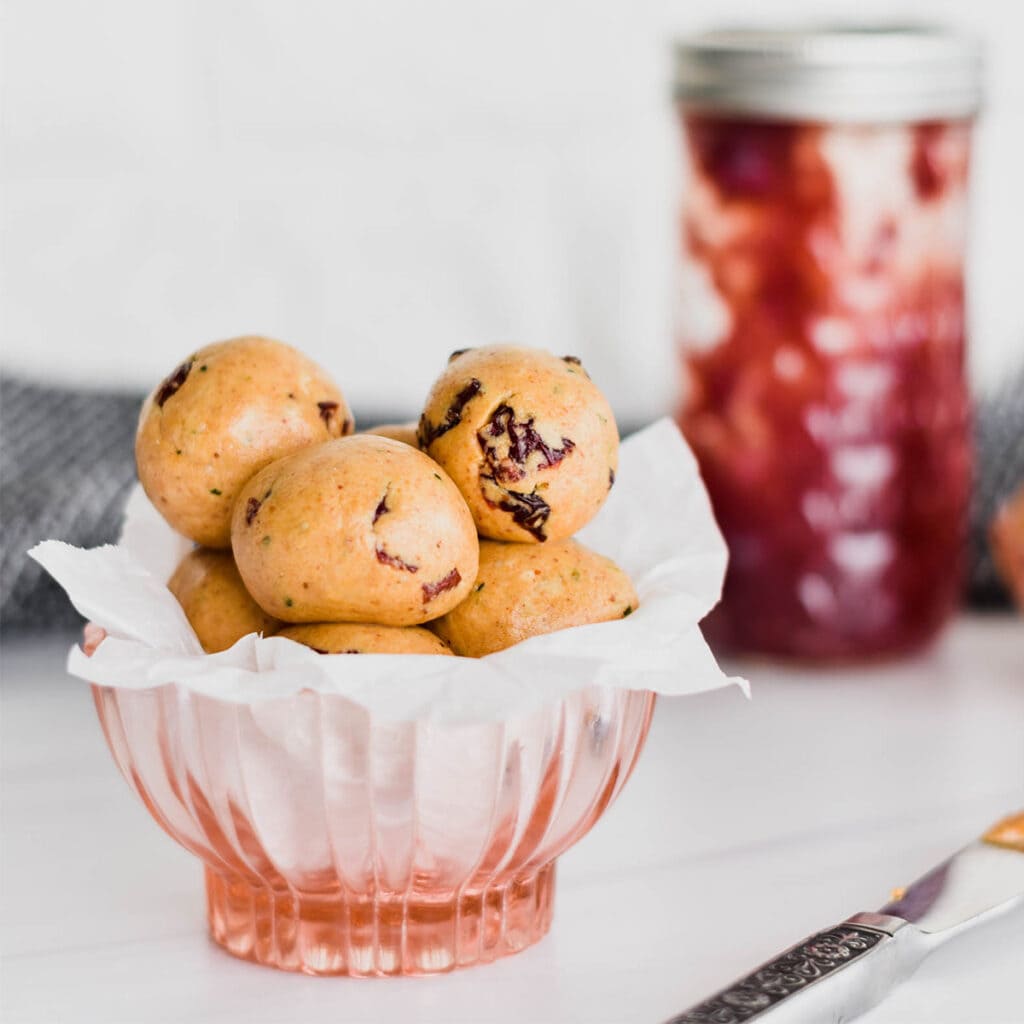 Jump to:
You all know I love peanut butter, right? Like a deep seeded and heavy love. Peanut butter is one of those ultimate comfort foods for me. I could eat it every day.
These peanut butter and jelly protein balls combine the flavors of a peanut butter and jelly sandwich but without the gluten and all the processed carbs. Add a little protein to the mix and we have ourselves a satisfyingly and immensely tasty snack.
How To Make These PB&J Protein Balls Vegan
This recipe is going to be vegan if you select a vegan-friendly protein powder and swap out the honey for maple syrup. Protein powders like whey and collagen are made from animal sources and should be avoided on a vegan diet, but using something like a pea, rice or hemp seed protein will work in this recipe. Just make sure to weigh out the protein instead of measuring it!
How To Make This Recipe Paleo
Using cashew butter would be the perfect legume-free option in this recipe that will give you that PB&J flavor while still being diet friendly for the paleo folks.
Other things to consider when making this recipe appropriate for a paleo diet would be to choose a paleo-friendly protein powder (hemp seed, pea protein and collagen would work) and selecting dried cherries that are unsweetened or naturally sweetened with something like apple juice.
What Type Of Protein Powder Should I Use?
The type of protein powder you use doesn't matter as much as choosing one that you enjoy the taste of and adding the appropriate amount so that the consistency of your protein treats turns out perfect.
I tested both Evolve Ideal Vanilla vegan protein powder and IsoPure Zero Carb unflavored whey protein powder. Both worked well with 50 grams of protein.
If you can't weigh out 50 grams of protein powder then I would recommend adding all ingredients to a bowl with the exception of the protein powder then slowly adding the protein powder making sure you don't add too much. Start with 1 scoop or about ¼ cup and continue to add until a dough forms. The dough should be easy to roll into balls and should hold together nicely.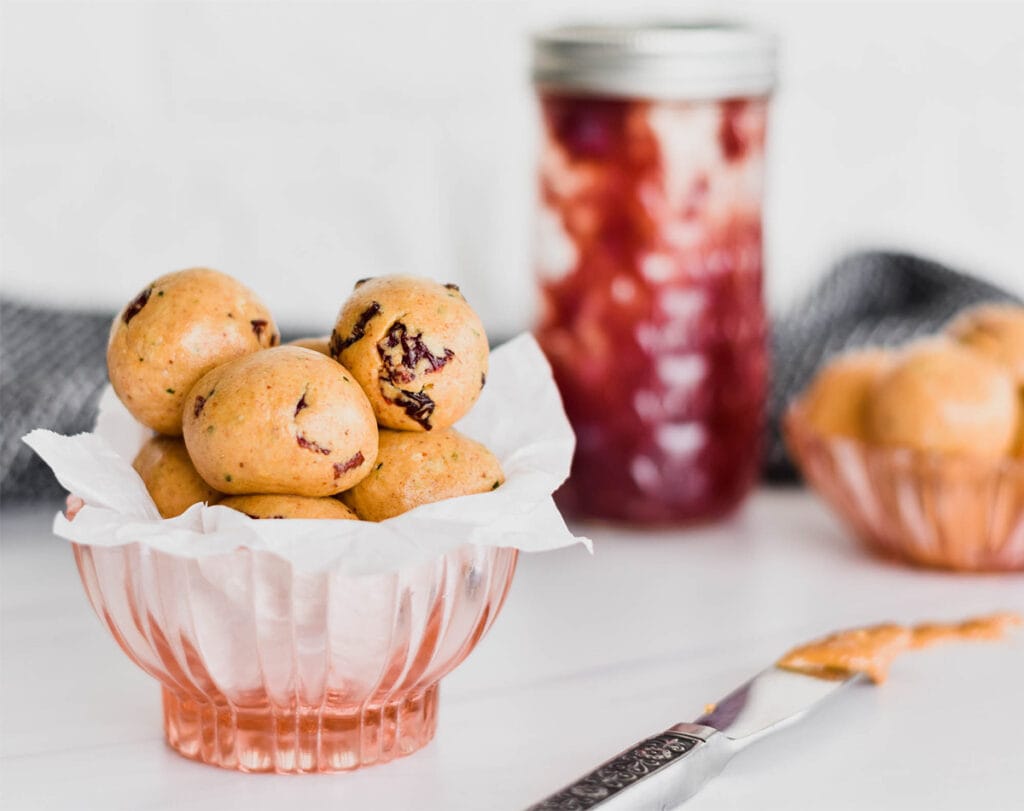 Possible Substitutions
Recipe Tips
Weigh Out The Protein
Weighing out the protein powder can help you get the right consistency when using a variety of protein powder brands. If you aren't weighing out the protein you will need to slowly add the protein until the desired consistency is achieved.
Choose A Good Peanut Butter
I always use a peanut butter that contains only peanuts and salt in all my recipes. These types have the nuttiest flavor and a really good viscosity to use in recipes. Adam's, Laura Scudder's, Smucker's and Santa Cruz Organics all have a similar style of peanut butter that will work well here.
Related Recipes
Did you try these Peanut Butter and Jelly Protein Balls? I would love to see your creations! Take a photo and tag me on Instagram or leave a photo comment on Pinterest.
Feel free to leave a comment and a rating below. Feedback is always appreciated! 😊
📖 Recipe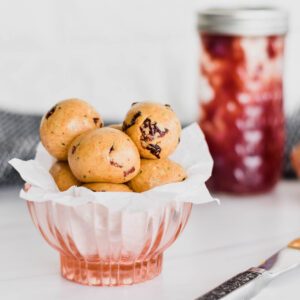 Peanut Butter and Jelly Protein Balls
These peanut butter and jelly protein balls are the perfect no-bake treat to help you boost your protein.
Instructions
Measure out ingredients and whisk together in a large mixing bowl until everything has been incorporated and the mixture becomes dough-like. Be sure to weigh out protein powder. The ingredients will mix together best if peanut butter is stirred and warmed slightly. You can do so by putting jar of PB in a large bowl of hot water for several minutes.

Begin forming balls by rolling a scoop of the dough between two hands. You should be able to make at least 15 protein balls.

Tip: Every protein powder is slightly different. If your mixture seems to dry to hold together you can add a little more peanut butter or honey to the recipe to help bind.
Nutrition
Serving:
1
ball
Calories:
156
kcal
Carbohydrates:
11
g
Protein:
8
g
Fat:
10
g
Saturated Fat:
2
g
Cholesterol:
6
mg
Sodium:
85
mg
Potassium:
125
mg
Fiber:
1
g
Sugar:
9
g
Vitamin A:
163
IU
Vitamin C:
1
mg
Calcium:
25
mg
Iron:
1
mg