I love a robust tomato soup. This Keto Tomato Soup is just that. It is incredibly bright and creamy, not to mention super easy! We use a jar of tomato sauce as a shortcut to well-developed flavor for this low carb and gluten-free recipe.
Jump to:
With a soup recipe so quick and easy, there is really no reason to eat sad and watery canned soup. Using a high quality pasta sauce in this recipe lends incredible flavor to our soup with an incredibly small time commitment.
We add some additional herbs and spices and mix in some rich, creamy cheeses to really make this soup pop. That is basically all there is to it. A perfect weeknight meal.
This Keto Tomato Soup has all the flavor of homemade but without the chopping, patiently stirring, and sending prayers to the soup gods, hoping that your meal will turn out perfectly and also be done in time for dinner.
How To Make Low Carb Tomato Soup
In this recipe we use only a handful of well-selected ingredients to shortcut our way in to awesome, well-developed flavor. This fool-proof recipe is quick and easy, but tastes like you spent hours in the kitchen.
This recipe requires:
A flavorful 24 oz. jar of tomato sauce (the good stuff!)
Mascarpone cheese
Parmesan cheese
Chicken bone broth
Garlic cloves
Olive oil
Dried basil
Dried oregano
Onion powder
Red pepper flakes
To start, you will mince and sauté the fresh garlic in a stock pot. Once the garlic is soft and fragrant you can add in the broth and pasta sauce.
You will want to heat the tomato sauce with the bone broth and bring to a low boil. This will help cook down and soften the components of the sauce so that it will puree smoother. Once it is hot and has cooked for at least 5-10 minutes you can transfer the sauce (carefully!) in to a blender. I use my Ninja Blender, but any high powdered blender with a large pitcher will work. Blend until smooth and uniform in color.
After blended, you can transfer the soup back to the large pot and return to heat. Mix in the cheese, herbs and spices. Allow the cheese to melt into the soup.
Now would be a good time to taste the soup and adjust any flavors. You can add more spice, more mascarpone to make it more creamy or a little bit of sweetener to balance out some of the acidity.
Top with any desired toppings and serve!
What Type of Tomato Sauce Should I Use?
For this recipe you need the type of tomato sauce that comes in a jar, not a can! This is very important. For best results, select a tomato sauce that you love and you know is full of flavor.
If you are following a low carb diet, you will want to select a sauce that does not have added sugar or has a minimal amount. Rao's is a common one that people use that is keto-friendly, but there are a handful of other options out there. Just read the labels. Check for added sugar and grams of carbohydrate per serving. It should be under 6 grams.
The variety of sauce you select is also important because this will determine the dominant flavor in the soup. A marinara is generally simpler and a little more acidic where as a tomato basil sauce may be a little sweeter. I am partial to a robust garlic flavor or a spicy tomato, but cater the selection of sauce to your own tastes.
By all means, if you have a grandmother who makes the best pasta sauce and you happen to have a jar sitting in your pantry, use it! This will be even better than store-bought! But, if you don't have a loved one who's love language is pasta sauce a good quality store bought version will do.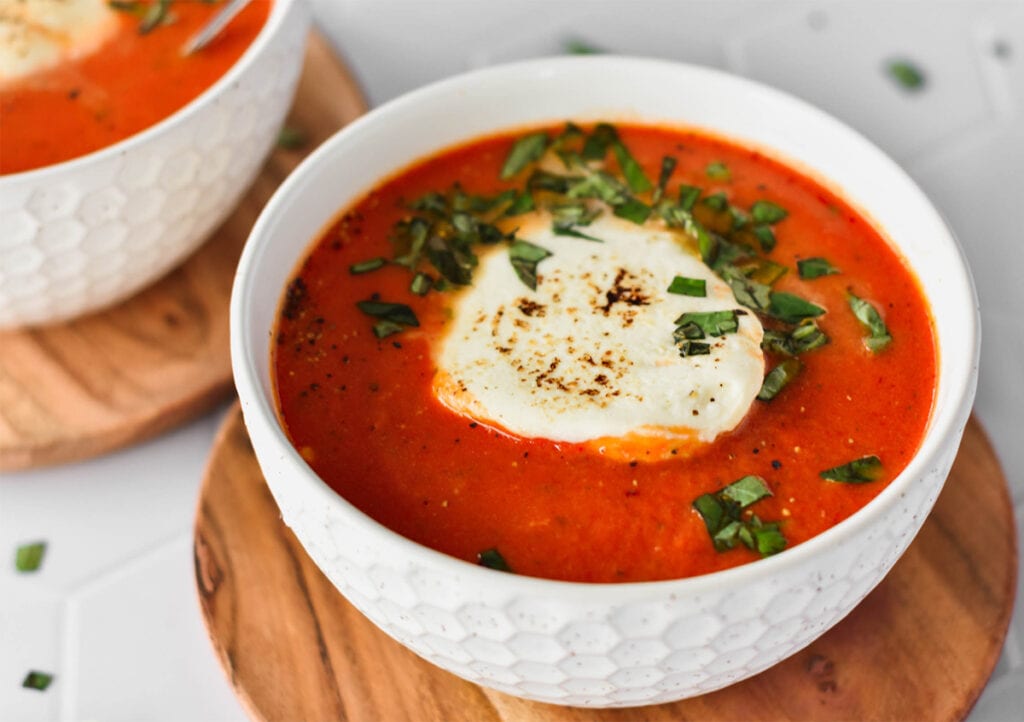 Recipe Variations
When all the ingredients have been added to the soup, I highly recommend tasting and adding a little more of this or that to make the soup perfect for your own taste buds. Here are some common fixes:
Too Acidic
If the tomato sauce you use is more on the acidic side you may need to add a bit of sweetener or a little more mascarpone. This will help balance out the acidity. For those following a ketogenic diet, a low glycemic sweetener should be used.
Not Salty Enough
Add a bit of salt. Duh! If you use a low sodium pasta sauce or a low sodium broth you may end up with a lack luster soup and it may just need a pinch of salt.
Too Spicy
If your pasta sauce is spicier than you thought it would be, adding a little more mascarpone can help calm it down a bit.
Needs More...
If you taste the soup and you think it needs more herbs, a bit more spice or another handful of parmesan, DO IT! It is your soup and should be catered to your taste.
Because there are so many different types of pasta sauce out there, this soup can taste wildly different each time, so don't hesitate to adjust the ingredients slightly.
Topping Ideas
What is better than topping a flavorful soup with tasty topppings? Here are some ideas:
Fresh herbs like chopped basil or oregano
Ground Italian sausage!
More cheese - swirl in some more mascarpone, sprinkle on some parmesan or cut a big slice of mozzarella and broil it (in an oven-safe dish) until it it melty and bubbly.
Diced pepperoni or crumbled bacon
Garlicky croutons if not following a low carb diet
Possible Substitutions
Mascarpone is basically French cream cheese, but I do not recommend subbing in cream cheese as American cream cheese is slightly more acidic. Using heavy whipping cream would be a better substitute if you can't find mascarpone in your local grocery store.
Have other cheeses on hand that you want to use up? Replacing the parmesan in this recipe with Romano or asiago would be tasty and provide a similar flavor.
Chicken bone broth can be replaced with regular chicken broth or vegetable broth.
How To Store This Tomato Soup
This soup can be made and stored in an airtight container in the fridge for up to 5 days. To keep the soup fresher for longer you can store in the freezer and consume within 1 month.
Related Recipes
Did you try this Keto Tomato Soup recipe? I would love to see your creations! Take a photo and tag me on Instagram or leave a photo comment on Pinterest.
Feel free to leave a comment and a rating below. Feedback is always appreciated! 😊
📖 Recipe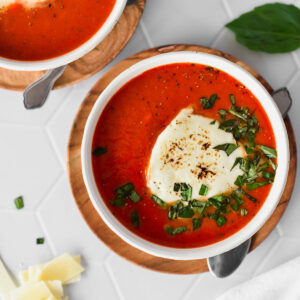 Keto Tomato Soup
This rich and robust recipe uses jarred pasta sauce as a shortcut to awesome flavor in minutes producing the perfect creamy Keto Tomato Soup.
Equipment
High powdered blender

Stock Pot

Cutting board

Knife
Instructions
In a stock pot, heat ½ tbsp of olive oil over medium heat. Peel and mince garlic and sauté in the oil until it softens and becomes fragrant, about 3-4 minutes.

Ad the tomato sauce and broth to the pan. Cover and allow the soup to come to a boil then reduce the heat and let simmer for at least 5-10 minutes.

Carefully pour the contents of the stock pot in to a high powdered blender and pulse until everything is smooth. Pour back in to the pan and return to heat. Add the remaining ingredients and stir until all the cheese has melted.

You can now taste and adjust the spices based on the type of tomato sauce you used. If you use a low sodium sauce you will want to salt to taste. You can also add a small amount of non-glycemic sweetener to taste if desired.

Topping ideas: Fresh herbs, parmesan cheese, mozzarella cheese, pesto, croutons, cooked Italian sausage, diced pepperoni and/or crumbled bacon.
Notes
Use a flavorful and high quality tomato sauce. Do not use anything in a can. This should be ready-to-use pasta sauce. Avoid pasta sauces with added sugar if you are following a low carb diet.
If you use a more acidic tomato sauce, you may need to add a bit of low glycemic sweetener to balance out the acidity.
Add any additional cheese, herbs or spices you may like to the recipe. Each pasta sauce will contribute a slightly different flavor.
Any type of lightly flavored broth or stock can be used in place of the bone broth.
Nutrition
Serving:
1
cup
Calories:
97
kcal
Carbohydrates:
3
g
Protein:
3
g
Fat:
8
g
Saturated Fat:
4
g
Cholesterol:
16
mg
Sodium:
430
mg
Potassium:
96
mg
Fiber:
1
g
Sugar:
1
g
Vitamin A:
235
IU
Vitamin C:
7
mg
Calcium:
83
mg
Iron:
1
mg