These simple 6-ingredient Peanut Butter Chia Protein Balls are a tasty and healthy way to get in a little extra protein. These little treats are gluten-free, grain-free and low in carbohydrate. Make them with a vegan protein powder and these protein balls can be vegan too!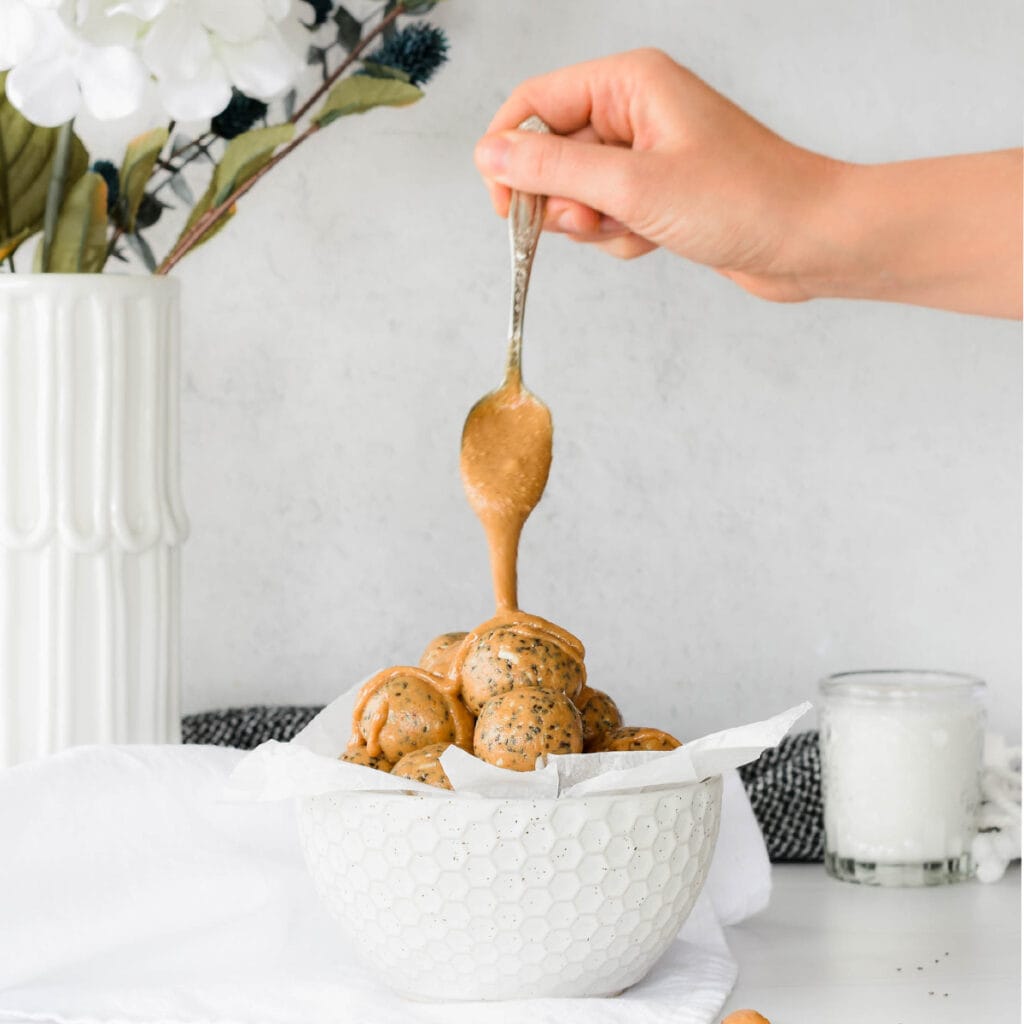 Jump to:
There is so much to love about this tasty protein-packed treat! These Peanut Butter Chia Protein Balls are:
no-bake and made with only 5 simple pantry ingredients.
free of refined sugar and fairly low in carbohydrate.
high in fiber and a good source of omega-3 fatty acids.
a great snack to have on hand and kid friendly.
gluten-free, grain-free and can be vegan.
What Type Protein Powder Should I Use?
Use the type of protein powder that you enjoy the taste of. Keep in mind that every protein powder is a little different. Because the ingredients in protein powder can vary quite a lot, this ingredient needs to be measured on a scale rather than with a measuring cup. This will help with consistency.
If you don't have a scale, you could add all other ingredients to the mixing bowl and then add as much protein powder you need to get desired consistency. You are looking for a dough-like consistency that does not crumble too easily.
I think a vanilla or unflavored protein powders work best in this recipe, but really any flavor that pairs well with peanut butter would be an option.
I have tested Evolve Ideal Vanilla Vegan Protein Powder and Isopure Zero Carb Unflavored Whey Protein Powder in this recipe and both worked well. If using unflavored protein powder you may want to add a little bit of vanilla extract and/or a little bit of stevia to add more sweetness, but it is totally up to you!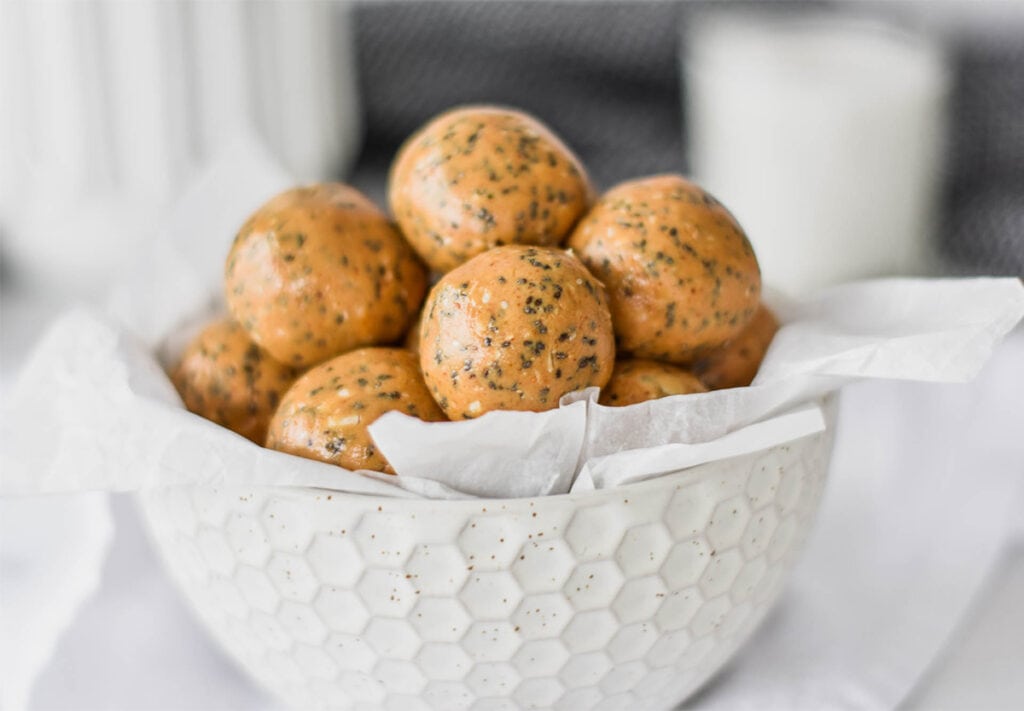 Making Peanut Butter Chia Protein Balls
In a large mixing bowl add maple syrup, peanut butter, salt, coconut and chia seeds. Weigh out 55 grams of protein powder and add to the bowl. Mix using a whisk until the mixture becomes sticky and dough-like.
Using a cookie scoop or spoon, scoop out the dough and roll between your palms to form balls. Repeat with remaining dough.
This recipe will make about 12 large protein balls.
Possible Substitutions
Tips For Storing
Keep covered in airtight food container in the refrigerator for up to 7 days. They will most likely keep for longer than that, but to ensure quality eat within 7 days. This should not be an issue!
To freeze, place balls in a Ziploc bag. These babies will keep in the freezer for up to 3 months. When ready to eat, pull and allow to thaw for 10 minutes at room temperature. Do not microwave to thaw.
Recipe Tips
Peanut Butter
Placing the jar of peanut butter in a bowl of hot water before measuring it will soften it and help it mix well.
As far as types of peanut butter, I always use Santa Cruz Organics, Adam's or Laura Scudder's. They are made with just peanuts and salt. This is absolutely what I would recommend, and lends to a better flavor and texture.
Protein Power
Like I mentioned above, weighing instead of measuring the protein powder is important because the density of each protein powder will vary quite a bit.
If you don't have a scale, add all ingredients into a large mixing bowl except the protein powder. Then starting with ¼ cup of protein powder begin adding until you achieve the desired consistency. It should be dough-like and easy to form in to a ball.
Crumbly Mix
If you added too much protein powder or your mixture is just too crumbly, you can add a tablespoon of melted coconut oil to help in bind together. You could also just add a bit more peanut butter to help achieve the desired consistency.
Adjusting Sweetness
If you want a little sweeter of a treat I would recommend using a sweetened protein powder. You could also add a bit more sweetener but be careful with adding too much liquid sweetener as it will mess with the texture/consistency.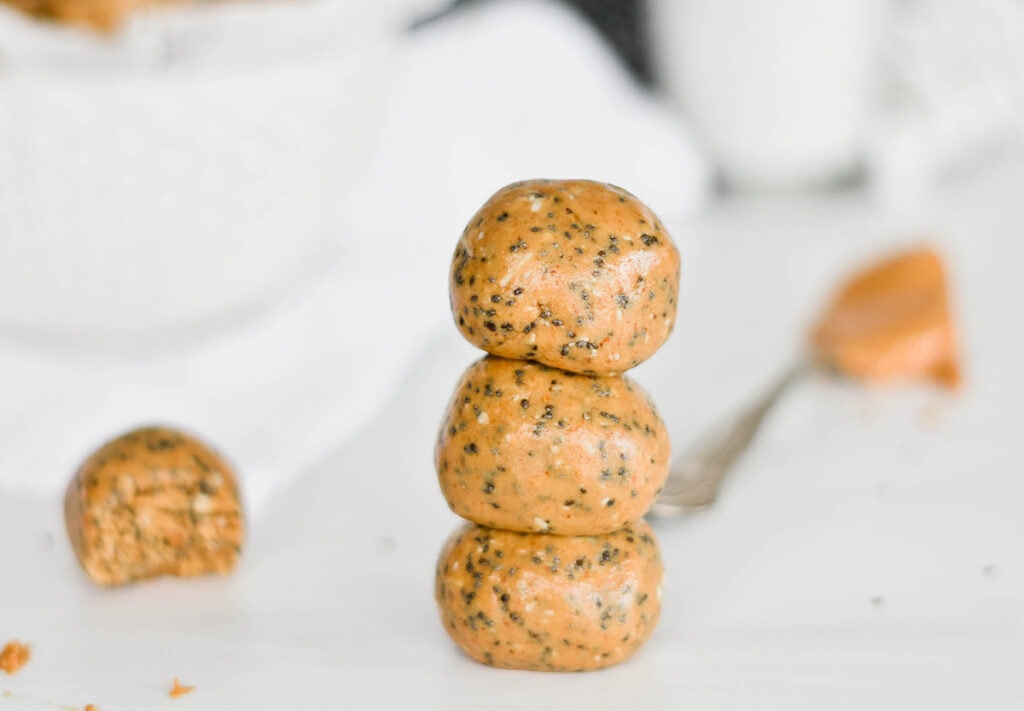 Related Recipes
Did you try these Peanut Butter Chia Protein Balls? I would love to see your creations! Take a photo and tag me on Instagram or leave a photo comment on Pinterest.
Feel free to leave a comment and a rating below. Feedback is always appreciated! 😊
📖 Recipe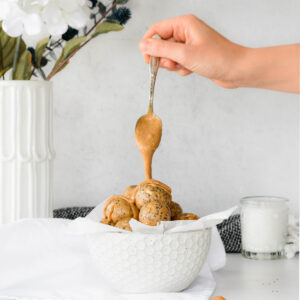 Peanut Butter Chia Protein Balls
These peanut butter chia protein balls are the perfect no-bake treat to help you boost your protein.
Instructions
Measure out ingredients and combine in a large mixing bowl. Be sure to weigh out protein powder. It may help to carefully heat the jar of peanut butter in the microwave or a bowl of hot water until it is soft.

Whisk the ingredients together until everything has been incorporated and the mixture becomes dough-like. Scrap the sides of the bowl and mix until no streaks or visible protein powder is seen. Taste the dough before rolling to make sure it is sweet enough. See notes if your mixture is too crumbly.

Begin forming balls by rolling a scoop of the dough between two hands. You can use a cookie scoop to scoop out the dough evenly if you have one. You should be able to make at least 12 protein balls.
Notes
If you add too much protein powder and your mixture is not sticking together well you could ad a tablespoon of melted coconut oil or another tablespoon of peanut butter to the mixture to help it bind.
Adjust the sweetness to taste. If using an unflavored protein powder you may like to add a bit of vanilla or a little extra sweetener to the mix. Be careful not to add too much liquid sweetener because it could make the consistency too soft.
Nutrition
Serving:
1
ball
Calories:
185
kcal
Carbohydrates:
10
g
Protein:
10
g
Fat:
13
g
Saturated Fat:
4
g
Trans Fat:
1
g
Cholesterol:
8
mg
Sodium:
156
mg
Potassium:
187
mg
Fiber:
2
g
Sugar:
6
g
Vitamin A:
13
IU
Vitamin C:
1
mg
Calcium:
45
mg
Iron:
1
mg