Protein treats are the perfect balanced between sweet and substance. These tasty Chai Spiced Protein Balls are paleo-friendly, gluten-free and can be made vegan! They have the best sweet and spicy flavor and make the perfect anytime snack.
Jump to:
What is better than a treat that tastes like dessert but packs a nutritional punch? Not much!
These Chai Spiced Protein Balls are packed with anti-inflammatory spices like cloves, ginger and cinnamon (turmeric is not the only one!) and blood sugar stabilizing protein and fat making them the perfect treat to reach for when you are in need a snack and craving something sweet.
Chai Spices
Chai spices is a term used to describe the spices that flavor chai tea. They are robust, fragrant and warming. These spices also have a lot of important health benefits to boot.
Cinnamon
Probably one of the most commonly spices used around the world, but did you know cinnamon also has health benefits? This spice may help to combat high levels of chronic inflammation, reduce oxidative stress and reduce blood sugar!
A 2011 study found that consuming a cinnamon extract can help to bring down inflammation in mice. it is believed that there is a similar anti-inflammatory effect in humans.
While cinnamon is not necessarily "nutrient dense", it does contain antioxidants which may help minimize oxidative stress.
Cinnamon also may help lower blood sugar and combat diabetes by imitating the effects of insulin and increasing glucose transport into cells. Additionally, it helps to lower blood sugar by increasing insulin sensitivity, improving the efficiency by which insulin moves glucose into cells.
Ginger
Besides being deliciously spicy, ginger is also used for it's medicinal properties. Ginger contains a bioactive compound called gingerol that is responsible for much of its health benefits.
Gingerol has powerful antioxidant and anti-inflammatory properties and may help reduce oxidative stress. This compound is also thought to be what allows ginger to combat nausea.
Cardamom, Cloves & Nutmeg
These three spices all have powerful antioxidant and anti-inflammatory properties as well! Cardamom also has digestive benefits and all three are considered antibacterial.
How To Make Chai Spiced Protein Balls
This is a very simple recipe and can be made start to finish in about 15 minutes.
You will need a high powdered blender or food processor, but not other fancy equipment is needed. I have used my Ninja Blender for years and just recently upgraded to this one.
Here are the ingredients you will need:
½ cup almond butter
8 medjool dates
¼ tsp Ginger
¼ tsp Cinnamon
¼ tsp Cardamom
⅛ tsp Cloves
⅛ tsp allspice
⅛ tsp nutmeg
⅛ tsp salt
1 tbsp. chia seeds
First remove the pits from your dates and soak them in a little hot water, making sure they are fully submerged. When picking dates, make sure to select medjool dates. The type that still have the pits in them are usually the best because they are the soft and gooey ones. Let the pitted dates soak until they become nice and soft, about 5-10 minutes.
Drain the water and put the dates in the blender. Add the remaining ingredients and blend. Scrape the sides and repeat until the mixture is a nice sticky consistency, the dates are broken up in to a paste and there are no visible chunks or streaks of any ingredient.
Transfer the "dough" on to a working surface. Divide the "dough" in to 12 chunks and begin smashing the dough between your hands. Then roll between both palms until a nice ball has formed. Repeat for the remaining pieces of dough.
Storing Protein Balls
These protein balls can be stored in an airtight container in the fridge for about 2 weeks.
You can also freeze them to have a healthy snack on hand at all times! Store them in a Ziploc bag or an airtight container in the freezer for 1 month. Use parchment paper to sperate them so they don't stick together.
To thaw, remove from the freezer and let the protein treat sit at room temp for 15 minutes. Do not microwave!
How Can I Make This Recipe Paleo
To make this recipe paleo-friendly simply choose a paleo protein powder. Usually protein powders like vanilla collagen protein, hemp protein or pea protein can fit in to the paleo diet framework.
How Can I Make This Recipe Vegan
Using a vegan protein powder will make this recipe appropriate for a vegan diet. Proteins like pea, hemp, rice, and soy are all vegan-friendly.
Recipe Tips
Pick fresh dates! No amount of soaking will save dried out dates. Make sure you choose medjool dates and make sure they are the kind with pits. You will obviously want to remove the pits before soaking but the pits help the dates maintain freshness when stored.
Cool the dough before rolling. If your dough is really sticky, you can pop it in the freezer for 10 minutes to make it easier to handle.
Weigh your protein powder. If you don't have a scale, start with 1 scoop or about ¼ cup of protein powder and add more slowly until you get the desired consistency. The density and dryness of every protein powder will be different which is why it is best to weigh out this ingredient.
Related Recipes
Did you try these Chai Spiced Protein Balls? I would love to see your creations! Take a photo and tag me on Instagram or leave a photo comment on Pinterest.
Feel free to leave a comment and a rating below. Feedback is always appreciated! 😊
📖 Recipe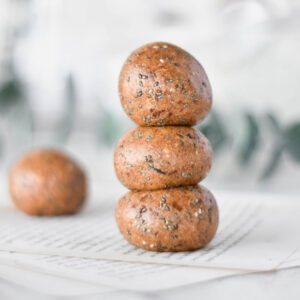 Chia Spiced Protein Balls
These decadent and spicy Chai Spiced Protein Balls make the perfect afternoon pick me up or anytime snack. They are gluten-free and can be made paleo and vegan.
Equipment
Blender or food processor
Instructions
Remove the pit and stem pieces from the dates and place in a bowl of hot water for 5-10 minutes until they have softened.

Drain the water from the dates and add to a blender or food processor along with all the other ingredients except the chia seeds. Blend until there are no chunks of dates. You will have to scrape the edges of the blender with a spatula several times.

Once blended, place the "dough" on a sheet or parchment paper or a plate and kneed chia seeds in to the dough mixture. Continue to press together until you are sure everything is well incorporated. Divide the dough into twelve pieces and begin rolling each piece between your palms in order to form balls.

Store in an airtight container in the fridge for up to two weeks.
Notes
Be sure to select fresh medjool dates (the kind with pits are usually freshest).
Nutrition
Serving:
1
Ball
Calories:
130
kcal
Carbohydrates:
15
g
Protein:
7
g
Fat:
6
g
Saturated Fat:
1
g
Trans Fat:
1
g
Cholesterol:
7
mg
Sodium:
32
mg
Potassium:
207
mg
Fiber:
3
g
Sugar:
11
g
Vitamin A:
36
IU
Vitamin C:
1
mg
Calcium:
67
mg
Iron:
1
mg